Join Our List

Our Offices
Atkins-Kent Building, Suite 101
W. Orange, NJ 07052
973-736-1100
33 Overlook Rd.
MAC Building
Suite 108
Summit, NJ 07901
908-522-4558

731 Broadway
Bayonne, NJ 07002
Clark, NJ 07066

Physicians
Robert J. Rubino,
Audrey A. Romero, M.D., F.A.C.O.G.
Lisa Abeshaus,
M.D., F.A.C.O.G.
Jacqueline Saitta, M.D., F.A.C.O.G.
Allan D. Kessel,
M.D., F.A.C.O.G.
Howard D. Fox,
D.O., F.A.C.O.G.
Sabina Cherian,
M.D., F.A.C.O.G.
Heavy, Painful Periods?
Dr. Rubino is nationally recognized for his expertise on Her OptionŽ
Cryoablation,
15-minute,
in-office procedure.
Click here to find out more.
EssureŽ is a simple, non-invasive,
10-minute office procedure for permanent birth control (tubal ligation).
Click here
to see if Essure is

right for you.
Sign up for your PHR (Personal Health Records) - right on our website:
Click here
Medical Fact
"I didn't know that!"
Breast cancer is the most common cancer among American women.
One in every eight women in the United States develops breast cancer.
Over 200,000 new cases of invasive breast cancer are diagnosed each year. There are over 2.5 million breast cancer survivors in the United States.
October is Breast Cancer Awareness Month. It is a reminder to keep up with your annual mammograms and breast exams. In this issue of our newsletter, Dr. Allan Kessel authors an article on Breast Cancer - covering risk factors, behaviorial changes and the importance of exams.

We also provide a basic guide on eating disorders - including the definition, signs and symptoms and treatments. In our "Healthy Living" section we discuss vitamins and how much is too much. Our "Meet the Staff" this month features Dr. Audrey Romero. And you'll find a new interesting "Medical Fact". Please also note in our office announcements that we are now taking appointments for flu and TDap vaccinations.
As always, we will continue to provide topics that are current, informative and important to your good health.

Sincerely,

Robert J. Rubino, MD and Staff
Breast Cancer Awareness
Allan Kessel, MD
Breast cancer is one of the most common sources of concern for women. Patients should be aware that most breast masses or cysts are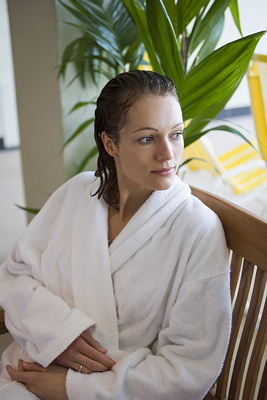 benign. But they do need to be carefully assessed and addressed properly.
Breast cancer is the most common cancer and the second most common cause of cancer deaths in women, second to lung cancer. Although many patients are concerned about hereditary breast cancer, only 10% have a hereditary basis. One half of breast cancer cases are associated with risk factors. Gaining an appreciation of these risk factors can help patients modify their individual risk.
Approximately 230,000 cases of breast cancer will be diagnosed in 2012. The lifetime risk of developing invasive breast cancer is one in eight. However, the rate of breast cancer has
decreased
by 1.8 percent per year from 1999 to 2007. Breast cancer mortality has
decreased
every year since 1990.
Risk Factors
Age
: age is the single most important risk factor (besides female gender). The risk increases as women get older. The 10 year risk of breast cancer is 1.4 in 100 for a 40 year old, but 3.7 per 100 in a 70 year old.
Ethnicity
: Caucasian women have a higher incidence (124 cases per 100,000 women) of breast cancer than African American or Hispanic women. African American women have a higher mortality rate, in part due to a greater incidence of breast cancers than cannot be blocked by hormones.
Benign Breast Disease
: Many patients have breast cysts, fibrocystic breasts, or benign masses. The vast majority of these
do not
confer increased risk of breast cancer. Breast masses which show abnormal, or atypical cells with a biopsy do indicate an increased risk of breast cancer.
Obesity
: woman who are overweight have an increased risk of breast cancer, varying from 18 - 27% according to various studies. This is thought to be due to the increased levels of estrogens in obese women, which can help promote early breast cancers.
Family history
: 85% of women who develop

breast cancer

will do so without an immediate relative having a history of breast cancer. The genetic breast cancers caused by BRCA1 and BRCA2 (and others) comprise only 5-6% of all breast cancers. However, having a mother or a sister with breast cancer does increase the risk (approximately two fold).
Other contributing factors
:
Smoking: smoking demonstrates a mild increased risk

Red meat consumption > 5 servings/week

Alcohol intake

Early age of onset of periods

Pregnancies later in life or no pregnancies

Hormone replacement therapy
Mitigating risk factors: breast feeding, particularly when > 6 months.
Based on all this, the following are behavioral changes a women can do to reduce her risk:
1. Minimize length of postmenopausal hormone replacement therapy. Standard of care is for patients who require HRT to take for less than three years if possible
2. Breast feeding for > 6+ months
3. Maintaining appropriate weight both before and after menopause.
4. Limit alcohol consumption
5. Regular physical activity
6. Avoiding smoking
Breast Cancer Screening
All women are encouraged to perform monthly breast self examinations (BSE) 5 days after the start of their periods. Breasts are the least dense during this time, increasing the accuracy of the breast exam.
When should I call the health care provider

?
If you find a lump, dimple, or discharge during your breast self-exam, see your physician as soon as possible, preferably within no more than a week. Remember, the vast majority of lumps are not cancerous, but only your provider can make the diagnosis.
Mammograms
The American College of Obstetricians and Gynecologists, and The Rubino OB/GYN group recommend
yearly mammograms after the age of 40
. Mammography surveillance can detect masses ten times smaller than a breast examination, and widely accepted research demonstrates that mammograms reduce mortality from breast cancer.
The downside of mammograms is that they can produce "false positive" results, requiring further imaging, or in some cases breast biopsies.
11% of mammograms require additional evaluation. However, the area of concern turns out to be benign in more than 90% of cases. A rad
iologist may request an ultrasound if the interpretation of the mammogram suggests the density of the breast is too much to adequately evaluate with mammogram alone.
If a breast exam or mammogram demonstrates an abnormal area of tissue, biopsy may be recommended. Depending on the case, this may be performed by a radiologist or by a breast specialist. Also, in some cases, a patient may be referred to a breast specialist for refined monitoring, even for benign cases.
Despite vigilant surveillance, sometimes the diagnosis of breast cancer is made. This diagnosis can be challenging to hear and accept, but most of these patients have excellent outcomes.
If you have any concerns or questions, please make an appointment with one of our doctors.
Eating Disorders - A Basic Guide
Below is an excerpt on eating disorders from the "Patient Resources" / "Patient Education" section of our website.
What is an eating disorder?
Severely limiting what you eat, vomiting on purpose, exercising too much, constantly thinking about being overweight and abusing diet pills and laxatives is unhealthy. People who use these methods to lose or control their weight often have an eating disorder.
Categories of an eating disorder
Eating disorders can be divided into two main categories. The first is called anorexia nervosa, which involves limiting what you eat. The second category is called bulimia, which involves eating large amounts of food (binging) followed by an urgent need to vomit (purging).
The combination of overeating without purging and exercising too much to control weight also can be an eating disorder, although it doesn't exactly fit the categories of anorexia nervosa or bulimia. Certain types of overeating also may require medical treatment.
More than 5 million people in the United States have an eating disorder. Most are women, but some men also develop eating disorders. Many young people are powerfully influenced by our culture's belief that "thin is beautiful" and this can encourage the development of eating disorders. Others develop eating disorders because they feel their weight is the only thing in their lives they can control.
What are the signs and symptoms of an eating disorder?
Some signs of an eating disorder include:
Refusal to maintain weight at a normal weight for height and age
Intense fear of weight gain
Unrealistic or distorted ideas about how one's body looks
Strange behavior around meals, including rituals
Missing menstrual periods
Withdrawing emotionally from people
Anxiety around meal times
Binging (eating large amounts of food very rapidly)
Purging (getting rid of food by vomiting, excessive exercising or using laxatives or diuretics)
How are eating disorders treated?
People with eating disorders need emotional support and psychotherapy to overcome their condition. Often, nutritional counseling and medications also are used. Treatment always should include seeing a psychiatrist.
Psychotherapy is a series of private talks with a psychiatrist where a person discusses the feelings, thoughts and behavior that cause difficulty. The goal of psychotherapy is to help people understand and master their problems so they can function better. Psychotherapy can help people with eating disorders understand why they limit their food intake or why they binge and/or purge. This understanding can lead to healthier attitudes about food.
Most people with an eating disorder can be helped in an outpatient program. People with severe or life-threatening eating disorders may need to be treated in a hospital.
For additional information, visit the National Institute of Mental Health.
If you think you or a loved one may be suffering from an eating disorder, please make an appointment with one of our doctors to discuss a recommended course of action.
Too much of a good thing can sometimes be detrimental. This can be the
case with vitamins. Although vitamins play a vital role in promoting your overall health, taking more than the recommended amount can cause mild to severe health problems.
This can happen with vitamin and mineral supplements but it can also happen by ingesting excessive amounts of nutritious foods with supplements. High doses of mineral supplements can also lead to side effects and toxicity.
The USDA (United States Department of Agriculture) provides a "Dietary Reference Intake" recommendation to define a tolerable level of intake for vitamins.
The term of overdosing on vitamins is often referred to as "hypervitaminosis" and, with few exceptions, typically occurs more with fat-soluble vitamins that are stored in the liver and fatty tissues of the body. In some cases, health conditions can reduce the amount of particular vitamins that a person needs - which puts them at a higher risk of experiencing vitamin toxicity.
Symptoms of overdose include:
Diarrhea
Fatigue
Hair loss
Headaches
Insomnia
Joint Pain
Nausea
Vomiting
Overdosing on some vitamins can hinder your body's ability to absorb or use other nutrients which can cause an overdose in one vitamin and a deficiency in another.
The most common vitamins that create vitamin toxicity are vitamins A, D, E and K. Below is an outline of some of the complications that might be caused by overdosing on specific vitamins and their maximum recommended daily intake (in parenthesis):
Vitamin A (5,000 IU)- vision problems, fatigue, liver problems, menstruation problems
Vitamin B6 (2mg)- depression, fatigue, headaches, loss of sensation in hands and feet
Vitamin C (60 mg) - headache, hot flashes, weakness, insomnia, kidney problems
Calcium (1,000 mg) - slower nerve function, fatigue, kidney stones
Vitamin D (400 IU)- nausea, weakness, high blood pressure, increased cholesterol levels, headaches, dizziness
Vitamin E (30IU) - extreme fatigue, increased blood clots, high blood pressure, slower healing
Iron (18 mg - women)- liver damage, heart problems, pancreatic complications, constipation
Zinc (8 mg - women)- hand tremors, loss of muscle control, slurry speech
If you think you might be experiencing vitamin toxicity, please make an appointment with one of our doctors for an evaluation.
Now Open on Broadway!
Our New Bayonne Office
We are excited to announce we recently moved our Bayonne office
from 696 Avenue C to a new state-of-the-art office located at 731 Broadway in Bayonne, NJ. This new location is only two blocks north and one block east (about a 3 minute walk) from the previous office.
The new facility has been newly renovated, has 6 exam rooms and is bright and spacious.
To make an appointment at our new location, please call 973-736-1100 or make an appointment right on our website.
Meet the Staff
This month we highlight, Dr. Audrey Romero.
Dr. Audrey A. Romero was born and raised in New Mexico. She
completed her undergraduate training at the University of New Mexico in Albuquerque. Dr. Romero then traveled east to complete her Medical School training at Hahnemann University in Philadelphia, Pennsylvania. Upon completion of her medical school training she returned to the Southwest to complete her residency. Dr. Romero was appointed Assistant Professor in the Department of Obstetrics and Gynecology at the University of New Mexico upon completion of her training.
During her time at the University of New Mexico, Dr. Romero became interested in pursuing further training in the field of Urogynecology. She felt compelled to help women with pelvic floor disorders and urinary incontinence have an improved quality of life, and therefore made the decision to leave her position and home to pursue this training.
Dr. Romero was fortunate to be accepted to Duke University and spent 3 years at Duke gaining the training needed to be an expert in the field of Urogynecology. Dr. Romero has contributed numerous scientific manuscripts and book chapters in the field of Obstetrics and Gynecology and Urogynecology throughout her career.
She joined The Rubino OB/GYN group upon completion of her fellowship training and relishes the ability to improve the quality of life for women of all ages.
She currently resides in Summit, with her husband of seven years and her four-year-old son. Time away from the office is spent with her family, baking, reading and playing piano.
Office Announcements
Flu and TDap Shots Now Available
We are now offering flu and TDap shots for our pregnant patients. Please call the office to make an appointment.
vitaMedMD Vitamins
The Rubino OB/GYN Group is now offering vitaMedMD™ in all 4 office locations. VitaMedMD offers patients high quality physician recommended products at an affordable price. Available products include Women's Multivitamin, Prenatal Plus, Prenatal One, Menopause Relief and Iron 150.
Emmi Video Tutorials
Emmi is a free, online video tutorial that makes complex medical information simple and easy to understand. Emmi provides clear and concise step-by-step information on common health topics and procedures right on our website. Click here to find out more.
Save Time with Online Appointments, Consultations &Personal Health Records
To schedule online appointments, consultations or view your personal health records at your convenience

, just visit the home page of
www.rubinoobgyn.com
. You can also call 973-736-1100 now to schedule an appointment at any of our four locations.

"Important Announcements" on Our Website
You can find important new developments and time-sensitive announcements (such as office closings) right on the upper right hand portion of our
home page
.
Enterprising Patients
If you would like to add your business or service to the website,
please e-mail us at network@rubinoobgyn.com.
Products Available on Our Website
For more information visit the products page on our website.