YOUTH POWER! Goes to the White House
Pictured from left to right: Stephanie Orlando, Desiree Moore and Zach Garafalo
On Thursday, July 25, YP! Executive Director Stephanie Orlando, Assistant Director Zach Garafalo and Long Island Regional Youth Partner Desiree Moore participated in a White House ceremony commemorating the 23rd Anniversary of the American's with Disabilities Act. Stephanie also participated in a roundtable discussion with President Obama and advocated for cross-systems collaboration in services.
The dialogue included remarks from Secretary of Labor Tom Perez, Senior Advisor to the President Valerie Jarrett, White House Domestic Policy Council Director Cecillia Munoz and Associate Director of the Office to Public Engagement and Liaison to Young America Ronnie Cho.
Desiree, Zach and six other emerging leaders in the disability community were honored as "Champions of Change" for their advocacy efforts, their innovative projects and their embodiment of the spirit of the ADA. The Champions of Change program was created as an opportunity for the White House to feature groups of Americans - individuals, businesses and organizations - who are doing extraordinary things to empower and inspire members of their communities. In addition to being honored as Champions of Change, Desiree and Zach participated in a panel discussion moderated by the Executive Director of the National Council on Disability Rebecca Coakley.
Click here to view the video of the celebration.
Champions of Change: Pictured from left to right: Anupa Iyer, Anjali Forber-Pratt (seated), Zoe Gross, Desiree Moore, Lydia Brown, Claudia Gordon, Zach Garafalo, Andrew Phillips and Ki'tay Davidson
Desiree Moore on her trip to the White House
Pictured from left to right: Zach Garafalo and Desiree Moore
Entering the White House I was pretty intimidated but after being greeted so warmly and seeing young adults working in the White house I felt relieved. When people ask me about the White House it is kind of hard to answer because it just feels so surreal. July25, 2013 was a life changing day for me. I had the opportunity to be honored along with seven distinguished leaders across the country as a Champions of Change by the Obama Administration. I was honored for my efforts to increase peer support and youth involvement throughout Long Island.
We had an opportunity to participate on a panel to share the positive influences in the disability community and various cross-systems we were making and the issues we were passionate about and it went great. I learned numerous things about American with Disabilities Act and the reason behind all of the celebration of another year. It was exciting meeting people who are well known leaders who have played vital roles in making some of the changes we have today. In addition I learned about different disabilities and accommodations, I learned how to applaud in American Sign Langue which was really cool. One of the most important things I'm taking away from this experience is learning to accept my disabilities as a unique gift and not allow them to interrupt my dreams.
To view Desiree Moore's bio on the White House website, click
here
.
Check out Desiree Moore's blog on the White House website.
Desiree Moore is the Long Island Regional Youth Partner.
Zach Garafalo's Perspective on His Recent Experience at the White House
Pictured from left to right: Zach Garafalo, Kirsi Garafalo and James Hilton
On July 25, I had the opportunity of a lifetime: to attend the White House ceremony commemorating the 23rd anniversary of the Americans with Disabilities Act (ADA) and participate on an emerging leaders' panel that brought awareness to areas of significance for our generation. Topics discussed included full inclusion, the importance of intergenerational mentoring relationships, investing in early intervention and prevention initiatives, teaching disability history and awareness in schools, employment options for people with disabilities and other important causes. During this event, I was also honored as a Champion of Change by the Obama Administration. President Obama established the Champions of Change program to honor ordinary people doing extraordinary work to empower and inspire their communities. I was recognized as a Champion of Change because of my work to build the Ready to Achieve Mentoring Program (RAMP).
This experience will be one that I always look back upon. To be given the chance to contribute to this dialogue was extremely meaningful - professionally and personally. But to be able to listen to and talk with other emerging leaders was even more powerful. The work these people are championing inspires hope for a brighter future for all people. I am honored and humbled to be able to play a small part.
To view Zach's bio on the White House website, click here.
Check out Zach's blog on the White House website.
Zach Garafalo is the Assistant Director of YOUTH POWER!
My Meeting with the President
By Stephanie Orlando
The President meeting with disability leaders in the Roosevelt Room.
On July 25, 2013 I had the honor of meeting President Barack Obama. It was a tremendous day in the YP! history books. Zach and Desiree were being honored as Champions of Change and I was invited to participate in a Disability round table with White House senior officials. About 12 national disability leaders were invited to meet in the Roosevelt room. The main topics we covered were employment of people with disabilities and the ratification of the UN Convention on the Rights of Persons With Disabilities. As a group, we drafted a follow-up letter which can be read here.
I was able to give the YP! 2013-2015 Priority Agenda to White House officials. My main talking points centered on the following main topics:
1) Cross-systems Coordination is key- Young people with disabilities often touch multiple service delivery systems. There is an over representation of youth with emotional and learning disabilities in the Juvenile Justice System. Far to often young people are ending up in restrictive settings and out of home placements. Education, behavioral health, foster care, child-welfare, labor, etc. must work together to be cost effective, keep people in the community and meet the needs of youth and families.
2) Mental Health is an undercurrent in all child-serving systems. Young people in mental health, Juvenile Justice and foster care often have histories of trauma. While mental health is important to address, there is an over reliance on medications that are not researched or approved for children. YOUTH POWER! hears from young people that describe being so medicated they could not walk and often describe their experience as feeling like a zombie. We feel this is a human rights violation and a barrier to education and work.
3) There is a need for more national disability focused youth leadership opportunities. There were more cross-disability youth leadership summits and training opportunities in the late 90's and early 2000 than there are now. The young people that were involved in the national disability movement have stayed invested and many have built a career on their experience. The young people of today and tomorrow need similar opportunities to connect with peers on a national level, develop an understanding of our history and build a sense of unity across disability groups.
I am proud to carry the voices of YOUTH POWER! members to the highest levels of government. It was a great honor to meet the President and to see YP! highlighted at the White House. As a Founder of YP!, I can say it is absolutely amazing to see all that we are accomplishing. The things we have to say are important and there are many people eager to listen. We hope that our recommendations will take shape in policy. We dream big and those dreams are becoming reality.
YP!'s Colleen Deitrich Published on CNN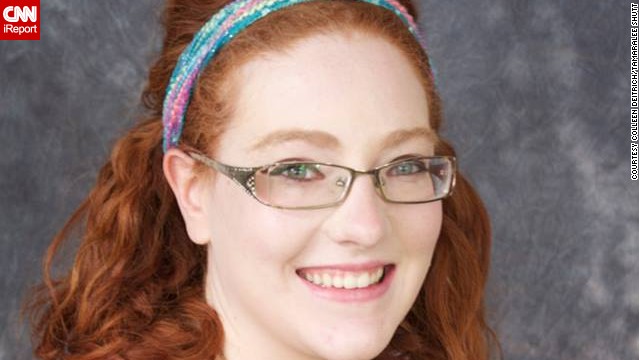 We are proud to share that YP!'s Central Regional Youth Partner, Colleen Deitrich had an article published through CNN. "The girl in the mirror is my enemy" is available to read at the following link. http://edition.cnn.com/2013/08/22/living/body-image-mirror-essay-irpt/?hpt=hp_t5
YP! Welcome New Executive Committee of Board of Directors
YOUTH POWER! is pleased to announce the new Executive Committee of the Board of Directors. At its August meeting, the Board elected Caitlin Neuman of the Western Region as President, Debra Paradiso of Long Island as Vice President, Erin Herman of the Western Region as Secretary and Kieran McGovern of Long Island as Treasurer.
Commenting on the elections, Executive Director Stephanie Orlando remarked: "It is exciting to see members rise so quickly to the highest ranks of YOUTH POWER!. Their passion, dedication and drive will ensure YP! stays true to it's mission and continues to grow."
Aaron Baier, the first President of the YOUTH POWER! Board of Directors and Christina Felix, Vice President will be aging off of the Board of Directors by year's end. Aaron remarked: "while it will be sad to leave the ranks of YOUTH POWER! as a contributing member, I am extremely proud and excited for our future as an organization. Our current Board of Directors with the new Executive Committee are well equipped to keep YOUTH POWER! moving in a positive and meaningful direction. The most challenging yet coolest opportunity for me now will be to step-back from my previous leadership role and step-up to a mentoring role with the new leadership. My age does not define me, my experiences stand for themselves, I will share those experiences to strengthen the movement, I will always believe in YOUTH POWER!"
YOUTH POWER! is actively recruiting young adults for our youth-run youth-led organization. Applicants must be between the ages of 18 and 26 at the time of appointment. We are seeking young professionals with legal and financial backgrounds.
Click here to learn about becoming a board member and here to learn about our current Board of Directors.
YP! Attends National Youth in Recovery Summit
YP! representatives Jessica Hollins, Desiree Moore and Stephanie Orlando attended SAMHSA's Youth in Recovery Summit on August sixth and seventh in Bethesda Maryland. We were joined by Bianca Logan a YP! leader that attended the event in her role as coordinator of Rochester's SWAT.
The event brought together young people with personal experience with mental health challenges and those in recovery from addiction. Together, we discussed the future of peer-to-peer services as well as building a stronger link between mental health and addiction services. "It was a great opportunity to network and bring the voice of the YP! Network to SAMHSA," said Stephanie Orlando, YP!'s Executive Director.
YP! has been spending more time on the national scene. It is important to bring our efforts to promote our priority agenda to the Federal level. The power of networking can not be under estimated. We become stronger by connecting to other young people in our movement. "Our background and circumstances may influence who we are but we are responsible for who we become. Attending this summit and hearing others story and what they have gone through and what they are fighting to change to make services better was such an inspiration to me," said Jessica Hollins, Western Regional Youth Partner.
The following links provide more information on the summit.
ATTC Network: In My Own Words: Celebrating Students' Stories of Recovery
This article elaborates about "In My Own Words..." An essay contest where students from all over the country wrote about their personal experiences through stories about the process of recovery. Although each essay was different and unique each had to contain two phases: "The most challenging part about being a student in recovery is ..." and "Throughout my journey, I have been motivated to stay in recovery because...". Although there was a response of 65 submissions only 15 are chosen by an Expert Review Panel 9 of those receiving honorable mention. The first, second and third prized winning essays are featured in the article; they are personal, deep and inspiring.
Young Adult Listening Session Final Report
This article is a summary report on a debriefing regarding what young adults, family members, service providers and other stakeholders to help extend/elaborate knowledge on planning for the SAMHA 2013 National Summit on Youth Recovery. This article is a similar structure to the Common Ground article format, The report helped to prioritize issues, express concerns, raise both the enthusiasm and momentum and of course point out what was successful. Findings from the Listing Session include but are not limited to Youth Voice & Involvement are Critical, It Is Difficult to Navigate the System, Common Challenges Include, Increase Awareness of Peer Support Group. The format and content seemed very well written and similar structures will hopefully be applied for their next debrief.
This article features what is called "common ground points: or a summary of key elements" that have been agreed upon or are of common opinion from both youth and young adults in recovery from mental health and/or substance use. Though this article has less points, the points that are listed are extensive and detailed. The ten points are more oriented toward the youth and young adults, as most of it speaks in the "we" tense. This 'common ground' seems to focus on what they are looking for, hope to have or simply vocalize their options or what has been achieved/worked. One particular point that stood out was "Support of Peers is Important," which then extends by giving their definition of a peer and how that type of peer "helps us maintain recovery from both mental health problems and substance use."
Information on Angenda
NYC Youth Forum This Friday, August 30!
Youth Are Invited to Attend Our 4th Annual NYC Regional Youth Forum!

Theme: Speak Up, Reach Out!
Watch the Promo Video Here

Date August 30th
Time: 4:30-8pm
Location: Barnes & Noble Bookstore
150 East 86 Street Manhattan, NY 10028 (Forum is located downstairs next to the cafe).

Youth Performances, Raffle Giveaways, & Much More!!!*

YOUTH POWER! is a New York statewide network of young people between the ages of 14-28 with disability and/or shared experiences in child serving systems such as the mental health, foster care, juvenile justice, and child welfare systems who want a voice. Together we stand for change.The YOUTH POWER! forum gives youth the opportunity to network and voice their opinions and concerns on societal issues that affect them. Share Your story, we want to hear from you!

*Plus support our Back-To-School Book Fair and donate books for OCFS youth in care. *

*For more info contact NYC Regional Youth Partner, Pauline Gordon at pgordo[email protected] or (347)880-2735.
Please RSVP to attend.
Register Now for the NYAIL Conference
NYAIL Logo
The New York Association on Independent Living (NYAIL) will be holding their annual conference in Troy on September 10th and 11th. This year's theme is "Celebrating 35 Years of Independent Living in New York: Yesterday's Dream, Today's Reality, Tomorrow's VIsion."
The deadline to receive the reduced registration rate of $225* has been extended to August 30th! To register, click here.
YOUTH POWER! will be presenting "Lead On: Bringing the Next Generation to the Table."
Click here for the Conference Program.
Register Now for the Transition Age Youth Institute
YOUTH POWER! is pleased to be a partner with the Mental Health Association of New York State (MHANYS), New York State Rehab Association, New York Coalition for Children's Mental Health Services and the Learning Disabilities Association in New York State in a two day Transition Age Youth Institute on September 17th and 18th at the Saratoga Hilton. The Conference Flyer and Brochure are attached.
Follow the links below for registration materials.
United States of Autism: A Film Review
By Colleen Deitrich
Photo is courtesy of usofautism.com
Autism is not a singular disability. Anyone who has done their research on autism knows that instead it is a long spectrum, as diverse as anything else. Some autistic people need help in performing daily tasks, others are fully capable of independent living, and even doing great things for the world. The United States of Autism takes great care to reflect exactly how diverse the autistic world is. But does it go far enough? And is it effective in being an empowering film for autistic people?
One of the first things a viewer notices about the film is that it is told from a neurotypical standpoint: the film's narrator is a man with an autistic son who wishes to answer the question: what is in store for my son and I? To find the answer, he travels nationwide and follows a surprisingly mixed group of youth and adults, both neurotypical and autistic. But, as with many documentaries, once the interviews with autistic people and their families are complete, they are done in the film. The only steady presence in the film is a neurotypical, albeit well-intentioned narrator. This can present a confusing message for someone looking for an empowering aspect to the movie: the point of view is 'normal.'
That said, there is still a lot that the makers of the documentary should be proud of. They did go to great lengths to capture as many different voices as possible, and they succeeded. Many races, classes, ages, and religions are captured. This conveys that autism can affect anyone, and this is why understanding and accepting it is important.
The high point of the film comes when the narrator interviews Alex Plank, an adult with Asperger's Syndrome who create the online social network 'Wrong Planet,' which is a forum for autistic people to meet one another, share their experiences, and socialize in a comfortable way. Plank, when asked by the narrator is he ever wanted to see a cure for autism, immediately shook his head and replied, 'no way.' He emphasized that autism was a part of who he is, and being 'cured' wasn't something he was interested in. This and a few other instances of Autistic Pride make their way into the movie, but this was by far the most profound moment of it.
In all honesty, a few more interviews along this vein and a few less 'sob stories' from families would've given the film a more consistent tone. Sometimes the message gets lost in the film. The mood changes abruptly, and the transitions can be choppy. One minute we hear from a neurotypical girl laugh about all of the fun she has with her autistic twin sister, and the next she's crying about watching her sister being bullied in school. Are we supposed to see that she accepts her sister, or that she fears for her sister? Trying to absorb both messages can be overwhelming, especially for a viewer who may be educating himself on autism for the first time.
Overall, while I wouldn't exactly go so far as to call this a definitive documentary for the Autistic Pride movement, it is a very well-intentioned film that presents a wide range of worldviews. I would recommend it to anyone, autistic and neurotypical, if autistic people are comfortable with a film that sometimes looks at them through a lens. The film effectively promotes awareness, but not necessarily acceptance.
New York State Justice Center for the Protection of People with Special Needs Releases First Report
NYS Justice Center Logo
The NYS Justice Center for the Protection of People with Special Needs has released its first progress report since commencing operation on
June 30
of this year.
Excerpt from the Report:
"...The Justice Center has established the definitions of abuse and neglect in broad terms, including both actual harm and the risk of harm, and maintains the Vulnerable Persons Central Register Hotline (VPCR). The VPCR is staffed 24 hours a day, seven days a week by 70 highly-trained call center representatives who were selected from a pool of more than one thousand applicants.

Reports to the VPCR Hotline come from many sources, including individuals with special needs who are receiving services, "mandated reporters" who comprise custodians, other health care professionals and law enforcement, as well as families and the general public. Anyone who witnesses or suspects the abuse or neglect of a person with special needs should make a report to the Justice Center VPCR Hotline by calling
1-855-373-2122
..."
Follow this link for the Full Story>>
Website for Teens Facing Serious Problems
This website has resources and teens' own stories about peer pressure, bullying, depression, dating violence, anger and other issues. Get answers to questions about sexually transmitted infections and pregnancy and find free and low-cost clinics. The site also has quizzes, polls, and fact sheets. Staff can incorporate information from the website into classroom learning to enhance mental health instruction. Follow this link to see New York City Teen.
10 Things You Need to Know About the Americans with Disabilities Act (ADA)
An American Flag with a Wheelchair superimposed over the stars
This resource from Disability.gov outlines 10 important things to know about the Americans with Disabilities Act (ADA), such as the history of the ADA, "reasonable accommodation" as defined by the legislation, and how you can file a complaint.
Click here to learn more.
Affordable Care Act
The Patient Protection and Affordable Care Act (ACA) makes preventive care more accessible and affordable for many Americans. On October 1, 2013, the Health Insurance Marketplace will begin accepting enrollment and helping people get coverage that meets their needs and fits their budget. The ACA will allow parents and school communities to focus on the important work of learning, rather than the cost of health care.
To learn more, check out the resources listed below:
Children's Pre-Existing Conditions
Department of Education Documents:
Grassroots Human Rights Defenders Invited to Apply for Human Rights Advocates Program
A program of the Institute for the Study of Human Rights at Columbia University in New York City, the Human Rights Advocates Program is a capacity-building program that aims to strengthen the skills, knowledge, and networks of proven human rights defenders working at the grassroots level anywhere in the world.
The program focuses on strengthening the skills of individual advocates as well as on providing the tools needed to build sustainable organizations that advocate for disadvantaged people. Through workshops, seminars, participation in university classes and meetings with policy makers and potential funders, advocates share their experiences, reflect critically on their strategies, and plan future campaigns.
The program is designed for lawyers, journalists, doctors, teachers, social workers, community organizers, and other human rights activists working with NGOs on a variety of issues, including sexual and gender-based violence, domestic violence, minority rights, LGBT rights, labor rights, migration, health, social exclusion, environmental justice, and corporate social accountability.
Participants are selected on the basis of their previous work experience in human rights, commitment to the human rights field, and demonstrated ability to pursue graduate-level studies. Full-time students or government officials will not be considered.
Advocates must work at the grassroots level. Except for those representing marginalized communities, applicants from high-income countries will not be considered. Fluency in English is required. Preference is given to those who have not previously had opportunities to travel and study internationally.
The 2014 HRAP will begin in the latter half of August and run until mid-December 2014. ISHR makes every effort to provide full fellowships to cover program costs as well as travel and housing expenses. A reasonable stipend to cover basic costs also is provided.
Visit the ISHR Web site for complete program information and application procedures.
Two Emotional CPR (eCPR) Certification Trainings
Registration Now Open to the Public!
Logo for Emotional CPR from National Coalition for Mental Health Recovery

Two Emotional CPR certification trainings are open for registration. The two-day trainings will be on:

September 9-10, 2013 in Kerhonkson, NY before the New York Association for Psychiatric Rehabilitation (NYAPRS) Conference, and December 2-3, 2013 in Austin, TX prior to the Alternatives Conference.

Through a combination of presentation, interactive discussions, and dynamic role-plays, trainees will learn about and practice the key concepts involved in effectively supporting a person through an emotional crisis and into healing. eCPR training is appropriate for the general public, peer and other service providers, family members, administrators, and others; no previous training is necessary.
New Hub for Juvenile Justice Research
Juvenile Justice Information Exchange

Juvenile justice professionals take note: a new resource collection makes it easier and more engaging than ever to get in-depth journalism stories together with key research, data, guides and toolkits on critical issues in the juvenile justice field. The Juvenile Justice Resource Hub

provides an accessible, user-friendly point of entry to a repository of years of research into juvenile justice issues. The Hub is a project of the Juvenile Justice Information Exchange (JJIE.org)
Job Help for "Disconnected" Youth
New York City Department of Youth and Community Development
New York City's Out-of-School Youth (OSY) program is for 16-21 year-olds who are not connected to school or work, or who need assistance upgrading their job skills. These programs offer occupational skills training; assistance with job and college placement; GED preparation; and support services. Participants receive 12 months of follow-up services after completing the program.
Online Network for Youth Aging Out
Camellia Network Logo
Camellia Network is a new online community that posts profiles of older youth in care that explain who they are and what they need. The youth's needs are posted in the form of a registry, like for a wedding or baby shower, and people choose what they'd like to buy the youth. Youth must be nominated by a referral partner agency.
Student Loan Interest Rates
An image about Student Loan Interest Rates
On August 8, President Obama signed into law a bipartisan compromise cutting interest rates on all new student loans this year and saving a typical undergraduate student $1,500 over the life of his or her loans. The plan allows borrowers to benefit from the low interest rates currently available in the marketplace and guarantees borrowers are able to lock-in rates over the life of their loans. In the future, fixed rates will be determined each year by market conditions, helping ensure that borrowers' rates are more in line with the government's own cost of borrowing, while capping how high rates can rise.
Under the new law, some 11 million borrowers will see their interest rates decrease on new loans made after July 1, 2013. About 8.8 million undergraduate borrowers will see rates drop from 6.8% to 3.86%, while about 1.5 million graduate unsubsidized Stafford borrowers will see rates drop from 6.8% to 5.41%. Moreover, over 1 million Grad PLUS and Parent PLUS borrowers will see rates drop from 7.9% to 6.41% (the first reduction in years).
In the weeks and months to come, the Administration will continue to work with Congress to tackle rising college tuition and unaffordable debt.
Also, a new analysis by the Consumer Financial Protection Bureau takes a closer look at the more than $1 trillion in outstanding federal student loans, as well as alternative repayment plans to lower payments.
In addition, as part of the Department's Student Voice Series, Secretary Duncan met with college student leaders from across the country, nominated by their State Higher Education Executive Officers to discuss a wide range of ideas and strategies on college access, affordability, and completion.
Education Department's Civil Rights Chief Confirmed
The Senate confirmed Catherine Lhamon, the current director of impact litigation at the pro bono Public Counsel law firm in California, as assistant secretary of the department's civil rights office. Her pro bono law firm has been deeply involved in changing racially disparate school discipline policies in Los Angeles.