CEUs for Social Workers This Friday
Join Attorneys Harry S. Margolis and Christina T. Vidoli as they host our next Law School for Social Workers this Friday, November 16th, from 8:00 to 10:00 a.m. at the Goddard House in Brookline. Topics will include Planning for Incapacity, Benefits for Community Care, Veteran's Benefits, and Planning for MassHealth Eligibility.
Social Workers will receive two NASW approved CEUs. The fee is $30 in advance and $35 at the door with all proceeds going to FriendshipWorks, a volunteer program that provides companionship and
assistance to the elders.
To register and for further information, click here, contact Rachel Sandler by e-mail (rs@margolis.com) or by telephone (617-267-9700).
Learn About Accessing Quality Home Care Services
On Tuesday, November 13th from 2:00 to 3:30 p.m., the National Consumer Voice for Quality Long-Term Care will offer a free webinar on how consumers assess quality and achieve quality long-term services and support at home.
Registration is limited and is first-come, first serve, so click here to sign up. Please contact Sara Cirba at scirba@consumervoice.org or 202.332.2275, ext. 221 if you have any additional questions.
Margolis & Bloom is Looking for a Paralegal
Margolis & Blooms seeks an experienced
paralegal to join our team. Paralegals in our firm
have primary responsibility for the matters to which
they are assigned. They have considerable client
contact and are key to the firm's commitment to
client service. Successful candidates will have previous experience in one or more of the following fields: estate planning, estate administration, guardianship and MassHealth applications.
If interested, please e-mail a cover letter and resume to Eugenia Andrade (ea@margolis.com).
MassNAELA's Second Annual Vendor Fair
The Massachusetts chapter of the National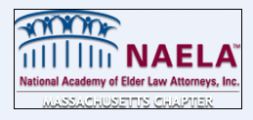 Academy of Elder Law Attorneys will hold its second annual Vendor Fair on Tuesday, December 4th, at the Boston Marriott.
If you'd like to register, click
here
to download a registration form. You may also contact Barbara Cohen, Chapter Administrator, at (617) 277-6082 with any questions or if you would like information on MassNAELA's year-round marketing opportunities.