THIS WEEK AT THE MUSEUM

Tuesday, October 30 - Sunday, November 4
SPECIAL EVENT - Noor Iranian Film Festival
5th Annual Noor Iranian Film Festival
Friday, Nov. 2 - Sunday, Nov. 4, 2012
Film listings and show times to come!
The Ancient Persia Modern Iran Program Series is a joint presentation of the Iranian American Society, Bethune-Cookman University, Daytona State College, Embry-Riddle Aeronautical University, the Southeast Museum of Photography and the Department of Cultural Arts at Daytona State College.
Presented in cooperation with Cinematique Theater of Daytona.
Click here for more information about this film festival.
Community Workshop
NIGHTSCAPES: LONG-EXPOSURE PHOTOGRAPHY

Photography workshop designed for adults of all ages and skill levels.

Three week course (Level III*)

This class meets three consecutive Saturdays:

November 3, 10 & 17 from 6pm - 10pm.

Practicing long-exposure photography is a great exercise for individuals who want to perceive the world in new ways. Learn how to blur and soften the motion of water, to elicit dramatic effects and reveal shadow details, and capture the paths of stars as they trail across the night sky.

Cost: $150 for three-day workshop series
Please note: This class will require travel. Locations to be announced.



Click here for more information and registration form.
Exhibition Film Series
A GIRL AND HER ROOM
Wednesday afternoon matinees continue with our exhibition film series: A Girl and Her Room. Inspired by the exhibition and book of the same name, these dramas, comedies and satirical masterpieces draw us into the confusing, beguiling and compelling world of the modern adolescent.
Wednesday, October 31
1:30pm
Dazed and Confused (R)
A comedy about the adventures of incoming high school and junior high students on the last day of school in 1976. Their paths variously intersecting at a freshmen hazing, a local pool parlor and finally at a keg party. Like George Lucas' American Graffiti, Richard Linklater's Dazed and Confused is an affectionate look at the youth culture of a bygone era. Considered to be a cult film classic, and includes then up-and-coming actors such as Ben Affleck, Matthew McConaughey, Parker Posey, and Milla Jovovich.

Click here for more information.
Dinner and a Movie
IT'S OK TO LAUGH
This interdisciplinary feature film series presents titles that explore humor and satire in recent cinema. Join Daytona State College faculty members and film specialists for background information, discussion and audience Q & A.
Wednesday, October 31
7:30pm
Little Big Man
A Western film about a Caucasian boy named Jack Crabb (Dustin Hoffman), who survived the massacre of his parents' wagon train by the Pawnee. Found by a Cheyenne warrior, Jack is raised in the Cheyenne village. Now an old man looking back, he tells of his life with the Indians and fighting General Custer. Considered to be an anti-establishment film, it demonstrates a clear social conscience, and was recognized to be a criticism of the U.S. military in the Vietnam War.
Click here for more information.
Movie Matinee
DIRECTORIAL MASTERS
This continuing series will showcase the cinema masterworks of some of the most thoughtful and influential directors in recent decades. Both Stanley Kubrick (UK/USA) and Terence Malick (USA) figure amongst cinema's most unique stylists and each has produced milestone works in twentieth century film culture. Kubrick's work ranges from early masterpieces like Spartacus to rarely seen iconic titles like A Clockwork Orange and the classic war film Paths of Glory. Malick's recent blockbuster The Tree of Life has piqued interest in his earlier visionary works.
Thursday, November 1
1:30pm
Badlands
Selected by the U.S. National Film Registry for preservation by the Library of Congress as being "culturally, historically, or aesthetically significant", this film is a dramatization of the real life story of the Starkweather-Fugate killing spree of the 1950's. Narrated by Holly (Sissy Spacek) as she describes her adventures with Kit (Martin Sheen) - a rebellious greaser who charms Holly and takes her as his accomplice on a cross-country killing spree.
Click here for more information.
Cinema Essentials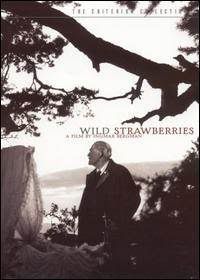 INGMAR BERGMAN
This is the first in a continuing series of sustained explorations of the masterworks of modern cinema. Delving deep into the entire vision of some of cinema's greatest directors, the series starts with the essential masterpieces of Sweden's Ingmar Bergman. From his early, lyrical character studies to the dramatic sweep of his penetrating epics, Bergman's vision and style remains unmistakable and fresh today.
Friday, November 2
1:30pm
Wild Strawberries
A classic study on isolationism, this film is about a stubborn old man recalling his past as he is confronted by his loneliness during a long car ride to receive an honorary degree. During the trip, Isak is forced by nightmares, daydreams, his old age, and his impending death to reevaluate his life. As he gradually begins to accept himself, his past, his present, and his approaching death, closure and an affirmation of life finally come.
Click here for more information.
Museum Gift Shop
New Arrival at the Gift Shop!
EDGE TO EDGE:
Vintage Panoramic Photography in Florida
Curated by Jay Mechling
Softcover: 39 pages
Publisher: Southeast Museum of Photography; First Edition (2012)
Language: English
Product Dimensions: 8.25 x .25 x 11 inches
This catalogue was produced in conjunction with an exhibition of the same name currently on view at the Southeast Museum of Photography. Many of the works presented in this exhibition and catalogue are drawn directly from the collection of artifacts gathered over the years by Jay Mechling, the exhibition's curator.
With works ranging from the so-called "Real Photo Postcards," which were produced by many notable photographers of the time, to original and full-sized panoramic prints, some up to a "yard long;" the Mechling Collection is one of the largest and most complete archives of this type of photography of Florida in existence.
Retail price: $8.95
Click here to see more books.
MUSEUM HOURS

OPEN - Tues, Thurs, Fri: 11-5 pm; Wed: 11-7 pm; Weekends: 1-5 pm
June, July and December Hours: Tues-Sun: 12-4 pm

CLOSED - Mondays and for the following dates:

Easter Sunday, Daytona 500 Weekend, Daytona State College Spring Break, July 4, Thanksgiving Weekend, July 30-August 13, Dec 17 - January 11

MUSEUM LOCATION

Unless noted otherwise, all museum exhibitions, events and films are presented at the Southeast Museum of Photography which is located on the Daytona Beach campus of Daytona State College at 1200 International Speedway Blvd, three miles east of 1-95.

The museum is located in the Mori Hosseini Center (Bld. 1200). Visitor parking is available. Gallery admission is free. For detailed exhibition and program information visit www.smponline.org or call the museum information hotline at (386) 506-4475.

Daytona State College prohibits discrimination and assures equal opportunity in employment and education services to all individuals without regard to age, ancestry, belief, color, disability, ethnicity, genetic information, gender, marital status, national origin, political affiliation, race, religion, sex, and veteran status. For more details, read our policy at this link Equal Opportunity Statement or contact: Job B. Clement, Chair of the Equity Committee at 386-506-3403 or 1200 W. International Speedway Blvd., Daytona Beach, Fl. 32114.

Southeast Museum of Photography

A Service of Daytona State College

1200 W. International Speedway Blvd.

(386)506-4475