From Cyprus to Congress
Weekly Update - March 25, 2013
In This Issue

The Markets:


Markets finally snapped their winning streak on concerns of Eurozone trouble with Cyprus. Despite the early sell-off, markets rose later in the week to erase most of the losses. For the week, the S&P 500 lost 0.24%, the Dow slid just 0.01%, and the Nasdaq trimmed 0.13%.[1]


Equities began the week with a broad sell-off amid news surrounding Cyprus, which desperately needed Eurozone bailout money to recapitalize its failing banks. The Cypriot parliament voted down the original proposal that would have taxed all bank accounts to raise additional funds, but was able to clinch a last-minute deal with international lenders that will recapitalize the country's ailing banks with €10 billion in rescue funds. The provisions of the deal include shutting down Cyprus' second-largest bank and raiding bank deposits over €100,000, which are not guaranteed under EU law, to raise an additional €4.2 billion. While Cyprus was able to avert a disorderly default (and probable Euro exit), appropriating funds from uninsured depositors, including wealthy Russians, will have far-reaching consequences for Cyprus' business model as a financial haven for foreigners.[2]

On the home front, Congress finally ended the threat of government shutdown by approving a bill funding the government through the end of 2013. While sequestration cuts are still ongoing, the bill will ease some of the pain of mandatory cuts.[3]

On a related note, senators approved a non-binding $3.7 trillion 2014 budget agreement late last week during a marathon voting session that lasted until the early hours of Saturday morning. In stark contrast to the House budget, which slashed government spending, the Senate budget increased government spending while simultaneously increasing taxes on the wealthy. In some years, House and Senate budgets are reconciled, but that is not likely to happen this year due to the politically charged nature of the debate.[4]

Regardless of what happens far away in a country like Cyprus, or here at home in the U.S., we'll continue to monitor events that have the potential to impact your investments, and will keep you informed. We hope you have a great week!

ECONOMIC CALENDAR:

Monday: Dallas Fed Mfg. Survey, Ben Bernanke Speaks 1:15 PM ET

Tuesday: Durable Goods Orders, S&P Case-Shiller HPI, New Home Sales, Consumer Confidence

Wednesday: Pending Home Sales Index, EIA Petroleum Status Report

Thursday: GDP, Jobless Claims, Chicago PMI

Friday: Personal Income and Outlays, Consumer Sentiment



Performance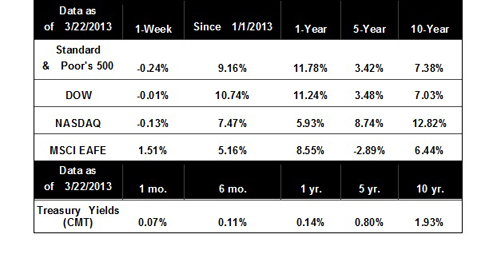 Notes: All index returns exclude reinvested dividends, and the 5-year and 10-year returns are annualized. Sources: Yahoo! Finance and Treasury.gov. International performance is represented by the MSCI EAFE Index. Past performance is no guarantee of future results. Indices are unmanaged and cannot be invested into directly.
Headlines


Housing starts made a partial comeback after their drop in February. Even better, housing permits jumped, indicating that builders are ramping up production this year.[5] Sales of existing homes also grew slightly in February, and sales numbers for January were revised upwards, showing that the positive trend is holding across the industry. The supply of available housing also increased as higher prices are bringing more homes onto the market.[6]
Manufacturing growth picks up in March. After solid February numbers, manufacturing growth and the pace of hiring increased in March, indicating that the sector is still contributing to economic growth.[7]
Oil prices rose last week. Oil traders took advantage of early weakness in oil prices and got back in, causing oil prices to rise to $93.71. Domestic gasoline prices average to $3.69,19 cents cheaper than the same period last year.[8]
China faces more headwinds. Despite some recent gains in economic growth and domestic demand, China's economy struggles with excess production capacity and risks to its financial system. One top official recommends broad reforms, including lessening state control to increase future economic growth.[9]


"The only way of finding the limits of the possible is by going beyond them into the impossible."
- Arthur C. Clarke


Chocolate Turtle Bars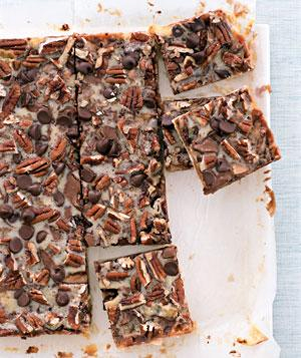 These chewy, chocolatey bars are perfect for a picnic or bake sale. Recipe from RealSimple.com.
Ingredients:
2 cups all-purpose flour
1/2 cup confectioners' sugar
1 cup unsalted butter
1 14-ounce can sweetened condensed milk
1 large egg, beaten
1 teaspoon pure vanilla extract
1 cup pecans, coarsely chopped
3/4 cup semisweet chocolate chips
1 cup toffee-and-chocolate baking pieces (such as Heath)
Directions:
Heat oven to 350°F. Combine the flour, confectioners' sugar, and butter in the bowl of a food processor. Pulse until a crumbly dough is formed.
Press the dough firmly into a greased 9-by-13-inch pan.
Bake until just golden, about 13 minutes.
Whisk together the condensed milk, egg, and vanilla. Pour the filling over the baked crust. Sprinkle the pecans, chocolate chips, and toffee pieces evenly over the filling.
Bake until the filling is set, the edges are golden brown, and the toffee is melted, about 25 minutes.
Cool completely in the refrigerator, about 2 hours. Cut into 32 bars.


Write it Down
It's easier to improve if you can document your hits and misses. Where do you hit good shots, and where do you hit poor ones? Did you hit right, left, or on top? How many putts of less than five feet do you miss? Keep a journal and consult it periodically to unearth patterns and discover areas that need work.
Cut Down on TV Time
According to a recent National Geographic survey, the happiest people watch less than an hour of TV each day. Researchers surmise that we get more authentic happiness from being with friends and family, reading, or enjoying our hobbies.

Use Lemons to Clean Your Microwave
Heat a bowl of water and lemon slices in your microwave for 30 seconds to a minute, then wipe out the microwave. Stains will be easier to remove and old food odors will be neutralized without using harsh chemicals.
Share the Wealth of Knowledge!
Please share this market update with family, friends, or colleagues. If you would like us to add them to our list, simply click on the "Forward email" link below.
We love being introduced!

Investing involves risk including the potential loss of principal. No investment strategy can guarantee a profit or protect against loss in periods of declining values.
Diversification does not guarantee profit nor is it guaranteed to protect assets
The Standard & Poor's 500 (S&P 500) is an unmanaged group of securities considered to be representative of the stock market in general.
The Dow Jones Industrial Average is a price-weighted average of 30 significant stocks traded on the New York Stock Exchange and the NASDAQ. The DJIA was invented by Charles Dow back in 1896.

The MSCI EAFE Index was created by Morgan Stanley Capital International (MSCI) that serves as a benchmark of the performance in major international equity markets as represented by 21 major MSCI indexes from Europe, Australia and Southeast Asia.

The 10-year Treasury Note represents debt owed by the United States Treasury to the public. Since the U.S. Government is seen as a risk-free borrower, investors use the 10-year Treasury Note as a benchmark for the long-term bond market.

Google Finance is the source for any reference to the performance of an index between two specific periods.

Opinions expressed are subject to change without notice and are not intended as investment advice or to predict future performance.

Past performance does not guarantee future results.

You cannot invest directly in an index.

Consult your financial professional before making any investment decision.

Fixed income investments are subject to various risks including changes in interest rates, credit quality, inflation risk, market valuations, prepayments, corporate events, tax ramifications and other factors.

These are the views of Platinum Advisor Marketing Strategies, LLC, and not necessarily those of the named representative, Broker dealer or Investment Advisor, and should not be construed as investment advice. Neither the named representative nor the named Broker dealer or Investment Advisor gives tax or legal advice. All information is believed to be from reliable sources; however, we make no representation as to its completeness or accuracy. Please consult your financial advisor for further information.
By clicking on these links, you will leave our server, as they are located on another server. We have not independently verified the information available through this link. The link is provided to you as a matter of interest. Please click on the links below to leave and proceed to the selected site.
[1] http://briefing.com/investor/markets/weekly-wrap/weekly-wrap-for-march-18-2013.htm
[2] http://uk.reuters.com/article/2013/03/25/uk-eurozone-cyprus-idUKBRE92F07R20130325
[3] http://www.cnn.com/2013/03/21/politics/congress-budget/index.html?utm_source=feedburner&utm_medium=feed&utm_campaign=Feed%3A+rss%2Fcnn_allpolitics+%28RSS%3A+Politics%29
[4] http://politicalticker.blogs.cnn.com/2013/03/22/senate-dives-into-budget-vote-a-rama/
[5] http://online.barrons.com/mdc/public/page/9_3063-economicCalendar.html
[6] http://online.barrons.com/mdc/public/page/9_3063-economicCalendar.html
[7] http://www.reuters.com/article/2013/03/21/us-usa-economy-pmi-markit-idUSBRE92K0JX20130321
[8] http://news.yahoo.com/oil-rises-finishes-week-small-gain-204151198--finance.html
[9] http://news.yahoo.com/china-vice-premier-says-economy-faces-headwinds-urges-044819713--business.html