Next Move: Washington

Weekly Update - February 19, 2013

In This Issue

The Markets:




Markets ended a quiet week basically flat, though the S&P 500 managed to chalk up its seventh week of gains. For the week, the S&P 500 gained 0.12%, while the Dow lost 0.08% and the Nasdaq trimmed 0.06%.

[1]

There was quite a bit of economic data released last week - here are a few highlights: U.S. manufacturing appeared to stumble in January as factory output fell 0.4%, according to a Federal Reserve report. However, production was much higher in the final months of 2012 than expected, indicating that this could be a temporary setback.

[2]

Europe is weighing on markets as a disappointing GDP report showed that the economies of France, Germany, Greece, Italy, and Portugal all contracted in the fourth quarter of 2012. As a result, the fourth quarter Eurozone GDP shrank 0.6% compared with the third quarter.

[3]

On the positive side, consumer confidence beat expectations with a significant bump in January as Americans responded enthusiastically to the resolution of the fiscal cliff. Households earning less than $75,000 were among the most optimistic about the future, belying economists' concerns about the weight of payroll taxes among this group.

[4]

On the whole, we think the general trend shows that the economy is still plowing forward, despite concerns about budgets and federal spending.

The holiday-shortened week will see the release of housing data and minutes from the January Fed FOMC meeting. Markets could stay in low gear as investors look for signs of future Fed moves and examine reports on housing data.

[5]

Looking farther ahead, we're anticipating some market headwind in the form of the March 1st sequestration deadline that is fast approaching. This automatic series of federal spending cuts was temporarily extended in January during the fiscal cliff wrangling to allow Congress and the President more time to negotiate. However, with no resolution thus far, and Congress in recess this week, it appears as though the deadline may pass with no action.

[6]

Although markets have been ignoring the news thus far, the effects of sequestration in massive federal budget cuts

[7]

, lost jobs, furloughs, and defense cuts would very likely have a negative effect on markets. While we never try to make definite predictions, we're keeping a close eye on what's going on in Washington and will keep you informed. As always, we focus on the long term while taking advantage of opportunities as they present themselves.

ECONOMIC CALENDAR: Monday:

U.S. Markets Closed for Presidents' Day Holiday

Tuesday:

Housing Market Index

Wednesday:

Housing Starts, Producer Price Index, FOMC Minutes

Thursday:

Consumer Price Index, Jobless Claims, PMI Manufacturing Index Flash, Existing Home Sales, Philadelphia Fed Survey, EIA Petroleum Status Report
Performance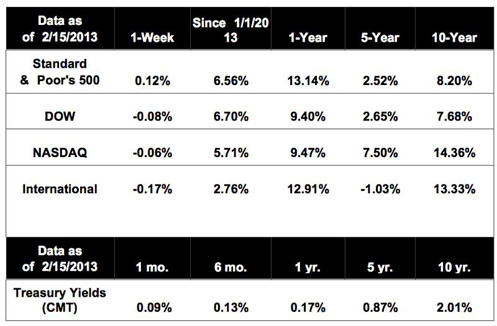 Notes: All index returns exclude reinvested dividends, and the 5-year and 10-year returns are annualized. Sources: Yahoo! Finance, Treasury.gov. International performance is represented by the iShares MSCI EAFE Index Fund (ETF). Past performance is no guarantee of future results. Indices are unmanaged and cannot be invested into directly.

HEADLINES:


G20 countries put off debt cutting. The 20 most economically powerful countries in the world met at a summit in Moscow and expressed concern about the fragile state of the global economy. Despite concerns about high levels of debt held by countries such as Japan, the nations jointly agreed to focus efforts on economic stability.
[8]
Oil prices drop on weakened manufacturing data. Crude oil fell below $96 a barrel after a report on U.S. factory output showed a decline. With global demand weak, 2013 may see lower oil and gasoline prices
.
[9]
Unemployment drops to three-week low. Unemployment applications fell last week to a seasonally adjusted 341,000. Applications have declined slowly and steadily over the past few months, indicating that hiring could improve this year.
[10]
China avoids hard landing. China's economy averted a steep slowdown and appears to be poised for moderate growth, according to a former central bank advisor, indicating that the bank's monetary intervention may have worked. China's GDP grew by 7.9% in the fourth quarter of 2012, reversing a seven-quarter deceleration.
[11]


"Associate with men of good quality if you esteem your own reputation; for it is better to be alone than in bad company."



Flourless Chocolate Cake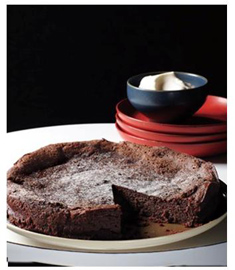 This decadent gluten-free cake is perfect topped with whipped cream or raspberries. Recipe from RealSimple.com.
Ingredients:

1 cup (2 sticks) unsalted butter, cut into pieces, plus more for the pan

1/4 cup unsweetened cocoa powder, plus more for the pan

1 1/4 cups heavy cream

8 ounces bittersweet chocolate, chopped

5 large eggs

1 cup granulated sugar

1/2 cup crème fraîche or sour cream

1/4 cup confectioners' sugar, plus more for dusting


Directions:
Heat oven to 350° F. Butter a 9-inch springform pan and dust with cocoa powder.
In a medium saucepan, heat the butter with ¼ cup of the heavy cream over medium-low heat until the butter is melted. Add the chocolate and stir until melted and smooth; remove from heat.
In a medium bowl, whisk together the eggs, granulated sugar, and cocoa powder, then whisk in the chocolate mixture.
Transfer the batter to the prepared pan and bake until puffed and set, 35 to 40 minutes. Let cool in the pan for 1 hour. Run a knife around the edge of the cake before unmolding.
Using an electric mixer beat the remaining 1 cup of heavy cream with the crème fraîche and confectioners' sugar until soft peaks form. Dust the cake with confectioners' sugar and serve with the whipped cream.


Bigger May Actually Be Bette
r

When a head is designed oversize, a higher percentage of its weight is moved toward the outside. Ever heard the term "perimeter weighted?" This is exactly what it refers to. A head that has more weight on its perimeter will tend to twist less during off-center hits. The scientific label for this is "higher moment of inertia." Clubs with larger heads, be they woods, irons or putters, will not twist as much when you don't hit them perfect, resulting in straighter - and longer - shots. So the next time you are shopping for a new club, remember: Bigger may indeed be better when it comes to club-head size.


Add Fish to Your Diet

Some varieties of fish are packed with disease-fighting nutrients and make an excellent addition to your diet. These super-foods are loaded with omega-3 fatty acids, selenium, B12, and calcium that boost your immune system. Fish in this category include:
Rainbow trout
Pollock
Sardines
Catfish
Mackerel
Baramundi
Simple Laundry Switches


Switching to cold-water washing can save 80% of your laundry-related energy usage - an estimated $60 per year and reduce wear and tear on your clothing. Hanging your clothes to dry instead of using a dryer can save 700 pounds of CO2 a year.
Share the Wealth of Knowledge!


Please share this market update with family, friends, or colleagues. If you would like us to add them to our list, simply click on the "Forward email" link below. We love being introduced!


Investing involves risk including the potential loss of principal. No investment strategy can guarantee a profit or protect against loss in periods of declining values.


Diversification does not guarantee profit nor is it guaranteed to protect assets

The Standard & Poor's 500 (S&P 500) is an unmanaged group of securities considered to be representative of the stock market in general.


The Dow Jones Industrial Average is a price-weighted average of 30 significant stocks traded on the New York Stock Exchange and the NASDAQ. The DJIA was invented by Charles Dow back in 1896.


The MSCI EAFE Index was created by Morgan Stanley Capital International (MSCI) that serves as a benchmark of the performance in major international equity markets as represented by 21 major MSCI indexes from Europe, Australia and Southeast Asia.


The 10-year Treasury Note represents debt owed by the United States Treasury to the public. Since the U.S. Government is seen as a risk-free borrower, investors use the 10-year Treasury Note as a benchmark for the long-term bond market.


Google Finance is the source for any reference to the performance of an index between two specific periods.


Opinions expressed are subject to change without notice and are not intended as investment advice or to predict future performance.


Past performance does not guarantee future results.


You cannot invest directly in an index.


Consult your financial professional before making any investment decision.


Fixed income investments are subject to various risks including changes in interest rates, credit quality, inflation risk, market valuations, prepayments, corporate events, tax ramifications and other factors.


These are the views of Platinum Advisor Marketing Strategies, LLC, and not necessarily those of the named representative, Broker dealer or Investment Advisor, and should not be construed as investment advice. Neither the named representative nor the named Broker dealer or Investment Advisor gives tax or legal advice. All information is believed to be from reliable sources; however, we make no representation as to its completeness or accuracy. Please consult your financial advisor for further information.