Cascade Title Barometer

Click here to view the most recent copy of the Cascade Title real estate barometer.
So you want to buy a fixer-upper?

Do you have clients that are looking for that perfect "fixer upper" property? Make sure they know all the facts about the process before they choose to buy. Read this article for more info.

Dear ,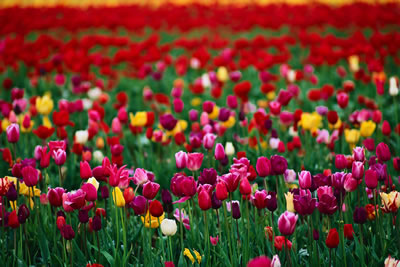 This is a great month to get down to the south end of our county and spend a little time with your "tiptoes in the tulips!"
The
Woodland Tulip Festival
is this month, and you don't want to miss all the great activities: from the "Tulip Trot" fun run, to the live music and and pick-your-own fields, there's something for everyone!
We'll see you there!
Sincerely,
Your Friends at Cascade Title Company
2

teaspoons

finely shredded lemon peel

3

tablespoons

lemon juice

2

tablespoons

olive oil*

4

teaspoons

sugar or sugar substitute** equivalent to 4 teaspoons sugar

1

tablespoon

reduced-sodium soy sauce

1

tablespoon

red wine vinegar

1

zucchini

1

yellow summer squash

1

cup

torn fresh basil

1/2

cup

snipped fresh cilantro

8

apricots,*** cut into thin wedges

4

green onions, sliced

3

plums,*** cut into thin wedges

1

red sweet pepper, seeded and diced

1

tablespoon

minced fresh ginger

1/2

cup
1. For dressing, in a small bowl, whisk together lemon peel, lemon juice, olive oil, sugar, soy sauce, and red wine vinegar; Set aside, Using a vegetable peeler, cut zucchini and yellow summer squash into long thin strips.
2. In a large salad bowl combine zucchini, yellow summer squash, basil, cilantro, apricots, green onions, plums, sweet pepper, and ginger; toss to mix well.
3. Drizzle dressing over zucchini mixture; toss until coated. Sprinkle with almonds. Serve immediately.
Tip
Tip
**Sugar Substitutes:

Choose TruviaŽ Natural Sweetener. Follow package directions to use product amount equivalent to 4 teaspoons sugar.
PER SERVING WITH SUBSTITUTE: same as above, except 146 calories, 16 g carb., 10 g sugar.
Tip
CASA Auction - Save the Date!
You are cordially invited to join CASA as they celebrate their 18th Annual Dinner and Auction. We will be sliding down the rabbit hole and taking a look at Wonderland through the looking glass. All sorts of wonderful food and drink await at the Mad Hatter's dinner party! Click here to purchase your tickets now and support this great cause!
Cinco de Mayo at Cascade!
Cascade Title's Manager Message
Joel Lengyel
Manager

On Friday, March 8th, Cascade Title of Cowlitz and Cascade Title of Clark County were proud table sponsors for the American Red Cross Real Heroes Breakfast held at the downtown Hilton Vancouver Hotel. This year was a milestone for table sponsors (59) and attendees, which was in the low 700's!
Many of you have had the privilege of viewing a video production done by Dan Lindstrom and David Wallis who own Dan & David productions, and once again they put together a wonderful program that presented 7 local heroes in both Cowlitz and Clark Counties. I have no idea how they do it, but every year it just keeps getting better and better!
The American Red Cross touches so many lives all over the world and their efforts are never ending helping those in need. These local stories are just a scratch on the surface of just how much they do and without them, many would suffer. It is definitely a morning of good news and spotlights just a few of the many good people that make up our communities. Did you know the American Red Cross helps one out of every 5 people right here in the United States? Every time you see the news reporting tornadoes, floods, hurricanes, fires and storms, the American Red Cross is there helping sometimes thousands in need. Many of these efforts are funded from the generous donations of local residents and businesses and have been for 96 years. Donors are the real heroes because they make it possible for our community to maintain a strong and ready Red Cross.
My hats off to Scott Hogan as he is the in-coming board Chair and his current and past involvement for such a worthy cause is commendable and I am proud to help support him and his boards efforts for this event. Thank you to those that attended this year's breakfast and I hope to see you next year too! My final thought I would like to leave with you is the American Red Cross Mission and Value:
"The American Red Cross prevents and alleviates human suffering in the face of emergencies by mobilizing the power of volunteers and generosity of donors."

Take care!
Joel Lengyel
1425 Maple Street, Longview, WA 98632
Phone: (360) 425-2950
Fax: (360) 425-8010
Toll Free: (877) 425-2950