Dear Friends and Family,
Air pollution is a public health issue. In the meantime, we need personal action, too: Take care of yourself. Thank your lungs for keeping you going. Envision the clean air and blue skies that soar above the muck.
When I wrote this letter last week, 2,200 Utahns had pledged to attend this year's "CLEAN AIR, NO EXCUSES" gathering at the state capitol. Almost 1,000 more have signed on since then.
To join, visit "Clean Air, No Excuses" on Facebook.
It's this Saturday, January 25, noon. Meet at the Utah State Capitol, 350 N. State St. If you drive, invite a neighbor or two to accompany you.
And do check out this week's events below, as well as the current issue of CATALYST, where you can read about how to be a good-air citizen. Do you know how to ride a bus? We also interview a doctor running clinical studies using MDMA with PTSD patients. And lots more. I hope you read and enjoy it.
- Greta deJong, editor & publisher
Event picks for
January 23 - January 30
Tacita Dean at UMFA
Fri. Jan. 24. 5p.
Utah Museum of Fine Arts, 410 Campus Center Dr. Free.
Acclaimed British artist and Sundance alumnus Tacita Dean will discuss her new film,
JG
, and the importance of 35mm film as an artistic medium.
JG
,
shot mostly in Utah, explores the nature of time and artistic inspiration through the lens of Robert Smithson's
Spiral Jetty (1970) re. his earthwork in Great Salt Lake by the same name, and the J.G. Ballard science fiction short story "The Voices of Time" (1960).
Sat. Jan. 25. 12p.
State Capitol, 350 N State St.
If Utah's unique, bowl-shaped geography makes pollution worse here, then Utah needs higher standards.
Sign up to attend this rally. Come by mass transit or in a car full of friends. Be counted.
Groups organizing and promoting the rally include Utah Moms for Clean Air, Utah Physicians for Healthy Environment, Clean Air Now!, Mormon Environmental Stewardship Alliance (MESA), Breathe Utah, Utah Clean Air Alliance, Communities for Clean Air, Northern Utah Clear The Air, Athletes for Clean Air and LDS Earth Stewardship.
To join visit "Clean Air No Excuses" on Facebook: Facebook Event Link
Sat. Jan. 25, 10a-4p. Miller Campus/SLCC, Sandy. $120/$190 for two.
How would you script your life if you had the chance? In this career workshop, you will learn that fulfilling your professional dreams can be as easy as 1, 2, 3 and you don't need #3. (P.S.: Maybe ask Ken if he can help us manifest some clean air, too.)
Sponsored by Mary Cosgrove and The Career Success Network.
Winter Farmers Market
Sat. Jan. 25, 10a-2p.
Rio Grande Depot, 300 So Rio Grande St (400 W).
Fresh local produce,
meat, dairy, packaged and specialty
foods, more.
See website for directions and list of this day's vendors.
SLC White Party: Beyond the Milky Way
Sat. Jan. 25, 8:30p-3a.
The Grand Hall at the Gateway, 400 W 100 S. $25adv/$40 door. 21+
Now in its 13th year, the SLC White Party will transport you to another dimension of art, performance, music and dance. See ice sculpture, hula hoopers, aerial artists, the Jellyfish from the Year 12,000, four DJs and lots more. Dress code: fancy white. Proceeds benefit Utah Arts Alliance.
Mon. Jan. 27. 7-8:30p. Christ United Methodist Church, 2375 E 3300 S. Free.
January 27 marks the 63rd anniversary of the first nuclear weapons test in Nevada. While there is currently a moratorium on nuclear testing in the United States, the Comprehensive Nuclear Test Ban Treaty (CTBT) has yet to be ratified by the U.S. Senate. Participants will be asked to send letters to our U.S. Senators asking for their support of the CTBT. Light refreshments follow.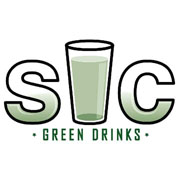 Tues. Jan. 28, 6-9p. Concept-Smart Artful Living, 368 W 900 S. Free.
Celebrating seven years of the SLC Green Drink chapter. This month: Concept Gallery.
Jan. 29
(through Feb. 13).
CATALYST columnist and psychic Suzanne Wagner is in town to see clients. She will also teach a channeling class on Feb. 1-2, and a relationships class Feb. 8-9.
New moon: It's another supermoon!
Jan. 30
A "new" moon rises and sets with the sun. Its lit side faces away from us, and it's in the sun's glare, so we can't see it. A "supermoon" (a term that's moved from astrology into astronomy) is a full or new moon that occurs with the moon at or near its closest approach to Earth in a given orbit (thank you
This one is the third-closest the moon will come to Earth all year long. A new moon is a good time to begin things. We at CATALYST love new moons so much we named our company after them! (New Moon Press, Inc.)
Ririe-Woodbury's "Flabbergast"
Jan. 31-Feb. 1, 7p (2p Sat. matinee). Capitol Theatre, 50 W 200 S. ririewoodbury.com
This week we have some tickets for a performance that CATALYST dance writer Amy Brunvand says is "laugh-out-loud funny." It's choreographed by the famed and beloved Tandy Beal (see interview, CATALYST, April 2013).
We will select winner tomorrow (Friday) noon.
TO ENTER: Send me an email (
subject:
Flabbergast) by noon, Jan. 24. Please include your tel. #.
[email protected]