Sunrise & Sunset

| | | |
| --- | --- | --- |
| Date | Sunrise | Sunset |
| Sep 26 | 7:19 AM | 7:17 PM |
| Sep 27 | 7:20 AM | 7:16 PM |
| Sep 28 | 7:21 AM | 7:14 PM |
| Sep 29 | 7:22 AM | 7:12 PM |
| Sep 30 | 7:23 AM | 7:11 PM |
| Oct 01 | 7:24 AM | 7:10 PM |
| Oct 02 | 7:24 AM | 7:09 PM |
| Oct 03 | 7:25 AM | 7:09 PM |




Featured Vendor:

Fusako with Asians and Heirlooms

Fusako specializes in Asian and heirloom vegetables grown to organic standards. You must stop by her booth if you crave the unusual (long beans, grapefruit mint, pak choi) or the unusually spicy (ghost peppers, thai chiles).


This Tuesday's vendors:

Adam's Heirlooms
Asian & Heirlooms
Chad's Produce
Cooks Family Farm
Earth First Eco-Farms
Frazier Family Farm
Laziz Foods

Little Denmark Farm
Love Muffins Bakery
Mololo Gardens
Parker Farms Produce
Paul's Vegetable Farm
Pyne Farms - Apples
Red Bicycle Breadworks
Tagge's Famous Fruit and Veggie Farms
Tequenos Factory
Urban Pioneer Foods
Weeks Berries
White Lake Farms LLC.
Wilkerson Farm
Event picks for
September 26 - October 3
Thurs. Sept. 26, 5-9p.
Local First Utah, 865 S 200 W. Free.
Bring your questions about public safety and have them answered firsthand, plus you'll get a free cup of coffee.
"Coffee with a Cop" is held the fourth Thursday of the month. A collaborative effort to solve public safety issues at the neighborhood level, this community outreach effort is supported by Salt Lake City, Local First Utah and the Downtown Alliance.
Thurs. Sept. 26, 7p. Utah Museum of Fine Arts, 410 Campus Center Dr. Free.

Sena Jeter Naslund's new novel, The Fountain of St. James Court; or, Portrait of the Artist as an Old Woman, explores the transformative power of art, history and love in the lives of creative women. At the center of the book is the story of renowned 19th-century portraitist Élisabeth Vigée-Le Brun, a survivor of the French Revolution.
After the talk, visitors can take a brief tour through the museum galleries, including a stop at the Vigée-Le Brun painting on view.
Rosencrantz and Guildenstern Are Dead
Sept. 26-9 & Oct. 4-6, 7:30p.
Kingsbury Hall, 1395 E President's Circle. $15.

Funny and absurdist, Tom Stoppard's Rosencrantz and Guildenstern is a timeless masterpiece. It is the fabulously inventive tale of Hamlet as told from the worm's-eye view of two of the minor characters.
Directed by Plan-B Theatre's Jerry Rapier.
See website for additional times:
Sept. 27-29, 10a-5p. South Towne Exposition Center, 9575 S State. $7.
Fine jewelry, gems, beads, crystals, silver, rocks, minerals & much more at manufacturer's prices. Over 100 exhibitors from all over the world will be on site. Jewelry repair while you shop

. Class demos throughout the weekend and free hourly door prize drawings.
For a special internet 2-for-1 ticket coupon visit:
Fri. Sept. 27, 11a-3p. Natural History Museum of Utah, 301 Wakara Way. Free.
Do you have a plan?
Participate in hands-on activities and experience interactive demos by Intermountain Center for Disaster Preparedness, SLC Fire Department, University of Utah Seismograph scientists, Friends of Utah Avalanche Center, and more.
Sat. Sept. 28, 9a-7:30p.
Red Butte Garden, 300 Wakara Way.
(Members: Fri., Sept. 27,
3-7:30p.)
Head to Red Butte Garden for the Greek Theatre Festival (9am) and stay for the plant sale.
You'll find bulbs for xeriscapes, dry shady nooks, borders, naturalizing, rodent resistance, indoor forcing, and eating-garlic and shallots.
They will also have native and waterwise perennials, trees and shrubs, ornamental grasses and flowering perennials. (View ornamental grasses in the Garden and see how these plants will look in your yard!)
Staff and volunteers will be available to answer questions and assist you with plant selection.
Sat. Sept. 28, 10a-1p.
Bus start: Harmony Park, 3700 S West Temple. Bike start: GREENbike station @ The Intermodal Hub, 260 S 600 W. Bus: $12; Bike: $7. Discounts for advance purchase.
Tour community gardens in the Wasatch Community Gardens Network.

Meet garden organizers and get inspired at some of the coolest community agriculture projects across Salt Lake County. Hop on a bus, or ride a bike.
wasatchgardens.org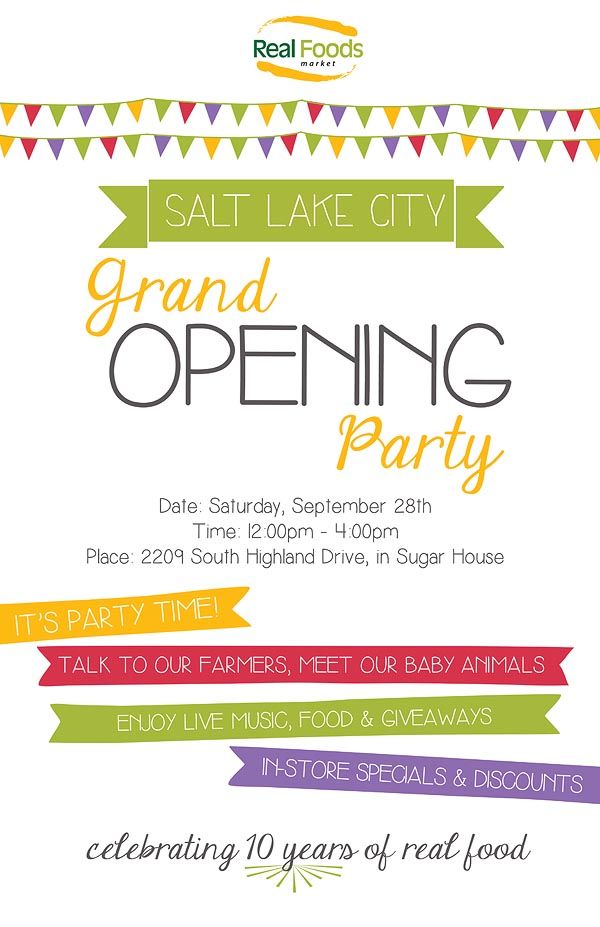 Sat. Sept. 28, 12-4p.
Live music, vendors, food tasting, prizes and give-a-ways. Real Foods' farmers from Redmond will be there with baby farm animals. They will also talk about their beliefs of natural and grass-fed farming. Besides dairy and beef cattle, Real Foods also raises chickens and pigs, and has several beehives. This will be a fun event for the family and especially foodies and people learning about sustainable farming (urban or rural).
Sat. Sept. 28, 5p.
Krishna Temple, 8628 S State Rd, Spanish Fork.
Sun. Sept. 29, 5p.SLC Krishna Temple, 965 E 3370 S.
Few people in Utah County are unaware that, once a year, you can go to India without spending a lot of money. You can have India right in, of all places, Spanish Fork. This year an additional India Fest will be held in Salt Lake City. The Sunday event in SLC will involve the same entertainers & Ramayana drama as in Spanish Fork, but will be held indoors for a maximum of 400 people, and, obviously, no fireworks.
Sept 28, Oct. 5 & 12.
Utah Museum for Contemporary Art, 20 S West Temple. $75 ($60/members) for 3 sessions.
Join UMOCA in partnership with CUAC for our contemporary art education program, Art Fitness Training. With an emphasis on close observation and easy to grasp principles, this three-part participatory workshop is designed to give all audiences the ability to muscle even the most difficult contemporary art

.
You'll learn the basics of Contemporary Art theory. With your newfound confidence you can flex your contemporary art muscles at museums and private collections throughout the city.
Thurs, Oct. 3, 7p.
Rose Wagner Performing Arts Center, 138 W 300 S. $30
RDT begins the 48th season with a tribute to the dance legacy. The choreography features 22 dancers including RDT dancers and guests from BYU Division of Dance who will perform to a powerful score by Zoltan Kodaly.