2 Colorado Ski Areas Delay Their Openings Due To Warm Temps

Two high profile Colorado ski resorts are pushing back their opening dates due to a lack of snow and warm weather in the high country.
Officials at both Copper Mountain and Keystone Resort said they had hoped to open this weekend, but they are delaying those openings.
Copper Mountain's opening is now set for Nov. 7. Keystone has not set an opening date.
Source: CBS Denver. Read More...
Steamboat sues Salt Lake tourism bureau, resorts over "Ski City USA"

Steamboat Springs - known for 55 years as as "Ski Town USA" - is not pleased with Salt Lake City's new "Ski City USA" campaign, unveiled last month by the Utah capital with the tag line: "Once you've stayed in Ski City, you'll never stay in a ski town."
So Steamboat ski area and the Steamboat Springs Winter Sports Club, which co-forged the Ski Town USA brand in 1959, are suing the Visit Salt Lake convention bureau and the four resorts that joined the city in the $1.8 million urban-based ski marketing effort.
Source: The Denver Post. Read More...
Colorado mountain resort projects emerge from torpor of the recession
Big high-country construction projects are emerging from a nearly six-year hibernation.
Investors are freeing the flow of cash. Buyers are stepping up. And in Breckenridge, Vail and the Roaring Fork Valley, large-scale condominium and hotel projects in limbo during the recession finally are sprouting.
From the wealthiest enclaves of Aspen to the community-centric Basalt and middle-market affordability of Silverthorne, fractional residences and hotels are under construction for the first time since 2008.
Vail gets federal go-ahead to build summer activity center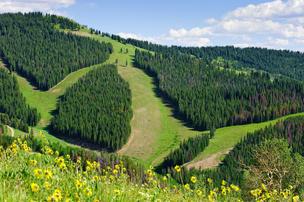 Vail Mountain received official approval Monday to build out Epic Discovery, its planned summertime activity area at the ski resort that now relies extremely heavily on winter visitors for its income.
The U.S. Forest Service, given authority in a 2011 bill sponsored by U.S. Sen. Mark Udall to issue permits on federal land for activities other than Nordic and alpine skiing, published a final record of decision for Epic Discovery, the first proposal submitted to the federal agency under the new law.
Reinventing the online tourism board - no longer all about you
It takes a lot for any type of travel-related brand to admit they got something wrong - but it's rare for a government-backed tourism board.
So fair play to Singapore Tourism Board admitting as much during the WebinTravel conference this week in its home city.
Back in 2009 the organisation relaunched its YourSingapore website and wanted to be all things to all people - it wanted to control the message, control the brand, control the interaction it had with potential visitors.
Source: tnooz. Read More...
Mountain resorts record increased winter bookings and revenues
Lodging is looking good. The record-breaking summer for both occupancy and revenue among western mountain resorts is carrying positive momentum into the winter.
That trend information comes from DestiMetrics, a Denver-based organization that tracks lodging bookings at 19 mountain resort communities in six western states. The company recently announced that, as of Sept. 30, winter bookings for November through March showed an aggregated 7.4 percent gain in occupancy for the upcoming season compared to the same time last year. Aggregated revenue is also strong with a 15.5 percent increase for the first five months of the 2014-15 season.
Source: Post Independent. Read More...
Vacation Rental Software Leader LiveRez Pioneers Google Glass Mobile App for Housekeeping and Maintenance
LiveRez.com - the most widely used cloud-based software platform for professional vacation rental managers - has developed a new mobile housekeeping and maintenance app that utilizes emerging Google Glass technology.
The announcement of the app and ensuing product demonstration was one of many made at the company's inaugural Partner Conference last month.
The app draws upon perhaps the world's hottest piece of wearable technology: Google's smart eyewear project Glass.
Airbnb, the pioneering home rental service, presents itself as useful and virtuous, but the reality is far less benign, according to a report that Eric T. Schneiderman, the New York attorney general, released on Thursday.
The report will say nearly three-quarters of all Airbnb rentals in the city are illegal, violating zoning or other laws. Commercial operators, not hard-luck residents, supply more than a third of the units and generate more than a third of the revenue. At least a handful of landlords are running what amount to illegal hostels.
Property owners on Airbnb are indeed making money, but it is not being spread around.

TripAdvisor steps into personalization with Just For You hotel product
Personalization continues to be pursued relentlessly in travel, from legitimate attempts to tailor products to more murky user-based pricing manipulations.
TripAdvisor is stepping into the personalized fray with a product called "Just For You," which delivers user-targeted hotel recommendations based on user inputs and historical behavior. The official line is "based on their individual preferences and travel research on the site."

More air service needed for Tahoe resorts
Domestic travel to Lake Tahoe's ski resorts has fallen by 40 percent since 2005 - and the problem hasn't been the snow drought.
Even as resort operators get things spruced up for the start of another season, they're not expecting the last decade's sharp decline in business to turn around any time soon.
"It took us a while to get to 40 percent down. It will take us a while to get back up," says Andy Wirth, president and chief executive officer of Squaw Valley Holdings.
Airports, airlines disagree about raising ticket fees
Airports and airlines squared off Wednesday before a consumer panel at the Transportation Department over ticket fees that pay for construction projects.
Kevin Burke, CEO of Airports Council International-North America, which represents 360 airports, argued that ticket fees need to rise in order to update facilities that are an average of 40 years old nationwide. "Whether you are a large airport or a small airport, the use of the fee is simply to build out infrastructure," Burke told the Advisory Committee on Aviation Consumer Protection, which makes recommendations to the transportation secretary.
Millennials Are Influencing Digital Travel Trends More Than Ever
Currently the travel industry's most influential customer, Millennials are becoming more and more responsible for changing the way that we travel. A generation that has never experienced life without computers, Millennials have come to expect everything to be available anywhere, anytime. And companies are taking notice. With 49% of Millennials planning as well as booking trips on their smartphones (according to Expedia's Future of Travel Study), apps that deliver reviews, last-minute discounts and flight statuses are influencing the when, where and how aspects of travel like never before.

When Uber and Airbnb Meet the Real World
The regulatory woes seem to be never ending for the newest wave of tech start-ups - the on-demand apps that connect people who need something (a driver, a house cleaner, a grocery shopper) with people who want to do the job.
On Thursday, the New York State attorney general said most Airbnb listings in the city violated zoning and other laws. Officials in California and Pennsylvania recently warned car services like Uber and Lyft that they might be unlawful. And workers' rights advocates have questioned whether the people who provide these services should receive benefits, spurred by recent reports that some Homejoy house cleaners are homeless.
Consumer confidence hits 94.5 in October, versus 87 estimate
Consumer confidence is at a seven-year high.
The Conference Board Consumer Confidence Index rebounded from September to stand at 94.5, beating estimates. Economists forecasted consumer confidence to hit 87 in October.
In September, the Index stood at 89.
Sentiment has improved amid job gains and
cheap gasoline prices
, both of which can help increase consumers' purchasing power that can lead to economic growth. The U.S. created
248,000 jobs in September
and the unemployment rate dropped to
5.9 percent as the labor force participation rate fell to 62.7 percent.
Mountain Travel News, issued by DestiMetrics, is designed to provide relevant and timely market information to the destination mountain travel industry.
Wednesday, January 28
Colorado Convention Center
Denver
Now in its 3rd year, The ASSEMBLY returns with an expanded format that both quantifies the present, and sets a road map to the new realities of the future of year-round mountain tourism.
Morning General Sessions will be strategic, afternoon workshops tactical, and the expanded agenda is being further developed by-and-for you, our mountain travel industry partners, using a crowd-sourced approach now underway. Check it out, then check back as details come into focus.
The new 2015 format is integrated with the Snow Show's Industry + Intelligence Day, including Keynote Luncheon (optional), Gala Reception and Snow Show kickoff celebration; all registrations also include Snow Show credentials valid for the entire show.
DestiMetrics
Subscriber Webinar
Tuesday, November 18
Noon MDT
Join us for our upcoming quarterly subscriber webinar where the DestiMetrics team will review the summer's lodging performance based on industry wide data and then focus on pacing for the 2014/15 season. Using data as of the end of October, we'll look at the future months and compare this year's advance reservation data to last year's. We'll also present current market conditions utilizing broad economic indicators and what they mean to the mountain travel industry.
This webinar is only available to authorized subscribers to DestiMetrics' Mountain Travel Intelligence Pack.
Upcoming presentations and appearances
November 3
Vail Lodging Season Kick-off
Vail, CO
November 4
Vail Town Council Presentation
Vail, CO
November 18
DestiMetrics Quarterly Subscriber Webinar
November 21
Keystone Neighbourhood Company
Keystone, CO
December 19
Vail Valley Partnership Annual Meeting
Vail Valley, CO
January 28, 2015
Denver, CO
Note:
If you're planning on attending any of these events and would like to schedule a time to meet, please contact Katie Barnes at kbarnes@destimetrics.com or 970-390-4370.