Sports tourism commission reports record year of success
The annual results are in and the Gulf Shores & Orange Beach Sports Commission (GSOBSC) scored big in 2013, hitting an all-time high for sports tourism for the Alabama coast.
Continuing an upward trend, the sports organization, along with both cities, hosted a record 94 athletic events which produced 71,931 room nights and a 24 percent increase in direct visitor spending from 2012, at nearly $28 million.
"Our sports commission works tirelessly to bring a variety of athletic events to coastal Alabama," said Herb Malone, president and CEO of Gulf Shores & Orange Beach Tourism (GSOBT), the area's official destination marketing organization.

Source: Gulf Coast Visitor Guide. Read More...
Visit Florida Promotes Local Tourism from Chicago
It may not feel much like beach weather right now, but everything is relative. In Chicago there's snow everywhere.
Bay County tourist development council staff has just returned from Chicago, where they participated in a tourist recruiting event.
Chicago's trains recently received a makeover. Some of the cars are now displaying photos of Panama City Beach. The idea is for Chicagoans to see the pictures, hop on a plane to the real place, and stick their feet in the sand. TDB PR Manager, David Demarest said, "While they're riding the elevated trains that they have there, they'll be able to see the water see the white sand so it's just a perfect time to plan a vacation for them."
Hotel rooms filling up in South Florida
South Florida hotels closed out 2013 with fewer empty rooms and higher prices, buoyed by increases in international visitors, sports tourism and leisure business.
In Broward County, hotel occupancy reached 77 percent last month, compared with 74.3 percent in December 2012, according to data released by industry tracker Smith Travel Research. The average daily rate for rooms was $124.87, up from $116.60 in December 2012, a sign of strength in the industry.
Palm Beach County hotels were 71 percent occupied in December versus 66.5 percent a year before, while average climbed to $162.29 from $150.81, Smith Travel data showed.
Tourism experts: Daytona Beach must 'seize' new image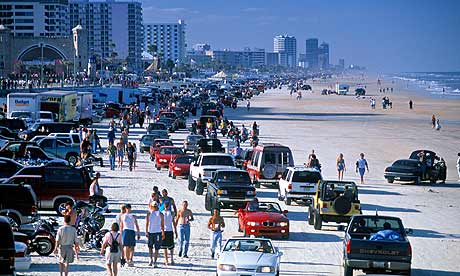 When you hear "Daytona Beach," what words come to mind? For a set of small focus groups in Columbus, Ohio, last autumn the words were "redneck," "crowded" and "starting to fall apart."
Developers are spending hundreds of millions of dollars building new hotels, restaurants, shopping centers and attractions in Daytona Beach, all of which could appeal to tourists from places like Columbus. But updating its offerings will only get Daytona Beach part of the way. Local officials and business people say that Daytona Beach needs to change the way it promotes itself to convince potential visitors it's a new day on the World's Most Famous Beach.
Keys among South Florida counties being proactive, tackling climate change and more
In the next 50 years some 3 million people will move to Southeast Florida, joining the 6 million already here. So what will the region look like in 2060?
Will coastal cities see a big decline in tourism because their beaches disappeared under water from the rising sea level? Will one of the region's economic drivers -- agriculture -- shrink as open land is converted to more suburbs to accommodate population growth?
Not if a forward-thinking consortium of public officials, urban planners and civic and business leaders called Seven/50 has anything to say about it. The consortium started asking the relevant questions three years ago to determine how best to guide the region's growth through 2060
Hey Tourists: Leave Those Shells on the Beach, Would Ya?
It's an i
nnocent enough vacation activity. Everyone loves to stroll along the beach, collecting pretty seashells as mementos of a wonderful trip. It's a peaceful and relaxing pastime, not to mention a little romantic. Well, stop. Just stop it.
That's the recommendation of a new study which says that the global rise in tourism means that too many people are carting away too many seashells. Innocuous as shell collecting seems, this practice is actually harming beach ecosystems.
Priceline Could Get Bigger In Vacation Rentals By Acquiring HomeAway
Vacation rentals are privately owned residential properties that property owners and managers rent to travelers on a nightly, weekly, or monthly basis. According to a study by PhoCusWright, the market for vacation rentals in the U.S. stood at $23 billion in 2012, lower than its levels prior to the recession. However, the share of online sales in vacation rentals doubled from 12% in 2007 to 24% in 2012, and this is expected to increase to 30% by 2014.
Industry forecast for 2014.
Going into 2014 the tourism industry has recovered ahead of the economy for the first time in history, this is unusual considering the lodging industry has run in sync with all major economic trends in the past.

Normally, the economy improves and the lodging industry trails about six months later. In 2010, the economy continued to remain in a recession while demand for lodging began to improve.
Measuring the benefits of a green hotel
The verdict is still unclear whether going green puts green back into hoteliers' pockets, according to sources.
A recent study, "Hotel sustainability: Financial analysis shines a cautious green light," found, on average, booking revenue neither increased nor decreased for eco-certified hotels. The study analyzed millions of individual bookings in more than 3,000 certified hotels, with a comparison group of 6,000 non-certified properties.
Source: Hotel News Now. Read More...
Sales of existing homes hits seven year high
Sales of existing U.S. homes rose in December, pushing sales for 2013 to the highest level in seven years, the National Association of Realtors said Thursday.
Home sales rose 1 percent November to December to a seasonally adjusted annual rate of 4.87 million in December, the trade group said. November's annual rate was adjusted lower to 4.82 million and December's sales pace was a 0.6 percent drop compared to December 2012, when the seasonally adjusted annual rate was 4.9 million homes.
Still, for 2013, there were 5.09 million sales of existing homes, a 9.1 percent gain over 2012 and the highest level since 2006, when sales of existing home was at an "unsustainably high 6.48 million," NAR said.
Airlines, simultaneously a part of and apart from the travel industry, will in 2014 again have the biggest impact on the way people travel, how much they spend and why travel professionals get headaches.

Going into the new year, it's important to remind ourselves of a few things about airlines. First, they do not, as most Travel Weekly readers do, regard themselves as being primarily part of the travel and tourism industry. In a Venn diagram, they would overlap with tourism but also, among other industry verticals, shipping and cargo, aerospace, retailing, food service and even commercial real estate (when they control airport terminal concessions).


Travel and hospitality continue to be leaders in job creation
The U.S. Travel Association said that the travel and hospitality industries (including restaurants) have made up 99% of the jobs lost during the recession of 2008-09, compared to 86% for the rest of the economy.

David Huether, U.S. Travel's senior vice president for economics, said that 11,000 travel jobs were added in December and accounted for 15% of the country's employment gains last month.

The travel industry added more jobs in 2013 (119,000) than in 2012 (97,000), while the economy overall created fewer new jobs in the past 12 months.
Source: Travel Weekly. Read More...
Jobs Report: U.S. Economy Added Just 74K Jobs In December, Unemployment Down To 6.7%
The stretch of positive economic news that led to the Federal Reserve's decision to begin trimming asset purchases last month has not continued into the new year.
Employers added just 74,000 jobs in December, well below the 197,000 economists expected. The unemployment rate, which is drawn from a different survey of households, was down to 6.7% from 7% in November. The labor force participation rate was down from 63% to 62.8%, the lowest rate in more than three and a half decades. The the employment-population ration was steady at 58.6%.
Source: Forbes. Read More...
Economist tells Denver audience to be aggressive over next four years
Economist Alan Beaulieu, known for forecasts stretching across decades, told a Denver business audience Tuesday to get "very aggressive" over the next four years.
"2014 is going to be a good year. This is a growth opportunity," said Beaulieu, president of ITR Economics in New Hampshire.
He urged members of the Association for Corporate Growth Denver to hire now ahead of tightening labor markets and to borrow ahead of rising interest rates and stricter financial regulations.
Source: The Denver Post. Read More...
Vacation Travel News, issued by DestiMetrics, is designed to provide relevant and timely market information to the destination leisure travel industry.
the go....


Upcoming presentations and appearances
Denver, CO
Jan. 31, 2014
Tacoma/Seattle, WA
Feb. 24 - 17, 2014
Vacation Rental Managers Association (VRMA) Eastern Regional Seminar
Orlando, FL
Apr. 7 - 8, 2014
Central Reservations Association of Destination Resorts
Spring Meeting
Apr. 14 -15, 2014
Denver, CO
May 13 - 15, 2014
Note:
If you're planning on attending any of these events and would like to schedule a time to meet, please contact Katie Barnes at kbarnes@destimetrics.com or 970-390-4370.