Quick Notes
"Measuring food portions is as important in our weight management as measuring body weight. They are intrinsically related."



5 Day Pouch Test:
Downloads are Working
Have you experienced a technical error trying to download our new 5 Day Pouch Test Journal forms? Sorry about that. The web guys have it fixed and it you can click the link and get the PDF of our all new 2012 5DPT form. The original form is still there as well, if you prefer. As always, all off our downloads are free for your personal use. Let me know if you like the old form or the new form. You Can Do This!!

This new and improved journal is a companion tool to the brand new 5 Day Pouch Test Owner's Manual - 2nd Edition published July 2012.
All New 2nd Edition- July 2012
5 Day Pouch Test Owner's Manual
The complete 5 Day Pouch Test plan including inspiration, instructions, and recipes in Kaye Bailey's classic empowering style. 180-page easy to read paperback with hints, tips and encouragement that enables you to take charge of your weight loss surgery tool. 2nd Edition includes new guidelines from the FDA, USDA, and the ASMBS. 16 new 5DPT recipes; more FAQ's; more inspiration from Kaye. Improved format. Same great plan shared with Kaye's encouragement and enthusiasm. Same low first edition price $22.95. Get back on track with Kaye! You Can Do This!
View
Table of Contents
#LAWLS-5DPT03
SALE! $22.95
Greetings!
Thank you for joining me for this Weekly Digest. We hope you enjoy the new lighter look of our weekly newsletter. This new look is part of an overall redesign of the LivingAfterWLS web suite including the 5 Day Pouch Test and the LivingAfterWLS Neighborhood. As our new design unfolds I look forward to introducing you to new features and easier navigation that I hope will improve your LivingAfterWLS experience.


The new weekly digest will include a Feature Article, a column In the News, a new Featured Recipe, and informative briefs and Quick Notes along the left sidebar. You can expect to see a similar format in our Cooking with Kaye and 5 Day Pouch Test newsletters.


Today's featured article looks at the emotions we invest when monitoring our WLS progress exclusively by bathroom scale. Our news article looks at a new study that indicates WLS supports long-term improved health (hopefully most of us knew that already from our own experience). And don't miss today's Featured Recipe: Chicken and White Bean Soup! It is easy and Delicious and will most certainly tame any carb monster! Thank you again for joining me, remember, We are ALL in this together.

Cheers!
Kaye Bailey
You are our valued reader. We respect your rights and privacy by never sharing your information with a third party. Please respect our creative rights by honoring copyright laws and prevent plagiarism.
---
Featured Article:
Don't Overreact to the Scale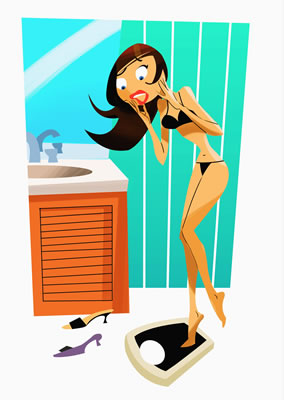 How many times do you invest your emotions for the day in one data point - the number on the bathroom scale? I know it is very easy for me to be disappointed and self critical when the bathroom scale reports a bad number and equally happy when it tells me I've been "good." A rational mind knows better than to surrender emotions to the scale. But when you have battled obesity your entire life emotions are intrinsically interwoven with every measure of our body size including weight, BMI, and dress size. It seems few of us ever escape the emotional attachment, no matter how much we understand it doesn't make sense.


But Mayo Clinic health and wellness specialist Paula Ricke says, "Weighting yourself regularly can help in weight loss, but don't let daily variations in your weight upset you. They may be just fluid changes. You have better control over what you eat and what you do than over numbers on the scale, so make it your goal to concentrate on those activities."


One area where I can improve is measuring food portions and taking better control over what I eat. In talking with others I know that many of us find measuring portions, and keeping a food journal, is a low priority. But how can we expect different results on the bathroom scale if we cannot be bothered to monitor and make changes in other measurable areas that impact our weight and health management? I address this very topic in my forthcoming book, Cooking with Kaye, and present an excerpt here:
"Small Measured Quantities: This is key. I know it is annoying to measure portions. It is for me and I've heard from enough people in our WLS Neighborhood to know we all find it a hassle. The best way I can state this is that if we cannot be bothered to measure our food serving tonight, then tomorrow morning when we step on the bathroom scale we should not be bothered when the results are not what we hoped for. Measuring food portions is as important in our weight management as measuring body weight. They are intrinsically related.

"We tend to be polarized by one measurement (body weight) and ambivalent to the other measurement (food portions) when in fact one directly affects the other. Weight loss surgery patients are pro-active people by nature. We took pro-active measures to alter the course of our illness, morbid obesity, by having gastric surgery. We can achieve the best results - the results that motivated us to pursue a surgical option - when we routinely measure and monitor our food intake. A hyper-awareness of what and how much we eat will certainly give us the results we desire on that other revered symbol of measurement: the bathroom scale."
From Cooking with Kaye: Methods to Meals, page 164, scheduled release date: November 13, 2012.
Download the 5 Day Pouch Test daily journal page and use it as a starting point for recording your food and water intake and daily exercise. Doing this will surely lead to improved numbers on the bathroom scale.
Download 5DPT 1 Page Daily Journal
---
Newsletter Exclusive: Save $4.00
Exclusive for our newsletter subscribers: The 5 Day Pouch Test Owner's Manual - 2nd Edition bundled with the 100-day Ultimate Diet Journal. Learn the secrets of getting back on track and staying there with the 5DPT plan, and keep track of your progress in the handy pocket-sized Ultimate Diet Journal. Save $4.00 off individual prices.
Newsletter Price: $29.95
List Price: $33.95
The above link will take you to the checkout in the
---
In the News
Health Improvements Linger for Years After WLS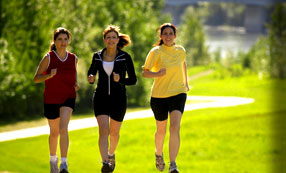 Good news for patients of weight loss surgery who see an initial remission and lower incidence of diabetes, hypertension, and other health ailments - such remission is lasting and sustainable, a new study finds.
"Severely obese patients who had Roux-en-Y gastric bypass surgery had significant weight loss that was sustained for an average of 6 years after the surgery and also experienced frequent remission and lower incidence of diabetes, hypertension, and abnormal cholesterol levels, compared to participants who did not have the surgery," the Journal of American Medical Association reported in September.


The study of 1,156 people examined the association of RYGB surgery with weight loss, diabetes, and other health risks 6 years after surgery. Measured against control groups the gastric bypass patients showed weight loss was maintained with only slight gains for 92-percent of participants. In addition, diabetes remission rates were significantly higher for the RYGB patients as well as lowered risk of metabolic and cardiovascular disorders.
The study, conducted by Ted D. Adams, Ph.D., University of Utah, was favorably received in the medical community. "The prevalence of extreme obesity in the United States is increasing at a rate greater than moderate obesity. Unfortunately, lifestyle therapy is generally insufficient as a weight management intervention for patients who are extremely obese. To date, effective long-term weight loss through pharmacological therapy has been marginal, leaving bariatric surgery as the only medical intervention providing substantial, long-term weight loss for most patients who are severely obese. For this high-risk population, however, the number of studies reporting long-term weight loss following bariatric surgery are limited and generally have incomplete follow-up," according to background information in the article.
In other news, gastric bypass is again implicated in alcohol and substance abuse.
Read More
.
---
Featured Recipe

:


Chicken & White Bean Soup



From EatingWell

: February/March 2005, The EatingWell Healthy in a Hurry Cookbook (2006), The EatingWell Diabetes Cookbook (2005)

Once again, rotisserie chickens can really relieve the dinner-rush pressure, especially in this Italian-inspired soup that pairs rotisserie chicken with convenient canned pantry ingredients.





Ingredients:


2 teaspoons extra-virgin olive oil


2 leeks, white and light green parts only, cut into 1/4-inch rounds


1 tablespoon chopped fresh sage, or 1/4 teaspoon dried


2 (14-ounce) cans reduced-sodium chicken broth


2 cups water


1 (15-ounce) can cannellini beans, rinsed


1 (2-pound) roasted chicken, skin discarded, meat removed from bones and shredded (4 cups)





Directions:


Heat oil in a Dutch oven over medium-high heat. Add leeks and cook, stirring often, until soft, about 3 minutes. Stir in sage and continue cooking until aromatic, about 30 seconds. Stir in broth and water, increase heat to high, cover and bring to a boil. Add beans and chicken and cook, uncovered, stirring occasionally, until heated through, about 3 minutes. Serve hot.


LivingAfterWLS:
Serving the WLS Community Since 2006

Don't trust your weight loss surgery life to anyplace else.

Spam-Free ~ Privacy Protected

Thank you for being a loyal Neighbor of LivingAfterWLS. We are proud to serve you in your weight loss surgery journey.


Sincerely,

Kaye Bailey

The health content in the LivingAfterWLS website is intended to inform, not prescribe, and is not meant to be a substitute for the advice and care of a qualified health-care professional.
LivingAfterWLS, LLC
Kaye Bailey, Founder
Evanston, Wyoming 82931