KEEPING FORMER VOLUNTEERS AS OUR LONG-TERM FRIENDS

A high school reunion made me think about how often we miss opportunities to stay connected to volunteers who leave their positions with us. The fundraising office "cultivates" even the smallest money donor patiently over time. So why do we sever ties completely with former volunteers who may still care a lot about our work? Read this month's Hot Topic
You can subscribe to the Hot Topic as a podcast or RSS text feed - or listen to the audio online. Also, you can browse the archive of Susan's Hot Topics (since 1997!).
SPECIAL DAYS TO CELEBRATE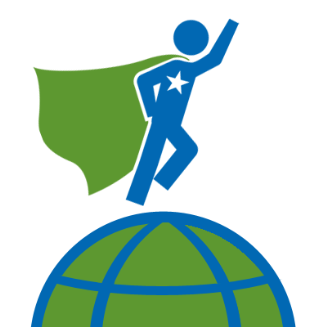 The end of the year brings two annual events worth attention. The first is:
November 5th
2015 Theme: "VOLUNTEER MANAGERS: The Power behind Super Hero Volunteers"
Join colleagues around the world in recognizing the people who lead volunteer efforts. As the organizers of IVMDay say:
It is important to let those professionals know that the spirit of volunteerism is enhanced and enabled by them - and to thank them. Just as important is the opportunity to educate others about this important work, which is why we encourage the catch phrase "Education through Celebration" when we acknowledge IVMDay each year...whether you are an administrator, a volunteer, a community leader or someone who receives the benefit of volunteer help,...make sure the people who act as leaders and catalysts get the recognition they deserve!
December 5th
In 1985 the United Nations passed a resolution inaugurating an annual International Volunteer Day (IVD), celebrated on the 5th of December. Many countries that do not have a designated national volunteer week or similar event use IVD as their opportunity to celebrate the work of volunteers. Unfortunately, no information has yet been posted about IVD2015, but you can learn about
past years' activities
and keep checking for news announcements at
Volunteer Action Counts
.
SAMPLE BOOKS BEFORE YOU BUY
Back when we used to go to physical bookstores, many of us liked to flip through pages, check out the table of contents, and even read a few pages before pulling out our wallets and taking a book home. As book lovers ourselves, we at Energize still value this approach, which is why we give you all of those options directly on each book's product page in our Online Bookstore. A free sample excerpt from each book is also available. Look for the "Sample the Book" tab.

Note, too, that we have cross-posted these excerpts into our
A-Z Volunteer Management Library
under their appropriate topics, as these short articles are of value on their own. To prove the point, here are several articles for you to learn from.
Please feel free to read, quote, and reprint (with correct citation) these excerpts.
Remember, if you find these excerpts in the A-Z Library, you can click right on through to the bookstore to learn more about the book.
What's New in e-Volunteerism?
FINAL ARTICLES POSTED FOR THE QUARTER
Volume XV, Issue 4 of e-Volunteerism, our international, subscription-based journal for informing and challenging leaders volunteers,is now complete. We will launch Volume XVI in mid-October.
Free Access this Month:

From the Archives

The Muslim Tradition of Service in Contemporary Times
(Vol XIII, 3, April 2013 ) - Shelina Gwaduri describes how the diverse Muslim community is frequently misunderstood and over-generalized, and focuses attention on its tradition of volunteering in the past and still today.
From the Current Issue

Points of View
Volunteer Hounded to Death by Fundraisers? Lessons To Learn
- Was Olive Cooke, a 92-year-old volunteer for the Royal British Legion, hounded to death by fundraisers this past May? Intrepid sleuths Susan J. Ellis and Rob Jackson turn the case inside out and use it to debate: What is or should be the connection between donating money and donating time?
Subscriber Access Only
(
Subscribe
for a full year or 48-hour access)
New Postings Since the Last Update:

The Rise, Fall, and Evolution of the Telethon
- Lori Renner Larsson recounts the history (and demise) of telethons, broadcast fundraisers that have involved thousands of volunteers in front of and behind the cameras.


Are Satisfied Volunteers Motivated to Make the Most Contributions?
In this issue's Research to Practice, Laurie Mook
reviews research questioning whether volunteer satisfaction increases motivation to do more.
New Issue to Be Posted on October 15th
On October 15, 2015, we will start a new volume year. Volume XVI, Issue 1 contains some excellent articles, including: a Points of View on the ground-level, independent citizen volunteering springing up in reaction to the refugee crisis in Europe; a report on the most recent research conducted by the Minnesota Association of Volunteer Management on the trend of shorter-term volunteering; an article urging that volunteer managers move from reactive to proactive leadership; how to give advice that people may actually accept; a Training Designs piece on the importance of reflection to learning; an interview with Little League International to examine how they work with all those male volunteers; and much more. As always, the content of Vol. XV, Issue 4 will remain accessible in the journal's Archives.
You can subscribe
to e-Volunteerism for a full year or for 48-hour access. Note that subscribers have full access to the
Archives
of all 14 previous volume years.


Susan's Tip
of the Month
"YOU GET WHAT YOU PAY FOR"
Society holds contradictory attitudes about money that affect volunteering in many ways. So it's worth exploring some of the most common economic notions and how they play out in attitudes towards volunteers.

Notion #1 - Money Equals Seriousness; More Money Equals Better Quality

Ever offer training sessions at no cost? In my experience, when a workshop is presented for free, at least 20% of pre-registered people do not show up. The consensus seems to be that "few take an event seriously if they haven't paid even a token fee to reserve a spot." What does this imply about how volunteers are perceived if value is assigned mainly when money is involved?

The common wisdom of "you get what you pay for" also equates the highest cost with the best product - while denigrating less expensive and free items. A variation on this theme is "if it's worth doing, it's worth paying for it," or the labor union position that any important work ought to be a paying job.

Notion #2 - "Free" Attracts

On the other hand, "free" is one of the most powerful words in the marketing lexicon. Advertisers use this four-letter word liberally as a way to get customer attention, prompt a response, and ultimately lead to sales. People love to get something for free.

But, do they value it?

Notion #3 - Unpaid Workers Must Care More

Despite the developed world's love affair with making money, we also disdain mercenaries, "money-hungry" people, and those who "will do anything if the price is right." And we consider heroes and heroines to be those who do something important or risky for others, disregarding their own needs and costs. That's why everyone is eager to identify with the word "volunteer" during a natural disaster or other crisis: it labels the doer as acting selflessly. Some recipients of service distrust paid workers as only being helpful because it's their job to be so. Volunteers project the appearance of caring by freely giving their unpaid time. I say "appearance" because whether or not someone cares is not determined by salary.

Notion #4 - Paid Workers Are Legit

On the other side of the coin, however, introducing oneself as a volunteer can suddenly close doors. Why? Because "volunteer" conveys "no authority," while a work title does. Think about it. When someone calls you and identifies him or herself with a title, have you ever thought to ask, "Are you paid?" Once again, appearance over substance.

Notion #5 - Pay Has Limits and Money Taints

Colleagues often extol the work of volunteers in their organizations with the praise, "You couldn't pay someone to do this." I suspect this represents a line of thought such as: this work is so sensitive, emotionally draining, or otherwise demanding that only someone who is motivated by caring would do it eagerly and someone else would demand extraordinary pay to do it otherwise. This mission-over-money belief is also why many people believe that workers for nonprofit organizations ought to accept low pay or at least not be highly concerned about wages. To seek no money at all is simply taking this reasoning to its logical conclusion. I'm not exactly sure whether this reasoning makes sense, but it is fraught with attitudes about both paid and unpaid workers, isn't it?

Additionally, we expect members of a nonprofit board of directors to have an "arm's length" relationship from an organization's funds. While the stockholders of a business want to know that members of the for-profit board will share in the rewards or losses caused by their decisions, nonprofit board members are expected to be objective "trustees." By deriving no personal monetary gain, nonprofit boards assure the public and donors that the organization's mission is being upheld and its money properly spent.

Perceptions Affect Our Work

Most people are not even aware of their contradictory beliefs about the power and consequences of money, nor of how such beliefs affect the way they think about or act toward volunteers. For example, if an executive feels that paying for something gives it worth, don't be surprised that s/he undervalues volunteers. At the same time, in the same agency, if clients sense that paid staff are providing service mainly as a job requirement, volunteers will quickly be more trusted.

It may not be possible to change common wisdom, even if it is far from wise. However, we do need to recognize the many perspectives on unpaid work, whether these operate overtly or subliminally. The quicker we recognize a negative attitude, the more we will be able to counter it. But how?

Two approaches are useful. The first is diversion. Avoid the label "volunteer" as much as possible, since it unnecessarily muddies the water. Instructing volunteers to use their position titles works because it focuses attention on their role, not their pay rate. Similarly, terms such as time donor, community resource, or skill-anthropist, force the listener to picture something quite different from stereotypes about volunteers.

The second approach is education, finding teachable moments to explain that a paid staff member can be just as motivated by caring as a volunteer, while a volunteer can be just as professionally trained as an employee. It also helps to try to avoid the word "free" in relation to volunteers, since there are really costs on all sides.
******
This Quick Tip comes from
Susan J. Ellis, President of Energize, Inc.
Want more of
Susan's Wisdom?