BRANDING NATIONAL VOLUNTEER WEEK: WHOSE WEEK IS IT ANYWAY?

It seems Points of Light "sold" America's National Volunteer Week to Advil ® this year, making the rest of us non-consenting participants in a commercial advertising strategy. The lack of reaction from the field may be even more disturbing than the callous business deal, tainting a 40-year national tradition. Does anyone care? Please comment!
You can subscribe to the Hot Topic as a podcast or RSS text feed - or listen to the audio online.
POLISHING THE ONLINE
VOLUNTEER MANAGEMENT LIBRARY
Since Energize, Inc. first ventured online in 1997, we have been curating the most extensive online library of volunteer management information in the world, in the form of articles, book excerpts, reports, guides, free e-books, and links to other Web resources around the world (in English). Always available free of charge, it's become a staple in the field of volunteerism, bookmarked by colleagues for easy reference.
Now we are sitting on the edge of our seats as we put the polishing touches on the next stage of this resource library. Since January, we have been working on converting the entire Energize Web site to a new content management system that will allow the library to shine. When the refreshed site opens in June 2014, this important resource will be renamed Volunteer Management A-Z, offering more and better ways to search the library, find helpful advice about engaging volunteers, and contribute your great ideas. We're also adding new subject areas and updating links.
Stay tuned. We'll be sure to announce the re-launch right here in our Monthly Update, on Facebook, Twitter, and LinkedIn. In the meantime, refresh yourself with all the helpful information right at your fingertips.
VOLUNTEER MANAGEMENT PERSPECTIVES FROM DENMARK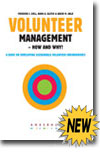 Last month we were pleased to announce a brand new e-book available in the bookstore, Volunteer Management - How and Why?: A book on developing sustainable volunteer environments.
This month we'd like to draw to your attention that this is the first resource we've offered that was produced in Denmark. The Danish authors, Frederik C. Boll, Nana G. Alsted and Jakob M. Hald, all have long-term experience in working with volunteers. In addition, prior to translating this book (using British English grammar), the publisher consulted skilled volunteer resources managers and others experienced in working with volunteers in different countries to assure that the theories and models in the book are applicable around the world.
Energize, Inc. concurs. We recommend the book as an essential read for those wishing to excel in volunteer management theory and practice. Step outside the usual conversations in your local community and take a look at this holistic, organizational approach to strategically engaging volunteers.
For a sneak peak, see the table of contents or read a brief excerpt in our online bookstore.
While this is our first Danish title, Energize continues to offer books from the United States, Canada, England, Australia, and Hungary. Yes, Hungary. Check out the wonderful Volunteer Management in Cultural Institutions: A Practical Handbook by
Izabella Csordás.
What's New in e-Volunteerism?
VOLUNTEER CENTERS HIGHLIGHTED
Volume XIV, Issue 3 of e-Volunteerism, our international, subscription-based journal for informing and challenging leaders of volunteers, launched in mid-April and will run through mid-July. As announced, this is a special theme issue focusing entirely on the role and future of Volunteer Centers around the world.
Free Access this Month:
From the Current Issue

Points of View

The Competitive Edge: Tension between Volunteer Centers and Volunteer Resources Managers and How to Change It - Susan J. Ellis and Rob Jackson examine a common problem rarely addressed directly: unintended but real competition between Volunteer Centers and those they serve - and how to change the dynamics.
Subscriber Access Only:
(Subscribe for a full year or 48-hour access)
New Postings Since the Last Update
Volunteer Centres: Current State, Looming Issues, Future Outlook -
An International Keyboard Roundtable discusses and debates Volunteer Centers with an eye to what might come next.
Comparing the Establishment and Development of Local Volunteering Infrastructure in Eight Countries -
Dutch colleague Cees M. van den Bos compares the similarities and differences in how Volunteer Centers evolved in eight different cultures.

Your Voice Goes Here! A Call for Discussion about this Issue -
While journal readers may always respond to individual articles, this area gives the chance to expand the conversation beyond the particular subjects presented by individual authors. As always, debate is welcomed and encouraged. Submit your thoughts by text, audio or video.
Still to Come this Quarter: Over the next weeks this issue will also offer: an article from Australia about the challenge Volunteer Centers face in a volunteer world rapidly changing around them; an Along the Web feature sharing annotated links to Web resources related to Volunteer Centers; a Research to Practice feature reviewing an academic study of HandsOn Network; and a Training Designs feature highlighting a collaboration among Volunteer Centers in Ontario, Canada to create a learning cooperative for volunteer management.
You can subscribe to e-Volunteerism for a full year or for 48-hour access. Note that subscribers have full access to the Archives of all thirteen previous volume years.


Susan's Tip
of the Month
OPEN YOUR EYES: ONLINE VOLUNTEERING MAY BE RIGHT IN FRONT OF YOU
Jayne Cravens and I are enjoying a variety of feedback about our new book, The Last Virtual Volunteering Guidebook. But we admit frustration at one too-common reaction: "That seems interesting, but I don't see how our organization would possibly involve online volunteers." So this month's Tip is: Open your eyes!
If virtual volunteering is still hard for you to accept comfortably, consider some of the points we raise in the book. For example, it is rare to find an organization where onsite volunteers are constantly under observation; most volunteers provide service out of sight of their manager, whether in a different cubicle, a different room, a different area of the facility, or away from the organization's headquarters altogether. Volunteers who are youth group leaders, home visitors, coaches, mentors, and tutors generally provide their service out in the field (for some, literally out in a field). Obviously, organizations have long ago resolved their concerns about allowing certain volunteers the freedom to do their work, make judgment calls, and act responsibly without constant staff surveillance, even when those volunteers are working with children.
It is hard to imagine any volunteering effort where at least some integration of the Internet would not be appropriate or in which some Internet use with volunteers is not already happening.
Invisible Virtual Volunteering? There is a very good possibility that online service has evolved naturally at your agency already. You need to identify it. See what you can discover by asking some key questions:
If your organization asks volunteers to visit clients in their homes, or to mentor or tutor people one-on-one at an offsite location or via the phone, or to do any sort of outreach into the community on your behalf, ask: Do volunteers ever interact with these clients/community members online as well, such as with e-mail, instant messaging or calls via Skype? How and how often?
If there are volunteers helping with your organization's Web site or with any computer or Internet tech-related issue, is all service being performed onsite, or are some activities being done via a volunteer's home, work, or school computer? Ask this of both the employees who work with these volunteers and the volunteers themselves.
If any volunteer assignments involve writing of any sort - editing a newsletter, doing research (probably, these days, online!), producing reports, etc. - don't you expect to receive the materials in electronic form, via e-mail or posted to a cloud platform such as Dropbox or Google Docs?
Are there any pro bono consultants at your organization? If so, are they interacting with employees online sometimes, in addition to onsite meetings, or doing their work (such as producing a report) offsite from your organization and submitting it via e-mail?
Does the board of directors ever "discuss" issues via e-mail exchanges or live chat before a formal face-to-face meeting? What about various committees and advisory groups?
Chances are great that you will answer one or more of these questions affirmatively. So if you discover people are already doing virtual volunteering, call it what it is and do more! Maybe The Last Virtual Volunteering Guidebook really can help you.
This Quick Tip comes from
Susan J. Ellis, President of Energize, Inc.
Want more of
Susan's Wisdom?