A Sneak Peek at Our New Book
Exclusively for Bookstore Buzz Subscribers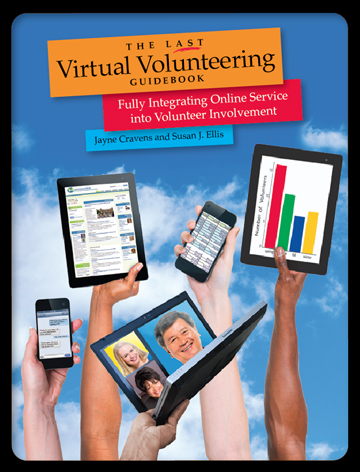 Take a Sneak Peek at
The Last
Virtual Volunteering Guidebook
As a special thank you for being a subscriber to the Energize, Inc. Bookstore Buzz, please accept this
sneak peek
at our soon-to-be-released title,
The Last Virtual Volunteering Guidebook: Fully Integrating Online Service into Volunteer Involvement
.
Download your sneak peek now.
About the Book

International volunteerism consultants
Jayne Cravens and Susan J. Ellis walk you through the challenges and triumphs of leading volunteers who serve online (and often from afar).
Comprehensive, yet easy to use as a handbook, the Guidebook provides practical advice for the technically savvy and for the tentative newbie. There's even a chapter written directly for any volunteer considering whether or not to contribute service online.
With sound theory, practical tips, real-world examples, sample policies and more,
you will learn to apply volunteer management fundamentals to online service
and integrate it into your overall community engagement strategy. This book will be the LAST book about virtual volunteering that you'll ever need!
Be the first to know when the book is available and get a 10% discount!

Can't wait to get a copy?
Sign up
for a publication notification, and we'll send you a friendly e-mail reminder when the book becomes available in early 2014. Plus, we'll include a 10% discount off the book's list price.
Sincerely,
The Energize Team
Energize, Inc.-Volunteer Management Resources