DON'T LET THE HISTORY MADE BY VOLUNTEERS FALL THROUGH THE CRACKS OF TIME

Keep the efforts of volunteers past visible through a simple photography project and celebrate the transition from the old to new year in a different way. Read this month's Hot Topic
You can subscribe to the Hot Topic as a podcast or RSS text feed - or listen to the audio online.
MAKE THE MOST OF THE SEASON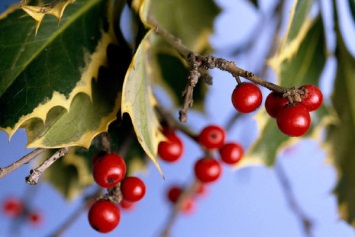 This month's Hot Topic offers one suggestion for a different sort of New Year's commemoration that both celebrates volunteers and educates everyone. We all look for ways to spread good cheer in December in a way that sticks out from the run-of-the-mill. Here's a potpourri of ideas from Energize:
Start the month by drawing attention to the United Nations' International Volunteer Day on December 5th. The theme this year is "Young. Global. Active."
Use the end of the year or start of the new one to re-contact volunteers who left during the past 18 months or so. Wish them good cheer and invite them to come back for a single day or short-term volunteer activity.
We always recommend Carol Weisman's great book, Raising Charitable Children, both as a gift and as a source of ideas to guide kids away from "gifts for me" and toward helping others.
Brand New! Canadian cartoonist Graham Harrop is offering a "Things We Love about Volunteers" calendar for 2014.
Check out the beautifully designed and creative thank-you and holiday items for volunteers and paid staff from featured vendor, Baudville, Inc.
Be prepared with alternatives when community groups, faith communities, and schools show up on your doorstep offering Christmas/Chanuakah/Kwanzaa/whatever service or gifts. Some will be determined to be charitable only in December, but others might be convinced to "avoid the rush" and adopt a different month or project. After all, most clients would love some distraction or gifts all through the year.
Dip into our "Words to Express Appreciation" Web area to find quotations about volunteering and related subjects, as well as poems, jokes, parables, even songs to brighten any holiday party. Ask volunteers and paid staff to contribute their own favorite quotes about volunteering, print them on colored paper strips, and decorate the volunteer resources office with them (and submit them to our site so that our collection continues to grow for everyone).
Help colleagues prepare for the new year by posting any volunteer management trainings, courses, or professional development sessions in the Courses and Conferences area of our Web site.
Plan a team-building retreat in early 2014 to clarify goals and get everyone on the same path. The book Secrets of Successful Retreats can help you plan a productive and successful off-site meeting.
In your holiday newsletter, presentations, or celebrations, highlight the "extras" volunteers - and employees - do throughout the year, beyond their regular work. This might include mentioning your organization in their blogs, obtaining gifts-in-kind from local businesses, and even decorating the building for all holidays.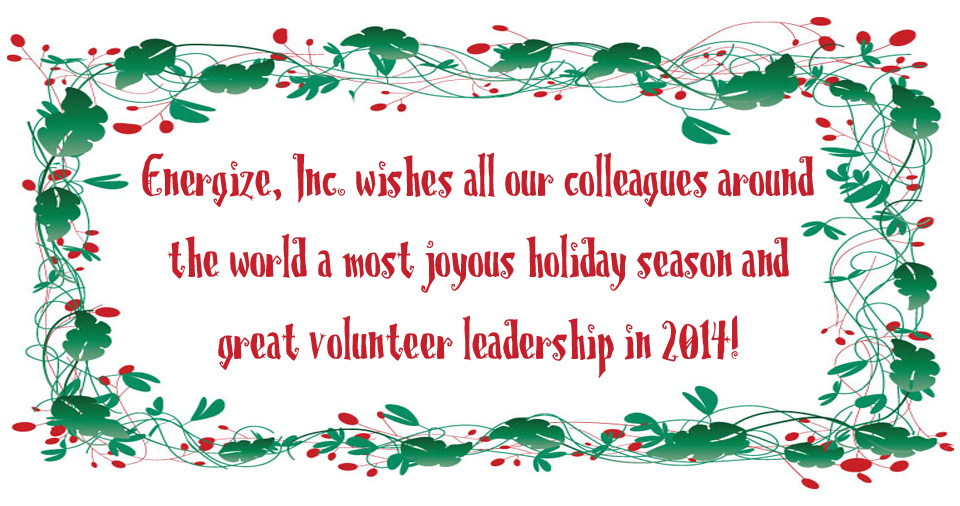 What's New in e-Volunteerism?
Volume XIV, Issue 1 of e-Volunteerism, our international, subscription-based journal for informing and challenging leaders of volunteers, launched in mid-October and will run through mid- January.
Free Access this Month:
From the Archives
When Should We NOT Involve Volunteers? (Volume V, Issue 3, April 2005). In one of the journal's Keyboard Roundtables, six practitioners from four countries discussed the real-world challenge of determining which requests for volunteer service are legitimate and which cross some boundary into work that ought to be done by employees. If you've ever said "no" (or wanted to), this article will support your reasoning.
From the Current Issue

Points of View

The Uncertain Future of Local Volunteer Centers
Entities that most colleagues recognize as volunteer centers exist in many countries around the world. Although some are effective and creative, too many volunteer centers have never been visible in their communities or received adequate funding - but they still have loads of potential. Rob Jackson and Susan Ellis open a dialogue to be expanded in the April 2014 issue of the journal.
New Postings Since the Last Update:
Subscriber Access Only:
(Subscribe for a full year or 48-hour access)
Managing Volunteer Conflict in Churches- - The ability of church volunteers to work together effectively is critical, yet many churches deal with conflict on a regular basis. Shan Caldwell looks at how to address this issue.

Do You Spell "Volunteer" with a Capital V? - In this Voices feature, Marlene Beitz asks readers to think about the conscious and subconscious ways we regard the Volunteers who are often called the "heart and soul" of our organizations.
Still Ahead in this Issue
Still to come in this issue are a review of a study on accountability for volunteer contributions and a Training Design on how a British charity has learned to use e-learning to cut down the time needed to induct and train volunteers. Don't miss out!
You can subscribe to e-Volunteerism for a full year or for 48-hour access. Note that subscribers have full access to the Archives of all thirteen previous volume years.


Susan's Tip
of the Month
Computers and mobile electronic devices have vastly simplified the collection and reporting of data in many ways, but human beings remain the source of the data and must input it properly. That means a vital element of data collection is the humble form - the questions asked and fields provided, whether on paper or electronically, to assure that the right information is reported.
As a general rule, it is a challenge to get volunteers to report on what they do, so we need to be sure that our forms are helpful to the process, not obstacles to muddle through. It's common for forms to proliferate over time, individually, until we drown ourselves in paperwork (whether actually on paper or on screens) that does not even produce the information we need.
Start by gathering all the forms currently in use and assess each one against the following criteria. Invite a few volunteers to help with this, since they are the daily users of the forms.
Why do we need this form?
Does this form do what we need it to do?
How often is this form used?
Who completes this form? Do they know how?
Why did we select this format? Is it time to collect the information some other way or add an alternative option for those volunteers who prefer a choice between paper and online?
What happens to the completed form? Where and how do we store this information?
How often do we need to refer to the data?
Who else needs access to this information? How often?
How well does this form mesh with the rest of our recordkeeping system?
Is there any information we receive through this form that duplicates what we ask on another form?
Many of you are using volunteer tracking software that provides you with form templates. Do not simply use what a programmer created! Explore which fields you can add, delete, or modify and never collect what you do not intend to use. Volunteers will be most willing to complete forms that make sense to them and which they can see as contributing to a useful report on volunteer activity.

If you are collecting data online, make sure you do not ask volunteers to repeat basic information that is already in the database about them. Only ask them to update anything that has changed (ideally the screen will show them what is already on file to confirm).

Whenever feasible, add a field for "other" or "comment" to each form so that volunteers are encouraged to tell you things that do not neatly fit into the standard reporting fields. But then be sure to flag, read, and respond whenever such extra information is provided.

A well-designed form can save time for the user while providing important data. Review your forms at least annually and put the date of the review at the bottom of each to ensure everyone is completing the most recent revision.
This Quick Tip comes from
Susan J. Ellis, President of Energize, Inc.
Want more of
Susan's Wisdom?