VOLUNTEERING AND EMPLOYABILITY:
CAUSE OR EFFECT?

Most of us in volunteer management support the observation that volunteering builds resumes, provides career exploration, and demonstrates each volunteer's abilities, but can we make the case - as several recent research studies try to do - that volunteering directly affects employability? Read this month's Hot Topic
You can subscribe to the Hot Topic as a podcast or RSS text feed - or listen to the audio online.
ARE YOU TRYING TO EDUCATE A GROUP?

The majority of our customers are individuals seeking to expand their knowledge of volunteer involvement strategies. But we also know that many of our colleagues are trying to strengthen the skills of others in their organizations or to widen the horizons of a local professional network. Energize wants to help groups, too!
Here are a few of the choices available to you:
Group subscription options to our quarterly international journal, e-Volunteerism:
Enrollment options for 25+ learners in Everyone Ready ®, our online volunteer management training program, through our Small to Mid-Sized Organization Membership.


Bulk discounts on multiple copies of books in our Online Bookstore (on paper and in e-book form) Starting at 5 books of the same title, the discount increases as the number of books you need increases, too. Please contact us directly with your purchase request so we can calculate your savings: 1-800-395-9800 or +1-215-438-8342 or e-mail info@energizeinc.com.
Free Stuff, Too!
Remember that you are welcome to reprint and share anything on our free Energize, Inc. Web site with colleagues (paid and volunteer) as discussion starters, handouts in training or in internal publications. You do not need specific permission, but we always request that you cite the author and source of the material and that you found it at www.energizeinc.com. If you're looking for some ideas, here are places to start:
VOLUNTEER MANAGEMENT ESSENTIALS
Do you know what resources leaders of volunteers consistently rate highly to enhance the way they lead volunteer engagement? Take a look at the Volunteer Management Essentials page in our Online Bookstore for the tried-and-true favorites (many updated over the years). You'll find them in the office libraries of many of our friends and colleagues in volunteer management. What about in yours?
What's New in e-Volunteerism?
NEW ISSUE EXAMINES CONTROVERSY
Volume XIII, Issue 4 of e-Volunteerism, our international, subscription-based journal for informing and challenging leaders of volunteers, launched in mid-July and will run through mid-October.
Free Access this Month:
Current Points of View

The Sparking Controversy about Volunteer Internships, in which Susan Ellis and Rob Jackson examine the rapidly growing debate - around the world - about whether unpaid internships (particularly those that are full-time) exploit young people and sidestep labor laws. Become informed and follow the many links to current media stories provided (including ones in which unpaid interns have successfully sued for back pay).
New Postings Since the Last Update:

Subscriber Access Only:

(
Subscribe
for a full year or 48-hour access)

Thinking Differently about Volunteering: Words from the National Trust Learn about how the UK's venerable conservation charity is redefining its philosophy of volunteer engagement.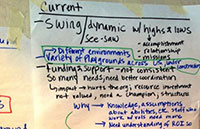 Creating a Strategic Volunteerism Plan: We Did It! - How the American Lung Association used a nationwide team approach to strategic planning for volunteers.

Help Us Create a Volunteer Word Cloud! Something different! Submit the words you think of the most to describe "volunteers" or "volunteering" and, collectively, we'll produce a "word cloud" to visualize the concept.
From An Organizational Issue to a Community Issue: Shifting Volunteer Management - Research to Practice Editor Laurie Mook explains and analyzes a new study by Jeff Brudney and Lucas Meijs published in the Nonprofit Policy Forum.
Still to Come in this Issue
Over the next months, readers will have new access to a Training Design helping organizations to identify legitimate intern position descriptions; a review of Web resources on volunteering, wellbeing and social capital; an article on how to find, use and promote new academic research; and more.
You can subscribe to e-Volunteerism for a full year or for 48-hour access. Note that subscribers have full access to the Archives of all twelve previous volume years.


Susan's Tip
of the Month
BUILDING LOYALTY THROUGHOUT THE VOLUNTEER LIFE CYCLE
I've often said that volunteer "retention" is not a task, it's an outcome. Volunteers evolve commitment and remain enthusiastic in stages, as they progress through what might be called the "volunteer life cycle." At each stage, what you do and say - and how volunteers feel - matters a lot!
Here's a brief summary of how someone moves from being a stranger to your organization through becoming a volunteer and then from being a newbie to a seasoned veteran. Consider how the messages you send in word and deed create a welcoming environment (or not) at every stage.
Stranger → Possible Recruit
What your recruitment message says...and how
Whether you tell the truth about what you want and expect
If the invitation to serve seems to welcome individual talents
Candidate → Applicant
Speed of response to initial inquiry
Depth and tone of the interview
Accepted Volunteer → Being Oriented/Inducted
How you communicate the volunteer's acceptance into your organization
Reinforcing expectations during orientation
Placed in Assignment → Starting Out
Staff or volunteer supervisor/partner is prepared to coach and support the newcomer
Training useful to the role + good instructions
All volunteers seen as "trainees" at the start
The importance of the volunteer's first day
And also of day 2 (when questions still remain)
Novice → Knowing the Ropes
Good performance is reinforced
Problems get attention early
Importance/impact of the effort is reported
Recognition is genuine and ongoing
Communication is open, honest, and two-way
Experienced Volunteer
Are long-time volunteers happy? Getting bored? Getting burned out?
Recognize that more volunteers leave because they are under-utilized than because they are overworked! At least being overworked means they are needed.
Experienced volunteers can choose to:
Stay in place - but they might appreciate a change of pace, such as a short-term special project or even a leave of absence
Move on/up to a different assignment in the organization
Leave
"Alumni"
Even someone who stops volunteering with you can still remain a supporter (if you offer that chance and keep in touch). Alumni volunteers can even come back to service or help out in short-term roles - again, if you keep communication open and ask.
This Quick Tip comes from
Susan J. Ellis, President of Energize, Inc.
Want more of
Susan's Wisdom?