Congratulations to Courtney Guc and Maddie VandenHouten who are the recipients of the 2012 Charity Ball grant! They will each be receiving a check for $250 from Service League of Green Bay. Congratulations from all of us!
Get to Know Us:
Joey Liebmann
Vice President
Joey was born in Lake Geneva, Wisconsin but grew up in New Hampshire, attended college in Vermont and now lives with her husband, Bret, daughter, Harper Claire and their Rhodesian Ridgeback Nitschke on the west side of Green Bay. Joey works in the veterinary health industry for a company that provides blood gas, chemistry and hematology analysis to veterinary practices throughout the United States. She spends much of her day with 4-legged furry friends but if by chance a snake makes its way into her sight, she is out of the clinic in no time at all!
When not working, volunteering or chasing her 18 month old, Joey enjoys traveling. She has traveled extensively in Europe, lived in Australia and spends much of her time in New England with her family. She also enjoys golf, tennis and sailing in the summer. Joey is always up for a new book and likes sewing, planning parties and trying to improve her photography skills. She loves to shop and has a penchant for seersucker, madras and monogramming anything that doesn't move!
Currently Joey is serving as the Service League Vice President/President Elect. She also served as the Fundraising chair for the past two years and prior to her fundraising board role Joey was involved in the Auction/Raffle and Production committees for our main fundraiser, the Big Blue Bash. She has served as the Teens for Independent Living chair, as well as a Community Gifts member. She really enjoyed her time as the Fundraising Chair, specifically, planning the Big Blue Bash and raising money for our many worthy causes!
Rummage Sale Wrap-Up
Thank you to all those who donated their time and treasures making the 2012 Rummage Sale a huge success. Even though it was only forty six degrees and raining, there were still 103 people standing in line when we opened the doors! Hundreds of area families were served, placing thousands of items in the hands of those who needed them most. In addition, we raised almost $2,000.00 for Service League projects.
I had the pleasure of meeting one special shopper. For many years she has cleaned some of the biggest and most beautiful homes in Green Bay. This year she moved into her very first home of her own. She came to the Service League Rummage Sale to look for items for her new home, and found a soap dispenser, rugs, lamps, throw pillows, and pictures. She was so excited that she found such beautiful items, just like in the homes she cleans, for her very own new place.
The reason so many people stand in line waiting to get into the sale are the historically exceptional items that are donated. Thank you again for all your donations they are far more than clothes and housewares, they are warmth and joy.
Next year's Rummage Sale is Saturday, October 12, 2013
Thank you,
Tricia Heeg
2012 Rummage Sale Chair
Greetings!
Welcome to the November 2012 edition of Service League of Green Bay's newsletter! We have a lot to share with you this month, so go ahead and jump right in!
As always, please share this newsletter with your friends and family by clicking "Forward" at the bottom of this email, and let us know if you have any questions, comments or suggestions.
We hope you all have a wonderful Thanksgiving holiday and send you warm wishes for the upcoming winter season! Enjoy and happy reading!
President's Message: Courtney Peirce
"We make a living by what we get, but we make a life by what we give."
~Winston Churchill~
It's been a really difficult year for fundraising - for lots of non profits. Service League has had to take a closer look at our budget across every line item and in some cases drastically reduce what is allocated. Last year we increased our donation to the Back to School Store from $35,000 to $50,000. However, we only raised $50,000 at the Big Blue Bash - our only major fundraiser. Because of this, m
embers are looking outside the box for potential ways to not only save and raise money, but also increase awareness of our programs. We really hope this will bring in more financial support and Friends of Service League. Here are some of the fundraising efforts we have going on this year:
Chicago Bus Trip

- November 10. Contact Ashley Heath:

(920)203-3350

, or email

serviceleaguegb@yahoo.com

Annual Rummage sale

(although not technically a fundraiser!) raised almost $2,000

Poinsettia Sales

- even without having a formal drive, we have had some requests - if you are interested - please contact Katie Carviou: (920)328-8701, or katiecarviou@gmail.com

Big Blue Bash

- this year we will be re-vamping it to be a bit more casual with a fresh, fun twist!

Look for a "Dine to Donate" this spring!

Quotes for a Cause

: Alliance Insurance has offered to give Service League $10 for every person that calls to request a quote (regardless if you switch!). Contact Chad Heath at (920)330-9000

Next Fall, a group of amazing Associates are hoping to bring back the Fashion Show

We have a new Cookbook! Visit our website to learn more
We are utilizing Ashley Heath's professional expertise to be a grant writer for our entire organization
Our goal is to be able to give $50,000 again to the BTSS and of course continue to support our other programs. More kids need our services now than ever. In this season of giving, please remember our organization and help us to continue to give back to the children in this community!
Respectfully yours,
Courtney Peirce
Associate Corner - Kim Linehan
Service League Class of 1996
A question and answer with Kim Linehan
Q: What years were you in Service League?
A: I joined Service League in 1996 after moving to Green Bay in 1994, and stayed in 6 years.

Q: What was/were your favorite project(s)?
A: Although I never served on the board, it is hard not to love everything about the Back to School Store, the mission, the support, the people and the results. I also have a soft spot for the Rummage Sale, which was much larger in the past. Again, a very "hands on" project which you see all sides of the need equation in our community. I have very clear funny and heartwarming memories of that event.

Q: Do you have any favorite Service League memories you would like to share?
A: My favorite legacy from Service League are the wonderful committed talented women I met and still count as friends. My favorite memories are of the faces of the kids we served and the satisfaction of meeting a need in the community.

Q: What sorts of things have you been doing since you were an active member of Service League? (community based, work, family, etc)
A: In the 10 years or so since I left active status I have been active in the schools my children have attended - and there have been 6, particularly in fundraising and music. Now locally just down to NDA. When I was initially out I served on the Heritage Hill Foundation board and the Literacy Green Bay board, and small projects for SNC Music Theatre. In addition, I have been very lucky to enjoy my children's activities and sports, teach a couple of years of faith formation classes and take on projects as I am able.
Q: Do you have any suggestions for getting people involved in community work and or Service League?
A: You need to speak to people's hearts, make the involvement straight forward and easily accessible and create both a defined and flexible commitment.
**Wondering what your former Service League friends and colleagues are up to now? Send us an email with their name and we will add them to our Associate Corner feature list where they can be highlighted in our newsletter! Feel free to email us directly about yourself too - we'd love to feature YOU!
Special Feature: The 2012 Giving Tree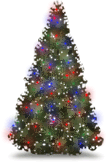 Join our efforts this year in a special way - help provide a family in need with the gift of Christmas through our Giving Tree program!
Every Christmas Service League partners with Encompass Early Education & Care to help children in Brown County who are in need. During the holiday season, Service League receives the names and ages of children from Encompass Centers who would not be able to have a Christmas without the help of others. Many circumstances may contribute to hardships for families and Service League is proud to be able to help in making sure that these children are able to celebrate the joy and magic of the season.
The Giving Tree gives Service League members, associates and friends the opportunity to answer these children's Christmas wishes. In previous years we have provided Christmas for more than 100 children in Brown County each Christmas! We are excited to be able to help at least that many children this year as well.
Please join us in this special effort and offer to give the gift of Christmas to a family in need this year -- this is a great opportunity for your entire family, company, or circle of friends to get involved in helping our community! Contact Ashley Heath at serviceleaguegb@yahoo.com today for more information.
Last Chance!
We still have a few more seats left on the Chicago shopping trip bus this weekend, so if you are interested in joining us, please contact Ashley Heath to secure your spot! (920)203-3350 or ashleyanneheath@gmail.com
A Letter from SL Associate and past Charity Ball Mom, Nan Bush
Hello,
My name is Nan Bush and I am sharing this in the hope that my experience as a mom, who has presented her two daughters and two sons at past Charity Balls, will encourage you to consider doing so with your senior. I also hope to encourage those of you who don't yet have seniors to attend the event and find out what it's all about so when it's your turn, you will not hesitate to sign up.
Both my girls were presented at Charity Ball; Lindsay, eleven years ago, Allison eight years ago, Nicholas five years ago and Austin last year. In each case, they were thrilled with the experience. Each of them said that they were amazed at how meaningful the experience was for them. They felt very special. This was the first time they were welcomed into an adult venue as a full participant by everyone in attendance. It was a "right of passage", which brought them into conversations at a different level with adults. They were the center of attention and were surrounded by their parents, teenage and older siblings, grandparents, aunts, uncles, older cousins and friends. We made this a family affair and it was wonderful!
This is a family tradition for us and we are very grateful to Service League for providing this wonderful opportunity to participate in a meaningful tradition. I hope you, too, will consider attending and perhaps presenting your senior this year!
Sincerely,
Nan Bush
4510 Choctaw Trail
Green Bay, WI. 54313
920-655-1331 (cell)
920-662-0815 (home)
Thank you all for your continued support of Service League and all we do. Your dedication to our organization and our mission is what makes it all possible. Warm wishes from all of us at Service League!
Sincerely,

Katie DuBois
Marketing Chair
Service League of Green Bay
P.O. Box 372
Green Bay, WI 54305