Get to Know Us: Katie DuBois
Marketing Chair
Katie DuBois joined Service League of Green Bay in August of 2010. Soon after joining, Katie became a member of the Marketing Committee and took over the role of writing, editing and publishing our organization's newsletter. At the time, it was a printed publication that was mailed out quarterly at most. In the fall of 2011, Katie turned the SL newsletter into a monthly electronic publication that now reaches more than 550 people!
Katie was born and raised in Groton, Massachusetts and attended college at the University of Rhode Island. She began her career as an Insurance Supervisor in Lincoln, RI, and followed her job to Seattle, WA and Milwaukee, WI. In 2007, she met her husband on a plane travelling to Green Bay to watch a Packer game, and now lives in Green Bay full time. Until recently, Katie was an Underwriting Supervisor at Ameriprise Auto & Home Insurance, but has decided to be a stay-at-home mom to her 4 month old son, Adler.
Katie currently serves on the Board of Directors as the Marketing Chair, and oversees a committe responsible for all media contacts and appearances, publication of the monthly newsletter and maintainence of our organization's website. She is also a member of the Big Blue Bash production committee.
Reminder: Upcoming Event!
DePere Area Chamber of Commerce Golf Outing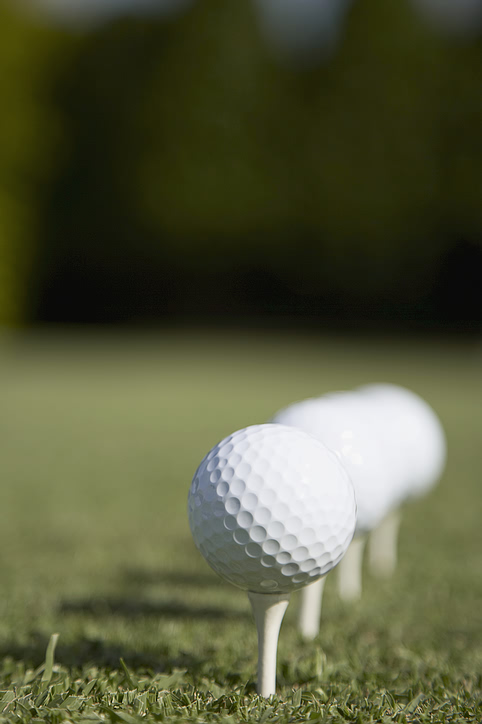 The De Pere Area Chamber of Commerce has selected Service League of Green Bay as its Charity Partner for their 3rd Annual Golf Outing! This event is being presented by Chris Battle & Bernie Van Epren of MetLife, Comfort Control Systems, Johnson Bank, Johnson Insurance and NEW Wall Street. It will take place on Friday, July 27th at Ledgeview Golf Course, with a pre-event Vintner's Dinner July 26th at Echota Gardens.

This fun, non-competitive event (though it does have prizes and winners for the competitors amongst us), features a full lunch, a steak dinner and an early bird pricing for foursomes! Service League will be given a "hole sponsorship", and various marketing materials for this event will feature Back to School Store needs and donations. Service League will also be selling mulligans as a fundraising effort!

Make sure to check out this great event online for more information on playing, eating & volunteering! Click here for more information!
REMINDER: Associates and Actives with High School Seniors!

Just a quick note to remind you all that you are eligible to participate in the 2012 Service League Charity Ball!

We are interested in knowing who will partake in this year's event in November. Even if you are unsure if you will participate, please let us know if you have a High School Senior Graduating in 2013 so we can keep our Service League Charity Ball history complete!

Please email Joey Liebmann at joeyliebmann@gmail.com to provide us with this information.
Service League Associate Fashion Show is Coming Back!

Several Service League Associates have begun meeting to ressurect the Service League Fashion Show. Proceeds from this event will benefit the Service League - Back to School Store! Please check facebook regularly for updates: http://www.facebook.com/SlAssociateFashionShow

If you are interested in getting involved, please contact Kim Schanock.
Greetings!
Welcome to the July 2012 edition of Service League's electronic newsletter! Summer is here and we are actively preparing for the 2012 Back-to-School-Store, which we cannot wait for! If you or someone you know is interested in volunteering this year, please visit our website at
www.serviceleaguegb.org
. We look forward to seeing you there!

Please also share this newsletter with your friends and family by clicking "Forward" at the bottom of this email. Enjoy and happy reading!
President's Message: Courtney Peirce
"We make a living by what we get, but we make a life by what we give."
~Winston Churchill~
Eighty years ago this January, a group of civic minded women united to establish what is now Service League of Green Bay, in order to make a difference in our community. It is an honor to serve as President of Service League for 2012-13! We take great pride in being an organization of women committed to meeting the physical, educational and emotional needs of the children in Brown County. "Recognized for its pioneering efforts in service to the Children of Brown County, Service League of Green Bay provides a unique opportunity for area women to volunteer their time and talents. Service League values women who demonstrate their commitment to its purpose through efficient teamwork. Service League strives to be sensitive to and supportive of the needs of its members and the children it serves, while fostering a spirit of fun and friendship." This vision statement speaks volumes to the many accomplishments of our members who exemplify what true "Leaders of Women" really are. I am honored by the opportunity to serve and guide our mission this year.
We have a lot of exciting things planned for this coming year. Please continue reading our monthly newsletter to stay current on all the latest SLGB happenings!
Up next: The 19th Annual Back to School Store - to be held August 8th at East High School - we would love to see you there! (assuming you have something about how to volunteer and donate in the newsletter already?)
Very Truly Yours,
Courtney Peirce
Associate Corner - Diane Liebmann
Service League Class of 1972
A question and answer with Diane Liebmann
Q: What years were you in Service League?
A: 1972-79

Q: What was/were your favorite project(s)?
A: 1) Testing recipes for the very first SL cookbook: we called it the RED one, actually titled "Out of Green Bay's Pantry". We had so much fun doing this - sometimes alone, more often with little dinner parties...then we'd "critique" the recipes. Most were really good...but, there were a few that didn't make the "cut".
2) I was Publicity Chairman for a year and I loved sharing/telling the SL story to greater GB community.
3) I served as President from 1977-79 and learned how to run a meeting-what a terrific experience that was. It introduced me to Robert's Rules of Orders. We actually used a simplified version - I think that when organizations use Robert's, business is conducted fairly and efficiently.

Q: Any favorite Service League memories?
A: As "provisionals", (that's what we called the newbies for their first year in SL) in June, July and August of 1972, 12 of us members of the Class of 1972 were responsible for thoroughly cleaning, repainting and freshening-up the Chicago Street site for the Green Bay Day Nursery - later renamed The Ruth Helf Center. That initiation rite could have been a dreaded task, but it turned out to be a lifetime bonding experience for us. I feel blessed to have been an active member of SL and have developed friendships that know no boundaries. SL was my first introduction to the non-profit world.

Q: What sorts of things have you been doing since Service League? (community based, work, family, etc)
A: Finally Bert and I have a grandchild!!! We love to babysit for Harper Claire - what a joy it is to be grandparents. In 2007 I retired from Wells Fargo Bank after 17 years as an administrative assistant to the president - using skills that I had acquired from my years in Service League. Currently I serve on several boards of directors: NEW Curative Rehabilitation Inc; Libertas; Scholarships Inc; Green Bay Area Catholic High School Foundation. I also served as a member of the Corporate Board for Notre Dame de la Baie Academy for 20 years. In 1990 I served as the Organizer and first president of the Board of Directors for Notre Dame de la Baie Academy-and made great use of my earlier familiarity with Robert's Rules! I'm also a member of PEO -a philanthropic and educational organization that promotes educational opportunities for women. Bert and I have 2 sons: Bret - married to Joey Liebmann (Harp's mom) and Matt, now living in Boston. He and his partner Maria are expecting our 2nd granddaughter Stella in September.

Q: Any suggestions for getting people involved in community work and or Service League?
A: Yes - talk SL up!! Work it into conversations - don't be shy - word of mouth and positive personal experiences are the best marketing tools invented. There are so many talented and creative women in Green Bay who can help make the lives of Brown County's children better...but, they - these potential members of SL, need to be familiar with the extraordinary challenging work that you current actives do. Each and every one of you is a SL ambassador. Invite your friends, neighbors and co-workers to join you in realizing the vision!!! Good-luck!
**Wondering what your former Service League friends and colleagues are up to now? Send us an email with their name and we will add them to our Associate Corner feature list where they can be highlighted in our newsletter! Feel free to email us directly about yourself too - we'd love to feature YOU!
Project Profile: Back-to-School Store
August 8, 2012 at East High School

The Service League of Green Bay Back-to-School Store helps more than 3,000 children living in poverty in Brown County. At the Back-to-School Store, children have a volunteer personal shopper who helps them pick out brand new school supplies that they need. They "shop"for pens, pencils, notebooks, backpacks, gym shoes, a new outfit, and even a book and toothpaste. The store also provides each child with a vision and dental screening completed by health care professionals. The Back-to-School Store provides all the supplies children need to feel empowered to succeed in school, thanks to the generosity of those in our community.
Back-to-School Store Facts
Started by Service League of Green Bay in 1993, the store is now in its 19th year.
In 1993 the first Back-to-School Store served 200 students. In 2012 we are inviting 1600 5K - 5th graders and stuffing 1,500 backpacks for middle-schoolers.
In 2011 more than 800 community volunteers donated their time and we need 800+ again for this year.
In 2011 we received contributions from more than 500 individuals, businesses, and foundations.
$150 will supply a child with all the supplies they need to start the school year.
Each child, 5K - 5th Grade, pre-registered to participate in the store receives:
A new pair of jeans
A new shirt
A new pack of underwear
A new pack of socks
A new pair of gym shoes
A tube of toothpaste and a toothbrush
A new backpack
All the required school supplies for their grade level (grades 5K - 5th)
A new storybook for their age reading level
A dental screening with follow-up recommendations for parents
A vision screening
Brown County public school districts and local agencies identify and pre-register participants based on their organization's income level metrics, in order to identify at risk children in need of supplies to start school.
Participant quotas are based on the amount of product and financial donations Service League of Green Bay receives for the store, and we regretfully have to turn away hundreds of children each year due to not having the funds or products available to increase participation.
A total of 25 school districts and agencies participate in the Back-to-School Store:
Ashwaubenon School District
Big Brothers Big Sisters
Brown County Human Services
Boys and Girl's Club
Catholic Charities
Denmark School District
De Pere Health
Encompass Early Education
Family & Child Resources of N.E.W.
Family Services
GB Public Schools-Anderson (at-risk)
GB Public Schools PS-McKinney-Vento
GB Public Schools-Lehman (non-risk)
Golden House
Howard Suamico School District
Integrated Community Services
Pulaski School District
Salvation Army
St. Vincent DePaul
Title 1 Program
De Pere Unified School District
United Hmong & Asian American Community Center
West De Pere School District
Wrightstown School District
YMCA
Hundreds of statewide employers, foundations, church, civic and school groups assist with product donations and volunteer staffing. This is a great community-wide event!
Ways to you can help:
Make a product or financial donation and get your workplace, friends, neighbors and family involved.
New supplies needed include:

4-Oz. Bottles of Glue
Large Sized Glue Sticks
Pocket Folders
24-Ct. Crayons
#2 Pencils
Pink Erasers
Pencil Boxes
Pencil Bags
Red Ballpoint Pens
Blue or Black Ballpoint Pens
12" Rulers with cm and Inch Markings
Wide Ruled Spiraled Notebooks
Wide Ruled Loose Leaf Paper
8-10 Ct. Colored Pencils
8-10 Ct. Colored Markers
8-10 Ct. Thin Colored Markers
Children Sized Scissors (Fiskars)
5K-Middle School Sized Backpacks
New Children's Story/Reading Books (5K - 5th grade level)

Volunteer to help on set-up day Monday, August 6th and/or on the day of the store Wednesday, August 8th. Translators, security detail, clerks, runners, shoppers, tear down, and inventory helpers are all needed. Click here to sign up to volunteer!
For additional information on the 2012 Back-to-School Store please contact:
2012 Back-to-School-Store Co-Chairs:
Joey Wilinski (920)366-6594 E-Mail: joeyw@wilcocabinets.com
Addie Waterstradt (920)606-4770 E-Mail: awaterstradt@yahoo.com
Thank you all for your continued support of Service League and all we do. Your dedication to our organization and our mission is what makes it all possible. Warm wishes from all of us at Service League!
Sincerely,

Katie DuBois
Marketing Chair
Service League of Green Bay
P.O. Box 372
Green Bay, WI 54305