Open Eye Gallery Committee Meeting


Fri., Mar. 1

11:00 a.m.
At Arundel Lodge.
All are welcome. Email Katerina Evans or call her at (443) 433-5914 with any questions.

NAMI Family
Support Group

Thurs., Mar. 14

7:00-8:30 p.m.
at Arundel Lodge.
For more information, email NAMI Anne Arundel.

NAMI Family
Support Group

Thurs., Mar. 28

7:00-8:30 p.m.
at Arundel Lodge.


For more information, email NAMI Anne Arundel.

Save the Date: On Wed., May 8th, from 1-5 p.m., Arundel Lodge, in partnership with Community Behavioral Health and On Our Own Affiliates, will present a one-day show, "Through the Looking Glass: Reflections on Life with Mental Illness" at the American Visionary Art Museum in Baltimore. We are soliciting artwork from mental health consumers across the state to partner in celebrating the power of the arts in healing.

The deadline to submit artwork is April 8. Submission forms, guidelines, and sponsorship guidelines are all available online.

Please email Katerina Evans or call her at (443) 433-5914 with any questions about this exciting event.


Greetings!
Millie Banwell
We would like to express our great regret that Millie Banwell, the wife of Jim Banwell, passed away on February 10. She and her husband have been steadfast and generous supporters of Arundel Lodge, Lighthouse Shelter, and the community-at-large. You can learn more about Millie's life in this obituary published in The Capital.
Millie was a kind and generous person who gave a tremendous amount to her family, church, friends and those in need. Jim Banwell is a current Board member and served as Board President for about 15 years. Our thoughts are with Millie's family. We will miss her spirit.
A note from LaShandra Oliver, Community Day Program Manager:
NAMIWalks is back again! These walks, held around the country throughout the year, raise awareness and funds for the National Alliance on Mental Illness (NAMI). Baltimore hosts a NAMIWalk each May, and Arundel Lodge is always there.
I'm going to be walking with our clients, but we need YOUR support! Please visit my NAMIWalks page to donate, and feel free to share the link with your family and friends. And please join Arundel Lodge at the NAMIWalk in Baltimore on May 18th. You can register via my NAMIWalks page or let me know by email or by phone (443-433-5934) that you'll be joining us.
Supported Employment Program Has Big Plans for 2013
Arundel Lodge's Supported Employment Program has set a goal of doubling the number of members working and quadrupling the number of business partners. Members of Arundel Lodge have consistently stated their interest in returning to work, and the whole agency has been mobilized to support their efforts. Employment Specialists continue to support members in developing their career plans, and they are now doubling their efforts to create relationships with the business community. Employment Specialist Shannon Love feels that the "business as a customer" approach is making a difference. We have expanded our business network and look forward to seeing members reap the rewards in the future.
Arundel Lodge clients are shadowing employees at local businesses, completing informational interviews, and participating in mock interviews.
Recently, members who are still developing their career plans have been spending more time meeting with potential employers. They have been shadowing employees at local businesses, completing informational interviews, and participating in mock interviews. Our local job market is improving, and members are learning networking skills that will put them in a strong position to receive a job offer.
Employment Specialists work diligently to help members clarify their interest and skills and identify potential employers. Employment Specialists have also been working hard to enhance relationships with businesses. Understanding the business requirements, labor needs, and what employers need from their employees increases the likelihood of a satisfied employee and a satisfied employer. We expect to see many more happy customers in 2013.
How can Arundel Lodge supporters help?
We are always looking for new employers. Are willing to be a mock interviewer? Will you allow a member to shadow one of your employees? If you have a job opportunity with your business or would like to discuss ways of supporting our program, please email Jennipha Gregory or call her at (443) 433-5924.
Feeling Worthwhile through Work:


An Interview with Andrew
Andrew has been participating in programs at Arundel Lodge for about five years. This past month he agreed to discuss his progress on the job at Safeway and how his employment has impacted the rest of his life.
Arundel Lodge NEWS: What has being employed at Safeway meant to you?
Andrew: Since I got the job in November, I have become more independent and feel better about myself. I have more control of what I do on a daily basis, and I'm not just sitting around with nothing to do and nobody to talk to. Now that I'm working, I am making better decisions about what I do, because I know that I have more responsibilities.
Arundel Lodge NEWS: How has working affected your mental health?
Andrew: When I was unemployed, I would not leave the house, and I became depressed. I felt like the world was against me. Now that I'm working, I feel better about myself and I am more outgoing. It really helps to be involved with other people who don't judge me, because they don't know I have a mental illness. Since I've been working, I've kept to a schedule. I don't stay up all night, because I know I'll be tired the next day and it will hurt my job. I try to get a good night's sleep. I really feel worthwhile now, and I get along better with my roommate.
Arundel Lodge NEWS: How has your work impacted your relationships?
Andrew: I feel much better about my relationship with my family. Our conversations seem to go a lot better. I feel like I get more respect. Maybe it's just that I feel better about myself and I'm easier to get along with. Either way, I like getting positive feedback, and that makes me feel better about myself.
"On Time, Trustworthy, Hard-Working":


Draper Phelps Works Toward New Employment
Draper Phelps is an Arundel Lodge client who has recently decided to return to the workforce. He has been working with the Supported Employment Program since October. He is committed to rebuilding his career from the bottom up. He knows that he will have to prove himself at his next job, but is up for the challenge. He agreed to be interviewed for this article because he has learned that networking is a very important part of a job search.
Arundel Lodge NEWS: Can you tell us about yourself--you background and interests?
Draper: I enjoy working. I enjoy politics. I volunteered politically with Michael Steele and the Governor Ehrlich campaigns. I have run for the Republican Central Committee twice in Carroll County and the Republican Board of Education as well as for Congress. When I was living in Baltimore, I attended UMBC and graduated with a Bachelor in Political Science, pre-law track, with a minor in journalism. I love magic and fooling people with my tricks. Around the holidays, I love dressing up like Santa and making people smile. I love going to recovery groups and meeting new people.
Arundel Lodge NEWS: What is your job goal and what steps are you taking to achieve this?
Draper: My job goal is to meet new people, through a job in the service industry, janitorial work, busing tables, or at the movie theatre. I don't mind working full- or part-time. I like being around people and working with them and hope to get a new job experience. My job coach and I talk about my experiences and work towards obtaining employment by networking, applying to places online, and by observing them in person while working on my interview skills. We have made a resume and gotten clothes from the Career Closet, too.
Arundel Lodge NEWS: Why did you choose to work with a job coach and how has it benefited you?
Draper: I decided to work with a job coach to help me to improve my skills and get a job. I think my mock interview went great and helped me practice my interview skills. He showed me what to say and what to do.
Arundel Lodge NEWS: Why should a business hire you?
Draper: Because I am always on time, I can be trusted, I like being around people and making them smile, I am good at following directions, and I believe the customer always comes first. I am a hard worker.
If you or someone you know would be interested in talking to Draper Phelps about a job opportunity, please email Jennipha Gregory or call her at (443) 433-5924.
Noodles and Company: A Great Place to Work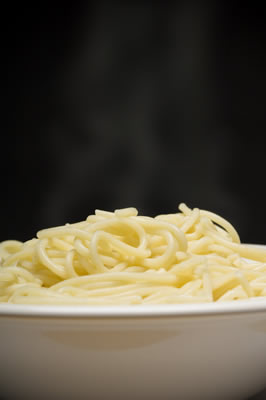 Over the last two years, Noodles and Company at the Annapolis Mall has been an awesome employer, a fantastic business partner, and a pretty darn good place to eat lunch, Jennipha Gregory told Arundel Lodge NEWS. Jennipha is the Supported Employment Program Manager at Arundel Lodge. She shared that Noodles is a quick, casual, and affordable family restaurant, and that Arundel Lodge values them as an employer.
"Our partnership with Arundel Lodge has saved the store time and money by referring quality applicants that are motivated to learn and work."
Dorothy Norris, General Manager, has interviewed many Arundel Lodge members and hired three. Noodles and Company has a philosophy of supporting their employees in being the best they can be at the pace they can manage. Dorothy creates an environment where her employees learn new skills and become great team members. They learn to have a passion for food and guest services (a new term for customer service). Dorothy is very happy with Eric Thomas, an outstanding employee and a member of Arundel Lodge. She shared that it has been a pleasure to watch Eric grow personally and professionally.
Dorothy wanted the Arundel Lodge community to know what an asset Roxanne Martin has been to the partnership. Dorothy said, "There hasn't been a time when Roxanne hasn't done what our employees and the restaurant needed. This partnership [with Arundel Lodge] has saved the store time and money by referring quality applicants that are motivated to learn and work. We have received tax credits for the job training and great support in managing some of life's problems that might have interfered with work without Roxanne's support. Roxanne provides enough support for the employee to be successful, but not too much, so that Arundel Lodge members grow to be team members in a natural way."
Dorothy shared that she and her four sisters grew up with a tradition of hard work and giving back to the community. Her mother worked in the rehabilitation field, and she is happy to continue the tradition of helping people with disabilities return to work. Head out to Annapolis Mall for a great meal and say "Hi!" to Dorothy for us!
Click
here
to return to the top of the page.
Susan Aldayuz, Administrative Assistant
Susan Aldayuz has been working in the Outpatient Mental Health Clinic for just over three months--and has already been named an Employee of the Month! Her work includes working at the front desk and processing intakes for new clients, along with a variety of other tasks. She is a wonderful addition to Arundel Lodge and has earned the support and appreciation of the clinical staff.

Here is what her co-workers had to say:

'I would like to nominate Susan Aldayuz because she has had a positive impact on the clinic, is pleasant to work with and is always willing to help."

"She goes out of her way to help out with scheduling and asks me how she can be of more help. "
"I am so happy to have someone up front who speaks Spanish and can work with our Latino population."
Click
here
to return to the top of the page.
Dinny White, Art Gallery Photographer
Dinny White is a painter and also enjoys photography. He was initially was drawn to the Lodge by his close friend and Arundel Lodge board member Jody Lacey, with whom he and his wife have been friends for over 10 years. Dinny is also a member of the Open Eye Gallery Committee. Dinny and his wife Jean have lived in the Annapolis area for over 30 years, and they both have a great appreciation for the arts. Dinny has been a big fan of Arundel Lodge's art program ever since he purchased a wonderful painting by Colin Lacey, Jody's son, at an auction event a few years ago. He told Arundel Lodge NEWS that the painting now sits in "place of honor in his home, in the living room." Dinny now owns six of Colin's paintings.
Be sure to check out Dinny's photos on our Facebook page of the recent Arundel Lodge art opening at b.b. Bistro in Annapolis.
Arundel Lodge NEWS: How long have you been volunteering and what type of work do you do as a volunteer here?
Dinny: I have been volunteering for over two years now for the Open Eye Gallery and Studio at the Lodge. I enjoy volunteering for the local community, after retiring from the corporate world several years ago. I also do volunteer work at the London Town Public House in Edgewater, MD, in their horticulture program. I like the feeling it gives me when helping and supporting others, and especially helping to sustain programs such as the art program here at the Lodge. I'm currently taking photos of all the art work and creative pieces in studio, to be catalogued in a database. For this project, I enjoy coming into the gallery later in the day, to capture just the perfect amount of light from the afternoon sun, which helps to balance out the color in pieces of artwork that I am shooting. This time of day also ensures I am not in the way of the artists that are working. While shooting in the studio, I believe that I have really become closer to the artists and their work.
Arundel Lodge NEWS: What have you gained from your volunteer experience?
Dinny: The artwork produced by clients at Arundel Lodge is above and beyond anything I had expected. It's clear that the Art Program is very special in terms of art therapy. I believe this type of therapy is very effective and has more meaning than just client contact and analysis, because this program helps to stimulate involvement as well as attachment to their work, for all of the artists involved. It's evident to me, by the quality and creativity of the work on display in the studio, that there is a hardworking team as well as dedicated staff in the art program at Arundel Lodge.
Click
here
to return to the top of the page.