EVENTS
Thursday, June 23
3:00 PM - 4:00 PM
Great Lakes Room North,
Palmer Commons
Tuesday, June 28
2:00 PM - 3:00 PM
NCRC Building 16, B001E
Monday, October 10
3:00 PM - 6:00 PM
Tuesday, October 11
8:00 AM - 2:15 PM
Towsley Center
Abstracts will be accepted through July 25th.


RESEARCH NEWS
QUICKLINKS
IN THIS ISSUE
Leadership
Funding
Policies
Training & Professional Development
Announcements
Select Research Funding &
Award Opportunities
| | |
| --- | --- |
| Award | Deadline |
| | Monday, August 1 |
| | Monday, August 1 |
| | Monday, August 1 |
External Limited Submissions
| | |
| --- | --- |
| Award | Deadline |
| | Wednesday, June 22 |
| | Thursday, June 30 |
| | Thursday, August 4 |
Bridging Support
Other Opportunities

| | |
| --- | --- |
| Award | Deadline |
| | Friday, June 17 |
| | Friday, June 17 |
| | Sunday, July 3 |
| | Friday, July 15 |
| | Friday, July 22 |
Featured Foundation Grants
Visit the UMHS Corporate and Foundation Relations
website
for more foundation funding opportunities.
New ORSP Assistant Director
Yvonne Sturt is the new Assistant Director of the Office of Research and Sponsored Projects (ORSP). Sturt has previous experience in the Department of Internal Medicine, and she has been the Research Administration Advisory Council project manager since 2013.
As ORSP's new Assistant Director, Sturt will oversee the research administration training, communications, and data and reporting initiatives (and their respective staffs), and supervise the administrative support staff. She will assist in the planning, development and implementation of ORSP's strategic objectives, and oversee finance and budget, human resources, facilities, and IT.
Please join us in welcoming Yvonne Sturt to this new position!
Fast Forward Clinical Trials
At their March meeting, the
U-M Regents approved the appointment of Anna Lok, M.D., as the Assistant Dean for Clinical Research. Reporting to Steven Kunkel, Ph.D., Medical School Senior Associate Dean for Research, Dr. Lok is now the principal in the Medical School Office of Research responsible for leading and implementing the processes of Fast Forward Clinical Trials across the entire UMHS. She will be responsible for the overall leadership, management, and oversight of the newly created network of clinical trials nodes and key aspects of the supporting central administrative structure.
"Anna Lok is one of our stellar trialists and researchers, with over 20 years of experience," noted Dr. Kunkel. "Her passion for excellence and deep understanding of the clinical trial process make her an outstanding choice to lead us through the big changes ahead with Fast Forward Clinical Trials."
In other Fast Forward Clinical Trial personnel news, operational and "node" administrative team members were recently recruited. The Fast Forward Clinical Trial operations staff members include Cyndi Bower, Director; Linda Beekman, Senior Consultant; and Mollie Bodin, Project Manager.
The trial "nodes" are now supported by the following medical and administrative staff:
Vallerie McLaughlin, Medical Director - Heart, Vessel, Blood
Ann Cornicelli, Lead Administrator - Heart, Vessel, Blood
William Barsan, Medical Director - Acute & Critical Care
Robert Hyzy, Medical Director - Acute & Critical Care
Pauline Park, Medical Director - Acute & Critical Care
Barbara Munsey, Lead Administrator - Acute & Critical Care
Frank Moler, Medical Director - Children's
Rajen Mody, Medical Director - Children's
Tracey Naylor, Lead Administrator - Children's
Christopher Lao, Medical Director - Oncology
Scott Schuetze, Medical Director - Oncology
Mathew Innes, Lead Administrator - Oncology
Visit their
website
to learn more about the team and their backgrounds. More information about Fast Forward Clinical Trials, including an archive of past updates, is available
online
.
2017 Searle Scholars Program Seeking Applicants
Internal Application Deadline: Thursday, August 4
The Medical School Office of Research is pleased to announce a competition for the following limited submission funding opportunity:
Internal Deadline:

Thursday, August 4

Research
Emphasis:

The Searle Scholars Program gives grants

to support independent research in medicine, chemistry, and the biological sciences for exceptional early-career scientists who have recently begun their appointment at the assistant professor level, and whose appointment is their first tenure-track position.

Funding Available:

$300,000


($100,000 per year for a three year period)

Faculty Eligibility:

Candidates should have
begun their appointment
as an independent investigator
at the assistant professor level
on or after July 1, 2015. The appointment

must

be in their first tenure-track position at their current institution.

Expected to be pursuing independent research careers in biochemistry, cell biology, genetics, immunology, neuroscience, pharmacology, and related areas
in chemistry, medicine, and the biological sciences.

Institutional Nominations Allowed:

Two

Sponsor Deadline:

Friday, September 30
U-M Foundation Relations
will be holding an information session about this funding opportunity later this week. Researchers interested in submitting an application for this competition are
strongly
encouraged to attend the session:
Thursday, June 23
3:00 PM - 4:00 PM
Great Lakes Room North
4th Floor, Palmer Commons
To apply for internal competition:
For consideration as an institutional nominee, please visit Competition Space
and look under Limited Submissions for program guidelines and application requirements.
If you have questions, please contact Laura Hessler via email or phone at (734) 615-6575.
New Guidance for Research Subject to ICH-GCP Requirements
M-Inform Door Closing - 2016 Fiscal Year
Updates must be made by Thursday, June 30
After June 30, 2016 you will no longer be able to update your M-Inform disclosure for the current fiscal year. If you have outside interests, please make sure your disclosures are up-to-date before the fiscal-year-end door closes. University policies and federal regulations for funding agencies like NIH require that all disclosures be updated within 30 days of a new activity or interest. Did you miss anything?
Examples of interests and activities that must be reported include:
Please contact Ben McCoy at (734) 936-1959 or email
[email protected]
if you have any questions.
And yes, you'll still be required to submit your FY2017 outside interest disclosure between July 1 and July 31, even if you update the FY2016 disclosure at 11:59 PM on June 30.
UMMS Central Biorepository Receives Accreditation From the College of American Pathologists
The UMMS Central Biorepository is pleased to announce that it has been awarded accreditation by The College of American Pathologists (CAP) through the CAP's Biorepository Accreditation Program (BAP). The BAP is considered to be the "gold standard" of biorepository accreditation.
The CBR was advised of this national recognition and congratulated on the excellence and quality of the services it provides. The UMMS CBR is now one of the 45 CAP-accredited biorepositories nationwide.
The CAP based the biorepository program on the principles of its esteemed Laboratory Accreditation Program. The U.S. government recognizes the CAP Laboratory Accreditation Program, begun in the early 1960s, as being equal-to or more-stringent-than the government's own inspection program. Biorepository
accreditation by CAP is a voluntary program which assures quality processes in document and record management, biospecimen handling and processing, instrumentation validation and maintenance, laboratory information system performance, regulatory oversight, personnel training and competency assessment, physical facility optimal functionality, biospecimen security and personnel safety.
CBR Director Dr. Victoria Blanc commented, "Accreditation was a necessary first step to demonstrate our commitment to providing world-class biorepository services. I am extremely proud of the team for their efforts to achieve this critical milestone. We'll now build on this success through continuous improvements in processes and speed, to further realize the research and financial benefits centralization of biospecimen management."
For more information on the new accreditation, contact Debbie Harrison at

[email protected]

.
Involved in Animal Care and Use?
Don't delay, complete your required ULAM-60000 training today!
A new training requirement issued by the
Institutional Animal Care & Use Committee (IACUC)
requires ALL faculty and staff working under an IACUC animal use protocol, regardless of whether or not they directly handle laboratory animals, to complete an online course in MLearning called "ULAM-60000 Orientation for Animal Care & Use Refresher." This course provides an overview of animal research oversight, standards, regulations, institutional policies, and expectations for U-M's animal research community.
The only faculty or staff who will be exempt from taking the course are those who completed "ULAM-10000 Orientation for Animal Care & Use" after May 1, 2015.
Individuals will be notified by email with training DUE as follows:
| | |
| --- | --- |
| Principal Investigators (Last Name A - M) | July 15, 2016 |
| Principal Investigators (Last Name N - Z) | August 19, 2016 |
| Staff (Last Name A - I) | September 18, 2016 |
| Staff (Last Name J - R) | October 18, 2016 |
| Staff (Last Name S - Z) | November 19, 2016 |
You are highly encouraged to complete this training early to avoid a possible non-compliance notification.
Visit the training requirement website for additional details, including step-by-step instructions for completing your training. Maintaining a comprehensive education and training program to ensure that all staff are using best practices in animal care and use is a key component to U-M's ongoing commitment to sustained excellence and compassion in animal care. Your diligence in this matter is greatly appreciated.
STOP! Using a USB Drive to Store Patient Data?
Compliance Office warning on data breaches
There have been recent incidents at UMHS where patients' Protected Health Information (PHI) was breached due to the loss of unencrypted USB flash drives. Protecting information is vital in supporting our mission of providing the highest quality care to our patients and inappropriate disclosure of sensitive information exposes UMHS to significant compliance risk.
Storing sensitive data on USB flash drives is strongly discouraged.

Please use only UMHS-authorized services when handling sensitive data.



UMHS-authorized services include:
Network Attached Storage - The UMHS file sharing and storage system for use within the Health System.
MiShare -

Web-based secure file transfer service available to all with an @med.umich.edu email account.

Outlook Exchange Email -

Email system that is used for your @med.umich.edu email account. If you are sending sensitive information to any external email address (@gmail.com, @umich.edu, etc.) you must include

"[secure]" in the subject line to encrypt the message.
If these options are not possible, and a USB flash drive is your only option for storing sensitive information, it must be encrypted.
Encrypted USB Devices approved for use:
Apricorn Aegis Secure Key (8GB or less) -

These can be purchased through the

Procurement M-Marketsite

from CDW-G.

Kingston Data Traveler (8GB) -

These are distributed at the

Help Me Now

locations and provided FREE to staff (while supplies last).
Questions about data security?
Contact the UMHS Service Desk at (734) 936-8000.
Life Science Suppliers Show
Join Procurement Services on Tuesday, June 28
Join
U-M Procurement Services
for a Life Science Suppliers Show!
Lunch will be provided and you can learn more about how these research supply vendors can help your unit save money:
Bio-Rad

Corning Life Sciences

Integrated DNA Technologies (IDT)

Millipore Sigma (formerly EMD Millipore)
QIAGEN
Sigma-Aldrich
Thermo Fisher Scientific
And, at the show, be sure to enter a drawing to win one of four great prizes!
Life Science Suppliers Show

Tuesday, June 28
11:00 AM - 1:30 PM
For more information, contact, Life Science Procurement Agent Kelly Pavlica, at

[email protected]

or (734) 615-8767.
NEW Educational Opportunities
IRBMED has courses through the end of the year
IRBMED offers a range of courses to provide the research community with education to improve understanding of regulatory requirements, eResearch application completion, and special topics as related to human subjects research.
The
Education Page
has been updated to include all courses offered through December 2016.
Evaluate the two ERN's being considered for U-M
The Medical School is sponsoring an Electronic Research Notebook (ERN) for use by the entire University of Michigan. We are now formally opening invitations to participate in a pilot to evaluate the two notebook products we are considering, Labarchives.com and RSpace.
Please feel free to bring your laboratories and collaborators into the pilot to help with the evaluation. We ask that you give the products a solid evaluation and provide feedback as one will likely be the tool that you are using going forward.
Please block off the following dates on your calendar:
Kickoff Meeting
Tuesday, June 14
11:00 AM
NCRC Building 520 Room 1122

Attend the introduction meeting to go over the evaluation process, sign-up, and access. We will explain the evaluation process and survey, gather your input and answer any questions.
Wrap-up and Review Meeting
Tuesday, June 28
11:00 AM
NCRC Building 16 Room B003E
We will wrap up, answer any follow up questions and distribute the final survey.
You can sign up for the ERN tools if you have not already done so.
There are basic setup and best practices information provided in the support links.
Please contact
[email protected]
if you have any questions.

Remote access links will be provided soon for those who cannot join us onsite.

We will also provide help at the introductory meetings.
New to Research Administration?
Attend the Navigate Fundamentals course presented by ORSP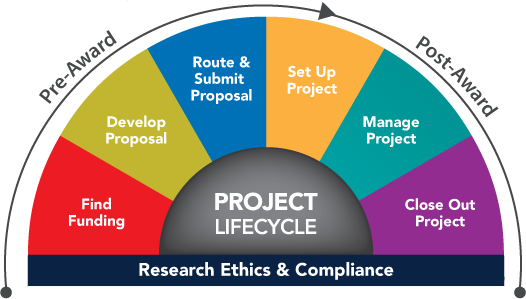 The
Navigate: Fundamentals course
is offered to U-M research administrators early in their research administration careers (zero to about two years of working experience). The course consists of eight full-day instructor-led sessions between September 2016 and December 2016, with capstone projects to demonstrate success.
Attendance at each session is mandatory.
Interested parties should save the dates.
In situations of inclement weather or closures, alternate sessions will be announced.
Fall 2016 Training Schedule
Location: Wolverine Tower
| | |
| --- | --- |
| Day 1 | Wednesday, September 28 |
| Day 2 | Wednesday, October 12 |
| Day 3 | Wednesday, October 19 |
| Day 4 | Wednesday, November 2 |
| Day 5 | Wednesday, November 9 |
| Day 6 | Wednesday, November 16 |
| Day 7 | Wednesday, November 30 |
| Day 8 | Wednesday, December 7 |
A
course fee of $400
will be charged to the participant's department once a confirmation to attend the course is complete. Participants who attend all sessions and successfully complete the course requirements will receive a certification of completion.
New Discounts Now Available on PCR Reagents and Consumables

A cross-functional team comprised of representatives from the University's research community and Procurement Services has secured new -- and significant -- discounts on PCR (Polymerase Chain Reaction) related reagents and consumables including DNA polymerases, RNA isolation kits, miRNA gene expression analysis, etc. from two strategic vendors: Qiagen and Sigma-Aldrich.
The process in achieving these discounts began when the team analyzed the overall use of these products including commonly used items, sources, customer satisfaction, technical support and shipping rates. After careful review, the team requested and evaluated proposals from a panel of vendors, each of whom provided improved discount structures on both product lines and shipping costs to campus and the Biomedical Research Store. From this assessment and negotiations, the team then selected the top two vendors that could best meet the needs of the University's research community. These suppliers were able to provide not only the same item savings but category-wide discounts and free or reduced shipping.

Researchers can now take advantage of these discounts by placing orders through M-Marketsite and using their shortcodes or through one of the five Biomedical Research Store locations. Free shipping is available for all PCR related items from Sigma-Aldrich; shipping costs with Qiagen are waived on all orders over $400.
Enhancing Microbiome Research
U-M Joins New National Initiative
The University of Michigan has joined the National Microbiome Initiative launched by the White House's Office of Science and Technology Policy.
U-M's pledge of $3.5 million includes: funding from the Medical School's $15 million Host Microbiome Initiative, grants that U-M received from the Howard Hughes Medical institute, and grants from Procter & Gamble, Inc.
"With this concerted effort, we'll make progress not only in answering key questions about different microbiomes, and sharing what we know and discover, but also in engaging the general public and science students in learning and training for future careers."
- Thomas Schmidt, head of Michigan Microbiome Project
The funding adds to an already strong microbiome effort across several U-M schools and colleges, fueled by nearly $45 million in competitive research grants and internal funding. Visit The University Record article to read more about the announcement.
Featured Foundation Grants
for Biomedical Research

Simons Foundation Autism Research Initiative - Bridge to Independence Awards
The Simons Foundation Autism Research Initiative (SFARI)'s
Bridge to Independence Awards
aim to
invest in the next generation of top autism investigators by identifying talented early-career scientists interested in autism research and facilitating their transition to an independent research career.
| | | |
| --- | --- | --- |
| Award | Amount | Deadline |
| | $450K | Monday, August 1 |
Awarded with 20% IDC's.
Lymphoma Research Foundation
Award

Amount

Deadline

$105K
Wednesday,
August 31

$225K

Wednesday,

August 31



Burroughs Wellcome Fund - Career Awards at the Scientific Interface
The Burroughs Wellcome Fund (BWF)'s Career Awards at the Scientific Interface

foster the early career development of researchers who have transitioned or are transitioning from undergraduate and/or graduate work in the physical, mathematical,
computational sciences or engineering into postdoctoral work in the biological sciences, and who are dedicated to pursuing a career in academic research.
Award

Amount

Deadline

$500K

Thursday,

September 1
Questions about these award opportunities should be directed to Joe Piffaretti in UMHS Corporate and Foundation Relations via email at
[email protected]
or phone at (734) 763-1318.
If you are interested in receiving weekly funding announcements that include opportunities such as those listed above, please contact Joe Piffaretti to be added to the faculty/staff email circulation list.
Avoiding a Slippery Scope
Sharpening Your Focus:
Tips on Grant Proposal Preparation
By Jill Jividen, Ph.D., Senior Manager
for Research Development Support,
U-M Medical School Office of Research
(One in a
series
of tips published in UMMS Research News about writing proposals.)
Reviewers often cite "overambition" as a pitfall for early investigators. Junior researchers commonly propose to take on too much for the budget or time period allowed by a grant, and that inclination suggests inexperience or overconfidence-neither of which positively impresses readers.
Reviewers will assess whether your approach matches your aims, but also consider if that work is realistic. As you develop your plan, think about the following:
How much time will it take to complete each step (e.g., subject recruitment, animal protocols, agreements for material transfer or data use, purchasing, experimentation, replication, data collection, analysis, etc.)? What happens to your timeline if any of these things is delayed?
How much will your research cost? Work with an experienced research administrator to discuss things like personnel effort and equipment. Toward the new NIH Rigor & Reproducibility guidelines, consider costs associated with replication or authentication of key resources.

How feasible is your plan? Do you have a back-up plan in case of snags, and what are the time/cost implications for alternative strategies?

What other resources will be obtained with grant funding (e.g., consultants, subcontracts, etc.)?
Evaluate these angles early in the proposal development process and be realistic about what can be accomplished based on project period and budget.
If you're uncertain about what an appropriate scope comprises, solicit advice from your program officer, mentors, or colleagues. Other resources include:
For more information: