Undergraduate Curriculum Redesign Honored

Professorís Book Examines Governance in Nigeria

Using the case study of Nigeria, Assistant Professor Carl LeVan's new book, Dictators and Democracy in African Development: The Political Economy of Good Governance in Nigeria, explores how political actors and the policymaking process shape government performance. Read More.

Professor Studies Presidency of Shimon Peres
Spotlight on the ID Program

For over thirty-five years, the International Development Program (IDP) at SIS has trained students to participate effectively in driving socio-economic, political, and environmental change throughout the world. Read More.
Alumnae Serve in the Peace Corps

Four recent graduates from SIS have put their degrees to use by serving as Peace Corps volunteers. Read More.
Ambassador of India Visits SIS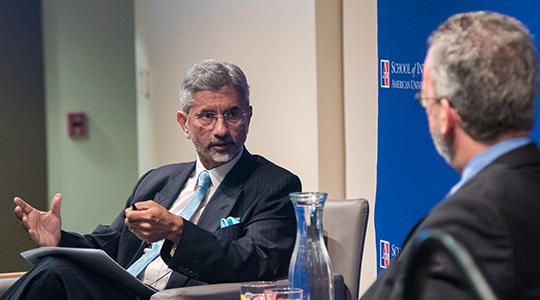 SIS hosted Ambassador S. Jaishankar of India on November 10 for a discussion about U.S.-India relations. The event followed Prime Minister Narendra Modi's much anticipated visit to the United States in September. Watch the video.
SIS hosts Ambassador of Pakistan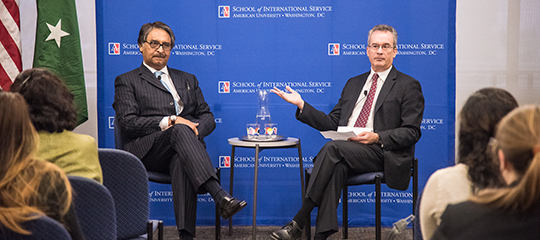 Ambassador Jalil Abbas Jilani of Pakistan visited SIS on December 4 for a conversation about U.S.-Pakistan ties and developments in the region. Watch the video.
Congratulations
Associate Professor Charles "Chuck" Call has been awarded a research grant from the Carnegie Corporation of New York and the Norwegian Ministry of Foreign Affairs for his two-year project, "New Actors and Innovative Approaches to Peacebuilding? Examining the Role, Innovations and Effectiveness of New Actors in Building Peace."
Professors Susan Shepler and Nina Yamanis won the first university-wide research proposal competition, earning a grant from the Office of the AU Provost for a research project on the socio-cultural aspects of Ebola in Sierra Leone. Follow their blog posts from Sierra Leone.
Assistant Professor Maria DeJesus received the Center for Teaching, Research, and Learning's 2014 Teaching with Research Award.
Stay Connected
Happy New Year! Watch our video.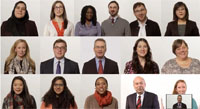 Follow SIS on Twitter and Facebook!

Attend SIS events or watch online.
Learn about AU career outcomes at We KNOW Success.
In Memoriam
SIS remembers the following members of our community who passed away in 2014:
Adel Ait-Ghezala, doctoral student
Lorena Gimenez, undergraduate student
Taylor Landis, undergraduate student
David Martin-McCormick, retired scholar-in-residence
Robert Pastor, professor
Michel Struelens, professor emeritus
Commentary
Dean James Goldgeier: Russia and the West: Looking Ahead, Transatlantic Academy, January 12
Ambassador Akbar Ahmed: Terror in France and the Global Response, The Diane Rehm Show, January 12
Professor Clarence Lusane: Selma, Martin Luther King, Jr., and President Lyndon Johnson, C-SPAN Washington Journal, January 11
Ambassador Akbar Ahmed: Why Right Now Is a Crucial Time for Islam in Europe, The Huffington Post, January 8
Scholar in Residence Johanna Mendelson-Forman: The Gifts of Three Kings? The Hill, January 8
Ambassador Akbar Ahmed: The Best Place in the World to be a Muslim: America or Europe? The Islamic Monthly, January 7
Economist in Residence Manuel Suarez: Update on U.S. Relations with Mexico, The Diane Rehm Show, January 7
Assistant Professor Craig Hayden: The 2014 US Advisory Commission Comprehensive Annual Report, Intermap, January 6
Professorial Lecturer Jeff Bachman: Drone Strikes: Are They Obamaís Enhanced Interrogation Techniques? The Conversation, December 23
Professor Gordon Adams: The Liberal Fallacy of the Cuba Deal, Foreign Policy, December 19
Scholar in Residence Johanna Mendelson-Forman: The Future Of U.S.-Cuban Relations, The Diane Rehm Show, December 18
Professorial Lecturer Jeff Bachman: From Torturing to Killing Innocent People: This Is Who We Are, The Huffington Post, December 14
Professor Gordon Adams: Congressís Defense Spending Is Nothing More Than a Shell Game, Foreign Policy, December 12
Associate Professor Joseph Young and Erin Kearns: Dramatic Depictions of Torture Increase Support for It, Monkey Cage, The Washington Post, December 12
Read more media mentions