Student Hopes to Change Africa's Narrative

Biggie Tangane, a senior at SIS, stands ready to graduate and to better his homeland—due in part to the recently established AU Emerging Global Leader Scholarship. He was the first to receive the honor, which is reserved for one international student each year. Read More.
Student Gains Research Experience on HIV Study

SIS graduate student Molly Maguire Marshall worked on a collaborative and cross-disciplinary research project led by Assistant Professors Nina Yamanis and Maria De Jesus, assessing the HIV risk for a vulnerable population in Washington, D.C. Read More.
Panel Addresses Threat of ISIS in Iraq and Syria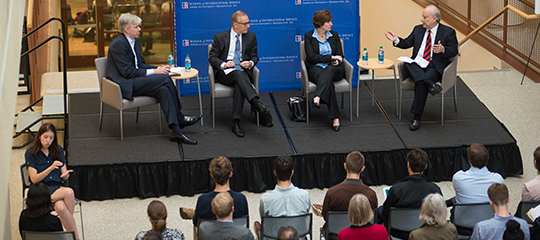 A panel discussion on October 15 moderated by Distinguished Journalist in Residence David Gregory, SIS/BA '92, with Susan Glasser, editor of Politico, David Ignatius, columnist for The Washington Post, and Akbar Ahmed, the Ibn Khaldun Chair of Islamic Studies at SIS, addressed U.S. policy in the Middle East. Read More and Watch The Video.
SIS Alumni Debate National Security Challenges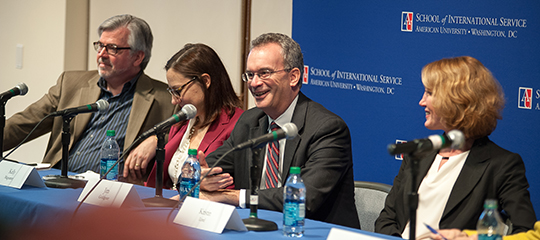 A panel of SIS alumni—moderated by Dean Jim Goldgeier, including Kristin Lord, SIS/BA '91, head of IREX; Kelly Magsamen, SIS/BA '98, Principal Deputy Assistant Secretary of Defense for Asian and Pacific Security Affairs; James Schear, SIS/BA '75, former Deputy Assistant Secretary of Defense for Partnership Strategy and Stability Operations, now at the Wilson Center; and Julianne Smith, SIS/MA '95, former Deputy National Security Advisor to the Vice President, now at the Center for a New American Security—spoke at SIS on October 18 during All-American Weekend. Watch the Video. View the Storify about the weekend.
Stay Connected
Follow SIS on Twitter and Facebook.

Attend SIS events. Watch videos of recent events, including with Frank Fukuyama and Hans Blix.

Attend an SIS Open House, and learn more about our graduate degree programs.
Commencement Update: SIS Commencement will be on May 10 at 3:00 PM. Tickets will be required for the SIS ceremony. It will be live streamed and broadcast remotely. Learn More.

Opinions and News
Dean Jim Goldgeier: To Contain Russia, the U.S. Should Return to Cold War Policies, The New Republic, November 7
Assistant Dean Anya Schmemann: When the Wall Fell, The Huffington Post, November 7
Professor Gordon Adams: The Midterm's Mantra of Fear and Loathing, Foreign Policy, November 5
Professor Jonathan Fox: Addressing a Climate of Repression, The Houston Chronicle, November 2
Professorial Lecturer Michael Schroeder and Peter Rosenstein: Global Epidemics Need Global Leadership and Ebola Won't be the Last, The Huffington Post, October 29
Scholar in Residence Johanna Mendelson Forman: Dilma Redux? The Globalist, October 28
Professor Robin Broad and John Cavanagh: Kailash Satyarthi's Heroism, The Nation, October 22
Distinguished Economist in Residence Arturo Porzecanski: Puerto Rico Needs a Financial Control Board, The Hill, October 24
Professorial Lecturer Claudia Hofmann: Is Arming Opposition Groups Really the Answer? Politics Reconsidered, October 23
Professor Gordon Adams: The Varnish of Vietnam, Foreign Policy, October 15
Dean Jim Goldgeier: ISIS Fight Not a NATO Mission, or in Turkey's Interest, Room for Debate, The New York Times, October 14
Scholar in Residence Johanna Mendelson Forman: Brazil's Election, Into the Homestretch, The Hill, October 8
More Media Mentions