Provide Input at Community Forums and Help Shape Lake County's Future
Share your thoughts on ... TRANSPORTATION ... ECONOMIC DEVELOPMENT ... SUSTAINABILITY ... PUBLIC SAFETY.
The Lake County Board wants to know what's important to you so our strategic plan represents the community's priorities. Lake County is holding five community forums to engage in meaningful dialogue with residents and stakeholders. You can help shape important policy and budget decisions, and influence where the County will focus its resources. The Lake County Board will thoughtfully consider this input as it develops its long-term strategic plan.You have a voice in this process!
6-7 p.m. Open House
Visit informational displays, ask questions, and learn about County services and programs.
7 p.m. Community Forum
Share your input and participate in interactive exercises.
DATE

LOCATION

ADDRESS

Wednesday, Feb. 27

Lake County Central Permit Facility

500 W Winchester Rd., Libertyville

Tuesday, March 5

Antioch Township Multi-Purpose Building

1625 Deep Lake Rd, Lake Villa

Wednesday, March 6

Trinity International University - Melton Hall (Waybright Center)

2065 Half Day Rd, Deerfield

Tuesday, March 12

Lake County Health Department

3010 Grand Ave., Waukegan

Wednesday, March 13

Lakewood Forest Preserve

27277 N. Forest Preserve Rd Wauconda

(IL Route 176 & N. Fairfield Rd)
Watch this short video or visit www.lakecountyil.gov/communityforums for more information.
Please help spread the word about the forums by sharing with your neighbors, friends and co-workers, and posting to Facebook and Twitter.
Budget in Brief Helps Explain
County Finances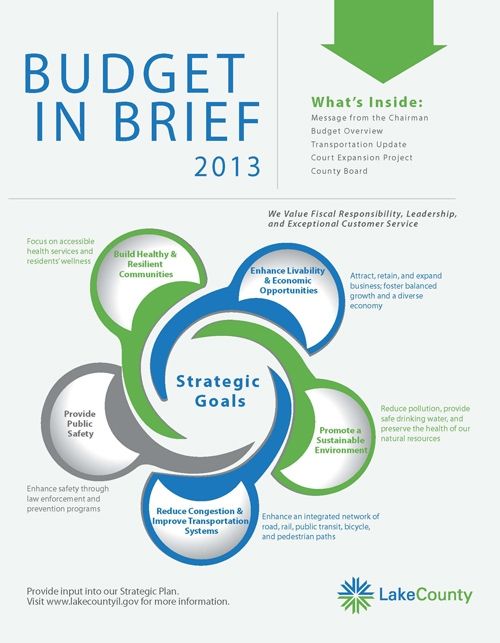 Learn how the County is making smart long-term financial decisions and balancing the budget every year. The Budget in Brief makes the budget easier to understand, including a message from the Lake County Board chairman, budget overview, transportation update, information on the court expansion project, and more.
Transportation Funding Kicks Off
Big Construction Year
This year will be the busiest construction year in the history of the Lake County Division of Transportation (LCDOT). Over the next five years, Lake County will invest $557 million toward transportation.
The board recently took action on the following projects:
$19 million intersection improvement at Fairfield Road and Rte. 176 (includes reconstruction and widening, new traffic signals, and signal coordination through Lake County PASSAGE)

$2.3 million for resurfacing Sunset Road, Golf Road and Greenwood Avenue from Green Bay Road to Sheridan Road

Phase II design engineering for the reconstruction and widening of Petite Lake Road from IL Rte. 59 to Fairfield Road

PASSAGE expansion (includes 20 new signals, cameras, fiber optics and wireless links)

Right-of-Way Acquisition for the reconstruction and widening of Quentin Road and for a roundabout at River Road and Roberts Road

$4 million for the widening and reconstruction of Washington Street from Cedar Lake Road to Hainesville Road
Route 53/120 Project
The Illinois Tollway continues to move forward on recommendations outlined by the Route 53/120 Blue Ribbon Advisory Council. Lake County received notice that the Tollway staff is recommending that the Tollway Board award a contract for initial studies, including better understanding of project costs, market conditions and other factors. The Tollway Board is scheduled to consider the contract in February and expects work would begin in April.
Free College Financial Aid Sessions
College applicants and their parents can get bilingual assistance to complete and submit their Free Application for Federal Student Aid (FAFSA) at sessions across Lake County this winter. All sessions are scheduled in computer labs that enable the students to submit the application electronically upon completion. The FAFSA must be completed by all students who wish to access federal and state financial aid. Many colleges and universities also require it in order to receive institutional aid. All college-bound high school seniors and their parents, prospective adult students and current college students are invited to attend one of the free sessions. For dates and registration, visit the
University Center of Lake County website
.
Warren Township Offers Year-Round Electronics Recycling
The Warren Township Highway Department offers a year-round electronics recycling event. Items can be dropped off at 17801 W. Washington Street, Gurnee, from 7 a.m. to 3 p.m. Monday through Friday. (Use the Almond Road entrance.) Large items requiring assistance to unload will be accepted by appointment only by calling Amy in the Highway Department at 847.244.1101, ext. 3. For a list of accepted items, visit the
Warren Township website
.
For a list of other collection events, visit the Solid Waste Agency of Lake County website.
Is the State Holding Your Unclaimed Property?
The Illinois State Treasurer's Office is responsible for holding unclaimed property and working to find its owner. To see if you have unclaimed property being held by the State of Illinois, visit the Illinois State Treasurer's iCash website.
Forest Preserves News
Clean Water Update
During stream monitoring this past summer, Lake County Forest Preserves ecologists discovered several dozen Mississippi grass shrimp ("glass shrimp") along the Des Plaines River. This is the first documentation of the species in Lake County. This find is also very encouraging, as their presence is indicative of cleaner water systems and shows promise for the improvement of aquatic habitats within and surrounding the Des Plaines River.