Cathy Coleman
Dear Friends,
"Synchronicity" was the topic of a presentation I gave at the Marin Community Group in Northern California this past month. This new group wanted to try a new format, and I was their first experimenter. I talked about the subject for 20 minutes. Then we gathered in a circle for the next 20 minutes as members shared stories, reactions, thoughts and questions. In a third part, we broke into small groups of four and shared experiences within the groups. This format worked well by engaging members and building community through both the larger and smaller group sharings.
Synchronicity, a term coined in 1951 by Carl Jung, is the concept of a meaningful coincidence of two or more events. This usually occurs in three forms: 1) between a thought and an outer event; 2) as a dream, vision, or thought that corresponds with an event at a distance; or 3) as a thought, dream, or vision about something in the future. We explored the possibility that people can influence the frequency and experience of synchronous events through attention and focus. Some ways to increase synchronistic events in your life include journaling, divination (e.g., using the I Ching or Tarot cards); dream interpretation, and; exercising flexibility and a lightness-of-being.
I invite you to see if you can increase the number of synchronicities you experience by engaging your attention and holding an attitude of expectancy toward this possibility. Also, I invite you to try this three-part program format in your group to more fully engage community group members in inquiry, application, and discussion of any noetic topic. Please share your observations, suggestions, and results.
Cathy Coleman
IONS Global Community Liaison
707-779-8271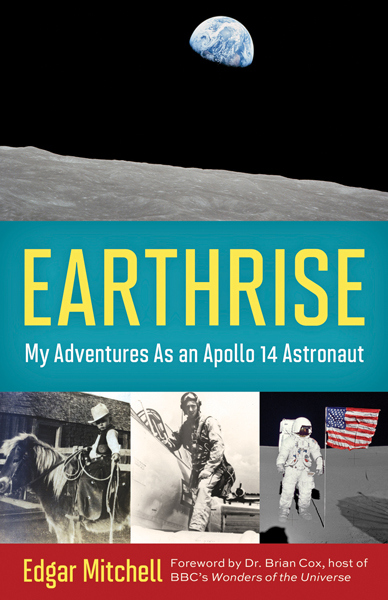 In this newly released book
Earthrise, IONS founder Edgar Mitchell recalls his spectacular trip to the Moon and the life experiences that got him there. Learn about his early days spent in Roswell, New Mexico, amid nuclear testing and the rumored UFO crash; his first solo airplane flight as a young teen; his time as a navy combat pilot, and; his experience in becoming a NASA astronaut.
Around The World With IONS Community Groups
BrisIONS (Brisbane, Australia) worked out an initial plan for their meetings:1) Welcome and news from IONS; 2) 5-10 minute detailed introduction by a member; 3) 20-minute presentation uniting science and spirit by a rostered IONS member; 4) Q&A on the presentation, and; 5) tea and coffee and chocolate cake or the equivalent extremely high calorie foodstuff. Leader Phillip Gough at ggough60@gmail.com.
Marin County (CA) hosts The Gnosis Salon, giving participants the opportunity to share their personal metaphysical experiences and knowledge. The June 18 meeting presenter will be Dr. Stanley Krippner on "Psychedelics and the Future of Spirituality." Leader Pat Palmer at everevolving@earthlink.net.
Petaluma (CA) launched their first meeting showing and discussing the film "Happy," one of IONS' online bookstore's featured films. Leader Collette McMullen at colette11@earthlink.net.
Santa Rosa (CA) hosted Madalyn Suozzo, who presented "The Physics of the Psyche and the Cell." Madalyn teaches a powerful hands-on energy technique called Regenesis, the effect of which assists in all cell tissue regeneration. Leader Mary Gordon at mgwgcg@yahoo.com.
Twin Cities (MN) held their first meeting May 21, and each participant shared stories of personal mystical, transformational, or transcendent experiences that led him or her to explore the mysteries of consciousness. Leaders Mikki Morrissette and Ann Thompson at mikk@be-mondo.com and athompson@sagecommunictions.com.
CG Facilitators,
Please put me on your group's e-news list so that I can share your news with others around the world, or email me at ccoleman@noetic.org.
Cathy
Join the IONS CG Private Group on Facebook!
Do you want more contact with other CG facilitators?

Do you want to share your ideas and find more resources for your group?

November 14-16, 2014
Community Group Leaders Gathering at IONS EarthRise Campus in Petaluma, CA. Registration opens June 15!
July 23-26 2015
IONS Bi-annual International Conference in Chicago at the Oakbrook Hills Resort
Plan to join us! We're Looking for community groups to host evenings in the Community Group Hospitality Suite. Contact Cathy for more information at ccoleman@noetic.org.
Visions of the Impossible: How 'fantastic' stories unlock the nature of consciousness.
Jeffrey J. Kripal, a professor of religious studies at Rice University, is the author of this article that explores the impossible. "The mind can know things distant in space and time because it is not limited to space or time," writes Kripal. "Mind is not 'in' the radio or brain box. The payoff here is immense: The impossible suddenly becomes possible. Indeed, it becomes predictable."
Denver, CO
Kriste Brushaber
kriste@homeostasismovement.com
New groups are forming and working to launch their first meetings in: Santa Fe, NM; Bodega Bay, CA; Tacoma, WA; and Philadelphia, PA.
If you have questions about IONS Community Groups or ideas for contributing to this e-newsletter, we welcome your feedback.


Cathy Coleman, Ph.D.
IONS Global Community Network Liaison
1-707-779-8271
Lisa Reagan
IONS Global Community Newsletter Editor
Lisa Reagan, Williamsburg (VA) IONS, continues to heal from a severely fractured leg and ankle.
For now send newsletter feedback to Cathy Coleman.