Broadway Books




1714 NE Broadway




Portland, OR 97232




503-284-172

6


bookbroads@qwestoffice.net
www.broadwaybooks.net
Books to Please the Eye


Sally has picked
Humans of New York
by Brandon Stanton ($29.99, St. Martin's) as

her go-to holiday gift of the season. The book, based on a blog of the same name, is a photographic census of New York City -- a stunning collection of images that showcases the outsized personalities of New York. Impossible to put down without turning one more page - "visually arresting and disarmingly deep." Everyone looks happy and vibrant, despite whatever challenges they might be facing, making the city seems like a wonderful place.
Seeing Flowers: Discover the Hidden Life of Flowers
by Robert Llewellyn and Teri Dunn Chace ($29.95, Timber Press) explores the beauty and architecture of flowers, directing our eyes to subtle shadings and secret recesses. These photographs invite us to view flowers as a pollinator does. Llewellyn uses the same unique photo process that includes stitching together large macro photographs that he used in the bestselling (and gorgeous) book
Seeing Trees
. The accompanying essays offer insights into each flower.

Animal Earth: The Amazing Diversity of Living Forms
by Ross Piper ($45, Thames & Hudson) is a gorgeous and unusual tour of our fellow fauna. Piper shows us the nudibranches, water bears, and velvet worms most authors ignore -- no cuddly mammals for him. A unique and beautiful book.
Vivian Maier: Self Portraits
, edited by John Maloof ($50, Powerhouse Books), brings together about sixty never-before-seen black-and-white and four-color self-portraits by the recently discovered street photographer of the '50s and '60s who has captivated the world. A mix of the spontaneous and the studied, these are perhaps the most accomplished -- and most revealing -- photos she left behind.
Now in paperback,
The Conference of the Birds
by Peter Sis ($18, Penguin), adapted from the twelfth century Sufi poem by Farid Ud-Din Attar, is a lovely thing. Sis is the illustrator of children's picture books such as
Scranimals
and the
Madlenka
books; now he gives us a moving and spectacularly beautiful
story of love, faith, and the beauty of the human journey
for all ages.

Much Loved
by Mark Nixon ($17.95, Abrams) offers photos of sixty-five well-worn stuff-stuffs, mostly teddies. If there is a fan of threadbare bears or bunnies on your list, this book would be perfect, offering a chance to reconnect with one's childhood and its earliest companions who asked for nothing and gave back much.
Filmmaker and screenwriter Wes Anderson has given us some of the most distinctive and shall we say quirky movies of the past couple of decades:
Bottle Rocket, Rushmore, The Royal Tenenbaums, Fantastic Mr. Fox
, and -- my personal favorite --
Moonrise Kingdom
, among others.
The Wes Anderson Collection
($40, Abrams) is the first in-depth overview of Anderson's filmography, guiding readers through his life and career and offering previously unpublished photos, artwork, and ephemera, interwoven with a conversation between Anderson and award-winning critic Matt Zoller Seitz.
Lonely Planet is highly regarded for its thorough and reliable travel guides. Now they offer us something totally different: a gorgeous, coffee-table book with photographs from around the world in
Lonely Planet's Beautiful World
($39.99). Lush and lavish, this would make a great gift for the world traveler and armchair traveler alike!
The American Museum of Natural History has two stunningly beautiful gift offerings.
Natural Histories: Extraordinary Rare Book Selections from the American Museum of Natural History Library,
edited by Tom Baione ($50), offers essays on notable masterworks spanning four hundred years and forty ready-to-frame, spectacularly gorgeous prints.
Natural Histories: Extraordinary Birds
, edited by Paul Sweet, offers the same but focusing on the history of ornithology. The forty prints in each of these will knock your socks off.
The Great War: July 1, 1916: The First Day of the Battle of the Somme
, by Portland graphic journalist Joe Sacco ($35, Norton), is an epic illustration like nothing you've ever seen before. The Battle of the Somme has come to epitomize the madness of "the war to end all wars" (if only). In
The Great War,
Sacco depicts the events of that day in an extraordinary twenty-four-foot-long panorama. The black-and-white drawing is printed on heavy-weight accordian-fold paper and packaged in a deluxe hardcover slipcase with a booklet featuring an essay on the first day of battle by historian Adam Hochschild and Sacco's annotations to his drawing.
Chip Kidd is probably the best known designer of book jackets in the world. In his new book
Go: A Kidd's Guide to Graphic Design
($17.95, Workman), he provides a visually stunning introduction to the ways in which a designer communicates his or her ideas to the world. Written for both curious kids and savvy adults, this book's playful spirit about shaking things up will get people thinking about how graphic design influences our decisions.
And to Please the Pocketbook - all under $20!


Big Appetites: Tiny People in a World of Big Food
by Christopher Boffoli ($12.95,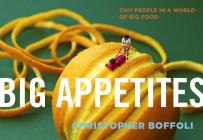 Workman). Oh, lord I can't look at some of these -- ice cream sandwich, sweet potato fries -- little people frolicking on cuisine landscapes! Let's start thinking about who on your list deserves this clever gem!
Hyperbole and a Half
, by Bend author Allie Brosh ($17.99, Simon & Schuster) is a blog-turned-book about "unfortunate situations, flawed coping mechanisms," and other trauma of daily life. Brosh's pictures are in the rage style, deliberately crude, but there is nothing crude about her insights on dogs, depression, and dentistry.
Awkward Family Holiday Photos
by Mike Bender and Doug Chernack ($15, Three Rivers Press) is our current favorite guilty pleasure. Yes, we should not laugh at the styles of decades recently past -- mullets in particular -- but it's hard not to end up guffawing anyway at these most embarrassing seasonal family portraits.
Shake by Portland photographer Carli Davidson ($17.99, Harper) is our current customer-laughing

book. There's always one laughter book in the store -- we hear people laughing, somet
imes mixed with "how cute," and we can guess which book is involved. Right now it's Shake, photographs of dogs caught with ears and jowls and sometimes drool flying.
Davidson also offers notes on pet adoption that
every animal lover must applaud.
Both the Portland Happy Hour Guidebook by Cindy Anderson ($15, Half-Full Enterprises) and 100 Best Places to Stuff Your Faces by Jen Stevenson ($14.95, Wordcake Communications) are out in new editions and make excellent stocking-stuffers for people wanting tips on where to eat and drink in town.

Why Knot: How to Tie More than Sixty Ingenious, Useful, Beautiful, Lifesaving, and Secure Knots ($19.95, Abrams) is written by a guy who knows a thing or two about knots: Philippe Petit, the guy who walked between the World Trade Twin Towers on a rope. He is also a magician and street-juggler and has been artist-in-residence of the Cathedral Church of St. John the Divine for more than thirty years. Who knew? If you're not already nuts for knots, you will be after poring over this clever book - which comes with a rope so you can start practicing right away.

Everything I Need to Know I Learned from a Little Golden Book by Diane Muldrow ($9.99, Random House). Remember Little Golden Books? This fun book by the longtime editor of the Golden Book series is retro fun, complete with the
shiny cardboard covers and gold foil spines we expect from the series.


The Moth, edited by Catherine Burns ($15.99, Hyperion), offers us fifty true stories told by the likes of Malcolm Gladwell, Andrew Solomon, Adam Gopnik, and many less celebrated but talented raconteurs. This celebration of storytelling has built a following through the wildly popular podcast and the weekly public radio show The Moth Radio Hour. NPR aficionados will find it difficult to stop reading it.


Unlikely Loves: 43 Heartwarming True Stories from the Animal Kingdom, by

Jennifer S. Holland ($13.95, Workman), brings us more of the startling compassionate narratives and photographs of animal relationships that made Unlikely Friendships a smashing phenomenon. You'll meander between tearing up and unexpectedly cracking a smile.

The Believer Box of Bad Advice by the editors of Believer Magazine ($14.95) is basically a hilarious Apples to Apples for adults. If your younger teens can tolerate a very little bit of naughty language, this game will have them shrieking with laughter, too. Recommended for holidays with extended family, weekends with friends at the coast, or anytime you've got a small group and want some silly fun.

The dice game Tenzi ($15) is fast-paced fun, easy to learn, and can be played by anyone who can count. (I predict the grand champs are going to be ten-year-olds.) The inventors provide several variations -- Stealzi is particularly addictive -- and no doubt you can come up with a few more. A perfect way to pass the time while waiting for the turkey to come out of the oven -- far better than getting into heated discussions of politics, religion, or lifestyle with family members who don't always agree.

Zombie Cribbage: The Parlor Game that Just Won't Die ($19.95). Yes, the zombie craze has mashed up with the cribbage world. With twisted rules and a custom-illustrated deck of cards, Zombie Cribbage is just the thing to entice a new generation of gamers.


We've lost count of how many people have told us that
Tiny Beautiful Things: Advice on Love and Life by Dear Sugar
by Cheryl Strayed ($14.95, Vintage Books) has become their go-to gift for all occasions. Cheryl's empathy, lack of judgment, humor, and bare-it-all honesty provide inspiration to readers to deal with whatever life throws at them. Addressing such topics as love and sex, addiction and fears, friends and gossip, Cheryl's compassionate responses to real queries for help weave a new mash-up of storytelling/memoir/self-help/essay. Best of all, you can order signed and/or personalized copies of any of Cheryl's books through our store's website. The perfect heart-felt gift.
Kobo e-Books and e-Readers


True confession time: We love almost everything about print books, and we don't envision a future without them. But we also concede that there are times when an e-reader can come in handy -- when hiking or reading in the dark, or for people with vision issues, or for those who'd rather not heft a giant tome. For that reason we make both e-books and e-readers available to our customers.
The American Booksellers Association chose to partner with Kobo because it doesn't sell washing machines or auto parts or diapers, nor does it deliver its products via drones. It is a reading-centered company that originated in a bookstore in Toronto (in fact, Kobo is an anagram of "book") and is dedicated to delivering the best digital reading experience possible. Even the Kobo Arc7 tablet, which allows you to do much more than read books, has a special "do not disturb me; I'm reading" setting that turns off all of the rings and dings that tell you when you get an email or Twitter post or Facebook message so you can concentrate on what you're reading.
We also like Kobo because it enables independent bookstores to participate in the commerce of e-reading, because its e-books can be read on multiple devices (not just Kobo devices), and because it provides a quality (and ever-evolving) product with solid customer service.
Currently we are selling four e-readers in the store, as well as one tablet. Here is a brief description of them, but you can find lots more information at our
Kobo store
or come see us in the store to learn more.
The Kobo Aura HD ($169.99). This is the current Cadillac of the Kobo e-reader line. It offers the best e-ink screen on the market with the highest resolution in a larger size to minimize page turns (although the 1Ghz processor makes page turns seem seamless). This e-reader is for people who read a lot of e-books and want the best, and are ok with a little more size and weight in their device.
The Kobo Aura ($149.99) is an amazingly small and lightweight device with a gorgeous high-resolution edge-to-edge screen and a 1GHz processor.
Both Auras offer almost a dozen fonts in twenty-four sizes with exclusive weight and sharpness settings to further customize your reading experience. They also offer Kobo's Comfort Light, the most even and adjustable front lighting so you can read without additional lighting. Both have built-in dictionaries and web browsers, and the ability to highlight, bookmark, and make notes. They offer 4GB of storage, expandable to 32GB. Two new features to the Kobo e-reader line are Beyond the Book, which enables you to dig deeper into additional content related to your book, and Pocket, which enables you to save articles that you find on-line to read later off-line on your e-reader. It's the niftiest thing ever - it might even persuade me to get an e-reader, just for that ability!
The Kobo Glo ($129.99) also offers an adjustable Comfort Light and a great screen, as well as most of the features listed above except for the Beyond the Book and Pocket features.
The Kobo Mini ($59.99) is the smallest full-featured e-reader on the market. It offers most of the features listed above, except the Comfort Light and the Beyond the Book and Pocket features, in a device that is only 4 inches by 5.2 inches and less than 5 ounces in weight.
An e-reader can make a great gift -- if you really know that the giftee is interested in reading digitally. Electronically or ink-on-paper, we've got you covered!