Happy Holidays from
Broadway Books!
Welcome to the third installment of our themed December newsletters. Buying books as gifts for younger readers can sometimes feel daunting. Who knows what the heck kids like to read these days? We're here to give you some direction on that question. You tell us what you know about the person in question, and we'll do our best to put some good candidates for reading in your hands.


Picture books for the youngest, and on up the age ladder, we've got you covered. We offer you some of our favorites in this newsletter.


Don't forget our extended holiday hours this month: Monday through Saturday we're open from 10 am to 9 pm, and Sundays we're open from 10 am to 7 pm. We'll close at 5 pm on Christmas Eve.


Roberta Dyer and Sally McPherson
Broadway Books




1714 NE Broadway




Portland, OR 97232




503-284-172

6


bookbroads@qwestoffice.net
www.broadwaybooks.net
Children's Picture Books


It's happened again -- Frog Trouble by Sandra Boynton ($16.95, Workman) takes
up right where Blue Moo left off. This nifty book of songs is complete with a CD, music courtesy of Dwight Yoakam, Alison Krauss and the like, and of course is illustrated with Boynton's goofy beasts. Kids, parents, grandparents, and babysitters are bound to get hooked by the Alligator Stroll. Too bad we haven't mastered the trick of sound effects in our newsletter - yet!


Mr. Wuffles! by David Wiesner ($17.99, Clarion) tells of a big black cat's experience with a miniature spaceship crewed by real aliens. Wiesner's picture books are always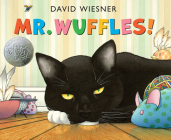 intelligent, but this one steps up the humor. (And it doesn't hurt that Mr. Wuffles resembles my cat Annabelle, a very good-looking cat.) Only two illustrators have won three Caldecott Medals, recognizing the year's most distinguished American picture book for children. Mr. Wiesner is one of those two. We love all of his books.

The Dark by Lemony Snicket and Jon Klassen (16.99, Little Brown) is a strangely beautiful picture book ideal for a child who is afraid of nightime. Snicket and Klassen are already stars of kidlit; here they are both exploring new territory and doing it well. Klassen won the Caldecott in 2013 for his dead-pan funny book This is Not My Hat.

Journey by Aaron Becker ($15.99, Candlewick) is a masterpiece, beautifully imagined. The illustrations (there are no words) are intriguing, lovely as a Miyazaki film. Children will spend hours poring over this book.

A Little Bit of Omph! by Barney Saltzberg ($13.95, Workman) is a colorful bit of inspiration complete with flaps to peer under and tabs to pull. Although the book is targeted to age three and up, grownups will appreciate the gently outside-the-box illustrations, too. Saltzberg produced the very popular Beautiful Oops book from a couple of years ago.
The Tortoise & the Hare by Jerry Pinkney ($18, Little Brown) is a lovely retelling of

the old fable in a Southwestern setting. Caldecott medalist Pinkney always gives us beautiful, wise picture books, and here he even lets the hare have some grace. Children and adults will enjoy the expressive and gently humorous illustrations.

Goodnight, Goodnight, Construction Site by Sherri Dusker Rinker and Tom Lichtenheld ($16.99, Chronicle) is the perfect marriage of truck book and bedtime story in one clever picture book. The theme carries forward in complementing magnetic characters and a matching game. These are also the authors behind Steam Train, Dream Train, another winning bedtime story.



The Animal Book: A Visual Encyclopedia of Life on Earth
by the Smithsonian Institute ($24.99, Dorling Kindersly) is a beautifully and generously photographed encyclopedia of life on earth -- the other planets will have to wait a while. It's an easy book to get lost in, and a wonderful value. This is a gift that will last -- the first grader who loves it for the gee-whiz factor will turn into the high school student using it for assignments and then the adult referring to it out of curiosity or in search of crossword answers. Numbats and bilbies and quolls, oh my!


The Animal Book: A Collection of the Fastest, Fiercest, Toughest, Cleverest, Shyest--And Most Surprising--Animals on Earth
by Steve Jenkins ($21.99,

Houghton Mifflin Harcourt) lives up to the claim of its subtitle. Beautifully illustrated

a

la Eric Carle, it is sure to enthrall young fans of anything biggest, fastest, loudest but there is much to interest the older animal lover as well -- the tenrec, for instance. (Personally, I am not going to choose which

Animal Book

is best -- I'll be sending them both to my niece's little boys.)

Flora and Ulysses: The Illuminated Adventures by Kate DiCamillo ($17.99, Candlewick) is the charming story of a girl and the squirrel with vacuum-cleaner-caused superpowers. DiCamillo is the author the classic The Tale of Despereaux and hasn't lost her touch a bit, although she has more fun with this latest book for second-to-fifth graders. The illustrations are deft.

The Girl Who Soared Over Fairyland And Cut The Moon In Two by Catherynne Valente ($16.99, MacMillan), the third in a series, tells the tale of September, a seemingly ordinary girl from Nebraska, and her adventures beyond the fields we know. Think you've been there before? Think again. Valente brings so much invention, humor, and just plain good writing to the table that the story seems brand new. Kids will devour it, but I recommend it as well to adult fantasy fans -- and even to the teens who might think they're too grown-up for it.

"When Did You See Her Last?" by Lemony Snicket ($16, Little, Brown) is another entry in the extraordinary "All the Wrong Questions" series. Sly Boots Snicket is the perpetrator of the "Series of Unfortunate Events" books, and once again he writes for children without condescension but with humor and intelligence. This is a gift that can be relished by kids and adults alike.

Who knew going out for milk could be such an adventure? Clearly Neil Gaiman did, and he tells of a father's wild adventure through time and space in the hilarious story Fortunately, the Milk ($14.99, Harper). Gaiman won the Newbery for The Graveyard Book and knows a thing or two about holding kids' attention (and adults too, for that matter).



Still not sure what to get that younger reader in your life? You can't go wrong with The Phantom Tollbooth by Norton Juster with illustrations by Jules Feiffer ($6.99, Random House). Sure, it's fifty+ years old, but there's nothing wrong with being older than fifty! Anna Quindlen wrote a book report on it when she was ten, saying it was "the best book ever." We couldn't agree more.


Young Adult Books



Jumped In by Patrick Flores-Scott ($16.99, Henry Holt) is a well-written tear-jerker from a Washington native who draws in reluctant readers as well as literature addicts. Our hero is a Nirvana-addicted suburban Puget Sound high school student, betrayed by his parents and saved in the end by his friends and teachers. Good poetry, and yes, you'll be weeping at the end.

Rose Under Fire by Elizabeth Wein ($17.99, Hyperion) is a heart-rending companion novel to last year's Code Name Verity, the grim star of last year's YA season. Rosie, an American pilot, is shot down in occupied Europe and spends the rest of the wa

r in Ravensbruck. Wein herself is flyer of small planes and her prose makes the novel soar.

Fangirl by Rainbow Rowell ($18.99, St. Martin's) is aimed at older teens, by
the author of
Eleanor & Park
. Cath, the fangirl of the title feels adrift as she starts her first year of college -- she suffers through a falling-apart family and a mean roommate, she can't write, boys are a mystery, and she can't stop obsessing over a Harry Potter figure when all her peers have moved on. Rowell has got the hook, though, and readers will find the ending satisfying and believable.




Boxed Sets



Boxed sets always look so festive under the tree, and this year offers some great ones for a variety of ages. We can often order sets of other popular series for you -- just ask! Here are just a few, starting at ones for the youngest and working our way up:
Through our book drive, you can
continue to build the Roosevelt High School Library -
one book at a time
Broadway Books will give you 20% off the price of any book
you purchase for Roosevelt and/or we will add 20% to any
gift certificate you purchase for the book drive.