Subscribe to Helmke Highlights
We can deliver Helmke Highlights right to your (e-)doorstep. Simply click here Join Our Mailing List
Information Literacy Month: What Do You Think About Information?
October is Information Literacy month. Libraries nationwide are celebrating the ways we think about information: identifying when we need it, finding it, evaluating it, and using it effectively. Information literacy is the core of our library's academic program. In every classroom session and research consultation, your librarian is finding ways to teach you and your students about information. Here's how Helmke Library breaks down the national standards for information literacy in higher education:

Do you know how to:
...Ask the Right Questions? You have to start somewhere. If you can articulate and define what you're looking for, where you might find it, and what costs and benefits you might accrue in the search, you're on the right track.
...Find the Best Resources? Google is not always the most appropriate investigative method. If your students are able to access information effectively and efficiently, with a solid search strategy and an awareness of the best information retrieval tools for their purpose, they've met this standard.
...Consider the Quality? How do you know whether or not you can trust a website? Do your students understand why Wikipedia isn't a great source for a research paper? Are you aware of the bias in media and do you take that into account when synthesizing information? Understanding and interpreting information is the core of this standard.
...Complete Your Project? Once you find the information, can you use it to accomplish your purpose? We help students find resources for projects and papers constantly, but if they can't use that information to develop and communicate a final project, they aren't handling information effectively.
...Cite Your Sources? Our students need to be able to create a bibliography, but it's even more important that they understand why a bibliography is important. Knowing about copyright, fair use, and the ethics of information are vital for today's students, especially as multimedia and licensed technology become a bigger part of scholarship.
At the Helmke Library, we are committed to teaching and promoting information literacy not just in October, but all year long. We can help you
develop assignments that integrate these concepts
, show you performance indicators and learning outcomes, and work with your students on the mastery of these skills. These standards lend themselves to active learning and critical thinking models, too!
Contact your librarian
directly or visit us at
library.ipfw.edu
for more information.
Thinking About Information . . . From School to Workforce
As we've highlighted in this issue, information literacy is the library's academic mission. Our "content knowledge" is really about defining information needs, using resources like databases and web searching efficiently and effectively, and evaluating sources critically.

Employers look for workers with these skills. Problem solving, critical thinking, communication, collaboration, and self-management skills are often referred to as "21st century skills" or "deeper learning". Teaching for this deeper learning involves teaching not only the important content knowledge, but also how, when, and why to apply this knowledge, in other words, how to apply it outside of the classroom in the workplace and in lifelong problem-solving.
Recent reports have looked at the skills (and skills gaps) that newly graduated workers bring to the workplace...and the news is not encouraging. These reports offer an overview of the issues and ways that higher education teaching, classrooms and libraries can be part of the solution.
Education for Life and Work: Developing Transferable Knowledge and Skills in the 21st Century
. James W. Pellegrino and Margaret L. Hilton, Editors; Committee on Defining Deeper Learning and 21st Century Skills; Center for Education; Division on Behavioral and Social Sciences and Education; National Research Council. 2012. Read the
Report Brief
.
LEARNING CURVE: How College Graduates Solve Information Problems Once They Join the Workplace
. Project Information Literacy (PIL). October 16, 2012. 38p. "College hires may be as surprised by the information competencies needed as employers are by the practices most new hires fail to bring with them." How do college students solve information problems in the workplace once they graduate? PIL research highlights key findings from the 2012 Study about College Graduates in the Workplace, based on findings from interviews with employers and focus groups with recent graduates from four US campuses. One of the findings: "More than any other competency, participants credited their college training with making them critical evaluators of information". PIL's
Day after Graduation Study on YouTube
has other highlights in just 3 minutes and 30 seconds.
Purdue University Libraries Library Scholars Grant - November 16 deadline
The
Library Scholars Grant Program
provides grants to untenured tenure-track faculty members and recently-tenured associate professors (tenured effective July 1, 2010) in all disciplines, from the West Lafayette, Calumet, Fort Wayne, IUPUI, and North Central campuses, and the Statewide Technology Program. Purdue faculty at the Fort Wayne and IUPUI campuses are those within "Purdue mission" programs.

The 2012-2013 Library Scholars Grant Program award, up to $5,000, may be used for expenses associated with travel to archives or collections beyond Purdue, including the cost of transportation, lodging, meals, and fees charged by the library or other collection owner for access, photocopying, scanning, etc.

At a recent Helmke Library-hosted workshop on preparing a successful Library Scholars Grant, Purdue library presenters emphasized the importance of discussions with and input from the liaison librarian. The operative philosophy of the grant is to facilitate successful research efforts that require access to library, archive, museum resources that are not available through any other means such as local collections or document delivery. The role of the librarian is to work with the applicant to understand the nature of the need as well as the exact requirements pertaining to the kind of sources to be examined. For example, the grant does not support "fishing expeditions to verify the disposition of the resource(s) in question." Only verified materials, their exact nature, location and availability should be included in the application. Librarians may help with letters of entrée, hours of operations, requirements for admission, and other elements that could hamper or prevent the research from being completed (e.g., items in remote storage, renovation closings, etc.) The letter of support required by the grant is not merely a letter of advocacy but a confirmation that the travel is necessary to obtain access to the material and that material needed is located and accessible at the locations specified.
Contact your
liaison librarian
for more information. All proposals must be submitted by email to
Carole Tolley
with the Subject: Library Scholars Grant, no later than 5:00pm, Friday, November 16, 2012.
International Open Access Week 2012

Universities and research organizations around the world will be celebrating Open Access Week, October 22-28, 2012. This year's theme, Set the Default to Open Access, highlights efforts to make Open Access the norm rather than the exception in journal publishing. Open Access Week will be celebrated in a variey of ways such as Texas A&M University Libraries' "Guess the Journal Price" game to call attention to the high cost of journals.

We won't make you guess; the top 5 most expensive subscriptions at the Helmke Library are:

European journal of organic chemistry - $4,796/year

Angewandte chemie - $4,257/year

Earth surface processes and landforms - $3,233/year

Journal of biological chemistry - $2,565/year

Journal of advanced nursing - $2,539/year

For more information, see Open Access Week 2012.
Apps-olutely
With the release of iOS 6, our iPads are more like iPhones than ever before. Have you talked to Siri yet? (Press the home button until you hear a tone, then ask Siri what she can do.) Facebook and Twitter are now integrated throughout the iPad via the share button, and that share button can also be used to save things for offline reading later.

A few other changes may impact the way you use your iPad for work. Podcasts are now in an app of their own, not in iTunes. If you want a dedicated YouTube app, you'll need to download it (free) from the app store. Safari now has the option of syncing between your devices, so you can start browsing on your iPad and pick up later on your iPhone or Mac. You can now upload videos via the Safari browser, too, which may be helpful for your online courses. If you frequently use your iPad in meetings, explore the new Do Not Disturb setting to help you stay focused.

Now that you've had your iPad for a while, what apps are you still using and loving? Tell me about them at overhaue@ipfw.edu or on our app guide.
The Eagle:
Government Resources Discovery
The Dark and The Dread-It's Halloween
Ghostly apparitions and spooky spiders, red-leaved trees and yellow moonlight can only mean one thing: summer is over and Halloween is upon us! The Library of Congress' American Folklife Center provides a history of the holiday, complete with the Celtic origins and the traveling dead. This month, The Eagle takes a look at the tools the government provides kids and adults for this unique holiday.

The US Census Bureau collects interesting numbers on Halloween, including an estimate that in 2011 there were 41 million trick-or-treaters between the ages of 5 and 14. In order to keep kids safe during the holiday, the Centers for Disease Control and Prevention offers its Halloween Health and Safety Tips for trick-or-treaters. For adults who get in on the fun, the holiday tends to focus more on costumes and parties than candy and sweets. The USDA provides tips for adult party-goers, ranging from Food Safety to correctly using novelty makeup.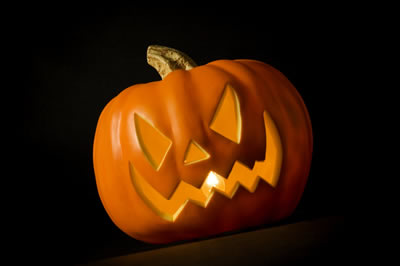 Locally, the Indiana Department of Natural Resources' October activities lists Halloween events taking place in Indiana's state parks. Fort Wayne gets in on the action with the Fort Wayne Children's Zoo's Wild Zoo Halloween. Costume tips, food safety, and memorable activities - it's all in an effort to ensure that participants have a safe and enjoyable Halloween evening.

Happy searching!
Indiana Black Librarians Network Fall Meeting at IPFW
The fall meeting of the Indiana Black Librarians Network was held at IPFW on Saturday, October 20th. The meeting was hosted by IPFW's Engineering, Technology and Computer Science Librarian, Florence Mugambi. The Keynote speaker was Kenneth Christmon, IPFW's Associate Vice Chancellor for Diversity and Multicultural Affairs. The program ended with a tour of the Allen County Public Library's Genealogy Center.