"How 2" Video
Need a quick overview before planning your next big (or small) fete? Well, then this is the video for you! Twenty tips in two(ish) minutes. Just the thing for an organized party diva(o) like yourself!



for fun "how 2" organizing

tips

each month!
"The office fête is not the place for personal confession, expressions of frustration or
speechifying about what you'd do with the company if you were in charge."


~Susan Adams


Featured Recipe

Dilly Potatoes
on the Grill
One of our favorite veggies to grill, dilly potatoes turn out perfect in their foil pouch each time. They are easy and delicious so be sure to add them to your BBQ repertoire while the grill is hot!
Host your next event in "Urban Wine Country", located in Chicago's West Loop.
This modular space can be tailored to accommodate each individual client; whether an intimate seated dinner, elegant wedding reception, corporate outing or wine tasting, City Winery has the perfect space suited to your individual needs. It is their aim to provide each and every guest with an unforgettable experience.
- Home De-cluttering & Staging
* Starting at $170
- Office Organizing
*Staring at $190
- Packing & Unpacking
*Starting at $380
- Party Planning,
Event Management, Registration
*Starting at $75
- Digital/Print Photo Organizing, Photo Books, Photo Calendars, Photo Slide Shows
*Starting at $30
- Errands, Design-a-Date,
Gift Purchase & Wrap
*Starting at $45
- Skype Organizing Sessions
*Starting at $40

If you no longer wish to receive our emails, simply press the "SafeUnsubscribe" button below.
Hi there!
Have you ever been to a boring company party? So have we. Maybe that's why we know what it takes to pull off a shindig that will have all the employees buzzing.


Make sure your event goes off without a hitch. With our latest
video
, you can do yourself a big favor by reviewing 20 essential party tips before doing anything else. Taking two minutes
now and save many in the end.
Whatever occasion you are celebrating, you can us this month's
special offer
. So start thinking about all the possibilities and getting the party started!

Budget

- Your budget is the first thing to consider. Everything else will depend on it.

Venue

-

Your location should be reasonable for everyone to get to. Also make sure it is suitable for the activities you are planning.

Food - Have plenty options available. Consider those who have dietary restrictions or limitations like gluten-free or vegetaria

n.

It's better to have too much than not enough.

Drinks

- Have non-alcoholic options available. Hire a bartender. Make sure everyone gets home safely.

Entertainment

- Possible entertainment includes live bands, djs, comedians, artists, psychics, and clowns.
The ABC's of Corporate Parties

A
lcohol - First review company policy. Consider using drink tickets to limit consumption.
Plan
B
- Have a contingency plan. If things don't work out exactly as you had hoped, you want to be able to maintain the party atmosphere.
C
ompany - Don't forget to promote your business by using banners or signage at the event. Give away promotional items emblazoned with the company logo.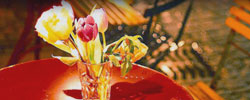 Party Theme Ideas
Click on each theme for more information.


By Guest Blogger: Lindsey J. Kunz
Business endeavors and day-to-day office procedures can be taxing on one's mind and body. Every employee surely desires to unwind, relax, and enjoy themselves. Instead of throwing a basic office get together, plan an event that will grasp employee's attention and ease their mind from deadlines and projects.
This event should bring out the personality from behind the desk and duties. Parties of any sort tend to be costly; however, you can pull off a successful event with insightful creativity and preparation. Here are some ideas to inspire your next memorable corporate gathering.
Continue Reading on M2O's blog...

Corporate parties are a chance for employers to show their appreciation in a special way that simply doesn't happen every day. We work with our clients to determine what will appeal to your particular employees, while suggesting unique ideas that you may have never thought of before.


Hiring an event planner means you can keep doing your job and, still, you know that every little detail will be carefully thought out and executed. That is the piece of mind that comes with hiring M2O.


Give us the smallest responsibility or count on us to impress your guests from start to finish. It is our pleasure to be there for you when you need us most. With 5 distinct services we strive to be your one-stop-shop for all things organizing.


At Your Service,
As seen on Hoarders & Windy City Live
Photo by baharPhotography