Pacesetter Campaigns Underway
Campaign Chair Russ Hendley speaks to the Pacesetters.
Eleven organizations gathered at DuBard School for Language Disorders on July 23 to kick off this year's Pacesetter campaign. Pacesetter representatives toured DuBard School and The Children's Center for Communication and Development, both United Way partners; reviewed campaign details and received their campaign materials. They also enjoyed a delicious meal donated by Sweet Peppers Deli and Hattiesburg Coca-Cola Bottling Company.
This year's Pacesetters are: Anderson Design Center, BancorpSouth, Christian Services, Dixie Electric Power Association, Forrest General Hospital, Hattiesburg Area Habitat for Humanity, Hattiesburg Clinic, Mississippi Power, Regions, Southeast Mississippi Rural Health Initiative and Zeon Chemicals. The Pacesetter campaign, which is led this year by Billy Browning of Mississippi Power, will continue until the overall community campaign begins on Sept. 5.
Save the Date!

United Way of Southeast Mississippi

2013-2014 Campaign Kick-off




Thursday, September 5

11:30 a.m.

Southern Oaks House and Gardens




Watch your mail and email for an invitation soon!
Thanks, Chili's and Mississippi Power!

On July 26, Chili's in Petal donated a portion of the day's proceeds to United Way as part of Mississippi Power's Pacesetter campaign. We are happy to report that $2,000 was raised! We appreciate everyone who visited Chili's to support United Way. And a BIG THANKS to Chili's and Mississippi Power!
DREAM of Hattiesburg

United Way at Work
DREAM invites you to attend the organization's 30th Anniversary Celebration on Aug. 29 at Southern Oaks House and Gardens from 6-9 p.m. Everyone attending will enjoy heavy hors d'eouvres, a silent auction and entertainment. Tickets are $50 and can be purchased from DREAM staff or board members. All proceeds will help DREAM purchase a new building after the devastating loss of the DREAM Center due to the February tornado. For more information,
view the event flier
or contact Heather at 601.545.2102.
Friends for Financial Freedom

Cameron Clark receives her IDA check from Dr. Joy Smithson.
Cameron Clark, a junior at The University of Southern
Mississippi, is the latest recipient of Friends for Financial Freedom's matched savings award. Cameron

reached her savings goal, and her match-check helped pay for her summer tuition. For more information about this program, register for the Matched Savings Orientation to be held at The Salvation Army on Aug. 6 at 10 a.m.
Did you know that Friends for Financial Freedom offers its financial literacy course, Real Cents Money Management, at Aldersgate Mission? Dr. Joy Smithson will discuss this service and other program activities at Aldersgate's Parent Orientation meeting on Aug. 15 at 5 p.m.
Contact Joy
or Rev. Linda Dixon at 601.544.8141 for more information.
The Arc

The Arc's annual Summer Adventures parade
At the beginning of July, The Arc celebrated the closing of its 5-week Summer Adventure program, which is designed to fill summer days with recreational experiences such as bowling, swimming, movies, art, cooking and music. The camp consisted of approximately 150 individuals with disabilities, as well as 100 typical peers and volunteers. The closing event was hosted by Temple Baptist Church, with many clients taking part in the parade, singing on stage or being crowned by United Way's own Dan Kibodeaux.


It is time again for your chance to win $20,000! You can purchase a golf ball for $100 in the annual Golf Ball Drop, and the ball landing in or dropped closest to the hole will win the big money! The golf balls are on sale now, and the ball drop will take place on Oct. 7. Please also make plans to be a part of the golf tournament held in conjunction with the Golf Ball Drop. For more information, visit
The Arc's website
or call 601.583.4251.
The Arc's Rise and Shine program for adults with disabilities is resuming this month. Any adults interested in a highly engaging recreational program, please contact The Arc. Also,
visit the website
to learn about other programs for individuals of all ages with disabilities or to volunteer.
Boy Scouts
Scouts learn about trees during a nature walk.
Mr. Tate of the U.S. Forestry Department taught a tree and leaf identification class at the Edwards Street Fellowship Center nature trail during the Scoutreach Summer Day Camp. The Scouts identified eight different trees and leaves during the nature walk.
Scouts lead a Flag Detail ceremony.
The Scoutreach Division Scouts participated in a one-week campout at Camp Tiak. The Scouts attended several merit badge classes during the week and earned several merit badges. The Scouts also participated in a Flag Detail ceremony during their stay at Camp Tiak.
Mississippi's first Asian Venture Crew


The first Asian Venture Crew from the State of Mississippi represented the Pine Burr Area Council at the 2013 National Scout Jamboree.
Girl Scouts of Greater Mississippi
Girl Scouts Girl's Voices Leadership Conference attendees

Girl Scouts of Greater Mississippi hosted its first-ever Girl's Voices Leadership Conference July 9-12 at The University of Southern Mississippi. This conference was made up of the Girl's Voices Leadership Team that Girl Scouts of Greater Mississippi began this year, consisting of incoming ninth and tenth grade girls throughout the 45 counties in Mississippi that the council serves. This team is designed to help girls boost their confidence and self-esteem, broaden their friendship borders, tap into their creativity, strengthen their values and put their talents to use creating positive change in their communities.
Girl Scouts staff in front of the new Hattiesburg office
After the devastating tornado in February, the Girl Scouts of Greater Mississippi's Hattiesburg headquarters has finally gotten a new home. The new office is located at 4700 Hardy Street, Suite L in The Arbor shopping center. CDO Scherry Gilliland said, "It's a great place and a beautiful office space." She also added her appreciation to Russ Hendley and Hattiesburg Coca-Cola Bottling Company for housing the organization until a permanent home could be secured.
Girl Scouts Pine Belt Leadership Council
Girl Scouts of Greater Mississippi is celebrating its successes by forming leadership councils across the state. These distinguished groups of community and business leaders were chosen to advise, support and be a friend to Girl Scouts in different areas around Mississippi. Councils have been formed in the Capital area, Pine Belt area and later this year on the beautiful Mississippi Gulf Coast.
Craving more Girl Scout cookies? You're in luck!
The Girl Scouts are selling Do-si-dos, Thin Mints, Tagalongs and Samoas by the case. Each case has 12 boxes, and the case sells for $12. What a deal! Anyone who would like to purchase a case should
contact Ashley Davis
at the Girl Scout office.
R│SM

If asked on February 9, 2013 to describe her life, Angela Rogers would have said overall life is good. However, on February 10, life changed dramatically for the Rogers family. The Rogers' residence received so much damage from the tornado that hit our area, the home became temporarily uninhabitable. Several gaping holes in the roof resulted in water damage to the ceilings, interior walls and numerous electrical problems. Rogers, who does not have any income due to a medical condition that prohibits her from working, suddenly found her living situation to be dangerous and unsafe. Rogers's mother graciously allowed her, her nephew, his wife and their 9-month-old son to reside with her until it could be determined how repairs could possibly be made to her home. Although her nephew and his wife had a combined income of $800.00 per month at that time, Rogers still was awaiting a determination on her application for disability.

With no income and no homeowners' insurance, Rogers experienced much stress in seeking assistance to repair her home. That was until Rogers was contacted by a case manager from R│SM (Recover, Rebuild, Restore Southeast Mississippi), who assisted her with the application process to get her home repaired. Rogers's name was given to R│SM by FEMA. It was included on a list of 1,617 people who were affected by the tornado. Because of Rogers's dire need, her case was funded with recovery disaster grant funds provided by The First. All repairs were completed this past June by volunteers from the First United Methodist Church of Fayetteville, TN, at no cost to Rogers. This group of wonderful volunteers repaired Rogers's entire tin roof, ceilings and electrical damages. Rogers and her family are very appreciative for all the assistance provided in restoring her home. When she was asked how life is today, her answer is once again, "life is good."

Angela Rogers's home with tornado damage (left) and after repairs by R│SM (right)
Volunteer Hattiesburg
Volunteer Hattiesburg has grown from a Leadership Pinebelt concept and project in 2012 to a functional, skills-based online clearinghouse for volunteers and voluntary agencies! Fourteen agencies and volunteer opportunities for over 400 participants are registered.
Through all the challenges our communities have faced in recent years due to the recession, high unemployment and natural disasters, our community's spirit of volunteerism remains strong and even growing. It is this spirit and interest that is driving the development of Volunteer Hattiesburg. Individuals and businesses from all sectors of the community are stepping up to serve by offering professional advice on strategy, finance and operations to agencies or by being a willing, hands-on project participant in increments from 15 minutes to multiple hours. These flexible time commitments provide engagement opportunities for business people, students, trades people, job seekers or those looking to get their life back on track. Whether you repair a house, read to a child, clean up a park, help out at a soup kitchen or share intellectual expertise, you make the difference in our community.
Volunteers - let Volunteer Hattiesburg help you find your passion and be the difference! Agencies - let us help find creative ways volunteers can accomplish your mission!
Businesses - let us help you create/grow a company-sponsored volunteer program that will boost your business and social return!
For more information, call 601.450.0025, visit www.volunteerhattiesburg.org or email info@volunteerhattiesburg.org.
Pinebelt Association for Families
Grandfamilies enjoy picking fresh veggies.
As part of its commitment to healthy lifestyles, Pinebelt Association for Families sponsored a trip for grandparents and grandchildren to a "U-Pic" farm in Lucedale in June. Hundreds of fresh veggie lovers flocked to the farm in search of the best of the earliest crops. PAFF sponsored the first bucket and gave grandfamilies an extra sponsored bucket if grandchildren picked too!
PAFF grandchildren during Summer Enrichment
Granchildren swam, exercised, enjoyed brain games and hands-on science on the Jones County Junior College campus during the Summer Enrichment program. The children enjoyed exercise guided by Stretch n Grow and amazing science lessons
.
wet and wild fun at Geyser Falls
Over 85 grandparents and grandchildren from four counties journeyed to Geyser Falls Water Park for a day of fun in the sun. While grandparents floated on the lazy river and in the wave pool, grandchildren experienced the more thrilling rides. The outing was an opportunity for families to have some time together with something for everyone to enjoy.
R│SM staff donated supplies to PAFF children.

This year, Pinebelt Association for Families combined its Undies for 100, Bare Necessities and school supply drives for grandchildren being raised by grandparents into a single giving event. This campaign provides socks, underwear and school items for children in need. Thanks to sponsorships by R│S
M staff, BancorpSouth in Petal and private donations, 83 grandchildren being raised by grandparents will be ready to start school full speed ahead. Grandfamilies are appreciative of all the support. They believe having new underwear and school supplies are "a blessing!"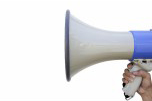 PASS IT ON!
Forward this eNewsletter

You can LIVE UNITED by helping us spread the word about United Way of Southeast Mississippi.




Corporate Challenge

United Way's 23rd Annual Corporate Challenge will take place Saturday, Aug. 24 from 9 a.m. until noon at the Southern Miss Payne Center. We want YOU to join the friendly competition! It's free! It's fun! It's for a good cause! You can form a team or be a cheerleader! Learn more or register your team now.



Aisha Anderson distributes Excel By 5 materials at the rally.

Back to School Time!
Excel By 5, the kindergarten readiness program sponsored locally by United Way, participated in Hattiesburg Public Schools' Back to School Rally at Kamper Park on July 25. Students received important information and vouchers for free backpacks and school supplies.

Hattiesburg is in the final stages of the Excel By 5 certification process. United Way's Education Initiatives Coordinator Aisha Anderson has been busy working with area daycare providers and preschools to help improve early childhood education for our area children.



Help Hattiesburg Win a New Playground!



We need your vote to help the City of Hattiesburg win a new playground for its young citizens!

Hattiesburg is competing with 26 other cities in the state in the

Let's Play Challenge led by Dr Pepper Snapple Group and KaBOOM! The city that receives the greatest number of pledges for playtime as a percentage of its population will win a beautiful, new playground built in partnership with DPS and KaBOOM! To vote, visit www.letsplay.com/get-involved/take-the-pledge and pledge to add extra play time to your family's schedule. The contest ends on September 27.
Parking Lot Sale to Benefit UW and Habitat
We know you've heard of a garage sale and a yard sale. Ever heard of a "parking lot" sale? Check it out THIS Saturday, Aug. 3 beginning at 7 a.m. Items available for purchase include paint, furniture and building materials. Proceeds from the sale will benefit Habitat and United Way as part of Habitat's own United Way employee giving campaign. We hope you'll support this great event! For more information, contact Laura at Habitat.


Domestic Abuse Family Shelter
United Way at Work
The Domestic Abuse Family Shelter recently received a call from the Lumberton Police Department indicating there was a Chinese woman and her young child at the police station. The woman had been badly beaten, and her abuser was about to bond out of jail. The woman was terrified. A shelter representative was about to dirve to pick up the woman when the Lumberton police officer called back. The officer said that the situation was so dangerous that she would transport the mother and child to Hattiesburg and meet the shelter staff there. They arrived shortly afterward, and the woman and child were brought to the shelter. The staff called a local church to obtain a translator. Through the translator, it was discovered that the woman had been given enough money to fly to Chicago, where she had family. The woman was convinced that her abuser knew this and would attempt to stop her at the Jackson airport. The shelter worker contacted the Jackson airport and notified security of the situation. She then transported the woman and her child to the airport. The airport was covered by many security officers, and no incident occurred. The woman and her child safely flew to Chicago. The Lumberton police officer had been trained by the Domestic Abuse Family Shelter staff not long before this happened. It was her quick-thinking and the quick-thinking of the staff member that insured their safety. Thanks to Domestic Abuse Family Shelter and the support it receives from your United Way donations, lives are saved every day!
DuBard School for Language Disorders



The DuBard School

for Language Disorders has received yet another international recognition for professional development programs, this one from the International Dyslexia Association.

The International Dyslexia Association provides a range of information and services to professionals, individuals diagnosed with dyslexia, and their families. DuBard School received recognition for its professional development programs in the DuBard Association Method«. The DuBard Association Method« is a phonetic, multisensory teaching-learning strategy that has been utilized by the DuBard School for more than 50 years.

The DuBard School professional development program has been accredited by the International Multisensory Language Education Council (IMSLEC) since 1998 and is an American Speech-Language-Hearing Association (ASHA)-approved continuing education provider.

The DuBard School will be hosting the 17th Annual DuBard Symposium: Dyslexia and Related Disorders in September, which is open to parents, teachers, speech-language pathologists, dyslexia therapists, school administrators and more.

More information on the DuBard School, the DuBard Association Method« and professional development opportunities can be found online at

www.usm.edu/dubard

.
American Red Cross
The American Red Cross recently launched the Team Red Cross App, which allows people to sign up to help, get an overview of basic tasks and receive notifications about Red Cross disaster volunteer opportunities in their community. It is the seventh in a series of highly successful Red Cross apps, which are now on more than 3 million mobile devices across the country. A recent Red Cross survey shows that apps are now tied with social media as the fourth most popular way to get information during emergencies-behind TV, radio and online news sites. Nearly one-fifth of Americans say they have received some kind of emergency information from an app they have downloaded, making the Red Cross apps an important way for the public to get ready for disasters.
The Team Red Cross App can be found in the Apple App Store and the Google Play Store by searching for American Red Cross or by going to redcross.org/mobileapps. For complete details, visit http://ow.ly/1ZCIFM.
- - -
Is your business or organization prepared for emergency? If you're like most of us, the answer is no, you're not as prepared as you would like to be. That's why Red Cross has created the Ready Rating, a first-of-its kind membership program designed to help businesses, organizations and schools become better prepared for emergencies. Members join this free, self-paced program and complete a 123-point self-assessment to reveal areas of improvement. Learn more and get started now!.
The Salvation Army
Krispy Kreme in Hattiesburg is collecting school supplies for The Salvation Army to be given to children in our area. Anyone donating a single item will receive a free doughnut. Anyone donating a backpacks with items will receive a dozen free doughnuts! This Stuff the Bus campaign is taking place now until Aug. 13.


There are many ways to volunteer with The Salvation Army in the upcoming months:
Oct. 14-18 - Christmas registration for those applying for holiday assistance
Nov. 8-Dec. 12 - Angel Tree adoption table in Turtle Creek Mall
Nov. 25-26 - packing Thanksgiving boxes and distributing
Nov. 22-Dec. 24 - ringing kettle bells
Dec. 9-19 - Christmas warehouse and Angel Tree work
Dec. 16-17 - setting up and packing Christmas food boxes
Dec. 20 - Christmas distribution day
If you would like to volunteer for any of these activities, please contact Joy Lines
by email
or call 601.544.3684, ext. 104.
The Children's Center for Communication and Development
The Children's Center for Communication and Development will begin the new school year with a new director and several new staff members. Sarah Case-Price became the school's director on July 1 upon the retirement of interim director Cindy Bivins. The Children's Center also welcomes a new speech language pathologist, Hannah Sanders; a new social worker, Cookie Smith; a new occupational therapist, Donna Stauter; and three new teacher assistants, Lori Muli, Roseann Clark and Monique Taylor to their staff.

On May 23, The Children's Center held its graduation ceremony to recognize 23 children that will be transitioning to their local school district for preschool or kindergarten. USM's Dean of the College of Health Dr. Michael Forster conferred the diplomas after the children presented their "A Day on the Farm" musical. Lori Muli was also recognized as 2012-2013 Volunteer of the Year.

a graduate of The Children's Center

Thanks to the Rotary Club of Hattiesburg's Annual Night in Italy benefit dinner, The Children's Center for Communication and Development received a donation of $11,050. Sarah Case-Price, director of the center, accepted a check from Rotary President Dr. Scott Hummel and Rotary and Children's Center Board Member Chris Price.


Sarah Case-Price accepts a check from the Night in Italy proceeds.

In October, The Children's Center will host and present a statewide conference for professionals in the field of early intervention for young children with disabilities. More information about the workshop is available on the Southern Miss website.