NOVA Chiropractic
2014 Veterans & Military Calendar
Patients, friends, and family of NOVA Chiropractic can
participate in the 2014 Veterans and Military Calendar!
If you have family or friends that have served or are currently serving in the military, you can send in a copy of their picture to be added into a 2014 calendar!
Dr. Sullivan is funding the creation and printing of these calendars, and everyone that provides a picture
receives a

FREE

calendar!
This program is a great way to bring together generations of your family and friends that have served our country - from WWI Era to the Afghanistan War Era - and show our support and respect for them!
Additional calendars will be printed and available for purchase. ALL proceeds will be donated to a local military/veterans chapter organization.
You can send your pictures to
info@novachirowellness.com
, or bring them into the office to be scanned, along with
this information
.
Find out next week which organization we will partner with!
For more information on the Veterans/Military Calendar, click here.
Scar Tissue

How Scar Tissue Plays a
Major Role in Chronic Pain and Tightness
Scar Tissue that Builds After an Injury
There are different types of scar tissue that can occur after an injury. People are very familiar with the scar tissue that forms on the skin after it is damaged from a cut,
burn, or a skin condition like acne or a fungal infection. For example, if you cut your finger and begin to bleed, scar tissue forms quickly to stop the bleeding and help heal the injured area. Many times, if not treated properly, the injury can actually leave a scar on the skin.
What many people do not know about is the scar tissue that is formed UNDER the skin, on the muscle and tendon. When a muscle or tendon is sprained, strained, or torn, the muscle is not healed through brand new muscle, but is repaired with scar tissue.
Scar tissue is made from a very brittle, inflexible fibrous material. Once the injury occurs, the entire injured area then becomes 'sticky'. Sticky "fibrin glue" seeps throughout the layers of damaged muscle like a web. As the healing process completes itself, the glue leads to a tough scar tissue buildup.This fibrous material binds itself to the damaged soft muscle or tendon tissue in an effort to draw the damaged fibers back together. As a result, a bulky mass of fibrous scar tissue completely surrounds the injured region.
When scar tissue forms around an injured region, it is never as strong as the tissue it replaces. It also has a tendency to contract and deform the surrounding tissues, so not only is the strength of the tissue diminished, but flexibility of the tissue is also compromised.
Issues with the New Scar Tissue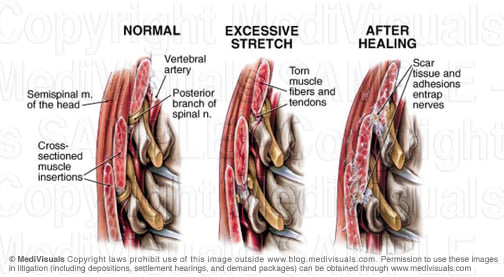 Even though scar tissue forms to help heal the injured muscle or tendon tissue, many times it causes problems because the scar tissue is formed in a haphazard pattern. It literally attaches to the injured muscle AND the healthy muscle which forms the scar tissue adhesions. The more scar tissue, the longer it takes to be absorbed and during this time re-injury can occur, and occur
repetitively
even when you think it has healed.
Common affects from scar tissue are:
Loss of flexibility

Loss of strength and power

Compensation of body mechanics

Feeling of aches and pain

Prevent adequate blood flow

Shortening of the muscle
For a muscle to attain full power it must be fully stretched before contraction. Both the shortening effect and weakening of the tissues means that a full stretch and optimum contraction is not possible.

What Movements Cause Re-injury?
Repetitive stress injuries can occur in any occupation or activity that requires repetitive action. Typically this can include:
Repetitive tasks with small, rapid movements.

Insufficient rest time between movements.

Working in awkward or fixed postures for extended periods of time.

Poor technique for lifting and moving things.

Excessive and forceful movements, used repetitively.

Poor Posture.
Common activities can include computer and mouse work,
endurance sports (such as running, bicycling, swimming, triathlons, etc.), tennis, and other short arc-repetitive motion sports. One of the most common and worst form of repetitive stress causes is that from POOR
POSTURE.
This is because the muscles in the neck and back are in a chronic state of contraction without getting a chance to rest.
And, because of our culture and typical work tasks, we are typically not a good position and reinforcing bad movements.
Poor Positioning/Movement Potential of an Average Person:
Sleeping in a poor position (8 hours) = 480 min
Sitting in your car to and from work (1 hour) = 60 min
Sitting at your desk at work (7 hours) = 420 min
Sitting in front of the TV/laptop at home (3 hours) = 180 min
Total: 19 hours or 1,140 minutes a day
Dr. Sullivan's Recommendations
Scar tissue and muscle adhesions are the source of pain for many different conditions. The two most effective conditions to treat scar tissue and muscular adhesions are Graston Technique and Active Release Techniques. Graston Technique helps loosen the chronically tight scar tissue allowing the muscle or tendon to heal correctly. One reason I love Graston Technique so much is because the patient can actually feel the scar tissue as I do the treatment. The patient feels ridges or "bumps" as I take the Graston instrument over the injured area. As the patients condition improves the ridges or scar tissue decreases along with pain.
Active Release Technique is another very effective treatment for scar tissue. ART adds active range of motion to the treatment which helps improve the patients range of motion as we are loosening up the scar tissue.
Another treatment that helps accelerate the healing and enhances the effect of Graston Technique and Active Release Technique is Laser Therapy. Laser therapy helps increases the blood flow to the injured area and loosens up muscle tissue.
Once the injured area is treated we then want to stabilize the muscle or joint by using Rocktape (a specific brand of kinesio tape). The Rocktape will reduce the stress on the injured area and also accelerate the healing process.
NOVA Chiropractic Blog Article
NOVA Chiropractic Blog Article
Find NOVA Chiropractic on Facebook, Twitter, & LinkedIn!
Note: The material provided in this newsletter is for informational purposes only. The opinions expressed herein may not always reflect the views of the NOVA Chiropractic, nor do they imply an endorsement.
8992 Fern Park Drive
Burke, VA 22015
703-912-7822
Mon 8:00 - Noon 2:00 - 7:00

Tues 8:00 - Noon 2:00 - 7:00

Wed 8:00 - Noon 2:00 - 7:00

Thurs 7:00 - Noon 2:00 - 7:00

Fri Closed

Sat Closed

Sun Closed
The Latest & Greatest at NOVA Chiropractic
The laser has proven to help dozens of patients at NOVA Chiropractic! Common conditions with current patients that laser therapy is helping to heal are:
Herniated discs

Knee arthritis
Carpel tunnel syndrome

Achilles t

endinitis

Neck and back pain

and much more!
For more information, c

all 703-912-7822 or email info@novachirowellness.com
Ingredient of the Week
Pineapple
This tropical fruit contains the enzyme bromelain, which can help treat muscle injuries like sprains and strains.
Bromelain is a complex mixture of substances that can be extracted from the stem and core fruit of the pineapple.
Excessive inflammation, excessive coagulation of the blood, and certain types of tumor growth may all be reduced by therapeutic doses of bromelain.
Stay Fit with
Local Events!
Reston, VA
09/21/13 8:30am - 11:00am
Active Release Technique
Re-Certification Seminar
Iselin, New Jersey
Medicare Seminar
Richmond, Virginia
Health and Safety Fair
Fort Belvoir, VA
Health Fair at the Naval Research Laboratory
Washington, DC
Neurokinetic Therapy Seminar
Washington, DC
A guidebook written by
Dr. Sullivan!

The Healthy Alternative:
A Guide For A Pain-Free, Active Lifestyle empowers and educates the reader when confronted with back or neck on the treatment options available and integrating the safest, most effective ways to manage and prevent pain. Order Now!
K-Laser Therapy is
Catching Wind!