Quick Links
The Newsletter of the North Carolina Historic Preservation Office
Events, Awards, and Grants
For statewide event lists, visit the HPO Facebook event list, Preservation North Carolina events list, or a December - February 2013 calendar and workshop and conference list courtesy of the Federation of N.C. Historical Societies.
December 14-15 Preservation Chapel Hill Annual Holiday House Tour. Saturday, December 14, from 12-4 PM, and Sunday, December 15, from 1-5 PM. This year's tour features the Laurel Hill Neighborhood, also known as the Rocky Ridge Farm Historic District, which was listed in the National Register in 1989. Advance tickets are $30, and a $5 discount is offered to members of Preservation Chapel Hill. Tickets may also be purchased the days of the tour for $35 ($30 for members). To purchase tickets, call 919-942-7818 or visit Preservation Chapel Hill's website.
January 6, 2014 American Battlefield Protection Program (ABPP) Battlefield Preservation Grants: Non-profit groups, academic institutions, and local, regional, state, and tribal governments are invited to apply for grants for these types of eligible projects: archaeology, cultural landscape inventories, cultural resource documentation, GIS mapping, National Register nominations, and preservation plans. Project funding ranges from $5,000 to $75,000. The ABPP encourages but does not require matching funds or in-kind services for the projects. The application form and complete guidelines are available at this page. Applicant organizations are strongly encouraged to discuss proposed projects with Kristen McMasters, ABPP Grants Manager, by phone at 202-354-2037, or Paul Hawke, Program Chief, by phone at 202-354-2023, before preparing an application.
January 16 "Elizabeth Keckly: Thirty Years a Slave and Four Years in the White house" lecture, 7 PM, Joel Lane Museum House, 160 Saint Mary's Street, Raleigh, NC. Rebecca Ryan, executive director of Burwell School Historic Site, Hillsborough, will speak. General admission is $15, $10 for members. Click here for more information or call 919-833-3431.
February 1 National Trust Preservation Funds grants encourage preservation at the local level by providing seed money for preservation projects. The grants help stimulate public discussion, enable local groups to gain the technical expertise needed for particular projects, introduce the public to preservation concepts and techniques, and encourage financial participation by the private sector. Grants generally start at $2,500 and range up to $5,000. The selection process is very competitive. Only members of the National Trust at the Forum or Main Street levels are eligible to apply for funding from the National Trust Preservation Fund. To learn more about the grant program and how to apply go to this page.
March 11-16 "Fields of Conflict," Columbia, SC. The SC Institute of Archaeology and Anthropology is sponsoring an international conference on battlefield archaeology in Columbia, SC, in conjunction with the National Park Service's American Battlefield Protection Program. The conference will include a day long battlefield preservation workshop on March 12 in which participants will learn about best practices for battlefield preservation, including mapping sites, analyzing landscapes, using archaeology, and planning for battlefield preservation. See this page for a detailed agenda of the battlefield preservation workshop. For more information about the entire event visit www.fieldsofconflict2014.com or contact Steve Smith at [email protected] or 803-576-6569.
March 19-22 National Council on Public History Annual Meeting, Monterey, CA. Click here for registration and meeting information.
April 9-13 Society of Architectural Historians Annual Conference, Austin, TX. For more information visit this page.
April 10 "Fine & Decorative Arts: An Era of Transition" lecture, 7 PM, Joel Lane Museum House, 160 Saint Mary's Street, Raleigh, NC. Leland Little, president of Leland Little Auctions and Estate Sales, Ltd., will speak. General admission is $15, $10 for members. Click here for more information or call 919-833-3431.
June 17-22 Association for Gravestone Studies 2014 Annual Conference, Franklin, IN. More information will be on this website in March 2014.
July 16-20 National Alliance of Preservation Commissions Forum, Philadelphia, PA. This biannual gathering of local historic preservation commissions and boards of architectural review members and staff is the largest of its kind in the country. For more information and to sign up for updates about the event go to this page.
The National Alliance of Preservation Commissions (NAPC) is requesting proposals for Forum 2016 Forum is the only national conference focused around the needs and issues of historic preservation commissions and commission staff. It is an interactive conference that blends traditional educational sessions, discussion panels, mobile workshops, and tours to provide participants with essential training and networking opportunities. Forum is held every other year in interesting destination cities and brings local commission members from across the country together with representatives from local, state and national organizations, governments, and federal agencies. Forum 2014 will be held in Philadelphia, PA, July 16-20 (see above). The 2016 RFP can be found on the NAPC website at this page. Please contact Paul Trudeau, NAPC Program Director, at [email protected] with any questions.
Advisory Council on Historic Preservation Announces 2014 Training Courses ACHP staff instructors will offer Section 106 training in six cities next year. These interactive courses feature practical guidance and opportunities to apply learning in case-based exercises.
The Section 106 Essentials covers the fundamentals needed to carry out or participate in a federal historic preservation review. A case study and small group exercises provide opportunities for participants to apply the ACHP's regulations to real-life scenarios. Register by December 16, 2013, and take advantage of the $450 early bird rate.
The Advanced Seminar is a one-day course focused on the effective management of complex or controversial undertakings. Experienced Section 106 practitioners will improve their consultation and agreement drafting skills by sharing ideas and working through problem-solving exercises in a smaller class setting.
Visit this page for registration details and pricing. Please contact Cindy Bienvenue at [email protected] if you have any questions.
The National Park Service's Cultural Resources Diversity Internship Program asks for project proposals for its summer 2014 program. The CRDIP, part of the Washington Office's Division of Cultural Resources, Partnerships, and Science, invites project proposals for 2014, which marks the 16th year of the program. Over the years, National Park units, NPS program offices, and their partners in the public and private sectors have co-sponsored dozens of diverse undergraduate and graduate students ages 18-25 and provided them with outstanding career-exploration opportunities. During the 2014 session, the program will cosponsor 12-13 interns during the 10-week summer program. The deadline for project proposal application is Friday, December 20, 2013.
Please contact Paloma Bolasny, CRDIP Program Coordinator, at [email protected] or 202-354-2174 for more information. Read more about the 2013 projects and interns at this page or click here for information about the program.
Association for Gravestone Studies: Call for Papers and Class Sessions Proposals for 2014 Conference
The Association for Gravestone Studies will host its 2014 conference in Franklin, IN, June 17-22. Proposals are solicited for scholarly papers, 20 minutes in length, to be presented during the evening lectures. Proposals are also being solicited for participation/class sessions, of 45 minutes in length, to be presented Thursday, June 19, and Friday, June 20. Sessions should focus on "engaging with cemeteries in the digital age." Examples might include, but are not limited to, topics on gravestone/cemetery blogging, cemetery interest groups using social media, how to digitally store and share gravestone photographs, modern gravestone production technologies, and using cemeteries in education. Please send your proposal and a 250-word abstract by February 1, 2014 to Participation/Class Sessions Coordinator Joy Giguere at [email protected].
Rehabilitation and Tax Credit Project Highlights
Ashe County, West Jefferson, 107 North Jefferson Avenue
The ca. 1940 two-story commercial building at 107 North Jefferson Avenue in the West Jefferson Historic District was rehabilitated in 2012-2013 for a commercial/retail tenant on the first floor and continued use as an apartment on the second floor. This project was spurred by the use of the federal and state income-producing historic tax credits with a private investment rehabilitation cost of $10,000.
107 North Jefferson Avenue before and after rehabilitation
Durham County, Durham, 322 East Chapel Hill Street
The 1923 two-story commercial building at 322 East Chapel Hill Street in the Downtown Durham Historic District was rehabilitated 2009-2010 for office use. This project was spurred by the use of the federal and state income-producing historic tax credits with a private investment rehabilitation cost of $529,000.
322 East Chapel Hill Street before and after rehabilitation
Randolph County, Asheboro, Cranford Industries Office
The 1925 Cranford Industries Office for the Asheboro Hosiery Mills and Cranford Furniture Company Complex was rehabilitated 2012-2013 and is now a bakery and restaurant. This project was spurred by the use of the federal and state historic income-producing tax credits with a private investment rehabilitation cost of $298,000.
Cranford Industries Office before and after rehabilitation
Rutherford County, Forest City, Smith's Department Store
The 1930s two-story Smith's Department Store in the Main Street Historic District (boundary increase) was rehabilitated 2010-2012 for use as a pet store. This project was spurred by the use of the federal and state income-producing historic tax credits with a private investment rehabilitation cost of $135,000.
Smith's Department Store before and after rehabilitation
Polk County, Saluda, Thompson's Store and Ward's Grill
The ca. 1912 Thompson's Store and Ward's Grill and ca. 1921 rear warehouse in the Saluda Main Street Historic District was rehabilitated 2010-2012 for a mixed-use occupancy that includes continued use of the general store and grill on the first floor, second floor office use, and special events venues on the second floor and rear two-story porch and in the courtyard and warehouse. This project was spurred by the use of the federal and state income-producing historic tax credits with a private investment rehabilitation cost of $512,000.
Thompson's Store and Ward's Grill exterior and
interior after rehabilitation
Wake County, Raleigh, G & S Department Store
The 1880s G & S Department Store Building in the Moore Square Historic District was rehabilitated 2010-2012 for a mixed-use occupancy that includes a restaurant and two retail spaces on the first floor and office suites on the second floor. This project was spurred by the use of the federal and state income-producing historic tax credits with a private investment rehabilitation cost of $2,200,000.
G & S Department Store Building before and after rehabilitation
Federal Preservation Grant Applications are Now Being Accepted
The State Historic Preservation Office (HPO) is now accepting applications for FY 2014 federal Historic Preservation Fund (HPF) pass-through grants, which are available to Certified Local Governments (CLGs) in North Carolina. Eligible projects include architectural and archaeological surveys, nominations of eligible districts and properties to the National Register of Historic Places, survey publication manuscripts, local preservation design guidelines and preservation plans, educational programs, and restoration of National Register-listed properties. In addition to CLGs, nonprofit organizations and educational institutions that reside within the jurisdiction of a CLG may also be eligible for grant funding. The postmark deadline for the FY 2014 grant applications will be February 28, 2013. The application and guidelines are available at http://www.hpo.ncdcr.gov/.
HPOWEB Continues to Foster Cooperation Between State Agencies
Michael Southern and Andrew Edmonds, HPO GIS Coordinator and GIS Technical Support Analyst, respectively, took their HPOWEB dog-and-pony show on the road in November. They presented an overview and tutorial of HPOWEB on three occasions to regional NCDOT and Federal Highway Administration (FHWA) staff and engineers.
The development of HPOWEB supports a longstanding FHWA priority to improve the timeliness and quality of the environmental review process. The HPO developed HPOWEB, in part, for use by state and federal agencies to support a more transparent and streamlined review process of transportation projects. The web mapping tool allows users to quickly search for and identify historic properties and districts within project boundaries, generate tables and maps of affected properties, and link to National Register nominations and photographs of historic properties in recently surveyed counties.
The GIS team spent some time cultivating another partnership, as well. They, along with Environmental Review Specialist, Justin Kockritz, and Deputy State Historic Preservation Officer, Ramona Bartos, attended day-long workshops sponsored by the South Atlantic Landscape Conservation Cooperative (SALCC) and held in Cary in late October to develop a blueprint for focusing regional conservation efforts. Historical and archaeological significance were considered in the site selection process, and HPO staff were pleased to speak on behalf of places meeting these key criteria!
HPO Staff Meets with Fayetteville VA Medical Center Staff
Fayetteville (NC) Veterans Administration
Hospital Historic District
Recently, HPO staff traveled to Fayetteville to meet with the U. S. Department of Veterans Affairs regarding several proposed projects to meet the growing needs at the historic VA Medical Center. Among these projects is the construction of a stand-alone Community Living Center to provide long-term care to our veterans in a welcoming environment conducive to treatment. The Fayetteville Veterans Administration Hospital Historic District, including the Colonial Revival hospital, nurses' quarters, manager's quarters, service buildings, and the 32-acre campus, were recently listed in the National Register of Historic Places as the Fayetteville (NC) Veterans Administration Hospital Historic District. Also within the district are the historic Confederate Breastworks.
Report from the 2013 National Trust Conference
HPO senior restoration specialist Paul Fomberg traveled to Indianapolis to attend "Preservation at the Crossroads," the National Trust for Historic Preservation's annual conference, held October 29 to November 2. The conference headquarters was the rehabilitated Union Depot, a massive Richardsonian Romanesque-style structure built in 1888, with educational sessions in the adjacent hotel located in the former train sheds built between 1915 and 1922 and in a number of other historic venues downtown.
As the 12th largest city in the U.S., with a current population of more than 800,000 and a metro population of 2 million, Indianapolis offers many examples of historic preservation contributing to the vitality of a number of its neighborhoods and a vibrant downtown marked by a mix of historic and modern buildings. Centered on Monument Circle and anchored by the state government complex with the high-domed Classical Revival-style Indiana Statehouse built in 1887, the downtown district is home to than 20,000 people living in historic houses, converted industrial lofts, and condos and apartments, many occupying high-rise towers. It's a walkable downtown with wide sidewalks and designated bike lanes and bike racks on most streets. In addition to a large convention center and more than 36 hotels, including several located in historic buildings, downtown Indianapolis has a football stadium and a sports arena, a 4-story urban shopping center, performing and visual arts venues, museums, and more than 200 retail shops, including a major grocery store, as well as 300 restaurants, bars, and breweries. Just west of the downtown district is a 25-acre state park and Indiana University-Purdue University Indianapolis, with a student body of more than 30,000, while just to the southeast pharmaceutical giant Eli Lilly Company occupies a 100-acre corporate campus.
Paul attended numerous conference sessions, including the opening plenary session with remarks by National Trust president Stephanie Meeks (click here for the full text) on the future of house museums, an overview of Indiana vernacular architecture and its old world precedents by folklorist Henry Glassie, and a reception with German food at the 1894 Athenaeum, built by the city's German immigrants. Paul also attended a session on planning successful tax credit projects presented by NPS staff; one on microbreweries, many of which operate in rehabilitated historic buildings across the country and have been the catalyst for the revitalization of historic areas; and one on the correlation between the social benefits of historic preservation and economic growth.
At a tax credit networking breakfast with other tax credit reviewers, consultants and developers to discuss the future of the federal and state tax credit programs, Paul found it interesting that Iowa has a Historic Preservation and Cultural & Entertainment District Tax Credit that includes separate funds for projects with rehabilitation costs of $500,000 or less, projects in state certified cultural and entertainment districts or identified in Iowa Great Places agreements, projects directly impacted by a disaster declared by the Governor or President, projects resulting in the creation of more than 500 new permanent jobs, and for projects statewide. For more information on Iowa's tax credits, including how they are allocated and prioritized each year, click here.
Paul felt that the most informative educational sessions were on energy efficiency in historic buildings and the preservation and rehabilitation of historic windows. He was surprised to learn that windows typically make up only 10% to 13% of the energy loss in a building, with the roof of a building making up the majority of the energy loss. One of the speakers suggested that replacement windows should instead be referred to as "disposable windows" since the window manufacturers only expect a ten- to fifteen-year useful life for the windows and typically only offer warranties of up to fifteen years; however, the average payback time for residential replacement windows is forty years. The speaker also suggested that the use of R-value by window manufacturers is a misnomer since it is a measure of thermal resistance and is typically used in rating insulation. U-Value, or U-Factor, is a measure of the overall heat transfer coefficient, which is more appropriate for windows since their function is to provide light and air for a building, rather than to insulate it. Recent testing performed by the National Window Preservation Standards Collaborative has demonstrated that simply adding weather stripping to existing windows makes a huge difference in the amount of energy loss-without adding any type of storm window-and that combined with a storm window, existing windows meet or exceed the U-Value, or U-Factor, of new insulated glass windows. The result of the testing has been published in a new book Window Preservation Standards, which is available from the Collaborative.
The final day included a session on mid-century modern architecture and the challenges and opportunities in preserving it. The session included a presentation on the iconic 1963 Miami Marine Stadium designed by Cuban architect Hilario Candela and built for powerboat racing. In the wake of Hurricane Andrew in 1992, the structure was declared an unsafe building by the municipal government and was threatened with demolition until very recently. For more information on Miami Marine Stadium, click here.
North Christian Church (1959-1963),
The highlight of the final day of the conference was a trip to the nearby city of Columbus, Indiana, the corporate headquarters of Cummins, Inc. (commonly called Cummins Diesel) and known as the Mecca of Modernism due to the city's large collection of notable modern architecture. In 1954, the late J. Irwin Miller, then president and chairman of Cummins Engine Company, established the Cummins Foundation, a charitable program that helped to subsidize a large number of architectural projects throughout the city by up-and-coming engineers and architects, including Eero Saarinen, Eliel Saarinen, I. M. Pei, Kevin Roche, Richard Meier, Harry Weese, CÚsar Pelli, Gunnar Birkerts, and Skidmore, Owings & Merrill. Buildings constructed in Columbus as a result of the largesse of the Cummins Foundation included schools, fire stations and churches. Six buildings erected between 1942 and 1965 are designated as National Historic Landmarks and approximately 60 other buildings are considered architectural masterpieces. For more on architecture in Columbus, including a number of intact mid- to late nineteenth-century buildings, click here.
Biltmore High School Receives 2013 Carraway Award of Merit
Biltmore High School
Preservation North Carolina presented a 2013 Carraway Award of Merit to Historic Biltmore School, LLC, for the work done to preserve this 86-year-old Asheville landmark. The award recognizes individuals or organizations that have demonstrated a genuine commitment to historic preservation through extraordinary leadership, research, philanthropy, promotion, and/or significant participation in preservation. The awards have been given since 1975 and are named for the late Dr. Gertrude S. Carraway of New Bern, a leader in the successful effort to reconstruct the state's colonial capitol, Tryon Palace, in New Bern. Click here or here for more information about the historic rehabilitation of the former school.
Sarah Britt, Robeson County Historian, Wins Award
Sarah Britt and Colleen Brown, the new president of Historic Robeson, Inc. Photo courtesy of robesonian.com
For four decades, historian Sarah Britt has been sharing the history of Robeson County. On November 5, she was recognized for her work by Historic Robeson, Inc., a nonprofit organization working to preserve the county's history. Britt received a plaque for her sixteen years of service as president of the organization and a resolution of appreciation. Click here for more information.
Duke Energy Donates $1 Million to the Battleship North Carolina
The Battleship North Carolina
The Battleship North Carolina has announced a $1,000,000 donation from the Duke Energy Foundation. Duke Energy's investment is a leading donation in the capital campaign to repair the ship's hull and preserve the North Carolina for generations to come. Click here for more information.
United States Loses Its Vote in UNESCO
The United States has formally lost its vote in United Nations Educational, Scientific, and Cultural Organization (UNESCO) due to the non-payment of dues. The U.S. National Committee of ICOMOS (International Council on Monuments and Sites), together with Preservation Action and other US/ICOMOS organizations and individuals, worked to increase public awareness of this issue for the past year. At the US/ICOMOS 2012 annual benefit gala in Washington, the organization was honored to have Irina Bokova, Director-General of UNESCO, as the guest speaker. This past summer, US/ICOMOS worked diligently with George Papagiannis, UNESCO liaison to the United States, and Preservation Action, to increase awareness of the potential impacts of losing the US vote. And most recently, at the National Preservation Conference, US/ICOMOS worked with the San Antonio Conservation Society, Preservation Action, a coalition of World Heritage supporters in Ohio, and several others to host an exhibit booth donated by US/ICOMOS Board member Andrew Potts. The booth focused on World Heritage and the potential effects of non-payment of dues on upcoming World Heritage nominations for US sites.
Unfortunately, these efforts did not yield success in the United States paying dues. However, they continue to work to keep their members and the general public informed about this important issue.
Articles on this issue can be found at the links below:
[This article first appeared in the US/ICOMOS newsletter]

Cities Prefer Razing to Rebuilding
For a number of American cities in the Northeast and Midwest that have lost big chunks of their population, large-scale demolition is increasingly regarded as a path to salvation and urban planning has often become a form of creative destruction. Large-scale destruction is well known in Detroit, but it is also underway in Baltimore, Philadelphia, Cleveland, Cincinnati, Buffalo, and elsewhere at a total cost of more than $250 million. Officials are tearing down tens of thousands of vacant buildings, many habitable, as they seek to stimulate economic growth, reduce crime and blight, and increase environmental sustainability. Click here for more information and see immediately below for a rebuttal to this trend.
Response to New York Times Article on "Right Sizing"
The New York Times recently published an article (see the link to the article above) on shrinking populations in urban centers and the subsequent planning strategies to raze entire city blocks as a means of revitalization - a trend known as "right sizing." Seeing that the article ignored the role of historic preservation as a planning tool is this process, Wayne Donaldson from the Advisory Council on Historic Preservation and Stephanie Meeks of the National Trust for Historic Preservation offered this response to the editors:
"To the Editor: Tuesday's story about large-scale demolition in shrinking cities ("Blighted Cities Prefer Razing to Rebuilding") failed to recognize the potential for reusing historic buildings to catalyze economic development, attract new residents, and create new job opportunities in shrinking industrial cities. In Detroit, for example, developers and entrepreneurs have taken advantage of the federal historic rehabilitation tax credit to bring $681.6 million in private investment to 57 historic-rehabilitation projects between 2001 and 2012. These projects have also created more than 9,000 permanent jobs and helped enliven some of Detroit's struggling neighborhoods. Preservationists understand that targeted demolition must be part of the planning process in cities with dwindling populations. However, before cities engage in the irreversible, wholesale demolition of entire urban neighborhoods-as was done in the 1960s with the disastrous policy of Urban Renewal-policy makers should consider the unique ways that historic buildings can be part of the solution for revitalizing American cities. Historic buildings and neighborhoods, after all, add vitality to cities and connect residents through heritage, culture, and history-elements which cannot be replicated with vacant lots."
[This article comes courtesy of National Alliance of
Preservation Commissions]

Asheville Redevelopment Fights Back Against Walmart's Draw from Downtown
Thanks to the relationship between energy and distance, large-footprint sprawl development patterns can actually cost cities more to service than they give back in taxes. The result? Growth that produces deficits that simply cannot be overcome with new growth revenue. This was the case in Asheville and in most cities. Click here for more information. Note: The article does not mention that preservation tax credits were part of the redevelopment formula for Public Interest Projects, which used tax credits for most if not all of their building projects.
Metal Detectors May Have a New Role in Preservation and Archaeology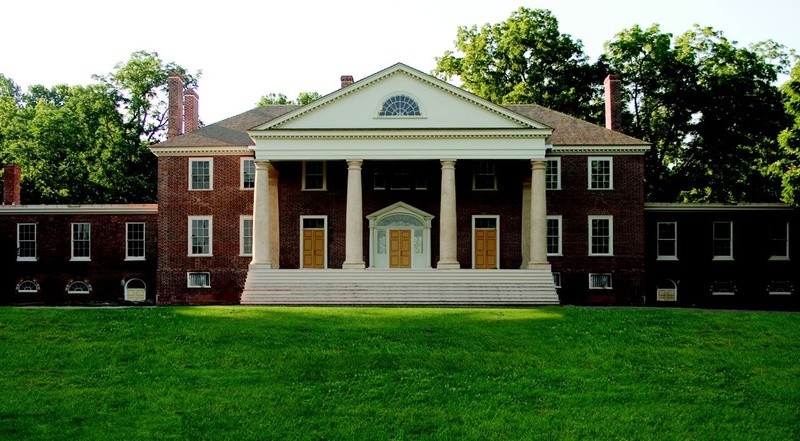 Montpelier. Image courtesy of Wikia.
The newest archaeological program at Montpelier, President James Madison's Virginia home, uses metal detector specialists and hobbyists to find some of the historic sites on the 2,700 acres of Montpelier property. During the program, the volunteers with metal detectors search a 200-acre area for what's believed to be one acre of historic finds - such a slave quarters, mills, or homes. Click here for more information.
2013 National Historic Landmark Photo Contest Winners Announced
The 2013 winner and 12 honorable mention photographs of this year's National Historic Landmark Photo Contest have been selected. National Historic Landmark status is the highest recognition accorded by the Secretary of the Interior to historic properties possessing "exceptional value or quality in illustrating and interpreting the heritage of the United States." Since the program began in 1935, just over 2,500 properties have achieved NHL designation. Click here to view the winning photographs.
NPS Highlights Teaching Aids for National Archaeology Month and National Indian and Alaska Native Heritage Month
The National Park Service periodically highlights selections from their "Teaching with Historic Places Lesson Plans." In honor of National Archaeology month, in October, this plan was highlighted, and in November, National Native American Indian and Alaska Native Heritage Month was celebrated with this highlighted lesson plan. Other lesson plans can be found here.
NPS Resources for Genealogy Researchers
A number of parks and programs have information that may be pertinent to your family history research. For example, Ellis Island has an online database to search for immigrant ancestors and the Soldiers and Sailors Database can help others find relatives who participated in the Civil War.
Historic American Engineering Record (HAER) Program Brochure Available
Want to know more about the National Park Service's Historic American Engineering Record? Well, there's a brochure for that. Click here for the brochure.
"Guide to Field Documentation" for HABS Available Online
Download the "Guide to Field Documentation," which offers step-by-step instructions about how to observe, take field measurements, create field notes, and write a short-form report on a site or structure to HABS (Historic American Building Survey) standards (click here for the guide). These guidelines are intended for use by those without professional experience and/or training in the production of drawings and the undertaking of field work. Similar guides for HAER (click here) and HALS (Historic American Landscape Survey) (click here and here) also are available. The National Park Service hopes these will encourage students and preservation professionals to create and submit more documentation to the HABS/HAER/HALS Collection so that the history of our built environment will be on record.
Raleigh Historic Development Commission and Raleigh Bike and Pedestrian Advisory Commission Host a Bike Ride to Remember
Saturday, November 2, the Raleigh Historic Development Commission (RHDC) and Raleigh Bike and Pedestrian Advisory Commission hosted a bike ride and tour of Raleigh's historic buildings. It was in part to promote the RHDC's new mobile application Raleigh Historic. The bike ride took a route with multiple stops to learn about historic buildings, using the app along the way. Similar bike rides may be planned in the future due to the positive response. Click here to download the application if you will be in Raleigh or are just curious.
You Might Be a Preservationist If...
Rachel Alexander, a graduate of the University of Kentucky's Masters of Historic Preservation program, has a historic preservation blog called "Bricks + Mortar." After attending the annual National Trust conference this year she came up with this list of indicators that you might be a preservationist.
Gift Ideas for Architecture Lovers from the National Trust
Struggling to find the perfect gift for an architecture lover in your life? The National Trust wants to help. Click here for a list of their suggestions for architecture books.
An Interesting Way for Local Governments to Encourage Rehabilitation of Historic Buildings
Did you know that Los Angeles has a strong culture of reuse, especially when it comes to historic buildings? Click here to read about the use of an innovative Adaptive Reuse Ordinance (ARO) in the downtown historic core for the past 14 years in an effort to re-imagine downtown as a 24/7 activity center with more full-time residents.
A Few More Sources for Grants