10 Tips for Effective Networking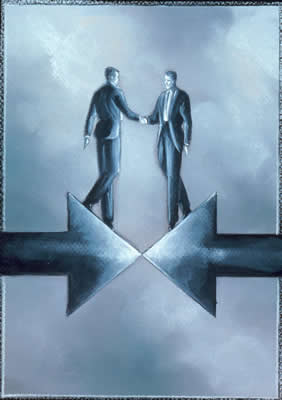 1) Consider any encounter with another person to be an opportunity to tell him/her what you do and vice versa- that's networking 101.
Don't just consider business events as a time to "network."
2) Get business cards that are professionally designed and printed, so you can give them out anywhere. If your company name and other info on the card does not remind the recipient of what you do (such as Harris & Associates), consider re-doing your cards with some bullets and a slogan (or change the name if you don't have lots of equity in it).
3) Give business cards to employees to distribute. It's the cheapest form of advertising, empowers them to spread the word about your company, and it's good for morale.
4) Imprinted wearables (shirts, jackets) are good ice-breakers for people to ask what you do.
5) Set a goal before you go to a business mixer or networking events, such as "I want to meet at least 10 new people tonight" and work the room to meet that goal.
6) Prepare a comfortable description of your business in terms of BENEFITS, not function.
For instance, a bookkeeper could say she's a bookkeeper. But, she could also say, that she provides bookkeeping services so clients can save money with their accountants and have up-to-date information about their business to make sound management decisions for an improved bottom line and peace of mind.
7) Plant the seed in people's minds with something simple after you describe your business, such as, "A good lead for me is...."
8) Be sure you put notes on the cards you receive about any follow-up for the appropriate contacts, and be sure to do it, especially if you promise to send or do something.
9) Include the new contacts in your database so you can include them in outreach marketing efforts. Touch them at least 6 times per year with some form of marketing.
10) Keep a positive attitude about networking. In its simplest form, going to a networking event is like going to a party except with the agenda of making business connections. Some of the connections may never do business with you directly, but if they know of you and your benefits, they can at least refer you.
Carolyn Touhey is owner of SmartBiz Strategy--the HBBA's 2010 Business of the Year. She is also on the Board as the Marketing Director. She can be reached at 250-335-2342.