Weekly E-Blast:
Voicing the latest news on Communities in Need
COUNTDOWN TO ENROLLMENT

18 Days

Have news to share with us? Want to be featured on our next E-Digest? Want to read about something in particular? Please email us at aneeqa@machc.com.

Community Health Cent

er Spotlight

Mt. Laurel Medical Center, A NACHC Video Contest Finalist and they need YOUR help!

In recognition to National Health Center Week, Mountain Laurel Medical Center entered their video into the video contest sponsored by the National Association of Community Health Centers. They are now a Video Contest Finalist.

The staff work so hard each and every day to help the patients in their communities and the day (shown in the video during NHCW) was not only a day to help our patients with the food giveaway, but they supported each other and celebrated each other. So please take a few minutes to view their video and cast your vote for them.

You can send a text message to 69866 and in the text put the video number (which is V17) OR you can vote on line. And please, send on to as many people as you know and ask them also for their support. They are the only MD health center finalist. This would be a Community Health Center win, so please vote NOW! Today is the last day to vote.

Thank you all for your support and lets keep our fingers crossed!!

We will continue to highlight and support all the wonderful achievements of Health Centers!

You could be next! Please contact Aneeqa Chowdhury at aneeqa@machc.com to be placed on the

SPOTLIGHT

!

(1) Navigator & Assistor Training Application Released!!

to access the application.

(2) Did you miss HRSA's ICD-10 Basics Training Webinar?

CMS for a keynote presentation on ICD-10 basics.

(3) Did you miss HRSA's Outreach and Enrollment meeting?

Don't worry...

We have the recording and presentation of slides for you.

HRSA: FY2013 Health Center Outreach and Enrollment Call
Summary- This call covered training and certification requirements for all health center grantees and look-alikes with outreach and enrollment programs. The discussion covered the different certifications available, how they apply to health centers, and where to go for help. This call is for health centers across all Marketplace types.
- Presentation slides are HERE.
- An audio replay from the call can found HERE.
The presentation emphasizes for health centers to apply to be Certified Application Counselor (CAC) certified. This is discussed in detail during the call so please listen to the audio recording and follow the slides. You can find the Certified Application Counselor Organization application here. Applications are expected to be turned in by August 31st.




(4) AFFORDABLE CARE ACT WEBINARS:

WEBINAR II:

ACA Outreach and Enrollment Strategies and how your health center can brand itself in light of ACA.

Guest Speaker: Sally Smith and Leslie Lyles Smith from Maryland Exchange

The presentation will include an overview of the statewide outreach and communications campaign scheduled to launch in August 2013 that will raise awareness of the new health coverage options available through the Affordable Care Act. Specific tools and resources available through Maryland Health Connection for community-based organizations and stakeholders will be shared.

If you missed this webinar, please find the presentation slides here:

(1) Presentation 1: Outreach

(2) Presentation 2: Operations

*Please note the actual recorded webinar with slides are available on the MACHC website (under Events-> Webinars) or CLICK HERE.

WEBINAR III:

ACA: The National Perspective

Guest Speaker: Shawn Frick, National Association of Community Health Centers

The Affordable Care Act continues to dominate the headlines as Community Health Centers near implementation. While some states such as Maryland have a better defined path to January 2014, most states are struggling with many unanswered questions. All states, however, should be aware of the strategic moves your health center should be considering at the local, regional or statewide level to protect the best interests of your business and your patients. This webinar will examine what Community Health Centers can anticipate moving forward relative to federal funding and ACA implementation as well as strategies other states are using to place their health centers in the best strategic position as today's health care delivery systems continue to evolve.

CLICK HERE for the presentation.

(5) HIPAA Final Rule Webinar: Are You Ready for September 23, 2013?

When: September 9th, 2013 1:30 PM - 3:00 PM

This webinar provides an introduction to some of the major changes in the Omnibus Rule

This webinar provides an introduction to some of the major changes in the Omnibus Rule and identifies actions health centers should take to implement these changes. Following this 90-minute HIPAA webinar, you will be able to:

* Summarize the impact of the HIPAA Omnibus Rule on your health center.

* Identify changes that need to be made at your health center, including changes to your Business Associate Agreements and Notices of Privacy Practices, as well as to your policies and procedures governing patient access to medical records

* Understand the consequences of non-compliance with the HIPAA Omnibus Rule.

Find the presentation slides HERE




Friday, September 13, 2 to 3:30 p.m. EDT

Call-in Number: 888-390-0782 - Participant Code: HRSA

Health center clinical and quality leaders play an essential role in improving the health of the Nation's underserved communities and vulnerable populations. Join BPHC clinical leadership to hear important updates regarding clinical performance measures, quality improvement, patient-centered medical home, meaningful use, and the primary care workforce. You also will hear from colleagues across the country regarding their successes and challenges, and have an opportunity to have your questions answered.

Save the Date: Health Insurance Marketplace and Medicaid Expansion Outreach and Enrollment in Health Centers Part II
Tuesday, September 17, 1:30 to 3:30 p.m. EDT

This session will describe strategies health centers can employ to plan for and conduct outreach and enrollment activities that will begin October 1, 2013. Guidance on developing outreach and enrollment activities, targeting uninsured eligible populations, and examples of successful health center initiatives will be discussed.

(7) Executive Employee Retention Seminar

The one day seminar is being provided for Federally Qualified Health Centers (FQHCs), Hospitals, Local Health Departments and Health Clinics to learn strategies to retain health providers. The meeting will meet federal grant activity requirements by helping health centers retain providers in underserved communities.

When: Tuesday, September 17, 2013

Where: Anne Arundel Community College

101 College Parkway

Arnold, MD 21012

Room: Center for Applied Learning and Technology Building- Room 100

Time: Exact time TBD- but this will be an all day event

To REGISTER,

CLICK HERE.

(8) Has your Health Center been attending the Hospital Preparedness Program (HPP) monthly calls and Regional Meetings?!

Attending HPP Meetings will not only keep you and your health center on top of the latest Emergency Preparedness requirements and news, but there are other great incentives for those health centers who attend!

For a list of other EP events, please visit

this url.

(9) Save the Date: Health Insurance Marketplace and Medicaid Expansion Outreach and Enrollment in Health Centers Part II (by HRSA)


Tuesday, September 17, 1:30 to 3:30 p.m. EDT

This session will describe strategies health centers can employ to plan for and conduct outreach and enrollment activities that will begin October 1, 2013. Guidance on developing outreach and enrollment activities, targeting uninsured eligible populations, and examples of successful health center initiatives will be discussed.

Registration is Now Open!!!

MACHC's 31st Annual Meeting & Conference "Strategic Perspectives on Reform, Innovation and Accountability" September 19th & 20th, 2013
Turf Valley Conference Center
Ellicott City, MD

Join us at MACHC's 31st Annual Meeting & Conference, where you will receive the latest information on all areas relevant to the implementation of the Affordable Care Act. There will be much to learn for individuals of all positions, including but not limited to: CEOs, CFOs, COOs, Site Administrators, and Board Members of your health center!

The full implementation of the Affordable Care Act by the Obama Administration is already underway. Health Care Reform is now the law of the land. The implementation of the Affordable Care Act is perhaps the most revolutionary health reform breakthrough to occur in the healthcare sector since the creation of Medicare and Medicaid in 1965.

Community Health Centers are being challenged to combine efficiency and innovation in order to deliver quality health care in an increasingly competitive environment. However, there remains much speculation and uncertainties about what the ACA will do this fall.

Join us at MACHC's 31st Annual Conference where we will discuss some of the hottest subjects surrounding the ACA:

Best practices on how to market your Health Center and the FQHC brand

How to conduct an Organizational Readiness Assessment

Maryland and Delaware from each State's perspective in readiness for ACA implementation

Preparing for the new complexities in billing in order to receive maximum compensation

The importance of board member preparation and participation in the new healthcare paradigm

(10) The National Walking Summit

When: October 2-3, 2013

Kaiser Permanente and other national partners are hosting a national Walking Summit in DC. The Summit is being designed and supported by dozens of partner organizations -- to advance the mission of Every Body Walk! to get Americans up and moving. By focusing on walking and walkability, we seek to get more people walking (behavior and culture change) and, to increase the supply of safe places to walk (environmental, practice and policy change.) The complementary benefits of more walking and more walkable places accrue to improved health status, reduced costs, workforce and school wellness, economic development and placemaking, the environment, equity/access, academic performance, safety and security, social connectivity, and more. Click here for more information and to register today!

(11) 27th Annual AIDS Walk Washington October 26, 2013 Freedom Plaza

The 27th annual AIDS Walk Washington will be held on Saturday, Oct. 26, at Freedom Plaza. Activities begin at 7:00 am. The 5K timed run begins at 9:15 am with the Walk stepping off at 9:20 am. Click here to register, donate or volunteer.

(12) Uniform Data System (UDS) Training 2013You are here

December 4th, 2013 8:00 AM -

4:00 PM

9784 Martingham Circle
St. Michaels, MD 21663

Aimed at those who are responsible for gathering and reporting the data elements.

The Uniform Data System (UDS) in-person training is a full day program covering the preparation of the 2013 UDS Report. The training addresses each of the tables, including a discussion of the changes that have been made and the definitions necessary to complete the reports. The UDS training is aimed at those who are responsible for gathering and reporting the data elements included in the UDS report, as well as management and clinical staff who need to understand the definitions and concepts used.

Policy, Advocacy and Legislation

More than 2 million kids in the U.S. are born with multiple chronic illnesses that often require frequent trips to the hospital, and the number of medically complex kids is growing about 6 percent a year. Medicaid usually steps in to help pay, but that can create logistical problems for families.

Insuring Your Health columnist Michelle Andrews helps you navigate the new insurance marketplaces that are scheduled to launch on Oct. 1.

New online insurance marketplaces will also tell consumers if they are eligible for Medicaid or the Children's Health Insurance Program.

As the nation braces itself for a shortage of primary care providers in the coming year, advanced nurse practitioners are hoping to mitigate service gaps by extending their practices and are asking the Obama administration to require health insurance providers to include their services in plans offered through new online marketplaces.

While the Affordable Care Act will expand benefits to some U.S. immigrants, those hoping to enroll in Medicaid or private insurance via online marketplaces must meet specific requirements in order to qualify. While officials have worked to streamline application processes, eligibility determination is still somewhat complicated and newly trained Assisters and Navigators will need to take extra care to help this population maneuver through the system.

When insurance marketplaces open on October 1st, consumers will have the option to choose from multiple providers offering various tiers of insurance coverage at widely varying price points. While some may be attracted to plans with the lowest premium prices, there is lingering concern that they may do so without understanding their out-of-pocket obligations above and beyond the initial premiums.

Left behind: Stories from Obamacare's 31 million uninsured

Even though an estimated 25 million Americans are set to gain access to health insurance over the next ten years, free health clinics across the country are not expecting a drop in patient volume any time soon. Largely attributable to states' refusal to expand Medicaid and the fact that undocumented immigrants are not served by health care reform, it is estimated that there will still be 31 million uninsured individuals living in the U.S. by 2023.

As part of the federal overhaul, some states have opted to expand in January this state-federal health insurance program for low income people to include Americans who earn as much as 138 percent of the federal poverty line (just under $16,000 for an individual in 2013). As a result, the new enrollees will include more white, male and healthy individuals than those eligible before the Affordable Care Act expansion, according to a study in the Annals of Family Medicine.

The federal government is spending millions of dollars to promote health care coverage via new marketplace exchanges, but with only a few weeks left until their debut.

More than two dozen call center operators took their places in neat rows of private cubicles in numerous states this week, providing the first official link between consumers and the state's new health insurance exchange.

The Obama administration is planning to spend $8.7 million encouraging people to enroll in new health insurance options under Obamacare, Sen. Marco Rubio (R-Fla.) said Tuesday. Rubio criticized the expenditure, which comes as he and a handful of other conservative Republicans are threatening a government shutdown over funding to implement the healthcare law

Officials overseeing Delaware's implementation of the federal health care reform law still don't know what residents will pay for health care coverage under a new state health insurance exchange. Officials expect to begin enrolling some 35,000 people in the health insurance exchange starting Oct. 1, for coverage effective Jan. 1, 2014

STATE READY TO GUIDE UNINSURED DELAWAREANS THROUGH ENROLLMENT ON THE HEALTH INSURANCE MARKETPLACE BEGINNING OCT. 1

Less than a month before Delaware's Health Insurance Marketplace opens for enrollment, state officials and community organizations said they are ready to begin the historic program to provide uninsured Delawareans greater access to affordable health care.

Delaware Health and Social Services Secretary Rita Landgraf and Insurance Commissioner Karen Weldin Stewart were joined today at a kickoff event for the marketplace by representatives of the four community organizations who will guide individuals, families and small business owners through the enrollment process. As part of the Affordable Care Act signed into law in 2010, each state must establish a marketplace - formerly known as an exchange - for individuals who don't have access to affordable health insurance through work or some other means. In addition, small business owners can shop for plans for their employees through the Small Business Health Options Program (SHOP). Enrollment for individuals and small businesses will begin Oct. 1. Information about the marketplace is available at www.ChooseHealthDE.com, the state's official marketplace website, which is also available in Spanish.

Advertising and Outreach Campaign Launched


Maryland Health Connection launched its statewide advertising and outreach campaign today designed to inform consumers about the importance of health coverage, access to health plan choices and the financial assistance available when the marketplace opens in October. The multi-media campaign includes:

The campaign will focus on general awareness throughout September and then on enrollment during the open enrollment period from October 1, 2013 through March 31, 2014. Check out some of our ads here

.

Outreach and Partnerships

Maryland Health Connection is forming key partnerships around the state to help reach uninsured Marylanders where they work, shop and play to inform them of their new health insurance options coming in October. We are pleased to announce partnerships with Giant Food and CVS!

Giant and CVS will provide information on health insurance for consumers at their 270 stores statewide. They will also host events and our Connector partners will be on hand to answer questions about how to access affordable health insurance.

Consumer Support Center Now Open

Maryland Health Connection's consumer support center is now open. For information on Maryland Health Connection and what is coming in October call our toll-free number at 855-642-8572 or 855-642-8573 for TTY services. The support center is open Monday through Friday, 8 a.m. to 6 p.m. Hours of operation will be extended during open enrollment.
The budget woes are afflicting, among others, state governments, American Indian tribes, military contractors and cancer research laboratories. Budget experts said that the short-term concerns over next year's dollar figures were already hampering long-term planning and making government officials hesitant to commit to big projects or to hire needed employees. In an interview, Dr. Francis Collins, the director of the National Institutes of Health, called 2013 the "darkest ever" year for the agency, whose budget is at its lowest inflation-adjusted appropriations level in more than a decade. The agency has been awarding grants to an increasingly smaller sliver of applicants as well
The Affordable Care Act is a complex piece of legislation. How complicated? The Internal Revenue Service has just launched a separate website, irs.gov/aca, to help explain it. The site is worth perusing, especially if you make a lot of money or run a business. Otherwise, if you can remember three key numbers about the new law, also kno
wn as "Obamacare," that should go a long way toward simplifying things. Those numbers are $125,000, $200,000 and $250,000.
With new federal rules and mandates, you'd think that health insurers would be beating the loudest drum in the repeal-the-Affordable Care Act band. But they're not, and there are a couple of reasons why.
DELAWARE UPDATE
Delaware: State Launched Marketplace Enrollment Campaign
On September 2,
Delaware launched its marketplace enrollment campaign
in advance of the open enrollment period for its partnership marketplace. The campaign is a coordinated effort between the Department of Insurance, Department of Health and Human Services, and community organizations. Earlier this summer, Delaware awarded grants to four community organizations to develop marketplace guides to assist with the campaign and the federal government awarded a $550,000 grant to Chatman, LLC to operate a navigator program to enroll Delawareans in to coverage. The State hopes to enroll up to 35,000 individuals in the marketplace during the first year once enrollment begins in October.
MARYLAND UPDATE
Maryland: Marketplace Launched Advertising a

nd Outreach Campaign
Lieutenant Governor Anthony Brown and Maryland Health Connection (the state-based Marketplace operated by the Maryland Health Benefit Exchange)
announced the launch of a $2.5 million advertising and outreach campaign for the Marketplace
. The advertising campaign will include television, radio, print, and out-of-home advertising; much of the content
has been made available on the Maryland Health Connection website
. "Maryland Health Connection's campaign aims to connect with all Marylanders who are living without health insurance," said Rebecca Pearce, Executive Director of the Maryland Health Benefit Exchange, in a press release. "The campaign is an integral part of our efforts to inform and energize up to 800,000 uninsured Marylanders to learn about their about health insurance options starting this October."
The campaign will include partnerships with the Baltimore Ravens, Giant Food, and CVS Pharmacy. Kaiser Health News reported that Maryland Health Connection will place ads on the Ravens website and Facebook page, as well as its Gameday television show. The Marketplace will not be promoted through stadium announcements or player endorsements as part of the partnership. "It's a media partnership," said Danielle Davis, Director of Communications, Outreach and Training for the Maryland Health Benefit Exchange. "It doesn't include the players. It's really with the Ravens organization." A Ravens spokesman said, "This is an advertising package purchased by a state agency, much like we have business associations with the Maryland Lottery and the Maryland National Guard."
Grants & Funding Opportunities
Debunk the Myths: Grant Application Video Series
Federal grants can be excellent funding opportunities for your project, but not understanding the process can lead to a great deal of frustration.
This video
series will debunk common myths and assist you with your grant applications.
FY 2014 Service Area Competition (SAC) Technical Assistance
Service Area Competition - New, Competing Continuation, and Supplemental (HRSA-14-021, HRSA-14-022, HRSA14-023, HRSA-14-024, HRSA-14-025, HRSA-14-026, HRSA-14-027, HRSA-14-028)
Through the Service Area Competition (SAC), HRSA will award approximately $468 million in funding to an estimated 310 SAC applicants. A SAC application is a request for Federal financial assistance to support comprehensive primary health care services for a competitively announced underserved area or population. All available service areas (see below) are currently served by Health Center Program grantees whose project periods are ending in FY 2014.
Application Deadlines
| | | | |
| --- | --- | --- | --- |
| Project Period Start Date | HRSA Announcement Number | Grants.gov Deadline (11:59 PM ET) | HRSA EHB Deadline (5:00 PM ET) |
| November 1, 2013 | HRSA-14-021 | July 24, 2013 | August 7, 2013 |
| December 1, 2013 | HRSA-14-022 | July 31, 2013 | August 14, 2013 |
| January 1, 2014 | HRSA-14-023 | August 14, 2013 | August 28, 2013 |
| February 1, 2014 | HRSA-14-024 | September 11, 2013 | September 25, 2013 |
| March 1, 2014 | HRSA-14-025 | October 9, 2013 | October 23, 2013 |
| April 1, 2014 | HRSA-14-026 | October 30, 2013 | November 13, 2013 |
| May 1, 2014 | HRSA-14-027 | December 4, 2013 | December 18, 2013 |
| June 1, 2014 | HRSA-14-028 | January 8, 2014 | January 22, 2014 |
*Please click on the title for more information regarding the various grants.
AHRQ Disseminating Patient Centered Outcomes Research to Improve Health Care Delivery
Application Deadline: September 27, 2013
Grants to leverage the capacities of existing broad-based networks of providers and other key stakeholders to disseminate and implement existing evidence for improving the quality of care delivery. Spread of evidence to support change in care delivery requires coordination, buy-in and active participation by diverse providers across multiple settings of care, collaboration with other key stakeholders (including payers and consumers) who are instrumental in shaping care delivery, and adaptation of interventions to local conditions. In recognition of these well-documented challenges and needs, this funding opportunity requires that applicants represent existing networks of providers and other stakeholders that have the knowledge, on-going relationships, expertise, infrastructures, past experience and understanding of local needs and constraints to maximize buy-in, collaboration, and appropriate adaptation to local conditions.
Bureau of Primary Health Care Loan Guarantee Program
Application Deadline: Applications accepted on an ongoing basis
Loan program to Section 330 health centers to obtain a loan guarantee for the financing of a medical facility construction, renovation and modernization.
Has your FQHC joined the
National Branding Campaign?
With more than 43 billion people eligible to enroll in private insurance starting this October 1, FQHCs strive to create an identifiable unifying identity for themselves. This is where the National Branding Campaign for Our Health Centers comes into place.
The campaign is a national branding effort to strengthen recognition of our Health Centers as a unified and nationwide network of quality community-based primary care providers. Initially created at the state level by the Pennsylvania Association of Community Health Centers (PACHC) and its membership, the National Association of Community Health Centers has expanded the campaign nationwide.
The FQHC Brand Components
MACHC recently hosted a Branding Webinar for MD and DE Health Centers with CEO of PACHC, Cheri Reinhart and Event and Communications Coordinator, Kirsten Keyes, as guest speakers. If you missed the webinar and would like access, please click here.
*MACHC will bring back Cheri Reinhart, CEO of Pennsylvania PCA present and lead a workgroup during MACHC's Annual Conference on Thursday - September 19, 2013!
Health Observances This Week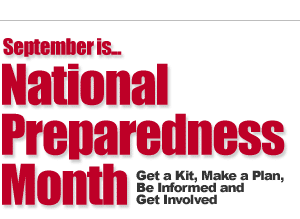 September is National Preparedness Month!
The Federal Emergency Management Agency (FEMA) has developed a handy Toolkit for 2013 National Preparedness Month. This online kit contains a variety of documents and resources that you may find useful in promoting preparedness among staff at your healthcare facilities. There are messaging tools and tips; social media and online resources; images, logos and presentation templates; and information to address certain populations, including seniors and those with access and functional needs.
To access the toolkit, visit FEMA's National Preparedness Community site: http://community.fema.gov/connect.ti/readynpm/view?objectId=3200688
4319 Forbes Blvd. Lanham, MD 20706
|
www.machc.com
| 3

01.577.0097

Copyright © 2013. All Rights Reserved.