Fairmont Family Night @ Angels Stadium
Friday, May 3rd, 2013 @ 7:05 pm
Anaheim Angels vs. Baltimore Orioles
Tickets $20 each in Left Field Pavilion
Come on out and have a hot dog with Fairmont families. Tickets on sale now. Please fill out the order forms and return payment to Mrs. Jonna Powell in Room 205. See you at the ball park!
Spring 2013 Extra-Curricular Classes
Save Your Box Tops
How to earn cash for our school:
Clip Box Tops - Find Box Tops on hundreds of products. Each Box Top is worth 10 cents to our school.
Send Box Tops to School - Turn in your Box Tops. Our school will collect the Box Tops and send them to the Box Tops for Education.
Our School Earns Cash - Twice a year, Box Tops will send our school a check worth 10 cents for each Box Top redeemed, up to $20,000.
Next Collection Date: Friday, April 19th - Next Week
North Tustin Parent Association Events
NTPA Meeting - Monday, April 15th at 8:30 am on campus
Parent Mixer - Thursday, April 18th at 8:00 am at Lost Bean
Fun Run - Thursday, May 2nd at 8:00 am on campus
"The NTCPA thanks all of the following Fun Run 2013 t-shirt sponsors for their generous support,

Fun Run t-shirts will go on sale next week!"
GOLD SPONSORS
The Ahmed Family - Farmers Insurance
The Alfaro Family
Nadia and Kamran Ansari
D.J. Callahan - Everett Callahan Insurance
Rick & Barb Kagasoff
Little Smiles of Orange County - Dr. Harvey Lee
Anika Nielsen and Family
The Pirzadeh Family
The Rosenblum Family
The Sheetz Family
The Toubia Family
Winston Verdult- Winston's Estate Gallery
SILVER SPONSORS
Natalie Asghar
Nicholas Asghar
The Coffey Family
Param D.
Diamond Gloves
Industrial Orthopedics Spine & Sports Medicine
Jackson Financial Management
Ara Mehran and Family
Open System Imaging
Paige S.
Nickon and Keyon Sabahi
Schafer Law Firm, P.C.
BRONZE SPONSORS
Ms. Anderson's Kindergarten Class 2012-2013
John Lawrence Bouyer/ John C. Bouyer, Co. - Flooring
Ashley Bridenbecker
Brad Bridenbecker
The Bulowski Family
Ting and Matthew Chuang
Brandon Chun
Create & Personalize Your Keepsakes
Vlasi Dritsopoulos
Deniz Inel
Defne Inel
The Lin Family
Mrs. Martinez's Kindergarten Class 2012-2013
The Norman Family
David Pham
Pistone-Pirzadeh Law Office
Andrew S.
Ethan S.
Joshua S.
Arjun Singh
Sofia Villacorta and Family
Driving Safely
For safety reasons, we want to give you a couple of reminders about driving on or around the campus.
1) Please drive slowly in all the parking lots, church and school. There are young children here who do not always look before moving across a line of traffic. As adults, you need to use caution when driving around the school.
2) Please observe all posted traffic laws so as not to disrupt non-school traffic flow. We have had some complaints about parents not observing posted traffic signs.
3) Please do not leave your vehicle unattended in the red zone in front of school. We use this as a our car loading area and unattended vehicles disrupt the traffic flow.
Thank you for keeping our children safe!
Pennies For Patients
The North Tustin Campus will be collecting Pennies for Patients for the next two weeks, Monday, April 15th - Friday, April 26th. Pennies for Patients is about donating change to make a difference. All students will bring in loose change to place in the classroom collection box. On the last day, Friday, April 26th, all the collection boxes are sent in to the Leukemia & Lymphoma Society. All donations are greatly appreciated, and we thank you for working together to help fight cancer.
Fairmont Summer Programs 2013
"Once Upon A Time"
Hear Ye! Hear Ye! The Fairmont Summer Programs is accepting
applications for all the lords and ladies of the kingdom! Sign up before April 30th to receive a 10% discount on summer school and summer camp.
Preschool-8th Grade:
High School:
Space is limited for Summer School and Camp at the North Tustin campus. Sign up today!!
Parent Surveys Coming Soon
We look forward to hearing your feedback in our annual parent survey! This year, we have opted to run our surveys a bit later in the spring and to use a new survey provider to make the process more streamlined. Please look for more communication regarding the survey in the upcoming weeks.
April Lunch Menus
Feature Article

Student Led Conferences at North Tustin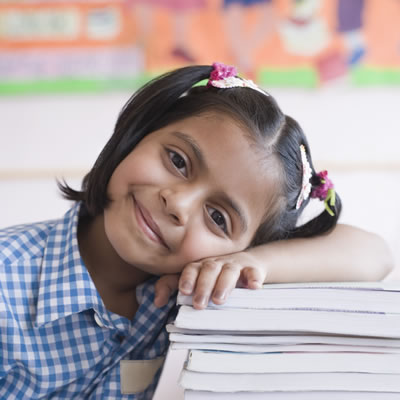 The North Tustin Campus will be having Student Led Conferences starting next week. For students in kindergarten to 5th grade, please sign up for a student led conference with your child's teacher. Please look for a sign-up sheet posted outside your child's classroom.
For students in junior high, there will be two formally scheduled times for Student Led Conferences on April 25th. These times are 7:30 a.m. to 8:50 a.m. and 2:30 p.m. to 3:30 p.m. The conferences will take place in Allison Hall. If you are not able to make one of these two times and you wish to have a Student Led Conference, you may arrange another time with your child's homeroom teacher.

Student Led Conferences help put students on "center stage" and take more responsibility for their academic achievement, self-discipline, and physical well-being. Student Led Conferences reflect the belief that students should be actively involved in their learning and assume responsibility for the learning process. We look forward to seeing you at the Student Led Conferences to celebrate your child's growth and learning!
Monday, April 15th
DSL Soccer vs. Anaheim Hills
Co-ed 3:00 pm
Tuesday, April 16th
JH Soccer vs. TVT
Girls 2:30 & Boys 3:30 pm
Wednesday, April 17th
DSL Soccer @ Oakridge
Co-ed 3:00 pm
Important Information:
Save the Date - JH Sports Banquet, Tuesday, May 7th at 6-8 pm
North Tustin Campus, Allison Hall
Dates to Know
Friday, April 12th
2nd Grade Spelling Bee 9:30-10:30 am
Monday - Friday, April 15th - 19th
Week of the Young Child
Monday, April 15th
Eagle Express Coffee at Back Gate 8:00am
North Tustin Parent Association Meeting at 8:30 am
Pennies for Patients Begins
Used Uniform Giveway at Back Gate
Thursday, April 18th
North Tustin Parent Association Parent Mixer at Lost Bean 8 am
Friday, April 19th
Box Tops Due
3rd Grade Spelling Bee 9:30-10:30 am
Saturday, April 20th
MSPDP Debate Championship in Claremont
Monday, April 22nd
Earth Day - Wear Green
Travel Week Parent Meetings at 6 pm
Tuesday, April 23rd
School Bus Driver Appreciation Day
1st Grade Musical at 12 pm
7th Grade Fun Day at the Prep