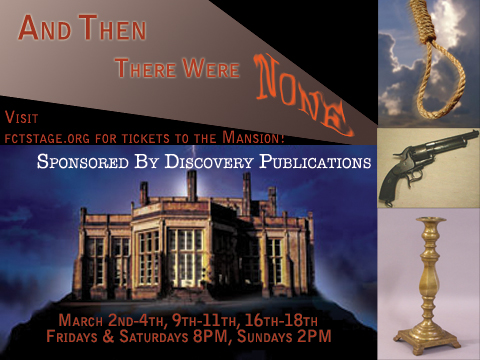 Classic Whodunit Aims to Puzzle FCT Audiences
By Dixie Walters
Murder and intrigue take center stage at the Fauquier Community Theatre in March, as Agatha Christie's classic whodunit, "And Then There Were None," makes its debut.
The action begins after 10 strangers, apparently with little in common, are lured by a cryptic invitation to an island mansion off the coast of Devon in England. Theatergoers soon learn that all the guests have a guilty secret in their past and that someone with murderous intent plans to make them all pay for what they've done. It's not long before the guests begin to die, one by one. Just as startling, their deaths mirror a nursery rhyme they are introduced to that hints at how they'll each meet their demise.
Even more puzzling than the methodical deaths is the question of who the murderer is; that question should keep even the best amateur sleuths perplexed until the surprise ending.
"When people come to see the show, they really need to be paying close attention because we'll be throwing curves to the audience, and there are clues sprinkled all the way through," said Scott Olson, the play's director, who notes that even the poster for the play contains a clue.
Minor aspects of the story have been changed up, allowing FCT to add its own flavor to the mystery. "So even those who know the script may be surprised," Olson said.
A Unique Offering
A murder mystery is unique to the Fauquier Community Theatre lineup this season. The theater's other offerings have included musicals, a comedy and a Christmas play. The genre has presented its share of directorial challenges in that "a lot has to happen on a small stage," said Olson. Specifically, characters fall dead on stage, and the other actors have to work around them.
Cast members include Sam Reau, Carolyn Cameron, Marc White, Kirsten Burt, Brandon Dawson, Andrew Buning, Gary Parsons, Ken Clayton, Lori Muhlstein, Leland Shook & Evan Jones. The producer of the play is Evelyn Rice.
Each character has a back-story that is revealed as the show goes on, adding "mystery on top of mystery," said Olson. "One of the characters is not exactly what they seem to be," he notes. "And if the actors do their jobs right, the audience will determine that."
Olson plans to add to the play's eerie quality by using a projector with special effects to create the backdrop for the action, rather than relying on a more traditional set.
A Christie Favorite
"And Then There Were None" is adapted from Christie's best-selling novel of the same name. It may be her most famous work and, by the author's own acknowledgement, it was one of her favorites.
According to Christie's own words on the official Agatha Christie website: "I had written the book because it was so difficult to do that the idea had fascinated me. Ten people had to die without it becoming ridiculous or the murderer being obvious. I wrote the book after a tremendous amount of planning, and I was pleased with what I had made of it. It was clear, straightforward, baffling, and yet had a perfectly reasonable explanation; in fact, it had to have an epilogue in order to explain it. It was well received and reviewed, but the person who was really pleased with it was myself, for I knew better than any critic how difficult it had been."
The play runs March 2-18. Curtain time on Friday and Saturday nights is 8 p.m. and 2 p.m. on Sundays. Tickets range from $13 (students and senior citizens) to $15 (adults) and can be purchased and printed online at fctstage.org or by calling 540-349-8760. A combination dinner/theater ticket ($35/$33) that includes a post-matinee meal at The Inn at Vint Hill is also available on March 11. FCT wishes to thank Discovery Publications for their sponsorship of this 9 performance run production. FCT wishes to thank Discovery Publications for their sponsorship of this 9 performance run production.