The ATL is the Place to Be on July 4th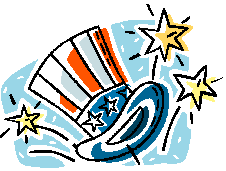 For an unforgettable July 4th, stay right here in Atlanta. Atlanta restaurants are celebrating Independence Day in a big way!
A band and brew jumpstart July 4th activities on the night of Wednesday, July 3 at Atkins Park Restaurant & Bar in Virginia-Highland. Favorite house band Homefront cranks it up at 10 p.m., and specials on local Monday Night Brewing beers slake thirsts. On July 4th, Atkins Park hosts its Sixth Annual Go Whole Hog or Go Home Fourth of July party where, for $15, guests can chow down on a meat and three sides for lunch or dinner. Backyard Beer Olympics start up at 3 p.m. Teams of two compete in Ping-Pong, ladder toss, cornhole and darts. It's free to compete, and more than $500 in prizes will be awarded to the "athletes." Reservations: 404-876-7249.
Chicken lovers can enjoy
Bantam + Biddy
this Fourth of July. The $42 family pack is perfect for parties, and serves 3 to 5 hungry folks. The take-out-only meal offers the choice of a whole rotisserie chicken, meatloaf or herb-roasted pork loin served with a family-sized organic green salad with choice of dressing, jalapeno cheddar bread (gluten-free bread upon request +$3), three family-sized sides and a half-gallon of fresh brewed tea. Please allow 30 minutes to prepare. No substitutions. To order call: 404-907-3469.
For those firing up the grill this holiday, the Fire & Flavor line of John Wayne rubs and charcoals are the perfect addition to any meat or seafood. The all-natural, gluten-free rubs create authentic flavor using only the highest quality ingredients and spices. Preparing the meats over John Wayne briquette charcoal made from all-natural oak and hickory wood creates ideal flavor. For more information or to make a purchase, call 1-866-728-8332.
The Peachtree Road Race isn't the only game in town on July 4th -- downtown's Game-X has all the flash of Pac Man Smash, NBA Hoops and other gaming excitement. Drinks for both the under- and over-21 set and finger foods such as dead heat hummus and wings of fortune are available all day. After dark, watch fireworks from the new SkyView Atlanta Ferris wheel in downtown's Luckie Marietta District. Information: 404-525-0728.
Gunshow is offering barbecue-to-go packages for four, filled with Southern classics. Dishes include a quart of whole hog pulled pork and a quart of Brunswick stew, a pint of coleslaw, eight buns, dill pickles, saltine crackers and cookies. The cost is $50 plus tax, and diners can reserve by Saturday, June 29 to guarantee pickup between noon and 3 p.m. on Thursday, July 4. A few extra packages also will be available at the restaurant, but reservations are highly recommended to ensure a barbecue feast on the Fourth. For information and reservations, visit online or call 404-380-1886.
Marlow's Tavern is offering guests more than just a day of celebration this season. From Tuesday, June 18 through Monday, July 29, a selection of patriotic plates, hand-crafted cocktails and local brews are available to diners. During these six weeks, the "Red, White and Brew" menu celebrates summer in the good ol' U.S.A. with star-spangled dishes and beverages, like the beach house bruschetta and the summertime watermelon margarita. The restaurant also is hosting the Fourth Annual Marlow's Tavern Grilling Recipe Contest during this time, where grill-masters can submit their best recipe for a chance to win a Big Green Egg and other great prizes. For more information and to enter the contest, visit marlowstavern.com.
An easy-going fourth is in store for guests at No. 246 in downtown Decatur. Ping-Pong in the backyard, drink specials, and lunch menu pizzas, salads and sandwiches from 11 a.m.-7 p.m. set the tone. Reservations: 678-399-8246.
Rise and shine, Midtown hot-spot Olmsted is pouring bottomless mimosas and bloody marys for $14 to celebrate America and the Peachtree Road Race. Order off the a la carté menu beginning at 7 a.m. Reservations: 404-443-8431.
Glenn Hotel guests can view the fireworks at Centennial Olympic Park from the hotel's rooftop when they purchase the hotel's special Red, White & Boom package for $169. The package includes a deluxe room for the night and two access passes to the rooftop. SkyLounge delivers that fireworks view with sparkling drinks and tasty appetizers. Information: 404-531-2250
Ventanas and Q100 team up for a night full of music, food and drinks. The $26 ticket includes delicious hors d'oeuvre and a complementary well drink. A/C keeps the dance floor guests cool (even with a hot DJ). Look outside -- the fireworks are at eye level! Purchase a Ventanas ticket and receive a $10 play card to use at Game-X before the event from 5-7 p.m. Information and tickets are available online or by calling 404-766-3867.
A Southern-inspired Fourth of July menu wouldn't be complete without fresh, organic peaches from Watsonia Farms. Watsonia Farms products are available at local farmers markets and add sweet, juicy flavor to sides and desserts for holiday parties. For information on Watsonia Farms, visit watsoniafarms.com.
Grill-masters can stock up on meats from White Oak Pastures for Fourth of July cookouts. Ordering meats from White Oak Pastures ensures the highest quality meat and flavor. Free-range beef, poultry, lamb and pork are available for shipping to complete the holiday. For information and details on ordering, visit whiteoakpastures.com.
Woodfire Grill
can't wait -- their "BBQ & Beer" party comes on Wednesday, July 3 from 5:30-11 p.m. For $38, guests dive into a barbecue feast framed by skillet cornbread, southern sides and peach cobbler with vanilla ice cream. Buy SweetWater 420 draft for $6 each; proceeds benefit the "Save the Hooch" campaign. Reservations: 404-347-9055.