ABOUT THE DISH
Looking for the latest restaurant openings, weekly wine tastings and drink specials or other culinary happenings?
Whatever makes your mouth water,
Melissa Libby & Associates
will point you in the right direction.
up-to-date on new and ongoing restaurant events around Atlanta!






The Mill Kitchen & Bar Keeps Kids and Adults in Mind with Weeknight Specials
Here's some parental guidance for moms and dads looking for a kid-friendly dining deal. At The Mill Kitchen & Bar in Roswell, children 12 years old and under eat free from the kid's menu on Tuesday nights from 5-8 p.m. with the purchase of an entrée from the regular menu. Tyke-tempting menu options include a mini burger made from White Oak Pastures grass-fed beef and served with American cheese on a brioche bun; Ashley Farms hormone- and steroid-free chicken fingers with honey mustard; fried Georgia shrimp; mac and cheese; grilled American cheese on buttered challah; a PB & J made from organic peanut butter and house-made jam on crustless challah; and buttered noodles with Parmesan. Mouthwatering full-sized entrées include options such as fried Ashley Farms chicken with cast iron-baked mac and cheese and local greens; Georgia shrimp and Alice's Red Mule Gouda grits; barbeque Niman Ranch pork belly served with not-yo-mama's potato salad and creamed green beans; and seared trout with a creamy cornmeal cake and a radish and micro green salad ($17-$24). Those who can't make up their minds should go back Wednesday night for another special - half-off on select bottles of wine. And every day, every night, Chef Ben Castro draws upon local farms, ranches and artisans for sustainably raised meats and organic fare.
Ride the Next Big Wave to The Big Ketch
Patio Party on June 20
On Thursday, June 20, the closest beach-y property to Atlanta may be at The Big Ketch Saltwater Grill in Buckhead. The laid-back seafood grill is hosting a flip-flop perfect patio party from 5-9 p.m. and is offering complimentary oysters for partygoers from 5-7 p.m. Throughout the event, $3 Sol beer and $5 glasses of Montevina pinot grigio help your hard-earned "sand" dollars go further -- and there's no cover charge. Live music? Shore 'nuf.
Catch "The Baseball Show" with Chipper Jones and Chris Dimino Live at STATS on June 21
Chipper Jones and 790 The Zone baseball expert Chris Dimino will broadcast "The Baseball Show" live at STATS on Friday, June 21, from 1-2 p.m. Take a seventh inning stretch from the office and slide into STATS to catch the live broadcast. Are you a fact catcher, fielding facts on our hometown baseball team and waiting for an opportunity to exercise your skills in a major league trivia contest? Well then, hunker down for the afternoon at STATS or return that evening from 5-7 p.m. to go up against Dimino to score prizes in a baseball trivia blowout.
Snag Lunch for $10, Dinner for $20 at Marlow's Tavern during Dunwoody Restaurant Week,
June 22-29

Eat well with $10s and $20s at Marlow's Tavern in Dunwoody Village during Dunwoody Restaurant Week, Saturday, June 22 through Saturday, June 29. The special prix fixe lunch menu offers two courses for $10. Start with your choice of either Peking duck sliders or firecracker shrimp. Then, pick one of two "Tavern Favorites"-- the black and blue steak salad with grilled beef tenderloin and creamy Gorgonzola dressing or shrimp and grits with white cheddar grit cake, spinach, Roma tomato, shallot and roast tomato beurre blanc. Come dinner time, $20 buys three courses from the prix fixe dinner menu. Begin with shrimp and crab nachos, Peking duck sliders or firecracker shrimp. Move on to your choice of crispy brick chicken boasting grilled chicken with summer ratatouille and kale pesto piccata; black and blue steak salad or shrimp and grits. Wrap up the meal with house-made crème brûlée or "ice-box" Philadelphia cream cheese cake swirled with Nutella in an Oreo cookie crust. Such a deal! Sorry, reservations are not accepted.
People's Fest Food and Music Festival Rolls into Atlantic Station June 22
This party is taking it to the streets! On Saturday, June 22, People's Fest 2013 will fill Central Park at Atlantic Station with live music, a food festival and People's Food Truck, which is on its way to providing "feel good food" to Atlanta and sustaining life-giving programs through City of Refuge. People's Fest opens with a 4-6 p.m. VIP event hosted by Shaun Doty of Bantam + Biddy and soon-to-open Chick-a-Biddy. There's also live music provided by Ben Deignan, food tastings and drinks, a cook-off contest and a sampling of fare from the People's Food Truck menu. Additionally, VIP guests are privy to a VIP viewing area with food and drinks for the night's concert featuring Marc Broussard, Sonia Leigh, Ben Deignan and Jameson Elder. At 6 p.m., general admission opens for the concert and food festival. General admission tickets are $25 each in advance and $35 each at the door; VIP tickets are $125 each.
Seven Lamps Hosts Rum Party on June 24
Seven Lamps is celebrating summertime with a rum party on Monday, June 24 from 8-11 p.m. Guest bartenders serve up rum-infused drinks and punches, and a special menu will be served. Hula-hoop, limbo and costume contests provide entertainment throughout the evening. This event has free entry. For more information, call the restaurant at 404-467-8950.
Bantam + Biddy Summer Festival Struts Out Farmers Market, Music and Games in Ansley Mall Courtyard on June 23
Escape from the home coop and flock to the Bantam + Biddy Summer Festival in the courtyard of Ansley Mall on Sunday, June 23 from 10 a.m.-4 p.m. Shop the farmers market for local products from vendors such as Tiny Buffalo, Miller's Artisan Sodas and Frozen Pints. Soak up culinary skills watching demos by co-owners Shaun Doty at 11 a.m. and Lance Gummere at 2:30 p.m. Games and face painting will amuse children, and the band Christ, Lord performs for all from noon-4 p.m. This is a cash-only event. Yes, Bantam + Biddy will be open from 8 a.m.-9 p.m. offering a menu slam full of locally and regionally sourced all-natural ingredients in a friendly fast-casual and air-conditioned setting.
Really Dine Out: Milton's Cuisine & Cocktails in Historic Crabapple Hosts Moonlight
Garden Dinner in the Garden
Only the scarecrow stands closer to the source of garden-fresh pickings for the Moonlight Garden Dinner hosted by Milton's Cuisine & Cocktails in Crabapple's Historic District on Sunday, June 23. Gather for a 5 p.m. reception including passed hors d'oeuvre, beverages and a tour of Milton's Acre and Strawberry Fields. The tour primes guests for what comes next: a four-course dinner with wine pairings at a table set up in the Acre. Executive Chef Derek Dollar's menu incorporates items from Milton's Acre and includes a colored baby romaine salad with teardrop tomatoes, roasted pistachios, goat cheese and white balsamic vinaigrette; pan-seared diver sea scallop with heirloom tomato and purple basil risotto; smoked leg of beef, spring Vidalia onions, braised carrots, roasted asparagus, mushroom and bacon bordelaise; and a sweet conclusion of buttermilk and Strawberry Fields panna cotta. As the menu relies on the garden harvest, dishes are subject to change. $79 per person. A non-refundable $95 deposit is required when booking a reservation, which includes tax and gratuity. Call 678-431-8753 for reservations. A rain out brings a new date to the table.
Sunday Supper for Peachtree Road Farmers Market Graced by Gunshow, JCT. Kitchen & Bar, Seven Lamps and Woodfire Grill at The Cathedral of St. Philip on June 23
Farm to market to cathedral to Sunday Supper. The Peachtree Road Farmers Market (PRFM) Sunday Supper supplants grandma's menu with dishes and drinks cooked up by top ATL chefs and mixologists then serves it all up at The Cathedral of St. Philip on Sunday, June 23 beginning at 5:30 p.m. Chefs fixing supper include Kevin Gillespie of Gunshow and E.J. Hodgkinson of JCT. Kitchen & Bar. Playing counterpoint behind the bar are mixologists Arianne Fielder of Seven Lamps and Brian Stanger of Woodfire Grill. The big night of farm-fresh food and sweaty cold libations will be blessed by live music and an auction featuring an Italian castle vacation. Buy tickets ($100 each) online. All proceeds support the PRFM's Wholesome Wave program, which doubles food stamp and EBT benefits.
The Mill Kitchen & Bar Hosts Wine Dinner
on June 26
Six courses with wine pairings are in the plans for Wednesday, June 26 at The Mill Kitchen & Bar in Roswell. Chef Ben Castro's menu begins with a duo of oysters -- chickpea crusted and fried with lemon, crème fraîche mousse and micro wasabi accompanied by raw half-shelled oysters with crispy hog jowl, glass shallots and a liquid nitrogen pomegranate granita. Next up, a pasta course of country ham, butter bean and fromage blanc ravioli in a Georgia peach and thyme brown butter sauce followed by salad of seasonal baby field greens with local radishes, goat cheese-stuffed piquillo peppers and an heirloom tomato tartlet in a preserved lemon and pink peppercorn vinaigrette. Course four brings tilefish with a cornmeal and thyme dumpling, sautéed fiddlehead ferns, onion and golden raisin foam, and a salad of mixed micro greens and pickled ramps. A red meat course features lamb lollipops with basil and mint roasted Brussels sprouts, cauliflower purée, garlic and chili oil. Dessert makes sweet work of a fresh sampling of rhubarb. Each course comes paired with a complementing wine. $60 per person and $100 per couple; tax and gratuity are not included. Menu items subject to change due to seasonality. For reservations, please call 770-817-9345.
Shaun Doty and Lance Gummere Cross the Road to Atlantic Station to Open Chick-a-Biddy
on July 1
Granted, there are several busy roads and an expressway between Bantam + Biddy in Ansley Mall and the soon-to-open Chick-a-Biddy in Atlantic Station, but you catch our drift. Chefs Shaun Doty and Lance Gummere are not merely winging it by adding another dining roost to their brood. The two chefs behind Bantam + Biddy are driven by a passion to make healthy food and regional, all-natural poultry easily accessible to Atlantans. Like roost-mate Bantam + Biddy, Chick-a-Biddy will serve its lunch and dinner menu fast-casual style, and Executive Chef Scott Weaver is making sure there are plenty of items for diners with dietary restrictions. Look forward to "Itty Biddies" for small plates, "Big Ol' Biddies" entrées, "Green Biddies" or salads, plus fresh-pressed juices and smoothies and signature cocktails. Located at 264 19th Street in the space formerly housing The Grape, Chick-a-Biddy will be open Monday through Saturday for lunch, dinner and late night fare, lunch and dinner on Sunday and brunch on Saturday and Sunday. Free two-hour deck parking for diners. More on Facebook or by calling 404-588-1888.
Eat It and Tweep: We Found The Big Ketch While Beachcombing for Tweets
So you're seeking salt spray in Buckhead? The Big Ketch Saltwater Grill is just over the dune. For cocktails, daily menu specials and more, troll for tweets (@TheBigKetch) or net a full haul of info and the menu online. Also, take a peek at the slew of mouthwatering photos on Instagram.
Sample Tweet: Come get your crab fix. It's King Crab Tuesdays!! @ The Big Ketch Saltwater Grillhttp://instagram.com/p/absXnVj-F3/
Appetizing Aperture
Sushi lovers unite and roll over to
RA Sushi Bar Restaurant
to celebrate International Sushi Day on Tuesday, June 18. The Tootsy Maki pictured here is one smidge of the boatload of sushi items decking out their
signature
sushi menu and sushi
list
. Since we're talking RA Sushi, of course there's a spiffy
cocktail
to sashay along with your sushi selection.
What's New on Pinterest?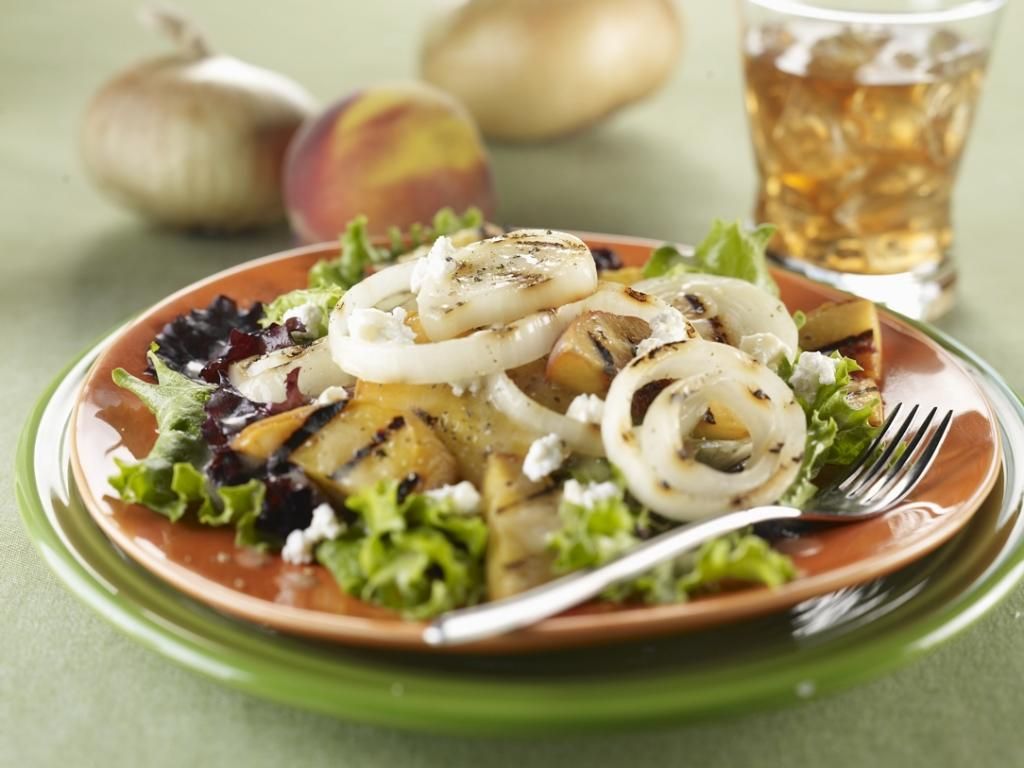 Georgia and South Carolina peaches are taking their places of honor in farm stands and produce departments across our fair region. We've waited impatiently and we're pouncing, filling bags and baskets with these sweet gems. While there's nothing sweeter than a tree-warm peach, we have pinned a peck of
Peachy Keen
ideas: Georgia peach pound cake, peach mango popsicles, grilled peaches, peach ice cream, peach margaritas and cornbread shortcake with ham and fresh peach salsa are a few that come to mind. Peach out!