Appetizing Aperture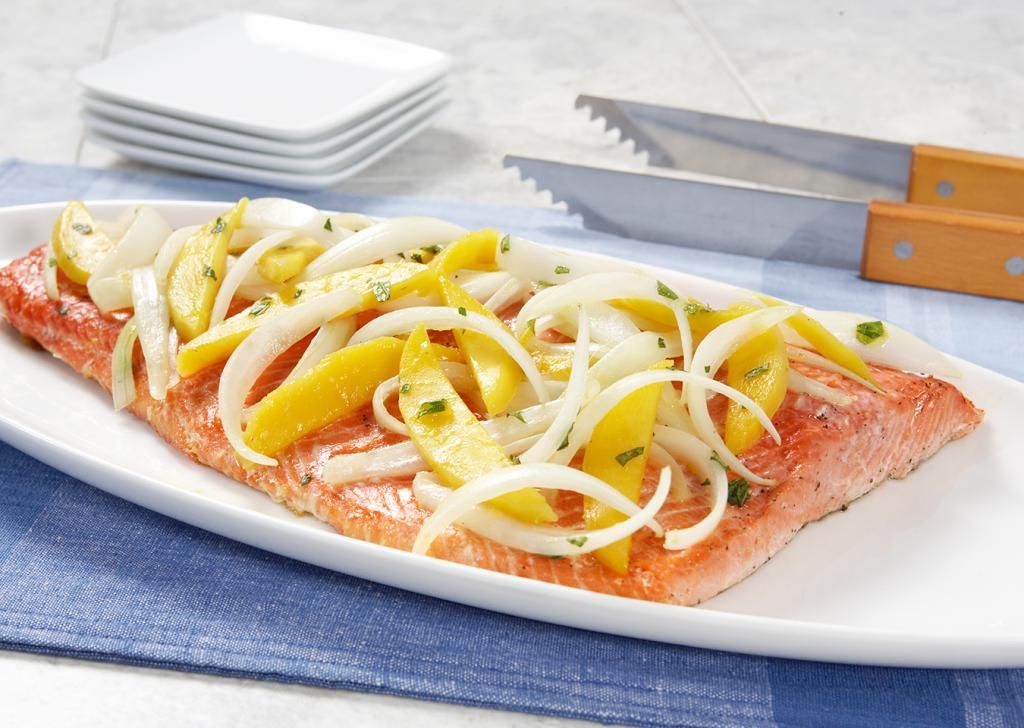 Rebecca Lang's recipe for salmon with mango, mint and Vidalia onions puts summer on a plate. Serve hot or prepare ahead and chill for breezy meals and concert-bound coolers. Serves eight.
Ingredients
2 mangos
2 Vidalia onions
1/4 cup fresh-squeezed lime juice
1 tablespoon fresh-squeezed lemon juice
1 tablespoon honey
2 tablespoons olive oil
1/2 teaspoon table salt
2 teaspoons Gourmet Garden ginger
3 tablespoons fresh mint, chopped
Parchment paper
1 (3 pound) whole side of wild salmon with skin
1 tablespoon olive oil
Salt and fresh ground pepper, to taste
Lime wedges, optional
How-To
Peel and slice mangos into 1/8-inch thick slices. Slice Vidalia onions into 2 x 1/8-inch slices (julienne). Combine in a large glass mixing bowl.
Whisk lime juice, lemon juice, honey, 2 tablespoons olive oil, 1/2 teaspoon salt and Gourmet Garden ginger in a small bowl. Pour over mango mixture. Cover and chill for one hour.
Preheat the oven to 450˚F. Line a rimmed baking sheet with parchment paper. Place salmon, skin side down, on parchment paper. Rub top of salmon with 1 tablespoon olive oil and season with salt and pepper. Cook for 14 to 17 minutes or until salmon flakes easily with a fork.
Stir mint into mango mixture. Allow salmon to cool for about five minutes. Use a slotted spoon to top salmon with mango mixture, arranging down the center of the fish. Garnish with lime wedges, if desired.