ABOUT THE DISH
Looking for the latest restaurant openings, weekly wine tastings and drink specials or other culinary happenings?
Whatever makes your mouth water,
Melissa Libby & Associates
will point you in the right direction.
up-to-date on new and ongoing restaurant events around Atlanta!






Farm-to-Table-to-Ray's on the River Wine Dinner on June 6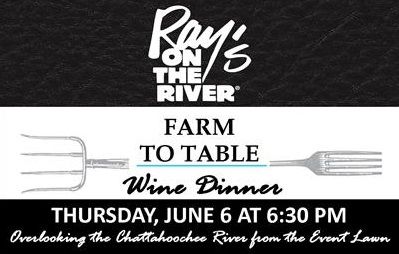 Idle away a Thursday evening on the event lawn at Ray's on the River, totally giving in to the Chattahoochee River's lull and an ideal mix of farm-to-table foods thoughtfully paired with global wines. The June 6 event begins with a 6:30 p.m. reception offering a selection of local charcuterie, Basque olive mix, Marcona almonds and grouper fritters with pimento aioli along with Piper Sonoma Select Cuvée. Grapefruit vinaigrette tops a cool salad of local greens with pickled vegetables and goat cheese fritters joined by Whitehaven sauvignon blanc. Smoked Georgia shrimp ceviche paired with Chamisal Stainless chardonnay follows. The third course brings out cedar-planked king salmon with roasted sweet fingerling potatoes, watermelon, local feta, cucumber and dill paired with Anne Amie Cuvée A pinot noir. A fourth course plates Coca-Cola braised short rib, Sweet Grass Dairy Georgia Gouda, Logan Turnpike Mill grit cake, charred Vidalia spring onions and Ashland Farms herb salad and pours Simi cabernet sauvignon. This riverside respite costs $65 per person ($60 per person for Dining Club member), not including tax or gratuity. Credit card required to hold reservations; 770-955-1187.
Old Vinings Inn Hosts Unum Wine Cellars Dinner with Featured Menu Pairings on June 6

Old Vinings Inn, a Vinings neighborhood favorite, is hosting a wine dinner featuring a special menu prepared by Executive Chef Don Diem on Thursday, June 6 at 7:30 p.m. His menu pairs perfectly with wine selections from Unum Wine Cellars. The five-course meal begins with lobster and scallop ceviche with yuzu, golden watermelon and avocado mousse paired with 2011 Unum chardonnay. The second course of prosciutto-wrapped tuna with EVOO, braised baby fennel and arugula and fresh fig vincotto drizzle is paired with 2011 Unum Crush Farm zinfandel. Oven-roasted quail with black cherry and red onion marmalade, pot likker collards and sweet corn flan is paired with 2011 District cabernet sauvignon for the third course while bitter cocoa-crusted lamb rack with butternut squash purée, spiced red wine and fava sauce pairs with 2009 Unum Reserve cabernet sauvignon. Delicious dessert includes berry granita with salted caramel dash chocolate torte paired with the 2010 Unum King of the Hill blend. The wine dinner is $80 per person, not including tax or gratuity. Credit card required to hold reservations; 770-438-2282.
Loving the Cold Shoulder Treatment at the Slow Food Ice Cream Social June 8 at
Peachtree Road Farmers Market
Scoopers, they have. Spoons, however, are a bring-your-own necessity to taste all of the frozen concoctions at Slow Food Atlanta's 7th Annual Ice Cream Social coming up Saturday, June 8 from noon-2:30 p.m. at the Peachtree Road Farmers Market. Professionals and amateurs will churn 'til they burn to crank out classic, wild or wacky flavors for tasting, including the likes of Bantam + Biddy, The Optimist, Seven Lamps and Woodfire Grill. Tickets are $15 each ($5 for ages 5 to 10 and free for the under-5-year set). Proceeds benefit the Atlanta Chapter of Slow Food International and the Peachtree Road Farmers Market.
Cornhole ATL Summer League begins June 11 at Atkins Park Restaurant & Bar in Virginia-Highland
Cornfusion is the technical term for player disagreement on cornhole scoring. And, perhaps there's a little cornfusion about whether the sport began centuries ago in Germany or over the last century in Cincinnati. All can agree that Atkins Park Restaurant & Bar in Virginia-Highland will be the place to toss cow pies, screaming eagles and jumpers when Cornhole ATL Summer League begins on Tuesday night, June 11. Now in its third year, the seven-week season throws out major excitement with playoffs, prizes, specials, T-shirts and plenty of complimentary Newcastle Brown ale after the games. Register at cornholeatl.com. May your Tuesday nights be "nothing but hole."
Set Sail for Heavy Seas Beer Dinner at
The Optimist on June 11
All hands on deck for a beer lover's adventure when The Optimist sets forth a five-course dinner and Heavy Seas beer pairing on Tuesday, June 11 beginning at 6:30 p.m. Come on deck for cocktails in the Oyster Bar then cruise into the dining room where Executive Chef Adam Evans co-captains with a Heavy Seas expert to guide guests through the various beers selected from this Halethorpe, Md. craft brewery. On the beer tasting horizon that night are Riptide White IPA, Small Craft Warning uber pils, Gold Golden ale, Loose Cannon American IPA and Holy Sheet uber abbey ale. Portage for dinner and pairings is $50 per person, not including tax or gratuity. Reservations: 404-477-6260.
John C. Metz, Jr. of Sterling Hospitality Takes Home IFMA Gold Plate Award
www.ifmaworld.com
His plate is already piled high with good stuff. But then, that's why John C. Metz, Jr. has been named the Gold Plate Award winner in the Independent Restaurant segment by the International Foodservice Manufacturers Association (IFMA). The CEO, executive chef and co-founder of Sterling Hospitality was nominated for the award by The Coca-Cola Company and Ecolab, became one of eight outstanding operator executives to receive the IFMA Silver Plate Award in February and was selected from this elite group of eight to receive the Gold Plate honor on May 20. Metz is the creator of several Atlanta-area and Florida brands and concepts including Market Street Cafe, Aqua blue and Marlow's Tavern. Father/son moment: his father, John C. Metz, Sr., received the IFMA Silver Plate Award in 1979 in the Foodservice Management category. Now in its 59th year, IFMA's Gold & Silver Plate Awards are considered the most coveted operator awards in the foodservice industry, honoring foodservice leaders who have contributed to industry advancement.
How Will You Honor Dad on Father's Day?
We Have Some Dad-elicious Ideas
He's usually the man with the plan. On Father's Day (hint, it's Sunday, June 16), surprise him with your preplanning prowess. For instance, hitch up fatherly fans of The Duke with John Wayne rubs and charcoal from Fire & Flavor. White Oak Pastures grass-fed beef and lamb and pastured poultry are natural go-to specialties when grilling enters the picture. If he's always up for a brew or two, he'll covet a Father's Day visit to Der Biergarten where he can win a membership to Der Biergarten's Stein Club and enjoy a König Ludwig platter that feeds six to eight for $70. The downtown brewpub is raffling off memberships to the Stein Club ($65 value). Let dad catch a few extra winks then treat him to a "Manly" brunch at Old Vinings Inn. Atkins Park Restaurant & Bar in Virginia-Highland gives dad Father's Day options with brunch and dinner menu specials just for him. Consider dad's window of opportunity and find the best time to take him to RA Sushi Bar Restaurant where food and drink specials flow all day long. RA Sushi's summer cocktail and entrée pairing -- watermelon kiwi shrimp ($10) and watermelon margarita ($8) -- rivals lounging in a hammock in the chill factor department.
Chefs in Georgia and New York Turn to Life in the Pastured Lane for 2nd Annual
Pastured Poultry Week June 10-16
Last year's inaugural Pastured Poultry Week was the talk of the hen house -- leading more than 50 Georgia-based chefs and 25 chefs from New York to join in this year's 2nd Annual Pastured Poultry Week spanning June 10-16. Aria, Bantam + Biddy, Chicken and the Egg, Ecco, Gunshow, JCT. Kitchen & Bar, King + Duke, Lure, The Mill Kitchen & Bar, No. 246, The Optimist, Seven Lamps and Woodfire Grill are a few of the restaurants featuring pastured poultry dishes on their menus to encourage diners to taste the difference. Scratching up a little background information, Georgia is the largest producer of factory-farmed chicken in the nation. Impressive, until realization hits that most of these birds spend their lives closely confined on factory farms focusing on fast growth through genetics and diet. In contrast, pastured poultry grows robust through active living, enjoying a sustainable lifestyle in the great outdoors that leads to superior taste and better health for their human consumers and the environment. Even when it's time for the birds to head to plates, they pass through humane abattoirs such as the ones at White Oak Pastures in Bluffton, Ga. Facts like these have led pastured poultry advocates Will Harris of White Oak Pastures and Shaun Doty of Bantam + Biddy and soon-to-open Chick-a-Biddy to get the word out and help Georgia lead the way to more viable, humane and sustainable options. We mean, why play chicken promoting better chickens? Doty includes pastured poultry dishes on his restaurant menus, and White Oak Pastures is providing pastured poultry to several restaurants serving up these flavorful birds during this focus week.
Compassion in World Farming (CIWF), a global organization working to end factory farming, and Georgians for Pastured Poultry (GPP) organize this annual awareness event. For more pastured poultry facts and a complete list of restaurants participating in Pastured Poultry Week, please visit Compassion in World Farming.
Purchase People's Fest Tickets Here
Let's party, people! People's Fest, the June 22 celebration of food and music at Atlantic Station, has another purpose: to support the life-giving programs of non-profit City of Refuge - Where Good Works! VIP entry opens at 4 p.m., and the concert begins at 6 p.m. Link up for ticket purchases online.
Eat it and Tweep: Old Vinings Inn is Not Too
Old to Tweet
Built in the 1880s, Old Vinings Inn is one of the oldest sites in quaint Vinings. Age stops there -- the place comes alive with bands, The Attic Bar, special dinners, weddings, meetings and more. Keep up with it all on Twitter (@Old_Vinings_Inn).
Sample Tweet:
This Weekend at the Vinings Inn - eepurl.com/ztvy9
Appetizing Aperture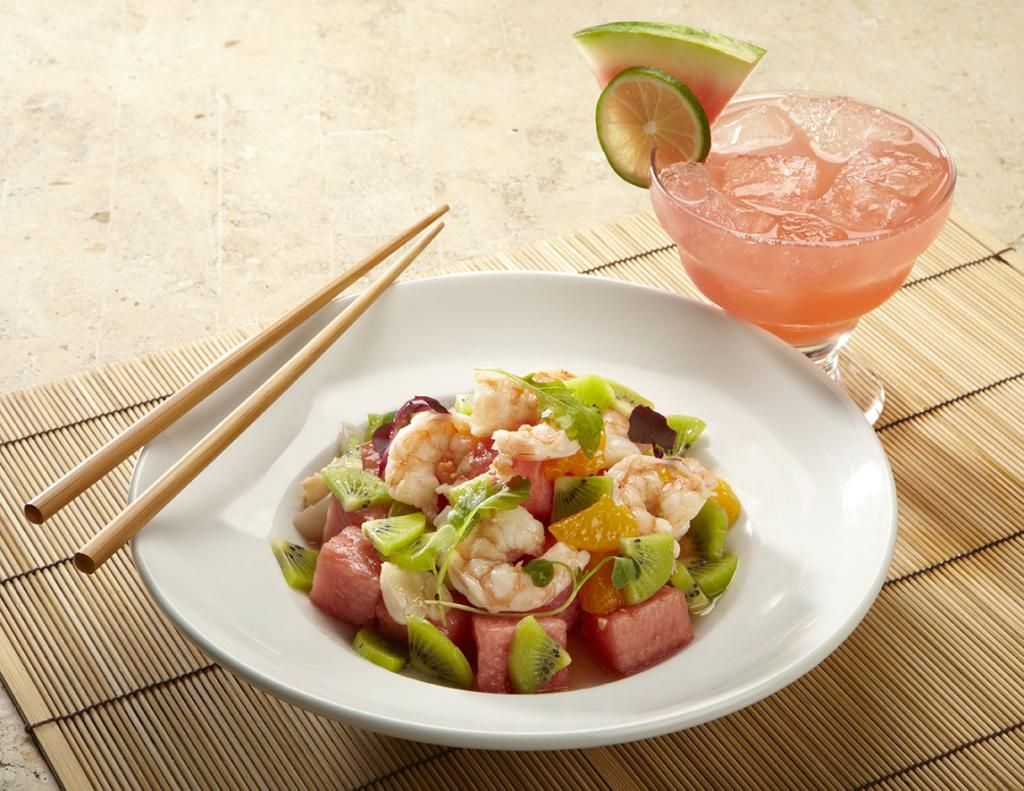 Watermelons are rolling into RA Sushi Bar Restaurant for their refreshing cocktail and entrée pairing ($18). Watermelon kiwi shrimp piles shrimp atop layers of watermelon, kiwi, orange slices and lychee ($10). The ultimate go-with is the watermelon margarita, muddling Patron Silver tequila and Cointreau orange liqueur with fresh watermelon and lime juice then adding a float of Grand Marnier ($8).
What's New on Pinterest?
Dear Old Dad deserves a little appreciative time and effort on your part. Our Pinterest board has plenty of padre-approved pins for link-related golf tee cake pops, dining out links, menu-maker recipes for jalapeño ribs, Ford Fry's Wooly Pig Oreos and a ballpark breakfast sandwich that resembles a baseball!