ABOUT THE DISH
Looking for the latest restaurant openings, weekly wine tastings and drink specials or other culinary happenings?
Whatever makes your mouth water,
Melissa Libby & Associates
will point you in the right direction.
up-to-date on new and ongoing restaurant events around Atlanta!






Gerry Klaskala and Tyler Williams Cover Next Two Morningside Farmers Market Chef Demos
Booths open shortly after sunrise (7:30 a.m. to be exact) on Saturday mornings at the
Morningside Farmers Market.
By 9 a.m., shopping bags are bulging with locally grown organic produce, herbs and craft food items. Chef demo time! Gerry Klaskala of
Aria
leads a lesson in working with Riverview Farm andouille sausage on May 25, and Tyler Williams of
Woodfire Grill
takes on the fresh taste of Woodland Gardens fennel on June 1. Buy these items before the demos because after these chefs share their ideas there's sure to be a run on the market.
Sign Up for a Wheel Adventure and Join Warren Bruno Memorial Ride Through In-Town Neighborhoods on June 2
Pump up those tires and grab a water bottle to gear up for either the 9.5- or 19-mile Warren Bruno Memorial Ride setting off during Virginia-Highland Summerfest on Sunday, June 2. The Atkins Park Riders are rolling out the memorial ride in honor of longtime friend and leader Warren Bruno, who passed away last May after an eight-year battle with cancer. The well-known restaurateur and avid cyclist was a founder of the Virginia-Highland Summerfest, Ormsby's, both Atkins Park Restaurant & Bar locations and numerous other Atlanta restaurants. Online registration required: $5 for children under 18 and $10 for adults; donations go to the Leukemia & Lymphoma Society. Number pickup begins at 6:45 a.m. on the day of the event and bike ride waves begin according to skill level at 8 a.m. Water bottle refills and food will be provided along the route.
Fast Times, Decatur-Style: No. 246 Adds Call-Ahead Lunch Menu and Summer Sunday
Ping-Pong Tournaments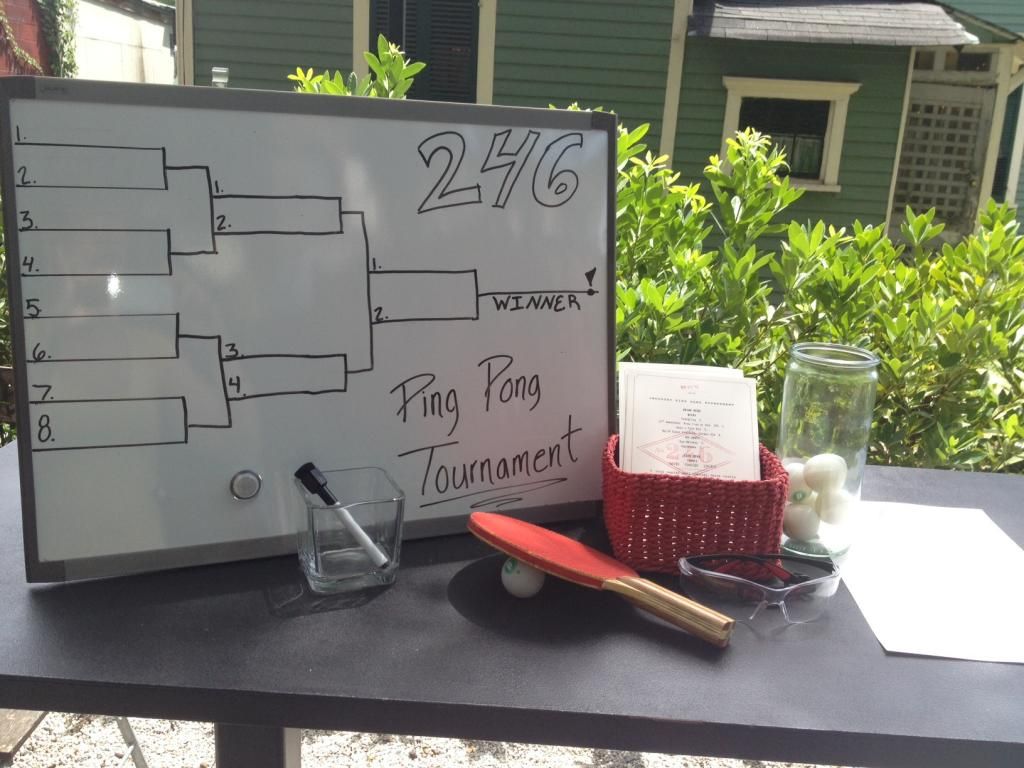 Sixty minutes pass faster on a lunch hour. Downtown Decatur workers, squeeze a leisurely Italian lunch fix into your precious lunch break via the new call-ahead menu at No. 246. Call before leaving the office and your meal will be ready when you arrive. Delizioso plates include a chicken Parm sandwich, wood-baked ziti and meatballs, and mushroom pizza ($8-$16). Share or go solo on some crispy cheese, garlic knots, chicken wings and soup ($5-6) or salad and side options like the chopped salad, house salad, flatbread, roasted potatoes and crispy onions ($3-$12). See a sample menu on Facebook. For more information or to place a call-ahead order, call 678-399-8246.
Ping-Pong players sign up now! Come Sunday, June 2, fast-paced Ping-Pong takes over in the backyard area from 5-8 p.m. Drew Belline's winning snacks keep energy levels high and include a selection of toasts ($5-$13) with a variety of toppings like arugula almond pesto and house ricotta; pork rillettes, beet pickled farm eggs, whole-grain mustard and local parsley; cannellini beans, Parmesan and EVOO; red pepper, basil and EVOO; and tuna conserva, citrus and olives. Bites ($5) include the No. 246 meatball and French fries with salt and Parmesan. Pizzas also are offered and include Margherita with tomato, fior di latte and backyard basil ($10) and local mushroom with mozzarella, San Marzano tomatoes and arugula ($13). Toast sweet victory with Yuengling, Dale's Pale Ale, Sierra Nevada Pale Ale and Anderson Valley Oatmeal Stout ($3-$6) or one-ounce shots of rye whiskey and Fernet Branca ($3 apiece). Sign up for tournament times by emailing Clarke Anderson at

[email protected]

.
Peachy Daiquiris Start with Orchard-Fresh Watsonia Farms Organic Peaches at
Local Farmers Markets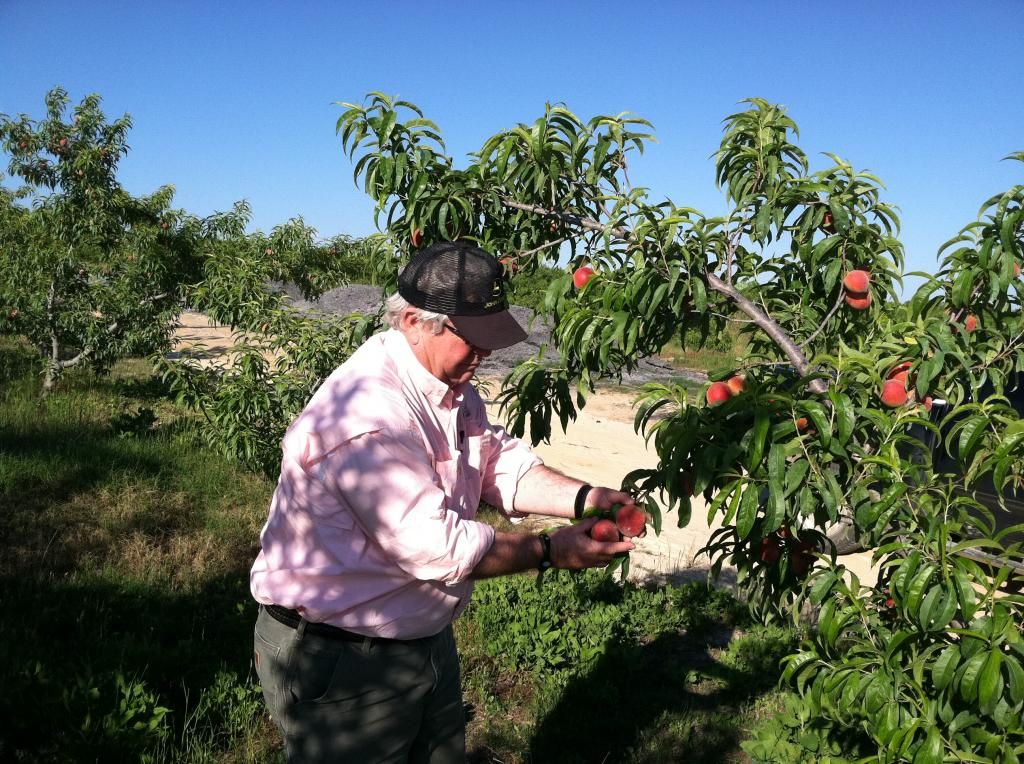 The easiest way to experience peach ecstasy is to bite into a sun-kissed, Watsonia Farms organic peach, ripe for the picking at local farmers markets. Peach daiquiris are next up on the peach-o-meter. In her book "Quick-Fix Southern," Rebecca Lang blends fresh peaches, nectar, rum and ice into peach daiquiris so pretty they cause a wineglass to blush. Not for long though, unless you whip up a second batch.
"Quick-Fix Southern" Peach Daiquiris
Serves 4 to 6
6 medium peaches or 3 cups frozen peaches, thawed
1/2 cup peach nectar
4 1/2 cups ice
1/2 to 3/4 cup rum
Peel and coarsely chop the peaches and place them in a blender. Add about two tablespoons of nectar. Blend until the peaches are completely puréed. Add the ice and blend until all of it is crushed. Add the remaining six tablespoons of nectar and the rum and blend to mix. Serve in large wine glasses.
You're Invited to a Reel-y Good Time as The Optimist Celebrates First Anniversary Party on May 25 with Fish Fry and Live Music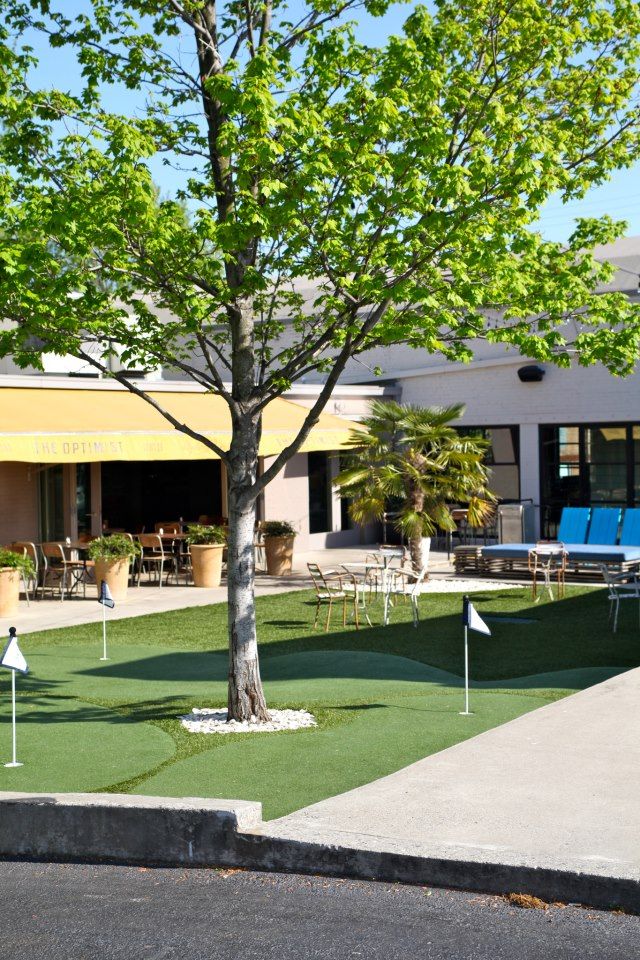 Lay aside business and go fishing for a big one on Atlanta's Westside. The Optimist is celebrating two biggies -- its one-year anniversary and Memorial Day -- on one party-perfect day, Saturday, May 25. The polished fish camp and oyster bar is hosting a fish fry for $15 a person beginning at
1 p.m. Keyboardist Ben Tanner of the Grammy-nominated Alabama Shakes will perform with bands Belle Adaire and The Bear starting at 4 p.m. The year has sailed by with regatta speed since Ford Fry opened The Optimist to give Atlantans the ocean edge they crave. The fresh catches, shore-specific oysters, punch cups and seaside vibe seem right no matter which coast you own.
Ormsby's Warm Weather Menu Sends Wintry Thoughts Packing
'Tis the season for cold beer and straightforward fare, for finger licking, salad spearing and a lively side of bocce or shuffleboard. Ormsby's must have read our minds because their new spring/summer menu has all of that and more.
New entrées include grilled fish tacos, roasted duck breast, Cajun roasted chicken, red curry coconut mussels and pan-seared crab cakes ($12-$19). Sandwich holders can pick up Uncle Lenny's Cubano, a pesto-marinated chicken wrap, blackened salmon with applewood bacon on sourdough or a classic favorite such as the Bruno burger ($8-$12) while the salad set forks into spring's flank steak salad with buttermilk dressing or Niçoise salad with ahi tuna ($11-$13). Warm winter desserts give way to light-hearted Key lime cheesecake, banana pudding and vanilla bean crème brûlée ($3-$4). Because chocolate spans all seasons, the oft-requested chocolate bread pudding with caramel makes the list. Ormsby's new draft beer menu raises the bar on background knowledge by listing names, origins, style, alcohol content, size and price ($5-$9) plus a beer of the day. Draft in point: Wild Heaven Ode to Mercy is an imperial brown ale that hails from Atlanta, carries an 8.2 percent alcohol reading and an 11.5-ounce pull costs $5. All you need to know, served straight up.
RA Sushi's 9th Annual Nicky's Week Benefits St. Jude Children's Research Hospital -
Order Up, May 26 - June 1

During Nicky's Week, Sunday, May 26 through Saturday, June 1, eating edamame and Tootsy maki at Midtown's RA Sushi Bar Restaurant goes straight to helping children at

St. Jude Children's Research Hospital

. Now in its ninth year, the annual spring benefit dedicates 100 percent of the proceeds from select menu and drink items to assist kids battling cancer and other deadly diseases. St. Jude's patients receive care regardless of their family's ability to pay. Menu items on the Nicky's Week list include edamame, Tootsy maki, shrimp nigiri, pork gyoza, chicken yakitori, garlic citrus yellowtail tapas, plus a variety of select beverages. The inspiration behind the effort is Nicky Mailliard, a St. Jude's patient and nephew of one of RA Sushi's founders. The 13-year old inspired many RA Sushi employees during his brave battle against brain cancer in 2005. Since the start of Nicky's Week, RA Sushi has raised more than $1 million for St. Jude's!
SMOKED - One-Hour Special Premieres Monday, May 27 at 9 p.m. E/P on DESTINATION AMERICA
One up-and-coming pitmaster is about to get his dream shot -- to go head-to-head with a BBQ Legend. Will he face Myron Mixon, Tuffy Stone or Johnny Trigg? He won't find out until moments before the competition! Over the course of eight hours, they'll cook head-to-head in three delicious categories with host Marc Ryan throwing in a few twists along the way. Pride, the ultimate BBQ bragging rights and the Smoked championship belt are on the line, and an expert judging panel including Atlanta's very own Kevin Gillespie will decide their fate. Who will stand tall, and who's gonna get Smoked?
Eat it and Tweep: Let the Dog Days of Summer Begin by Adopting a Golden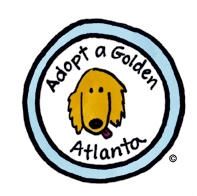 School's out and the kids are barking up trees for things to do. Why not Adopt a Golden? The whole family gets involved, the kids learn responsibility and summer evenings are prime dog-walking time. Get in on all the good stuff like tail wags and wet kisses by following Adopt a Golden Atlanta on Twitter (@adoptagolden). Go on now, fetch.
Sample Tweet:
Little Millie is here at AGA and is looking for a home! At just 8 1/2 weeks old, she is simply adorable! http://fb.me/19b9J8hKf
Appetizing Aperture
All "a-board"

Fire & Flavor

grilling planks for easy outdoor cooking. Appetizers, meats and veggies steal smoky rewards when grilled atop the all-natural cedar, alder, maple and oak planks. Find the

recipe

for planked brie with pistachios (pictured) and lots more on the Fire & Flavor website.
What's New on Pinterest: Beachy Bites
On Memorial Day, we salute those who lost their lives serving our nation. We also salute the unofficial start of the summer vacation season with a Beachy Bites board dedicated to filling that picnic cooler or patio table with low-stress, high-appeal foods such as watermelon krispie treats for kids and margarita cookies with salty sweet tequila glaze for adults, flashy raspberry sorbet in lemon bowls and a pepper and tomato salad served in an avocado bowl. Post Old Glory then pin our posts!