ABOUT THE DISH
Looking for the latest restaurant openings, weekly wine tastings and drink specials or other culinary happenings?
Whatever makes your mouth water,
Melissa Libby & Associates
will point you in the right direction.
up-to-date on new and ongoing restaurant events around Atlanta!






The Chips are Down and the Margaritas are Up for Cinco de Mayo
Oh me, oh mayo, Sunday is May 5 -- better cinco-nize plans with your amigos to go maxi on the Mexi. If you're feeling wooed by margaritas, tempted by fish tacos or pulled toward pozole, seek compadre-ship at these Atlanta restaurants.
Atkins Park Restaurant & Bar in Virginia-Highland is offering a special Cinco de Mayo menu featuring four different entrées. Pozole rojo is a chile-braised pork and hominy stew garnished with cilantro, cabbage, radish and queso anejo. Chiles rellenos burst open with Oaxaca cheese, roasted tomato salsa, crema and refried black beans. Taquitos de pollo boast shredded chicken and are joined by jalapeño slaw, queso anejo, crema and salsa verde. Their own classic Huachinango a la Veracruzana, a.k.a. snapper Veracruz, tops pan-roasted snapper with tomatoes, olives, capers and jalapeños and comes with saffron rice.
Communitas Hospitality restaurants -- Gilbert's Cafe & Bar, Hobnob Neighborhood Tavern and 10th & Piedmont -- have all gone hook, line and cinco for fish tacos and are wrapping up tilapia, cilantro, red onion, lettuce and chipotle mayo for $3 each. Add a $5 margarita for that Baja feel.
Party in or out at The Original El Taco in Virginia-Highland. The cantina celebrates the "hola!" weekend long with $4 pineapple-infused tequila shots, $12 buckets of Dos Equis, $12 El Jimador margaritas and $7 Dos Equis lager drafts in 22-ounce souvenir cups. For margarita connoisseurs, El Taco mixes up Reales margaritas with Partida Blanco Tequila and O'rangville Grand Fine Orange Liqueur along with house-made sour, fresh lime juice and agave nectar. The La Rosalita starts with El Jimador Reposado and adds fresh grapefruit and lime juices plus sweet agave nectar. Pick up Cinco-To-Go packs for a fiesta at your casa. Each pack feeds eight to 10 hungry gringos, and you'll find mucho more info here.
Ban the basic margarita for the holiday and try out a novel rendition (see more on our Pinterest board). Cactus pear juice tempers the tequila in Bantam + Biddy's cactus pear margarita. For a cinco de-tini celebration, Ecco strains a potion of Herradura Blanco Tequila, lime juice and a squeeze of blood orange juice into a chilled martini glass. Hearth Pizza Tavern offers two on-the-rocks versions: a spicy jalapeño margarita with Tanteo Jalapeño Tequila and the St. Rita, a nectar of St. Germain and Tequila Blanco. Say "Sensei Ole!" at RA Sushi Bar Restaurant in Midtown to order their high-power Asian-Tex-Mex-fusion margarita featuring Don Julio 70th Anniversary Tequila, Canton Ginger Liqueur and Cointreau. Margaritas are hot stuff at Seven Lamps where a sous vide margarita mellows a mix of Reposado Tequila, lime zest and juice, agave nectar and cayenne in a sous vide for 48 hours, and "Going Back to Cali" blends jalapeño-infused tequila, Shrub & Co. grapefruit shrub and SweetWater IPA in a sea salt-rimmed glass. Visit Uncle Julio's for the restaurant's signature drink, the Swirl, layering a chilling blend of frozen margarita with homemade frozen sangria.
FAQ on Ryan Hidinger and Staplehouse and an Inspiring Documentary

What's going on with Chef Ryan Hidinger and wife Jen and their dream restaurant

Staplehouse

? And what's this new non-profit called

The Giving Kitchen

? Flashback. At the first of this year, Ryan was diagnosed with stage IV gallbladder cancer. All of the love and support from Team Hidi friends, family, the community and the Cancer Treatment Center has changed their perspective on life. Time out. Watch this short
documentary
then read on. The Hidingers are designing Staplehouse to be a purpose-driven restaurant, serving hope and help as a by-product of the casual fine-dining experience. Along with several friends, Ryan and Jen have started The Giving Kitchen, a 501(c)(3) initiative that will support the Atlanta restaurant community and give a hand to industry members impacted by medical or other unanticipated hardships. A historic two-story brick

building

in the heart of the Old Fourth Ward will house Staplehouse on street level while The Giving Kitchen office and a private dining space will occupy the top floor. Anyone can share the dream by contributing to the cause and becoming a recognized "founding member" with a donation.

Give

what you can, whether it's $1, $100 or more. Good stewards that they are, the team has posted their budget breakdown

online
,
and it's an eye-opener for anyone wondering what it takes to start up a restaurant. So far, with about a month left in their capital campaign, about $45,000 out of the $651,035 needed has been raised. Donate and you could be recognized with a name posting, a bar stool marked with your name, or the pure, intrinsic satisfaction of sharing a little bit to help a lot.
Marlow's Tavern Anticipates Warm Weather Appetites with New Menu
Appetites change as cool days give way to the warm and downright hot days of Atlanta's spring and summer months.

Marlow's Tavern

is on point with refreshing new dishes. Look for fresh lump crab and lobster dip with toasty pita points ($10.50); Peking duck sliders with hoisin BBQ duck, pickled julienne vegetables and fresh cilantro ($9); the Tavern salad with field greens, Granny Smith apple, toasted sunflower and pumpkin seeds with sweet Gorgonzola dressing ($6); a "house-made" black bean veggie burger with house-pickled beets on a whole wheat bun ($8); pan-seared Carolina trout with quinoa fried rice, snow pea shoots, scallion, cabbage, carrot and soy glaze ($17); pineapple upside-down cake with warm maple and vanilla syrup, hand-scooped vanilla ice cream and crisp pineapple ($6) and more. Summery cocktails include the Hemingway Hand Shake, a chilled combination of strawberry-infused Denizen rum, fresh lime and Royal Rose Cardamom syrup; or the Gin Job crisply made with Hendrick's Gin, cucumber, basil syrup, fresh lemon and lime juice and a splash of tonic. Hot weather wonders from the wine and beer list include Fritz Zimmer Riesling, Chateau Laulerie Malbec, Concordia Rioja, Oskar Blues Dale's Pale Ale, Ommegang Rare Vos and Anchor Liberty Ale.
Take 260 Years of Winemaking into Account and Join Seven Lamps for Bodegas Carrau of Uruguay Wine Dinner May 1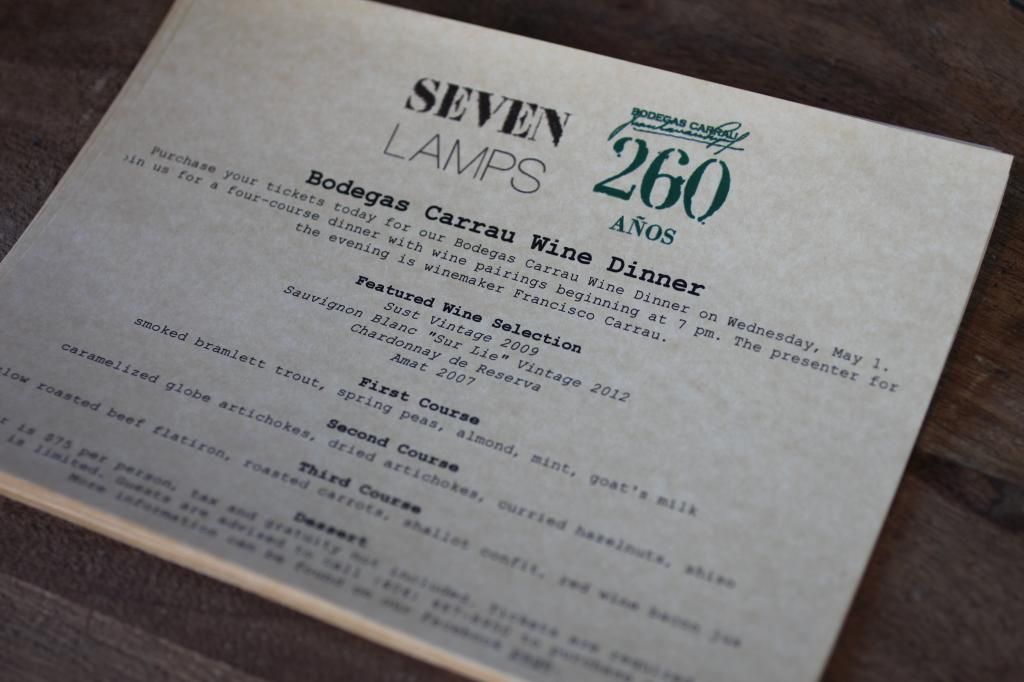 The Carrau family traces their winemaking heritage to Catalonia, Spain (circa 1752), and in 1930, they carried it across the Atlantic to Uruguay. That's 10 generations and two continents of vineyard expertise. No wonder Bodegas Carrau is one of Uruguay's leading wine exporters. Seven Lamps in the Shops around Lenox welcomes winemaker Francisco Carrau (who carries a PhD in chemistry and is a professor of oenology at the Universidad de la Republica de Uruguay) for the Bodegas Carrau wine dinner on Wednesday, May 1 at 7 p.m. Executive Chef Drew Van Leuvan plans a four-course dinner and wine pairing featuring smoked Bramlett trout with spring peas, almond, mint and goat's milk; caramelized globe artichokes, dried artichokes, curried hazelnuts and shiso; slow-roasted beef flatiron with roasted carrots and shallot confit with red wine bacon jus; and dessert. Wines include Sust Vintage 2009, Sauvignon Blanc Sur Lie 2012, Chardonnay de Reserva and Amat 2007. The cost is $75 per person, plus tax and gratuity. Tickets are required and seating is limited. Call 404-467-8950 to purchase a ticket.
Dine Out for the March of Dimes on May 3
Some of Atlanta's favorite restaurants are hosting private dining tables for the 29th Annual March of Dimes Dining Out benefit on Friday, May 3. Aria, Article 14, Lure, Seven Lamps, The Optimist and Woodfire Grill are each hosting a table that will accommodate from six to 10 guests at prices varying from $1,000 to $1,500 per table. Guests will enjoy a unique four-course VIP menu with wine pairings. Many tables are already sold out so check the event website for availability.
Lights. Camera. Action! Help Make
"Real Food for a Change" a Reality
Thomas Spravka is a major foodie. Not only is he a freelance food photographer and videographer, but he's also staff photographer for the Georgia Restaurant Association. For the past year, he's been traveling, learning and meeting people with his eye on developing his own travel/food television program - "Real Food for a Change." During this time, he's discovered that America's food growing, breeding and distribution system no longer feeds us - it just fills us up. Spravka is raising funds for the show's pilot, which will reveal America's broken food system by telling the stories of those of who have dedicated their lives to fixing it. Contribute and be a part of this groundbreaking endeavor to educate and help change the health profile of our nation.
Eat It and Tweep:
People's Food Truck Keeps on Tweeting
No texting while driving here. Just a heads up that the
People's Food Truck
(@PeoplesFoodATL) is out and about around town, selling "feel good food" to Atlantans and helping train and feed those in need. Does your lunch location jive with theirs? Follow along.
Sample Tweet: People's covered in the AJC today... http://blogs.ajc.com/food-and-more/2013/04/23/ford-frys-non-profit-food-truck-to-roll-out-soon/ ... #foodtruck #atlanta
Appetizing Aperture


Pasta, peas and lobster look so pretty on the pasta plate at
No. 246
and are indicative of the other new seasonal delights at the Decatur restaurant
. Menu companions include a salad of local strawberries, shaved fennel, arugula, pistachio, stracchino, aged balsamic and EVO; jumbo asparagus soup with Gulf blue crab; spaghettini with Georgia white shrimp, spinach, sugar snap peas, garlic and pequin chilies; cavatelli plus North Georgia ramps, morels, asparagus and house-cured pancetta tesa; and lamb sausage with braised spring onions, wheat berries, rhubarb mustardo and red watercress ($9-$26). Couples can share veal osso buco for two with spring veggies and polenta ($49). For even more "ahh," begin with a spring-y cocktail such as the Fair Verona, Everything Nice, Pimm's Cup for the Spring, Southbound Spritz or the tequila and chili Aperol doused "Where There's Smoke" ($9-$12).
What's new on Pinterest?
Hola! Magnificent Margaritas are headliners this week with Cinco de Mayo this weekend and summer pool parties peeking around the corner. Open our Pinterest board and start perfecting your signature splash in a glass.