ABOUT THE DISH
Looking for the latest restaurant openings, weekly wine tastings and drink specials or other culinary happenings?
Whatever makes your mouth water,
Melissa Libby & Associates
will point you in the right direction.
up-to-date on new and ongoing restaurant events around Atlanta!






2013 High Museum Atlanta Wine Auction Secret Cellars Tour is Oenophile's Dream Realized
It's a very good year for wine lovers to venture below the surface of wine collecting and see where Atlanta's most serious oenophiles are keeping their liquid assets - and what they're stocking in their personal shrines to wine. Glean storage design and construction ideas along the chauffeured tour, learn from top sommeliers, sample wines and sit down to a scrumptious dinner. Can't tell you where the Secret Cellars Tour will stop - that's the secret part of this February 24 event. To purchase tickets, contact the High Museum Wine Auction office at 404-733-4543.
Peachtree-Pine Street Homeless Shelter Rooftop Garden Needs Your Seed Money to Grow
Get high on gardening by helping the
Peachtree-Pine Street Homeless Shelter Rooftop Garden
raise $2,500 to get off the ground and flourish. The organic garden is part of the 100 Urban Gardens goal to build 100 urban gardens across 100 cities in the U.S. Partners PACT. Whole Foods Foundation and Indiegogo are behind the initiative and drive, pointing out that four in five Americans live in cities and only 2 percent of our children eat enough fruits and veggies. The Peachtree-Pine space can accommodate a minimum of 40 rectangular beds plus vertical beds growing almost as many benefits as veggies. Learn about urban food production and sustainable technologies while producing fresh vegetables and providing experience and training transferable to the job market. Plant some seed money by donating through this
link
.
Make It a Full House: Dine at JCT. Kitchen & Bar, No. 246 or The Optimist on February 9 to Benefit Team Hidi
Come Saturday night, February 9, let's fill the houses, all three of them, all to help Ryan Hidinger fight stage 4 gallbladder cancer.

JCT. Kitchen & Bar

,

No. 246

and

The Optimist

are hosting a

Ryan Hidinger Benefit

and donating 5 percent of dinner service profits to Team Hidi to help cover medical expenses. More on our Atlanta Dish blog.
Monday Nights Matter as Bantam + Biddy Passes On 10 Percent to Charities
Scrap Monday night's home dinner rotation from meatloaf to meatless and back and add Bantam + Biddy's Monday charity nights to your repertoire. Shaun Doty and Lance Gummere make Monday night dinners a very meaningful time by passing on 10 percent of the restaurant's profits after 5 p.m. to area charities. On February 11, Piedmont Park Conservancy benefits from your meal out, and on February 18, Autism Speaks brings home the golden egg of donations. Families, this could be a juicy time to discuss ways to get involved in various charities around town.
Get Steamed, Grilled and Fried (and Love It) when Atkins Park Smyrna Mardi Gras/Oyster Festing Begins Friday
Raw is an equally awesome way to suck down those oysters at Atkins Park Restaurant & Bar in Smyrna as they roll out their 2nd Annual Oyster/Mardi Gras Fest this Friday, February 8 through Tuesday, February 12. Dixie Duncan band cranks beginning at 11 p.m. Friday night. Buy tickets online for Saturday's tented band fest and Sunday events, $5 in advance and $10 day of event at the door. There's a heap more hoopla at Monday's family friendly Lundi Gras and Tuesday's Mardi Gras mask party with band Andrew Black & Friends. Point your "krewe" to our Atlanta Dish blog for more details.
The Mill Adds Southern Farmhouse Dinner Chic to Historic Roswell
Gorgeous antebellum landmarks, artsy boutiques, antique store treasures, a farmers market and cultural arts center all draw visitors to historic Roswell. The Mill Kitchen and Bar, opening February 12 by brothers Scott and Randy McCray with Chicken and the Egg owner Marc Taft, adds another layer to the mix. Located at 590 Mimosa Boulevard, the quintessential Southern neighborhood spot wears easygoing farmhouse appeal. Taft's menu evokes memories of favorite Southern foods with a nod to modern tastes fortified with culinary-inspired cocktails, bourbons, wines and microbrews. Guests will find a wide range of small plates at the bar, full entrées at the table and a substantial healthy kids menu for the wee set. Guests also will find plenty of locally sourced and sustainably caught seafood on the menu. Appetizers ($4-$12) range from black-eyed pea hummus and pimento cheese fritters to wild boar meatballs with spicy-smoky tomato sauce. Those raised on Brunswick stew will love the cornbread crouton topper. Guests going for green will enjoy salads ($6-$10) such as the mixed greens with caramelized Vidalia onions, spiced pecans and goat cheese fritters dashed with apple cider vinaigrette. Entrées ($16-$28) include pan-seared trout with sweet potato hash and bacon-braised Brussels sprouts; braised boneless short ribs with smoked Gouda au gratin potatoes and Tupelo honey-drizzled heirloom carrots; iron skillet fried chicken plus six-cheese mac and cheese and all-day braised local greens; and much more. Dessert? Sho 'nuf and made fresh daily in house. Opt for banana bread pudding with salted toffee sauce and sorghum ice cream, classic hummingbird cake with bourbon pineapple sauce and spiced pecans or other delights ($4-$6). More look-sees include the reclaimed wood tables and classic lighting in the dining room, open kitchen, 2,000-square-foot arbored patio furnished with heaters, fans and a fireplace and ample self-parking.
New Pier 213 Seafood Brings Gulf-to-Plate Goodness to Marietta
Gulf Coast vacationers may have heard of Irvington Seafood in Mobile, Ala. - or enjoyed their premium seafood at Atlanta-area restaurants over the past eight years. Now, owners and Marietta residents Kevin and Kammie Sakprasit are opening their own eatery, Pier 213 Seafood on Wednesday, February 13, to bring fresh Gulf seafood to their community - just a few blocks from the historic Marietta Square at 35 S. Marietta Parkway. The brother and sister team have a passion for seafood and know they can deliver five-star flavor without five-star prices. Drop by the family friendly, fast-casual restaurant for lunch and dinner Monday through Sunday. Before placing orders at the counter, guests contemplate the variety of fried, grilled and steamed plates, po' boys, sandwiches and the swoon-worthy signature crab cake dish ($6.99-$15.99), shareable appetizers, sides and homemade desserts.
White Oak Pastures Loves a Meaty Sale -
And You Will, Too
Show your love by selecting better-for-you grass-fed beef and pastured poultry. Unlike selecting from that chocolate sampler box, you know what you're getting when you order meats from White Oak Pastures. Will Harris' Bluffton farm store is offering pastured, sustainably raised meats at sale prices through the afternoon of February 6. Last-minute orders ship February 11, 12 and 13.
RA Sushi Lets Loose with "Mardi RA"
Fat Tuesday Party
Midtown surpasses the Crescent City when it comes to partying up on Fat Tuesday, February 12. "Mardi RA" at RA Sushi Bar Restaurant means a much shorter trip home and frees up your gas money for food and drink specials to go along with the festivities and DJ entertainment. Go all out by spending some of your short-trip savings on Mardi Gras beads and attire. "Mardi RA" Big Easy specials heat up the party. Sriracha amps up noodle-laden spicy chicken and shishito green necklace ($7) and the chili shrimp roll ($8) while three beef kushiyaki skewers with teriyaki sauce ($9) appease mild-mannered souls. "Mardi RA" cocktails speak the NOLA language, translating to a Southern Julep with Southern Comfort and Maker's Mark ($8) and the HurRAcane storming with Southern Comfort and fresh fruit juices ($8).
No. 246 Lunch Menu Warns Sandwiches are Stacked High and Messy
We'll take our chances and extra napkins when we order
No. 246
sandwiches cradling eggplant or chicken Parm, sausage and peppers, porchetta, Italian hero fixings or the No. 246 burger ($8-$11). We'll arm ourselves with forks and spoons to attack the lunch pastas including spaghetti and shrimp, wood-baked ziti and meatballs, agnolotti, carbonara and manicotti ($9-$14). Topped with salami, mushrooms or fixed Margherita- or fattoria-style, pizzas ($10-$16) could go either way depending on your mode of operation. Add the strength of meat to already perky chopped, flatbread or house salads ($9-$12). Side reinforcements include ceci peas, roasted beets, fries, Brussels sprouts, braised greens, fried polenta and crispy onions. There you have it. Delicious midday fortification for whatever your day brings.
Lure Hosts Atlanta Community Food Bank Supper Club on February 19
The Atlanta Community Food Bank Supper Club will reel in 20 percent of the day's sales at Lure in Midtown on Tuesday, February 19. Lunch or dinner -- the more you eat, the more they give. Easy enough, considering Lure's menu is loaded with grilled fresh seafood and meats in shareable or sizeable portions, plus a whole menu section of "Raw, chilled and really fresh" selections. And then there's dessert. Reserve your place online or call 404-817-3650 and be sure to say "I'm dining out for ACFB."
Eat it and Tweep: Ellen at Fadó Irish Pubs Follows Futbol, 6 Nations and More
Irish eyes or not, they'll be smiling as they follow Ellen Peacock (@fado_ellen), the marketer for Fadó Irish Pubs. With a heavy sports season and St. Pat's just around the corner, you'll want to add her to your list.
Sample Tweet:
On a cold Winter's day: Try Corned beef & cabbage

@

fadoatlanta Hearty, warm & deee-licous. Photo courtesy- Kelsey Orr pic.twitter.com/OHYm8T0C
Appetizing Aperture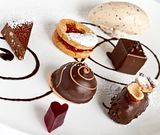 Aria
Pastry Chef Kathryn King must be a mind reader to know that sweethearts have one thing on their minds at the conclusion of an intimate Valentine's Day dinner. You got it. Sharing an incredibly dreamy chocolate dessert. If this photo sets your heart aflutter, imagine what the real thing could do for your love life. Embrace more Valentine's Day dining options on
What's new on Pinterest: Relishing Romance
Relishing Romance is the topic du jour with Valentine's Day coming fast on the heels of Fat Tuesday this year. You can do it all. Party on Tuesday and hand over your heart on Thursday with heart-felt inspirations from our
Pinterest
board. (Photo from Little Cake Bakery)