ABOUT THE DISH
Looking for the latest restaurant openings, weekly wine tastings and drink specials or other culinary happenings?
Whatever makes your mouth water,
Melissa Libby & Associates
will point you in the right direction.
up-to-date on new and ongoing restaurant events around Atlanta!






Gilbert's Version of the Nightly News Features New Promotions for Every Night of the Week
With Executive Chef Brett Ring as culinary anchorman,

Gilbert's Café & Bar

in Midtown has a feast of new Mediterranean-oriented dishes on its menu. But, that's not all. Each night brings a different special to the Communitas Hospitality restaurant. On Mondays, 12 wine selections have half-off bottle status with any food purchase. Tuesday "Industry" night brings out complimentary pizza and 20 percent off the bill for industry members from 10 p.m.-2 a.m. Sing and watch karaoke on Wednesdays from 10 p.m.-2 a.m. Thursdays offer a unique wine tasting opportunity. From 6:30-9:30 p.m., guests receive half glasses of three featured wines along with a full glass of their favorite wine and a personal cheese platter - all for $19. Come in Saturday between 11 a.m.-4 p.m. or Sunday between 10 a.m.-4 p.m. for an $11.95 all-you-can-eat or cooked-to-order brunch featuring hearty dishes such as blackened chicken omelet, gyro burrito, pancakes, country steak with gravy and French toast. Douse the tongue with $4 mimosas and Bloody Marys. Don't leave yet - Sunday evenings are your chance to be a karaoke star from 6:30-11:30 p.m.
Check In and Check It Out:
Atlanta Dish Shares Atlanta on
National Car Rental's Foursquare
Do you use Foursquare to keep up with friends' doings, check in for badges or earn mayoral status? The handy app can really come into play for dining and entertainment decisions wherever you find yourself, in or out of the ATL. National Car Rental's Foursquare has posted Atlanta Dish "Shares Atlanta" so Atlanta visitors and residents can figure out where they want to go with info and directions in hand before pulling out of their parking spaces.
Quick Link to Next Week's Grand Opening Specials at Marlow's Tavern Emory Point
The weeklong grand opening celebration at Marlow's Tavern in Emory Point begins Monday, January 21 and extends through Sunday, January 27. Each day brings a new deal or delight to the table: Monday's Insider Day, $5 Tavern Burger Tuesday, Wednesday Ladies Night, Emory Day Thursday (20 percent discount for Emory students and faculty with ID), Friday happy hour, Shot Glass Saturday and $7 Sunday brunch. Atlanta Dish has the lowdown; all you have to do is click here.
Rev Up Your Search Engines for Thursday Trivia Nights at Atkins Park Tavern - Smyrna
You know the drill. Chat leads to Googling for fact verification, which zigs to Yahoo Trending Now and zags to Bing bonging and a brain filled with info bites. Put that not-so-trivial wealth of information to good use by vying for weekly prizes in Outspoken Entertainment's Thursday Trivia competition at Atkins Park Tavern - Smyrna. Quiz time is 8-10 p.m., and categories cover history, science, sports, literature, movies, music, geography and that topic you're not supposed to discuss at the dinner table, politics. No fair hitting search engines during the contest!
Seven Lamps Punch Packs Fundraising Wallop for Local Charities on Monday Nights
Raise a cup of cheer for a charity Monday nights at

Seven Lamps

next to American Apparel in the Shops Around Lenox in Buckhead. Seven Lamps Beverage Manager Arianne Fielder and bar slinger Tom McGuire of Prohibition pool their mixology skills to create a batch of punch every Monday. Each cup's purchase sends proceeds to the week's highlighted charity. On January 21, proceeds will benefit Boys & Girls Club; January 28 benefits Susan G. Komen; February 4 profits go toward Golden Retriever Rescue of Atlanta; and February 11 to Great Pyrenees Rescue of Atlanta. Save the dates and drink up for a cause!
Tuesday 'Tinis and Thursday 'Ritas are $5, Philly Roll is Back at Hearth Pizza Tavern in
Sandy Springs
Fess up. Pie lovers are so smitten with Hearth Pizza Tavern's wood-fired, oven-baked pizzas they may overlook the rest of the lip-smacking story. Those beloved Philly rolls are back on the Hearth Specials menu for $7. Picture center-cut sirloin steak, fontina and cheddar, caramelized onions and shiitake mushrooms hand-rolled into a light, flaky spring roll and joined by smoky, homemade ketchup, pepperoncini and pickles.
Hearth Pizza Tavern's Tuesday and Thursday night "Five for $5" martinis and margaritas prove fancy flavors and frugality can play on the same team. Tuesday nights, Absolut is the first ingredient in all five featured martinis: Down and Dirty with its olive-y bite; Red Dragon doused with raspberry liqueur and cranberry juice; Sweet Cinnamon bearing Absolut Vanilla and RumChata; Just Peachy with its Peachtree schnapps; and Pucker Up, a kissable shake up adding fresh lemon juice, triple sec and simple syrup to Absolut Citron. Thursday 'ritas spin out tequila treats such as the SuperFruit blend of VeeV Acai Spirits, Tequila Blanco, fresh lime and agave; Grapevine twists tequila with triple sec, sour mix and grape juice; St. Rita canonizes Tequila Blanco with St. Germain and fresh lime; fresh lime and agave nectar sweeten TanteoJalapeño Tequila in the Spicy Jalapeño; and Tropical Fruit adds a dose of Cointreau, fresh lime and cranberry juices plus agave nectar to Tanteo Tropical Tequila. Would these pass for fruit salad in a glass?
Roundup for Ryan to Battle Cancer Costs for Ryan Hidinger of Staplehouse
Atlanta restaurateurs and culinary associates are a close group, circling the stoves and grills to support one another in times of need. On January 27, they're planning Roundup for Ryan, a fundraiser to help out Ryan and Jen Hidinger as they take on Ryan's recent diagnosis of stage 4 gallbladder cancer. Follow their story online. Ryan and Jen have fixed many delicious dinners and small batch offerings as they save and prepare to bring their idea of Staplehouse restaurant to fruition, only to be blown away by this recent diagnosis. They're keeping their eyes fixed on the future -- and industry buds are all getting involved in the upcoming fundraiser featuring Yacht Rock Revue and amazing Atlanta restaurants including No. 246, The Optimist and at least 30 others. Live auction, you betcha! Just click here for details and tickets.
Eat It and Tweep: DanaPops Lives Life and Baby Bottles, Uncorked
Dana Hazels Seith (@danapops) admits to being the not-so-silent observer. Not that there's anything wrong with that. Culture, food and drink, travel, life in general. New moms and dads can relate to her revelations as they prop up over her blog in the wee hours.
Sample Tweet: New birthday tradition: baby snuggles and enough sashimi to make my mercury level soar. Yesterday was pretty perfect.
Appetizing Aperture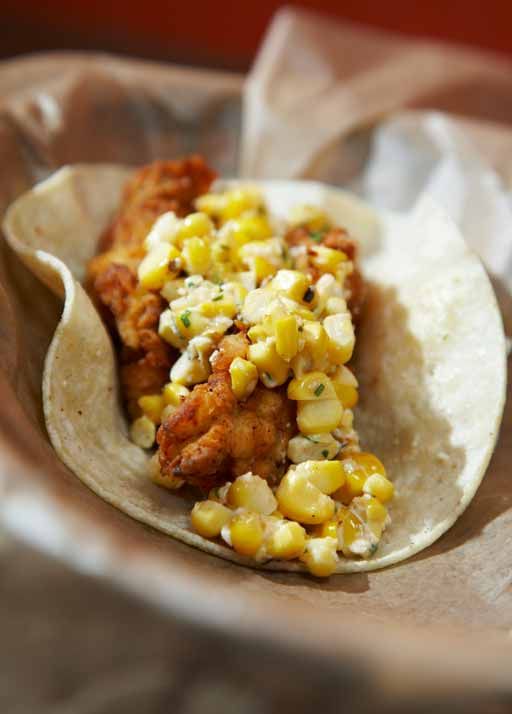 The Atlanta Convention & Visitors Bureau is marking "100 Years of Hospitality" by building a list of the city's top Atlanta-only signature dishes. Presented by Gas South, the "100 Signature Dishes" list includes hits from some of our favorite dining spots. It's such a challenge to pick ONE dish to picture here. Just look at this list and you try to make the call: fried avocado taquito at Alma Cocina, Aria's butter-braised lobster, fried goat cheese with honey and black pepper at Ecco, spaghetti with tomatoes, basil and veal meatballs at La Tavola Trattoria, infamous fish tacos at Marlow's Tavern, fried chicken taco at The Original El Taco, buttermilk fried chicken and fried green tomatoes at South City Kitchen - Midtown, and glazed pork belly with local apples and turnips at Woodfire Grill. Eenie, meenie, and many mo', this week we're picturing....
South meets Southwest in the fried chicken taco at
The Original El Taco
. The cantina's consistently top-selling taco throws Mexico City grilled corn in chili-lime mayo and crumbled Mexican cheese into the mix and wraps it all up in a warm flour tortilla.
What's New on Pinterest:
2013 Food & Drink Trends
What comes after crispy pig ears on the food trend timeline? We thought you'd like to know, too, so we're investigating and pinning findings as we go. Stay abreast of the situation by following our 2013 Food & Drink Trends pins and don't make a foodie faux pas for dinner.