ABOUT THE DISH
Looking for the latest restaurant openings, weekly wine tastings and drink specials or other culinary happenings?
Whatever makes your mouth water,
Melissa Libby & Associates
will point you in the right direction.
up-to-date on new and ongoing restaurant events around Atlanta!






Tweet Your "RA" Solutions to RA Sushi and You Might Win a $50 Gift Card
Reveal your new year's resolution in 140 characters or less from Tuesday, January 1 through Monday, January 7 and you may win one of five $50 RA Sushi Bar Restaurant gift cards. Steel up your resolve (and abbreviating skills) and tag RA Sushi (@RAsushi). No one will be looking over your shoulder to "maki" sure you're rolling along well with your vow, but hey, self discipline and is a worthy resolution in itself.
Sugar Rush: Taria Camerino "Sweet Genius" Viewing Party at JCT. Kitchen & Bar
on January 3
Rush into the upstairs bar at JCT. Kitchen & Bar (or stay if you're already there) for Taria Camerino's Food Network "Sweet Genius" viewing party on Thursday, January 3 at 9 p.m. Those who know their pastries, pastilles and clafoutis also know Camerino is the pastry program creative director for JCT. Kitchen & Bar, The Optimist and No. 246. She's also the one responsible for those European pastry windows at No. 246. Naturally, she'll whip up some episode-inspired bites to nibble during the party for the episode that airs at 10 p.m. JCT. beverage manager, Eduardo Guzman, does likewise with cocktails. We're not sugar-coating it. Whoever came up with this idea is a sweet, sweet genius.
Dine Out & Give Back at Bantam + Biddy Charity Night for Georgia Organics
Be a good egg. "Dine Out & Give Back" at Bantam + Biddy's charity night on Monday, January 7. After 5 p.m. that night, 10 percent of restaurant proceeds will go to Georgia Organics. The casual eatery in Ansley Mall is adamant that regionally raised, all-natural pastured poultry has a place on the family table. Dinner favorites include a quarter or half of a rotisserie chicken with two sides and jalapeņo cheddar bread, pastured chicken sausage and loaded mashed potatoes, fried chicken tenders with wasabi honey, Lance's chicken pot pie, Southern breakfast all day, fresh vegetable plate, pork schnitzel and meatloaf made with grass-fed beef. Bantam + Biddy offers a generous selection of soups, snacks, salads and sandwiches and has gluten-free bread upon request. Back pocket info: Bantam + Biddy is open for breakfast and lunch, too, but "Dine Out & Give Back" is a dinnertime benefit.
A Buck a Rib Deal January 7 and 8 at Buckhead Barbeque in Smyrna
Irresistible post-holiday bargains can be found outside the malls - as in the finger-licking-good deal offered at Buckhead Barbecue Co. After 5 p.m. on Monday, January 7 and Tuesday, January 8, guests can purchase flavorful single spare ribs or baby back ribs for $1 each. Dine in only; limit six ribs per guest.
Room for more? Stay seated and order off the menu packed with smoked pulled pork, chicken, turkey or barbecued beef brisket in everything from salads and sandwiches to full plates or order to-go meats by the pound. Eight different regional sauces are right on cue, wherever your BBQ partialities lie.
Woodfire Grill Hosts New Belgium Beer Dinner on January 10
Colorado craft brews from the land of blue skies and powdery slopes are headed our way as Woodfire Grill showcases the brews of New Belgium Brewing Company on Thursday, January 10. The four-course menu will be complemented by five different craft beers from the Fort Collins, Colo.-based brewery, including New Belgium Shift, New Belgium Fat Tire Amber, Snow Day Black IPA, Ranger IPA and Imperial Chocolate Stout. Reception begins at 6 p.m. followed by 6:30 p.m. dinner. $80 per person, not including tax or gratuity. Reservations are required and seating is limited; call 404-347-9055.
Healthier Cooking on
Fire & Flavor Cedar Grilling Planks May Help You
Firm Up Your Plank Pose in 2013
Your defrocked Frazier fir is out the door and into the mulcher, and those rich holiday foods are but a sweet memory. It's time to branch out to

Fire & Flavor's

cedar grilling planks for healthier cooking options in the new year. Plank grilling is based on an old Native American cooking technique and is an easy, no-mess way to add a subtle smoky flavor to meats, poultry, salmon and other seafood, veggies and even fruit. Soaking the planks helps keep foods moist on the grill without dousing foods in calorie-laden oils. Alder, maple and oak grilling planks lend even more grilling opportunities. Find new recipes to try on the Fire & Flavor website. Certified sustainable planks are available in packages of two or four and are priced from $3.99 - $10.99 per pack.
Catch This: Ammazza Tosses Up Pizza Making Party Ideas for Kids
Throw the dough and get sauced. Legit, even for the under-21 set. Ammazza in Edgewood is opening up its dough room and dance floor for pizza-centric parties where kids learn "throwing the dough" techniques and build their own glitter pizzas in the hours before the Napoletana-style pizza restaurant opens to the general public. Young chefs will be able to eat their creations, and Ammazza will even throw in a few of their own. Then, onto the dance floor that's rocking with a custom play list. Ammazza guests will enjoy named mocktails created for the party person of honor, such as the "Jaketini" mix of fruit juices and Sprite, decorated with a pineapple-cherry garnish and topped with a paper parasol. Twenty person minimum, $25 per person or $500 minimum. Prices include pizza, juices and soft drinks, and gratuity. Additional charges for pastry chef-made custom cake, candy bar goodies, balloons, photo booth and other decorations if desired. Adults are welcome to stay and order off the full menu and bar menu - paying individually or as part of the party package if the host so desires. Contact the restaurant for more information and pricing at 404-228-1036.
Eat It and Tweep: Confection Perfection Awaits at Bakerella
Just for fun, she took a cake decorating class. Now she's queen of the cake pops, fondants, sugar cookies and other divinities conjured up from sugar, butter, flour and flavorings. Short and tweet (@Bakerella). Exquisite sugar coma at sister website Bakerella.
Sample Tweet: Love the cake pop necklace. Thank you Adonia! http://instagr.am/p/TRi_zep_Xt/
Appetizing Aperture: RA Sushi's
New Skinny Pairing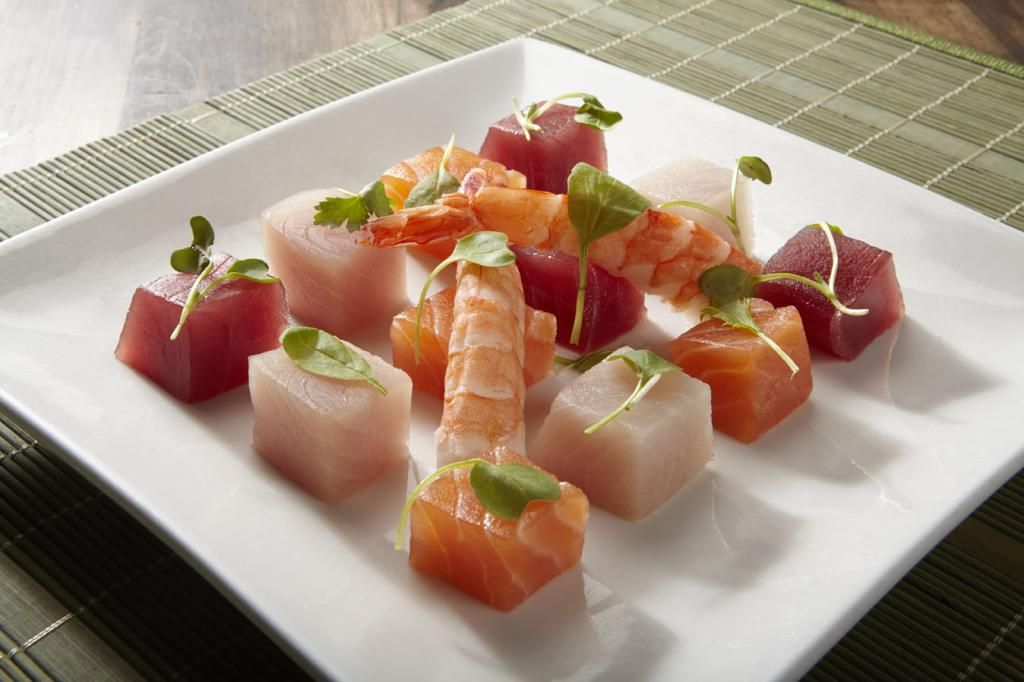 RA Sushi Bar Restaurant's new tempting Skinny Pairing helps you ease back into those skinny jeans. Their hitokuchi sashimi and shrimp plate lines up 14 bite-sized pieces of fresh tuna, yellowtail and salmon sashimi plus shrimp and microgreens -- and wears less than 200 calories. Pair it with your choice of three under-160-calorie cocktails -- the Colada-teenie, Blueberry Fizz and Skinny Cucumberita. A complete 360 calories for $18, through February 28.
What's New on Pinterest: Healthy Inclinations
Seared Ahi Tuna Salad at Marlow's Tavern
Hearty doesn't necessarily mean heavy. These photogenic Pinterest pins lean toward the light side and still fill you up with a nutritional jackpot. Who would re-pin tuna on lettuce or peaches and cottage cheese anyway?