ABOUT THE DISH
Looking for the latest restaurant openings, weekly wine tastings and drink specials or other culinary happenings?
Whatever makes your mouth water,
Melissa Libby & Associates
will point you in the right direction.
up-to-date on new and ongoing restaurant events around Atlanta!






White Oak Pastures Sale Meets Your Holiday Meat Desires With Mouthwatering Prices
Photo by Angie Mosier
Some of the tastiest holiday bargains have grass roots - like a White Oak Pastures meat sale. Pasture-raised livestock and poultry thrive on greenery, not the grainery, which leads to healthier holiday meals for you and yours. Hoof it to their December sale for special pricing on beef and chicken. Sale begins online December 13 and continues while supplies last.
Surfing U.S.A. for Our Holiday Wish List
Some folks head for Hawaii or Big Sur. At Melissa Libby & Associates, we've been known to surf at the office. Those skills really helped us put together our office wish list this year - just in case Santa has a smartphone and a good data plan.
Gretchen Howard, Media Relations, is okay with finding a hardboiled egg in the toe of her stocking as long as the next item up is the Williams-Sonoma 3-in-1 egg slicer. Gretchen is tired of trying to grip slippery eggs when slicing them up for egg salad, and this easy-to-clean gadget would do an egg-cellent job.
Intern Alexa Lampasona pines for a sturdy seven-quart Cuisinart stand mixer to be her strong arm for heavy duty mixing, beating, whipping and kneading. Santa helper hint - visit The Cook's Warehouse or order online.
Nicole Hunnicutt, Client Services, beams over Rewined candles, which emit clean-burning yet intoxicating wafts of Cabernet, Pinot Noir, Chardonnay, champagne and other wine varietals. The Charleston, SC-based company rescues already enjoyed wine bottles, cuts them and hand pours 11 ounces of natural soy candle wax into each bottle bottom for 60-80 hours of light.
Atlanta native and MLA Administrative Assistant Shelby Remer thinks AHeirloom's Georgia-shaped cutting board would look sharp in her kitchen and be useful for cutting and serving. State series boards are crafted of renewable bamboo and can be personalized with a heart cutout in the location of your hometown or favorite place.
Social Media Director Mandy Betts is planning ahead for the arrival of Baby Betts in 2013. She envisions pureeing and chopping veggies from her garden to make wholesome baby food. Catching her eye, a certain Cuisinart food processor at The Cook's Warehouse.
Always looking for ways to stir-up kitchen excitement (and not burn the soup), MLA Founder Melissa Libby has her eye on a self-stirring saucepan. Let's hope she gets it so she's not up all night scraping the bottom of the pan after Christmas dinner.
When life's a circus, only a commercial-caliber countertop popcorn popper will suffice. Media Relations Manager Amy Geismar has found one that can produce six quarts of popcorn every three minutes and is clad with aluminum for easy cleanup. Mental note to see if she gets it before bowl game time.
Media Relations Director Suong Nguyen would love a keepsake wooden recipe box to hold her treasured recipe cards - like this one at Honey Bee Invites. HBI also personalizes and offers a way to print recipe cards.
Client Services Manager Erica Goss hankers to surround herself with eye candy as found in the collection of food graphics posters at BKLYN Larder. Her heart is melting for the gelato poster, and she hopes someone will scoop one up for her.
Client Services Manager Tuan Huynh caught a glimpse of "wildly strong" YETI Coolers, touted "for people who actually roast chestnuts over an open fire" and knew he wanted one to chill and protect his craft beers. Only the coolest for our guy Tuan, so we'll be sure to ask for the free gift pack with purchase.
Park the Car and Shop Here for Restaurant Specials, Gift Card Promos and Party Rooms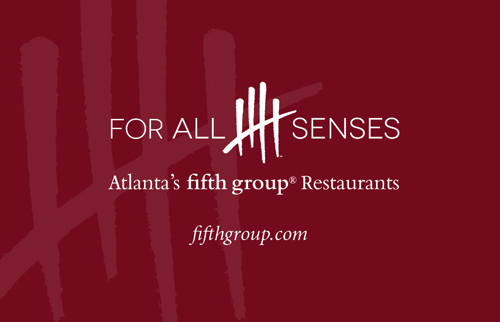 Holiday email boxes are stuffed this time of year. Even though you did see our list of gift card promotions, restaurant specials and party room ideas a couple of weeks back, who knows where it is now. Rather than sift through your email folders, jump to our blog where you'll find this information and lots more to help you make merry and find that last minute gift for Mary. For gourmet items made simple, visit Fire & Flavor. Their items such as cedar grilling planks, cookbooks by Co-founder Gena Knox and "Southern Specialties" such as Georgia olive oil and stone-ground grits are available online and at more than 50 retailers nationwide.
Better than Santa in the Kitchen - Chefs in Restaurants for Your Holiday Dinners and Parties
Christmas Eve and Christmas Day are drawing near, and Atlanta's best restaurants are ready with options, whether you're looking for a place to carry out for a home gathering or an elegant dinner out. Here is a list of restaurants with holiday happenings:
Roswell dwellers can gather at Aqua blue for their Christmas Eve dinner. From 4-9 p.m. on December 24, a special three-course menu will be offered at $29 per person in addition to the full à la carte menu. The special menu includes the Aqua blue daily soup, 12 oz. rib-eye with horseradish sauce and house-made warm chocolate cake. For reservations, call 770-643-8886.
Atkins Park in Virginia Highland and Atkins Park in Smyrna are open on Christmas Day, beginning at 6 p.m. at the Virginia Highland location and 5 p.m. at Smyrna. At Atkins Park Virginia Highland, dinner is priced at $22 for adults, $15 for young adults and $8 for children under 10 years old. The main course boasts Big Green Egg smoked turkey breast, braised pork shoulder with roasted root vegetables, green bean casserole, roasted garlic mashed potatoes, cranberry Gran Marnier compote and sweet potato biscuits. Save room for pumpkin cheesecake and Southern pecan pie for dessert. Dinner at Atkins Park Smyrna costs $20 for adults, $15 for young adults and $8 for children under 10 years old. The meal starts off with pimento cheese, deviled eggs and pickled beets. Main courses include deep-fried Creole turkey breast and Dr. Pepper spiral-glazed ham along with squash casserole with cracker topping, herbed bread stuffing, sweet potato soufflé with streusel topping, southern-style green beans, cranberry orange relish and pull-apart rolls. Dessert tops off the meal with a pumpkin and mascarpone cheese roll. Reservations: Virginia Highland, 404-876-7249. Smyrna, 770-435-1887.
The holiday-hurried can pick up Bantam +Biddy's family meals. For $42, three to five family members or friends can take home a whole rotisserie chicken, meatloaf or herb-roasted pork loin, served with a family-sized organic green salad, jalapeño cheddar bread (gluten-free bread upon request), choice of dressing, three family-sized sides and a half-gallon of fresh brewed tea. Family meals are take-out only; 30 minutes notice required. Phone in your order to 404-907-3469 and pick it up curb-side.
Host an easy "down home" Christmas dinner by ordering the whole feast from Buckhead Barbecue Company. Offering selections for any size party, the restaurant is cooking classics such as hickory honey and cracked pepper smoked turkey, apple-brandy and brown sugar smoked ham and all-natural Black Angus brisket. Sides and desserts feed between 12 to 15 people and include squash casserole, cornbread dressing, sweet potato soufflé and macaroni and cheese sides and desserts of the Buckhead cobbler (peach, apple, blueberry, blackberry and chocolate) or a traditional pumpkin pie. They're taking holiday meal orders until 12 p.m. on Saturday, December 22. Stop in or call 404-792-9388
On Christmas Eve, Kaleidoscope Bistro & Pub turns two. Celebrate with their special three-course menu for $20.12 in addition to the regular menu. Reservations optional. Closed Christmas Day. Reservations: 404-474-9600.
Little Cake Bakery in Buckhead has holiday cupcakes galore! Eggnog, peppermint, German chocolate and Black Forest cherry flavors are available for order and pick up before Santa arrives. For more information or to place orders, call 404-841-8856.
Ray's Restaurants offers diners a warm place to gather this holiday season. Ray's on the Creek in Alpharetta is open from 4-9 p.m. on Christmas Eve and closed on Christmas Day. Reservations: 770-649-0064. Ray's on the River is open from 5-9 p.m. on Christmas Eve and closed on Christmas Day. Reservations: 770-955-1187. Ray's in the City is not open on Christmas Eve or Christmas Day.
On December 24, South City Kitchen Midtown is open for a three-course prix fixe Christmas Eve feast priced at $42 for adults and $21 for children under 12. Each guest can choose one appetizer, entrée and dessert. Some menu options include fried green tomatoes with goat cheese and sweet pepper coulis, smoke-roasted filet of beef with celery root potatoes, roasted Brussels sprouts and truffle jus, and Southern chocolate pecan pie. Reservations: 404-873-7358.
For easy holiday meals, call on Market Street Café or Bistro 191 to cater anything from breakfast and lunch gatherings to fine dining affairs. As a bonus, guests booking a catered event for 10 or more people will receive a complimentary $10 Market Street Café gift card. Place pre-orders for take-home treats, such as holiday breads and pies. To schedule a catered event or for pre-orders, call Market Street Café at 404-816-4911 and Bistro 191 at 404-233-0500.
Nab $1 Tacos on Tuesdays at Uncle Julio's Fine Mexican Cuisine in Buckhead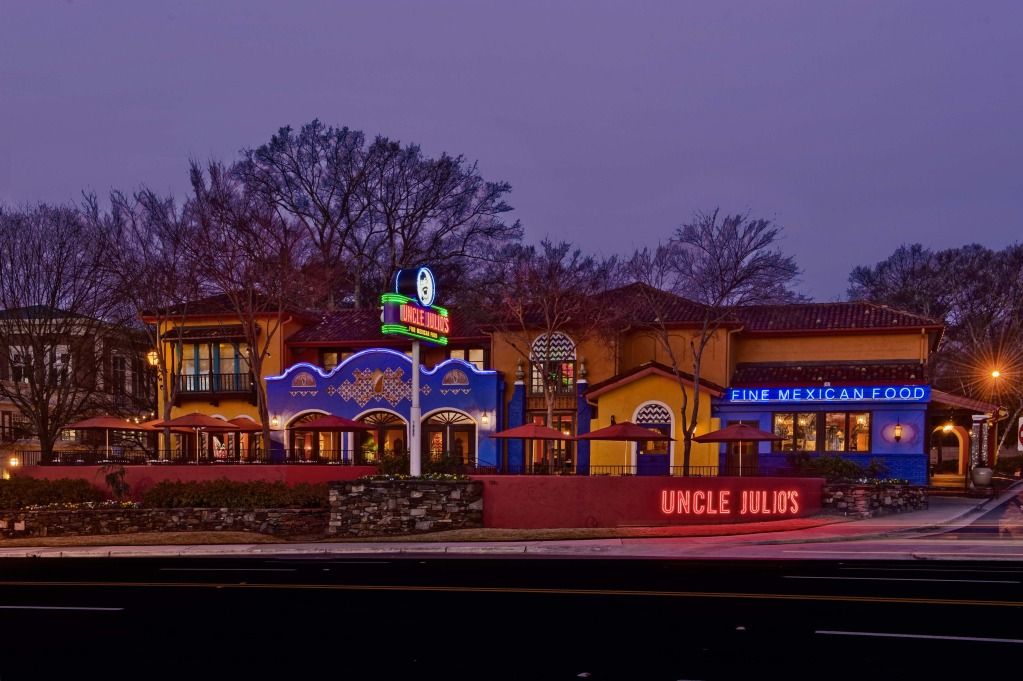 For a limited time,
Uncle Julio's Fine Mexican Cuisine in Buckhead
is offering beef or chicken tacos (crispy or soft) for $1 all day on Tuesdays. Dine in only and available only at the Peachtree Road location. Excludes grilled fajita, carnita, fish and brisket tacos. Such a deal, you might as well have some sangria or a margarita with your meal.
Ray's Restaurants Transforms Alpharetta Restaurant into Ray's on the Creek
Ray's at Killer Creek is undergoing an exciting transformation - it's now sporting a new name: Ray's on the Creek. When the beloved restaurant completes its 15th birthday "spa" treatment in January, it will show off new décor and wow with a new menu. A brighter, coastal-inspired look and a totally revamped bar will welcome guests arriving for lunch, dinner or drinks. The new dinner menu will feature many dishes under $30 and more sharable plates, and the new lunch menu will highlight dishes and sandwiches under $20. Chefs from all three Ray's Restaurants contributed dish ideas, and Ray's fans will be pleased to find some of their favorites also are available. Ray's Founder Raymond Schoenbaum says the restaurant's lively personality, congenial attitude and reasonably priced menus will keep Ray's on the Creek on the often-frequented "A" list for those in Alpharetta and beyond.
Big Birds: Bantam + Biddy Chef Shaun Doty Cooks When Falcons Meet Giants on December 16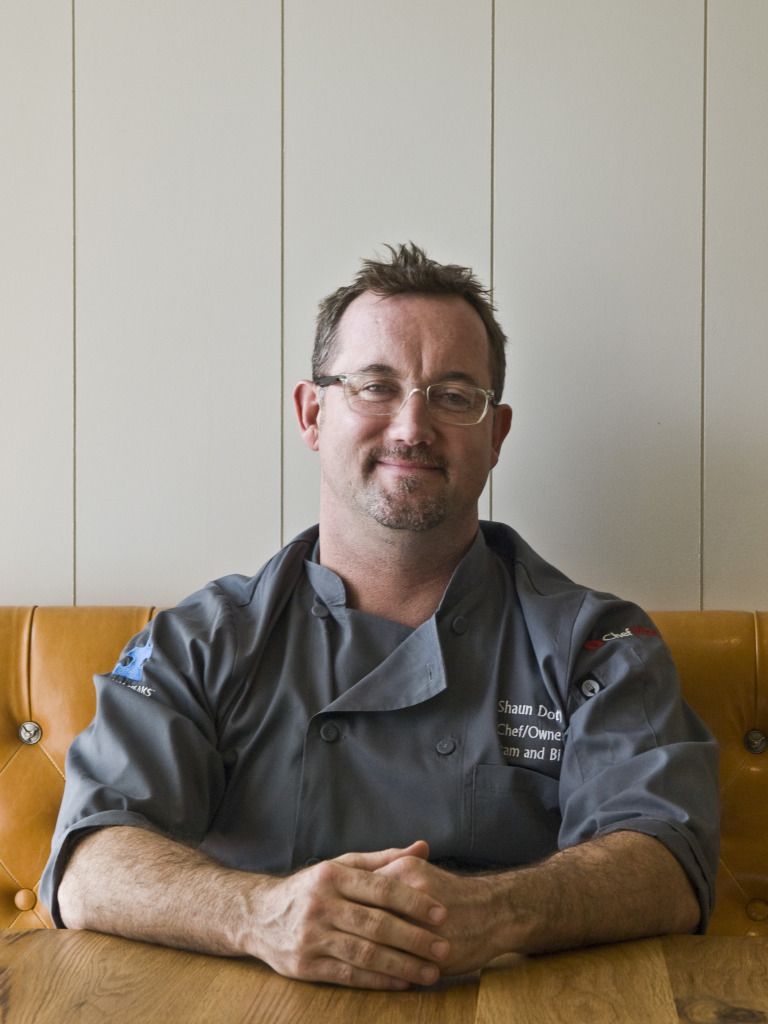 Bird watchers, this is your game! The Atlanta Falcons sharpen their talons on the New York Giants at this Sunday's game in the Georgia Dome at 1 p.m. Upstairs in 2View Restaurant, Bantam + Biddy Chef Shaun Doty fuels your afternoon with a gutsy trio of organic black bean soup with Tabasco cream, wings and meatloaf sandwiches. Stay abreast of field action via wall-flanking screens at the restaurant overlooking the east end zone at Gate F, executive concourse.
Eat it and Tweep: Grace Yu Graces You with Clever Verbiage and Videos
Now, 20-something eater/writer/Tweeter/blogger Grace Yu (@graceyu) puts it right out there exclaiming "My stupid thoughts are mine & mine alone." A disclaimer like that only makes one want to read more so take a lap on the laptop and check out her blog.
Sample Tweet:
Photo: I'd be the healthiest person in the world. Designed by Kerry Carambula, creator of Remedy Quarterly....

http://

tmblr.co/Z8e7ZyYnhCSQ
Appetizing Aperture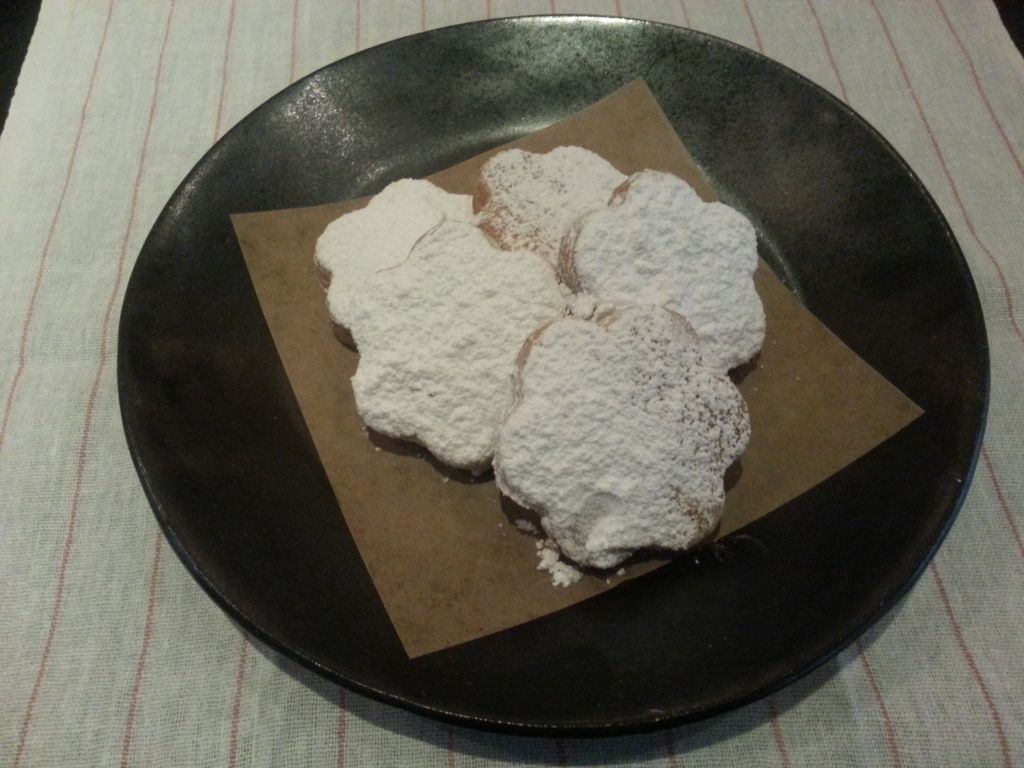 Those visions of sugarplums are just visions. No. 246 has the real sweets from Creative Director Taria Camerino -- a new dessert menu offering smaller pastries to share and pair with cocktails. Pair flourless chocolate cake with a Harvey Darko ($4 dessert/$7 cocktail); pistachio cannoncini with Biscotti Spumanti ($4/$7); biscotto with the "8 1/2" of house-made espresso liquor, spiced turbinado syrup and whipped cream ($4/$6). Weekends, drool over the new pastry and candy window case filled with sugared and raisin brioche, apple tarts, cranberry clafoutis, chocolate black pepper sable, pasticciotto, donuts and more scrumptious baked goods.
What's New on Pinterest: Holiday Hankerings
Photo: Peppermint Sugar Cookies by Bakerella
That awesome moment when you're looking for a fast and fresh holiday idea and then you spy - strawberry Santas. How berry merry and adorable they'll be, befriending Christmas tree cupcakes and peppermint coffee toddies.
Not wanting to be s-elfish, we're glad to re-gift these pins for you on our Pinterest board.