ABOUT THE DISH
Looking for the latest restaurant openings, weekly wine tastings and drink specials or other culinary happenings?
Whatever makes your mouth water,
Melissa Libby & Associates
will point you in the right direction.
up-to-date on new and ongoing restaurant events around Atlanta!






Buying Holiday Gift Cards is a Smart Financial Move for Savvy Shoppers
The sound of Salvation Army bells reminds us that every little bit adds up when you're planning holiday and year-end spending and giving. Take advantage of these restaurant gift card promotions for friends, family or yourself -- and keep some jingle in your pocket for saving, giving or enjoying down the road.
Go global in Roswell by giving gift cards to Aqua blue Restaurant and Bar. The restaurant is throwing in a $25 bonus gift card with every $100 gift card purchased.
In Dunwoody, Fleming's Prime Steakhouse & Wine Bar is offering a bonus gift card of $20 for every $100 spent on cards. Guests can enter to win a trip for two to Napa Valley by purchasing the customizable gift cards online through December. The bonus cards are valid for food and beverage only and can be redeemed from Tuesday, January 1 through Sunday, February 10, 2013.
Get a bigger pizza with a smaller slice into your wallet at Hearth Pizza Tavern in Sandy Springs. Purchase $100 gift cards for only $75.
Diners and shoppers at No. 246 in Decatur will receive a $20 bonus card with each $100 gift card purchased. Bonus gift cards cannot be redeemed the same day as purchased.
Roll your friends into the New Year with RA Sushi Bar Restaurant gift cards and receive a $10 bonus card with every $50 of gift cards purchased online or in the restaurant. Bonus promotion runs through Monday, December 31; bonus cards are valid from Wednesday, January 2 to Sunday, March 31, 2013.
Ray's Restaurants -- Ray's on the River, Ray's in the City and Ray's on the Creek are throwing in a bonus $10 gift card with every $50 gift card purchased through January 31, 2013. In addition, all locations will be giving out scratch-off gift cards during the holidays that may reveal 15 percent or 25 percent off of a meal, valid in January and February. Gift cards can be purchased either online or in restaurants.
Have a very, merry margarita using the gift card promotion at
Uncle Julio's Fine Mexican Food
. Through December 24, diners will receive a $10 reward card with every $50 gift card purchase. The reward card is valid from Tuesday, January 1 to Thursday, February 28, 2013.
Give Green, as in a Georgia Organics Membership, and Receive Organic Gardening Magazine for Free
A Georgia Organics membership has immediate and long-term benefits, and it is easy to email, mail or tuck in a compostable gift bag along with some gardening gloves. Purchase a membership before December 31 and receive a free one-year subscription to Organic Gardening magazine. Membership levels range from $25 for students to $1000 for the Seeds and Soil Society.
Aqua blue Nightly Specials Lend Themselves to Impromptu Holiday Get-Togethers
Reach out and message, Facebook or even Bluetooth call a friend or two who you have had good intentions about getting together with this past year. Pick a night and meet at Aqua blue Restaurant and Bar in Roswell for budget-saving nightly specials. Sundays feature half-price bottles of wine; Tuesday serves up half-price sushi specials such as $1 nigiri and sashimi, $5 large sake and $3 Japanese beers. Thursdays "Ladies Night" offers the gals $5 cocktails all day, complimentary appetizers in the bar only from 5:30-7 p.m. and live music from 7:30-10:30 p.m. Friday nights, live music fills the restaurant and lounge -- instant party.
Wake Up with Bantam + Biddy -- Ansley Mall Eatery Cracks Open Breakfast Menu
and Table Service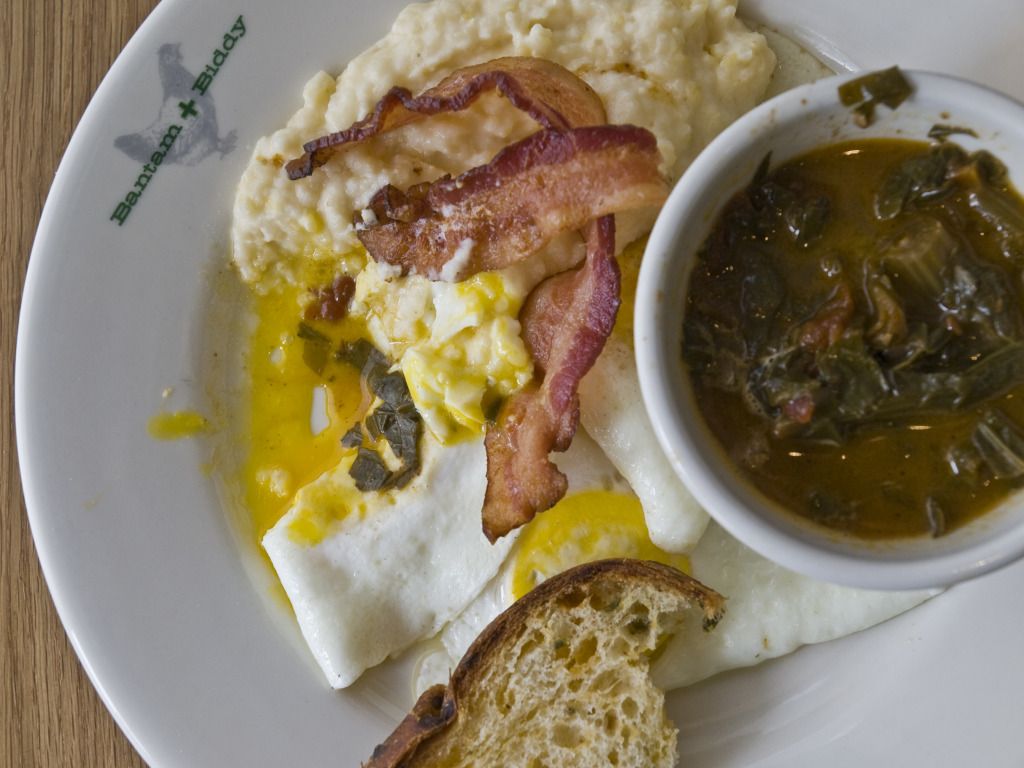 Rise up! A hot breakfast has your name on it at Bantam + Biddy in Ansley Mall. The casual, family friendly eatery now opens at 7:30 a.m. weekdays and 8 a.m. Saturday and Sunday to plate up all-natural pastured poultry and egg dishes for breakfast. Regionally raised chickens and Georgia eggs have a short commute to this kitchen and your table or carry-out bag. Eye-opening, reasonable prices range from $5-$12 for morning selections such as the pastured three-egg burrito, fried chicken and waffles or that French-Canadian favorite, poutine with local cheese curds and chicken gravy. Add freshly squeezed OJ, vegetable juices, freshly brewed teas, locally roasted coffee and you're good to go. Owners Shaun Doty and Lance Gummere give a shout out to Bantam + Biddy guests putting in requests for table service: it is now here. Come in and enjoy at breakfast, lunch and dinner daily.
Kevin Gillespie Lights a Fire in Your Belly for Real Cooking at Salud! Cooking School December 6

That glow? Not holiday lights. It's Chef Kevin Gillespie emitting his passion for preparing and serving quality food, organically grown on local and sustainable farms. Gillespie will ignite that fire in you when you attend his

Salud! Cooking School

"Fire in My Belly" demonstration on Thursday, December 6 from 6:30-8:30 p.m. at Harry's Farmers Market - Alpharetta. The

Woodfire Grill

executive chef and finalist in the sixth season of Bravo's "Top Chef" has a hot new cookbook on the market -- "Fire in My Belly: Real Cooking" -- packed with recipes such as those he'll prepare at Salud! Guests will be able to taste the night's menu items including buttermilk-marinated fennel with satsumas and jalapeños; sage-battered mushrooms with cheddar fonduta; butter-basted scallops with Romanesco; slow-roasted pork chops with apples and redeye gravy; and warm banana pudding. Class price of $79 per person includes one signed copy of Gillespie's new cookbook. Space is limited. Register in store at the customer service desk or by calling 770-442-3354 ext. 1 or 770-664-6300. Note: no coupons, discounts or student cards are eligible for this class.
Dinner and a MOO-vie: White Oak Pastures Hosts Farm Tour and Open Air Dinner for Flint Riverkeeper on December 8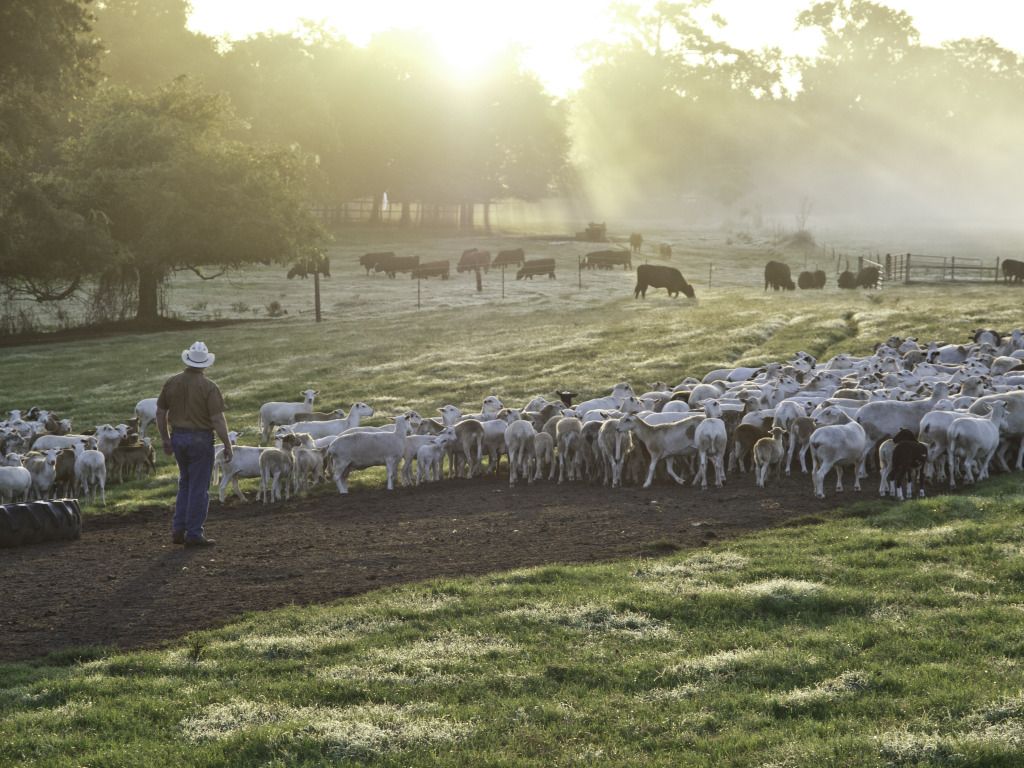 Photo by Angie Mosier
When the family farm has been in the family for five generations, you're doing something right. "We take care of the land and the herd, and they take care of us" is a Harris family core value that drives much of life down on Will Harris' sustainably run farm where pastured poultry and stock roam and land stewardship and water conservation rule the roost. See for yourself. Head to Bluffton, Ga. on Saturday, December 8 and tour White Oak Pastures, enjoy a pastured poultry dinner and shop a silent auction benefitting Flint Riverkeeper. The festivities start at 4 p.m. with local fare and libations under the new open-air pavilion. Set off on a farm tour at 4:30 p.m., then return to the pavilion for a pasture-to-plate dinner featuring White Oak Pastures' free-range chicken and comfort foods at 5:30 p.m. Gordon Rogers of Flint Riverkeeper follows dinner with award presentations, remarks and announcement of silent auction winners. The evening wraps up around 8 p.m. Dress cozy casual for outdoors. Tickets are $50 per person and can be purchased online at www.flintriverkeeper.org or reserved for payment at the event by calling Jayme Smith at 229-220-9796 (jayme@flintriverkeeper.org). To keep wear and tear to a minimum, two shuttles will run from satellite parking lots in Albany and Ft. Gaines. A $20-per-person shuttle reservation fee can be added to your ticket purchase.
10th & Piedmont Opens December 10 in Former Outwrite Bookstore Location
A new Midtown landmark will open for dinner December 10 and lunch beginning December 12 in the very location that housed another iconic Atlanta gathering place. Restaurateurs and brothers Sean and Gilbert Yeremyan are opening a new restaurant and lounge, 10th & Piedmont, at 991 Piedmont on the corner once occupied by Outwrite Bookstore. Through its upbeat atmosphere, modern decor and diverse offerings, it's clear the brothers want to continue the legacy of diversity established by Outwrite and Gilbert's Café & Bar. From the restaurant's food standpoint alone, Executive Chef Brett Ring's menu reads like a best seller packed with international diversity; fresh, seasonal and organic ingredients; and creatively portioned plates ideal for sharing over brunch, lunch, dinner or late-night noshing. Menu snippets to set your mouth watering include Southern arancini with blue cheese grits and tomato marmalade; lamb meatballs with red currants, tomato glaze and pickled cucumber spaghetti; and SoCo cured salmon roulade with whipped goat cheese, roasted red peppers, lemon vinaigrette and fried capers atop a bagel crisp. Beverages are equally enthralling, ranging from an extensive selection of worldly vodkas, hand-crafted cocktails, American and international red and white varietals and an assortment of canned and draft beers. The restaurant serves a Bellini brunch on Sunday from 10 a.m.-3 p.m., followed by a tea dance with a live DJ from 4 p.m. to close. Lunch is offered with counter service Monday-Friday from 11 a.m.-4 p.m. and with table service on Saturday from 11 a.m.-4 p.m. 10th & Piedmont serves dinner nightly followed by a late-night menu offered daily once dinner service has ended and lasting until 2 a.m. Monday-Saturday and until midnight on Sunday.
The Yeremyan brothers also own and operate HOBNOB Neighborhood Tavern and Gilbert's Café & Bar as part of their restaurant group, Communitas Hospitality. For more information: Facebook or call 404-602-5510.
Bonefish Grill Holds December 8 Music Benefit Night Before Opening December 10 in
Emory Point
The Emory area becomes an "eat coastal" destination with the opening of Bonefish Grill in the new Emory Point development on Monday, December 10. Succulent wood-grilled fish, seafood and chops, innovative sauces and indulgent desserts fill the menu of this ZAGAT award-winning restaurant. Polished yet casual, Bonefish Grill is a beacon for those in the mood for the popular ahi tuna sashimi, PEI Mussels Josephine, "American-style" Kobe beef burgers or market-fresh daily seafood specials. Liquids are equally inviting, encompassing inventive "bar-fresh" cocktails, unique craft beers and interesting wines. Every Wednesday is Bang Wednesday, when signature crisp-tender Bang Bang Shrimp comes with a spicy sauce for just $5. The community-oriented restaurant reaches out to help both its nearby and global communities. On the evening of Saturday, December 8 from 5:30-8 p.m., Bonefish Grill will host a tasting event to benefit Friends of Music at Emory. Entry is free, but seating is limited. Tickets can be acquired online and donations are welcomed. An open kitchen, large bar, hand-blown glass lamps and big, three-dimensional art all add to the welcoming ambience of the Florida-based restaurant. Dinner service begins at 3 p.m. daily; Sunday brunch is offered from 11 a.m.-2 p.m. Reservations welcome, 404-235-4024.
Chef Drew Van Leuvan Opens Seven Lamps, Brings Craft Food and Drinks to Shops Around Lenox
Opening on Monday, December 10 in Shops Around Lenox,
Seven Lamps
is not a new lighting store but a restaurant that sheds light on craft food, drinks and a convivial atmosphere that can really make your day or night.
Hand-crafted, made-from-scratch food and cocktails fill the lunch, dinner and late-night menus at
Chef Drew Van Leuvan's new restaurant named after the "Seven Lamps of Architecture," noted by an English art critic in 1849. The seven principles --
Sacrifice, Truth, Power, Beauty, Life, Memory and Obedience -- correspond to kitchen life, according to Van Leuvan.
His regionally influenced dishes take seasonal cues such as current offerings of iced oysters on the half shell, handmade pastas including
tortellini stuffed with chestnut and mascarpone or vanilla macaroon, apple leather and pecorino and tagliatelle with Sapelo Island clams, andouille,

jalapeño

, soffrito and pecorino. Dinner guests may want to try plates small or large of baked Ellijay apple with roasted mushrooms, goat cheese soufflé and sherry caramel or wood-grilled chicken breast with black gnocchi, black trumpet mushrooms, pancetta and pickled roots. Similar dishes are a hit on the lunch menu as well as a selection of soups and "Salads and Sammies" such as a corned beef brisket sandwich with kimchee slaw and basil on a pretzel roll and Dungeness crab salad with roasted carrots, shaved turnips, chocolate and grapefruit sorbet. The "After Hours" menu features dishes from both menus. Beverage manager and head "mixtress" Arianne Fielder's cocktail menu taps into fun, creative cocktails, boutique and value-driven wines and craft beers to complement Seven Lamps' menus. The restaurant also features a coffee program incorporating Batdorf & Bronson products and Intelligentsia teas. They're delicious along with sweet and savory breakfast pastries available Monday through Saturday beginning at 9 a.m. Come back from 11 a.m.-2:30 p.m. for lunch, 5-11 p.m. for dinner and 11 p.m.-2 a.m. for the late-night menu. Be sure to check out the patio area with its fire pit and Adirondack lounging chairs.
Appetizing Aperture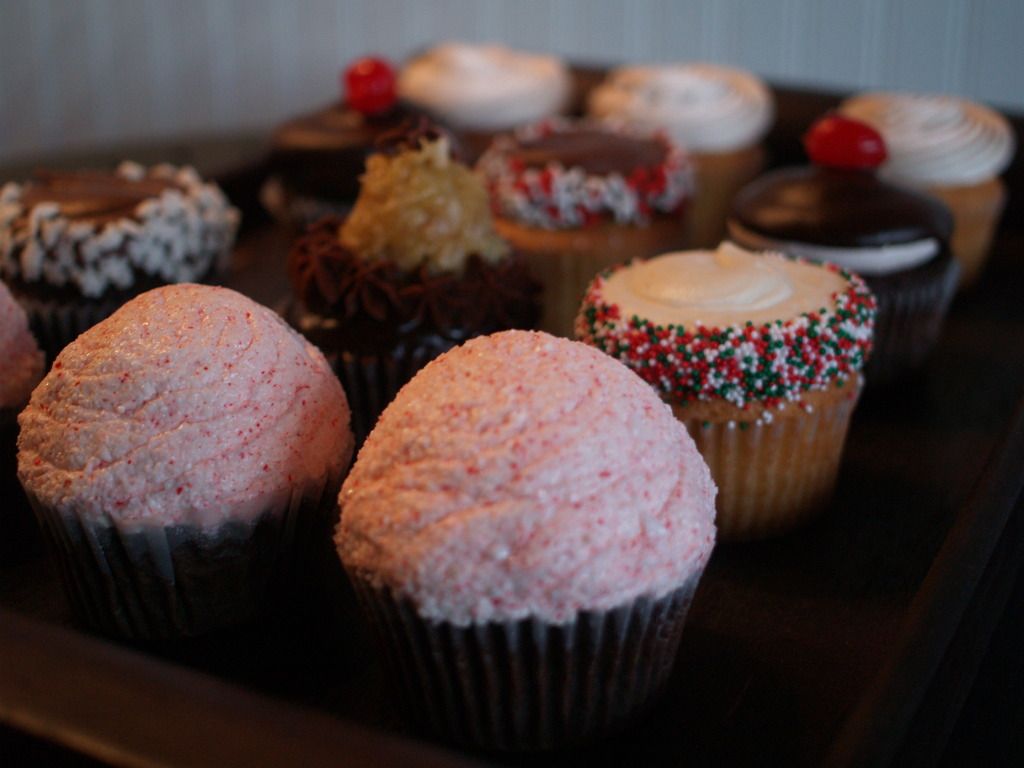 A shortage of Ho Hos and Twinkies needn't Grinch your holiday season. Little Cake Bakery's holiday cupcakes outshine all in flavors of eggnog, peppermint, German chocolate and Black Forest cherry. Now who has a twinkle in their eye and more ho-ho in their step?
Eat it and Tweep: Durham, NC Tweep Posts Food, Art and Entertainment Musings
Rebecca Gomez Farrell "chases dragons, dissects cocktails, ponders dishes, and contemplates television by fingertip." Translation: the author, blogger and freelance editor tweets (@thegourmez) and types longhand on her blog.
Sample tweet: Drinking while baking cookies only makes them better, right? Time for another cranberry-infused-vodka Cosmo from @komejo 's cabinet.
What's New on Pinterest: Forever Food for
Great Weddings
Gorgeous - red velvet heart cake. Fun - Caprese pops. Frivolous - cotton candy on glow sticks. Brides and grooms looking for unique wedding party foods will find their heart's desire on our Pinterest board.