YCPC Meeting

The next Planning Commission meeting is being held on October 26, at 7:00 p.m. If you are interested in a specific topic, please visit the

Boards and Committees page

for more information.

Greetings!

To keep you updated on activities and current events, the York County Planning Commission has created E-Alerts. These E-Alerts are just another way to keep you connected with what is taking place in and around your community. Please explore the articles below or visit the links to the left for other helpful information.

DCNR Natural Connections webinars

DCNR is hosting a series of webinars to implement its Outdoor Recreation Plan. To see the full information follow the link below.
You're Invited -
Reimagining Economic Restructuring Think Tank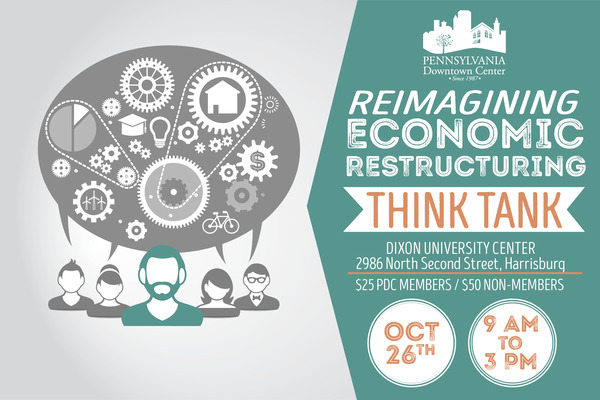 The Think Tank discussion is the first event to kick-off our
2015-2016 theme of Re-imagining Economic Restructuring, culminating
with our conference in June 2016. The Think Tank discussion will be held
on October 26th, 2015 from 9:00 a.m. - 3:00 p.m. at the
Dixon University Center, 2986 North Second Street, Harrisburg.
Joining the discussion will be a cadre of expert panelists, including:

Jessica King
Executive Director / Assets Lancaster

Larry Newman
Executive Director / Wilkes-Barre Diamond City Partnership

Ernie Post
Director / PA Small Business
Development Center at Kutztown University (KUSBDC)

Dr. Michael S. Lehman
Professor of Practice / Baker Institute for
Entrepreneurship, Creativity and Innovation at Lehigh University

Donovan Rypkema
Principal / PlaceEconomics

John Simone
Executive Director / Connecticut Main Street Center
---

____________________________________________________________
FEMA/DCED Floodplain Ordinance Update Workshops
Upcoming LTAP Classes
New LTAP training courses have been scheduled within York County. If interested, please visit the LTAP website and register for the class or classes. If you have any questions, please contact your LTAP Administrator via the LTAP website (click here)

and your question will be answered as quickly as possible. You may also contact Karen Hawkins at 717-771-9870.
SAFE DRIVER/C1 (RS-S13-C1)
PENN TOWNSHIP PUBLIC WORKS BUILDING
INTERSECTIONS/C2 (RS-S08-C2)
SIGNS & SAFETY FEATURES FOR BRIDGES/CULVERTS - C1 (RS-S14-C1)
DOVER TOWNSHIP COMMUNITY CENTER
INTERSECTIONS/C2 (RS-S08-C2)
SPRINGETTSBURY TOWNSHIP WASTE WATER TREATMENT FACILITY
3501 NORTH SHERMAN STREET
SAFE DRIVER/C1 (RS-S13-C1)
NEW FREEDOM BOROUGH MUNICIPAL BUILDING

We will continue to send out periodic updates to keep you updated and connected with what is happening in and around York County. Please continue to visit our
website
for the latest news. If you have any questions, please do not hesitate to contact us.
Sincerely,
Felicia S. Dell
Director
York County Planning Commission


York County Planning Commission | (717) 771-9870 |
wgobrecht@ycpc.org
|
28 East Market Street
York, PA 17401-1580