December 5, Vol. 24, No. 21
Student, Alum Star in "Sound of Music" Tonight

Senior musical theater major
Michael Campayno
and alumnus
Christian Borle
(A'95) will join country music star
Carrie Underwood
in NBC-TV's live production of "The Sound of Music" at 8 p.m. tonight (Dec. 5).
Campayno, who performed one of the numbers from "The Sound of Music" in the Macy's Thanksgiving Day Parade, competed with hundreds of actors to land the role of Rolf, the young messenger who falls in love with Captain von Trapp's oldest daughter, Leisl.
"In musical theater you tend to have a lot of singers, not singer/actors. Michael is a strong actor, and he probably was able to bring more to that role than other singers," said
Don Wadsworth
, professor of voice and speech at the School of Drama.
Borle, who won a Tony Award for his role in "Peter and the Starcatcher" and has appeared in NBC's "SMASH" and CBS' "The Good Wife," plays the role of von Trapp's friend, Max Detweiler.
The School of Drama will be showing the broadcast in the Chosky Theater as a fundraiser for its senior showcase. A $5 donation is requested.
Pictured above are Borle (left) and Campayno.
Read more in the Piper.
Read "The Sound of Music Live!"
Music's Holiday Concert Tonight, Tomorrow
The School of Music's annual holiday concert, featuring the Carnegie Mellon Philharmonic, Concert Choir and Repertory Chorus, will be held at 8 p.m., tonight (Dec. 5) at the Carnegie Music Hall and at noon, tomorrow, Friday, Dec. 6, in the Great Hall of the College of Fine Arts Building.
The performances, under the direction of
Maria Sensi Sellner
, will include a variety of holiday classics and other well-known festive music. The performances are free for CMU students, faculty and staff.
Tonight's performance will be broadcast on WQED (89.3 FM). Both concerts will be
webcast live
.
Read more about the concert.
CFA Presents Open Studio Day Friday


In addition to the School of Music's holiday concert, the College of Fine Arts is celebrating all of its schools and programs during Open Studio Day, Friday, Dec. 6.

Visitors can get a behind-the-scenes look at art studios and student work in progress, and visit "Building BXA" and the Miller Gallery. You also can purchase artwork at the School of Art's holiday sale.


Alumna Wins Rhodes Scholarship
Carnegie Mellon alumna
Courtney T. Wittekind
(A'13) was awarded a Rhodes Scholarship, the premier award for international study.
The Rhodes Trust selected Wittekind, who earned a Bachelor of Humanities and Arts degree this past May, for her work in art, activism and anthropology on behalf of displaced persons and refugees. She is one of 83 scholars from around the world and one of 32 American students to be chosen.
The scholarship program covers the full cost to study at the University of Oxford in the United Kingdom. Wittekind will study at Oxford beginning next fall and plans to pursue a doctorate in anthropology.
Read more about Wittekind.
Garfield the Cat Joins CMU's Alice Project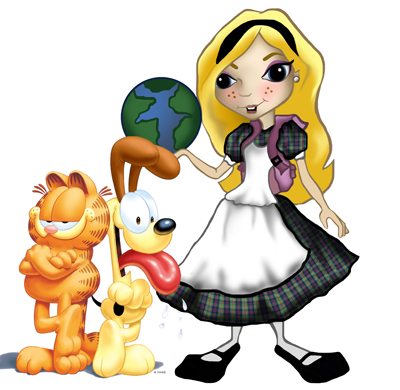 Children who love
Garfield
, the feline star of the world's most widely syndicated comic strip, now can make their own computer animations of the lovable cat - and learn a bit about computer programming in the process - with the latest version of Carnegie Mellon's Alice educational software.
Wanda Dann
, director of the Alice Project, said the new release of Alice features
Garfield, Odie, Jon, Nermel
and other characters from the popular comic strip. She said it is geared to appeal to middle and high school students as teachers are increasingly requesting educational materials for computer science appropriate for that age group.
Like all versions of Alice, the newest, Alice 2.4, will enable novices to create animations using a simple drag-and-drop interface to select character objects, props and scenes from a large gallery of 3D models.
Read more and watch a video about Alice and Garfield.
Help ensure the safety and well-being of the CMU community:
University Police: 412-268-

2323




Ethics Hotline: 1-877-700-7050
Personal Mention

Mark Kamlet & Jay Apt

Metin Sitti
Josť Moura
Mark Baskinger
Barry Luokkala
Jimmy Zhu
Kathryn Roeder
Rich Erdelyi

Sheikha Amna bint Abdulaziz bin Jassim Al-Thani

Khaled Harras & Dudley Reynolds


News Briefs
Submit News
Email