October 31, Vol. 24, No. 17
Daniel Nagin Wins Criminology's Top Prize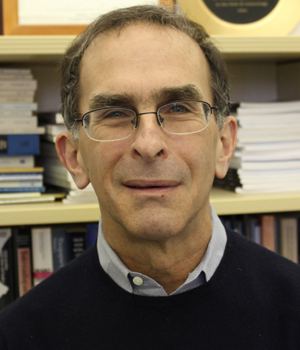 Daniel S. Nagin
has been awarded the 2014 Stockholm Prize in Criminology for his work in helping to reshape the use of prison and community correctional programs based on evidence of what works - and what doesn't.
The international prize is awarded annually for outstanding achievements in criminological research or for the application of research results by practitioners for the reduction of crime and the advancement of human rights. Nagin shares this year's award with Stanford University's
Joan Petersilia
.
The Teresa and H. John Heinz III University Professor of Public Policy and Statistics at the Heinz College, Nagin has shown that imprisoning offenders generally fails to reduce repeat offenses, and more often may increase crime rates. His work helped to support the first decline in four decades in the U.S. incarceration rate.
Read more about Nagin and the Stockholm Prize
.
Bryant, Lehoczky Stepping Down in 2014
Randal Bryant
(right), dean of the School of Computer Science (SCS), and
John Lehoczky
(far right), dean of the Dietrich College of Humanities and Social Sciences, have announced that they will step down at the end of the academic year.
Lehoczky, the Thomas Lord University Professor of Statistics, will return to his faculty position in the Department of Statistics. Bryant, a University Professor of Computer Science, will return to his faculty position in the Computer Science Department after a one-year sabbatical.
Both deans have been instrumental in advancing the work and breadth of their respective schools.
Read more about Bryant and Lehoczky.
20th Annual Food Drive Begins Nov. 4
Carnegie Mellon's 20th Annual Food Drive, sponsored by Staff Council, begins Monday, Nov. 4 and runs through Monday, Nov. 18. All proceeds benefit the Greater Pittsburgh Food Bank, which helps more than 120,000 needy individuals each year.
Donations of non-perishable food items and cash are greatly appreciated. Look for the Food Drive drop box in a university building near you. Checks should be made payable to the Greater Pittsburgh Food Bank.
Food Drive events include:Nov. 6 - One Day, One Can:
Bring your donation to the Food Drive Table at the Benefits and Fitness Fair and you'll be entered into a special raffle for great prizes.
Nov. 18 - Cans Across the Cut:
Bring your donation and help form a line of food items that extends across the Cut. Groups can compete to win special prizes.
Read more about the Food Drive
.
NSF Awards $7M for 7 Robotics Projects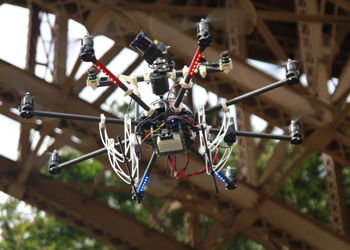 Robotic rotorcraft for inspecting bridges and other infrastructure (right), tools for minimally invasive surgery that guide surgeons by creating 3D maps of internal organs and assistive robots for blind travelers are among seven new Carnegie Mellon research projects sponsored through the National Robotics Initiative.
The National Science Foundation announced it has awarded a total of more than $7 million to Carnegie Mellon researchers in the latest round of grants for the initiative - a multi-agency effort to develop robots that can work with humans to extend and augment human skills. U.S. President
Barack Obama
announced the National Robotics Initiative at Carnegie Mellon in 2011.
"The great promise of robots is to extend human skills and enhance human lives," said
Matt Mason
, director of CMU's Robotics Institute. "The National Robotics Initiative is helping researchers here at Carnegie Mellon and across the country make that promise a reality."
Read the full story.
Making Public Transit More Accessible
Researchers at CMU and the University at Buffalo have received a five-year, $4.6 million grant from the U.S. Department of Education's National Institute on Disability and Rehabilitation Research to continue to improve environments and products by making them more usable, safe and appealing to people with a wide range of abilities.
The new grant to the Rehabilitation Engineering Research Center on Accessible Public Transportation will help to design and evaluate accessible transportation equipment, information services and physical environments.
Co-directors of the center are CMU's Aaron Steinfeld, an associate research professor at CMU's Robotics Institute, and his father, Edward Steinfeld, a professor of architecture at the University at Buffalo.
Help ensure the safety and well-being of the CMU community:
University Police: 412-268-

2323




Ethics Hotline: 1-877-700-7050